10 Cartoonists Every Art Lover Needs to Know
Cartoonists these days mostly went to art school and know all about the art world, so why does that art world continue to mostly ignore comics? Why were there no comics in the Whitney Biennial, again? (Its curators would certainly have looked foolish if they had left out some other medium, like video or sculpture, entirely.)
Why should you care about comics? Well, you only should if you're interested in art practices that contain rich content and meaning; that command a large and devoted audience; that couldn't care less about the market, or investment, or flipping; that are truly radical. Here's a cheat sheet to 10 names to know, from the absurd to the psychedelic, and everything in between.
Anna Haifisch, The Artist. Courtesy of the artist.
Anna Haifisch, The Artist. Courtesy of the artist.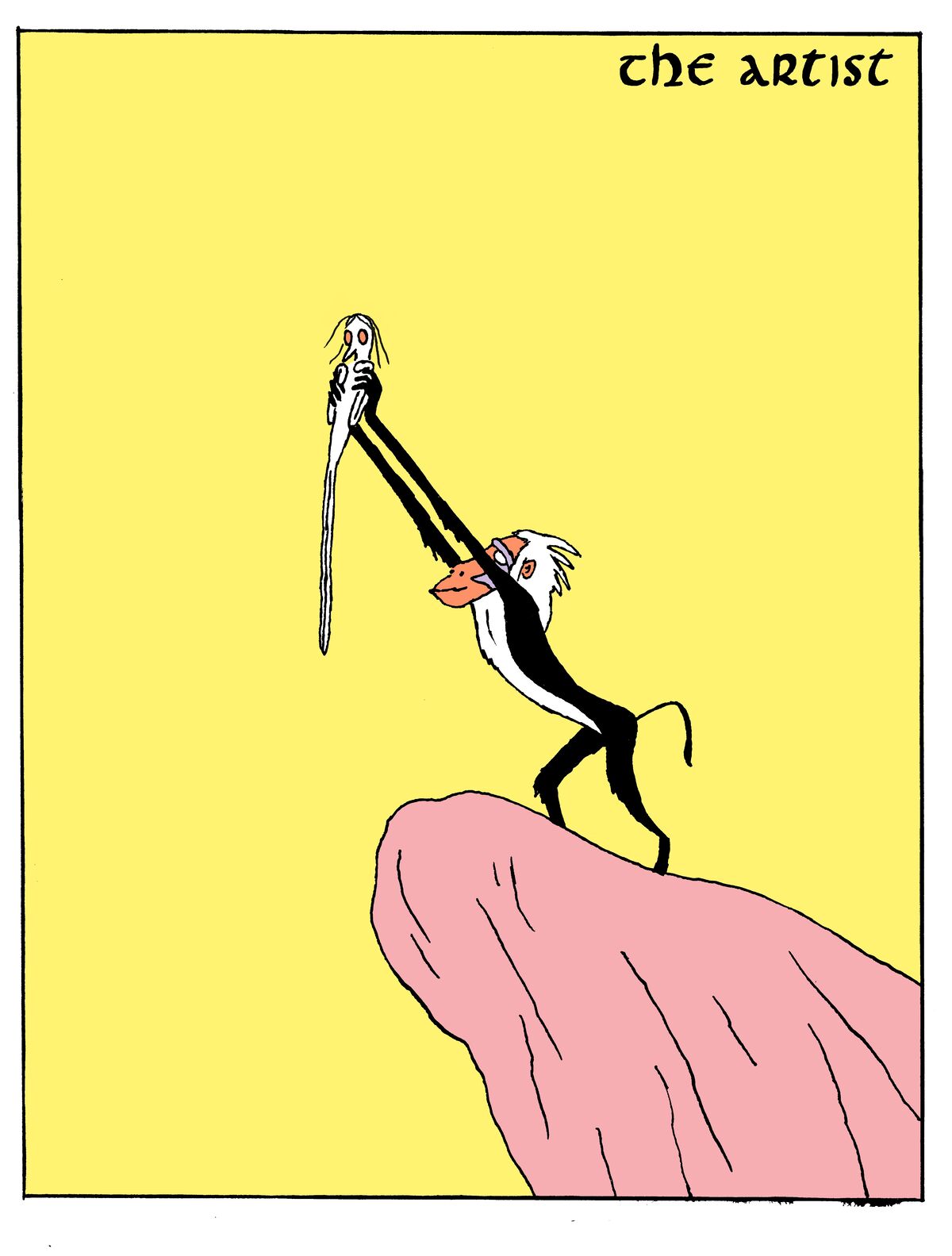 In Haifisch's hilarious comic The Artist the title character is an emaciated and pale bird-creature with red eyes and a few strands of hair. In this chronicle of a life of willful poverty and self-doubt, Haifisch intelligently dissects the mythos of the creative community. Surrounded by babbling snakes in top hats and frumpy ducks (i.e. the art establishment), the artist shrinks from critique. "Do you think you could dance your paintings?" suggests a critic from the German journal Texte Zur Kunst. Artists are sent to Art Jail, where attempts at rehabilitating their "eccentric screeching, loitering and prowling…art rage and whatnot" are futile, resulting in recidivism; the artist smashes her portfolio against a cop car.
Haifisch's frayed but confident line perfectly evokes the fragility of the artistic ego. Based in Leipzig, in proximity to the famed local painting scene, her work benefits from immersion in that particularly Euro milieu. Her work joins a recent trend of cartoons grappling with the art world as their subject—Walter Scott's Wendy and Brecht Vandenbroucke's White Cube notable among them. (Hafisich's latest book, Von Spatz, takes a slight detour: It's a magic-realist examination of the life of Walt Disney.)
Marc Bell, Hot Potatoe © Adam Baumgold Gallery.
No other cartoonist's work functions so well as "art" in the so-called "art world." Bell's giddy drawing energy vaporizes these false distinctions. He developed his chops as a cartoonist making Nog A Dod: Prehistoric Canadian Psychedooolia.
In the 2000s, Bell made an important strip called Gustun, which cast Shrimpy and Paul strips he drew for local papers, Bell began to create large collages and ultra-dense drawings. This work (collected in the monograph Hot Potatoe) absorbed the image-fracturing strategies of
In Bell's early-2000s work, shown at Adam Baumgold's idiosyncratic uptown New York gallery, text and image became fused in meditative and overwhelming drawings. They're something like ornate encrustations of the subconscious. Comparisons to Stroppy, which encompasses in its satirical field not only capitalism but poetry and mini-golf.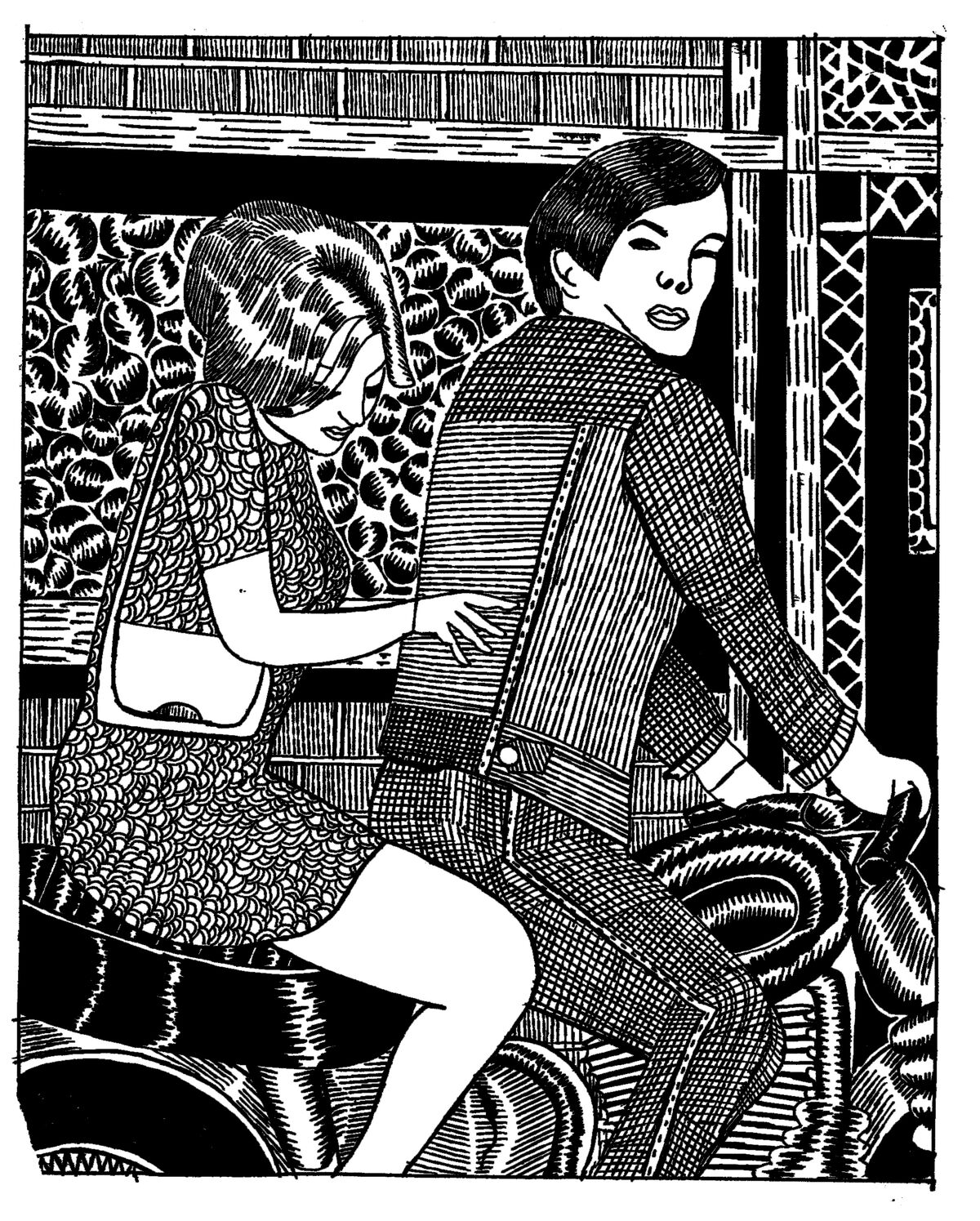 John Broadley, Everything'll Be Alright. Courtesy of the artist.
John Broadley, Everything'll Be Alright. Courtesy of the artist.
Broadley is an English illustrator and cartoonist who I became aware of 10 years ago through his series Wild For Adventure. These were small, handmade, hardcover books, very preciously made out of cardboard, with photocopied covers and interiors. Recently he has redrawn scenes from 1960s and '70s films in his book Everything'll Be Alright. As a one-man cottage industry responsible for every aspect of his books, from drawing to printing to distribution, I see Broadley as connected to predecessors like
Josh Bayer, Theth. Courtesy of the artist.
Josh Bayer, Theth. Courtesy of the artist.
Sometimes I think that Bayer might be single-handedly saving the very existence of representational art. His drawings are meditations in crosshatched ink:
Raw Power, Theth, Rom, Bike Rider
), anthology editor (
Suspect Device
), and teacher (at Parsons, as well as at the
Metropolitan Museum
, where he leads drawing classes for special-needs children). Bayer is the cartoonist who may be the closest successor to his mentor and friend,
Benjamin Marra, O.M.W.O.T. (One Man War On Terror). Courtesy of the artist.
Speaking of Pettibon: His comic book
Captive Chains
(1978) is an intriguing work that shows the direction he might have taken were he more tempted to make Chester Gould-influenced absurdist noir stories, instead of the much more profitable drawings he has become known for. If Pettibon had slugged away at comics, I bet he would have produced something like the deadpan 1980s-inflected genre-pulp mastery of Benjamin Marra
.
In comics like
The Incredibly Fantastic Adventures of Maureen Dowd
, Marra makes the
New York Times
columnist into an action hero from a Michael Mann film.
Increasingly, text and image have started to disassociate from each other in Marra's comics, and in his Terror Assaulter: O.M.W.O.T. (One Man War On Terror) characters recite their actions like they were robots, in a way that indeed evokes the cognitive dissonance of a Pettibon drawing.
Keren Katz, The Unfathomable Height of the Soap Dispenser, published by Humdrum comics. Courtesy of the artist.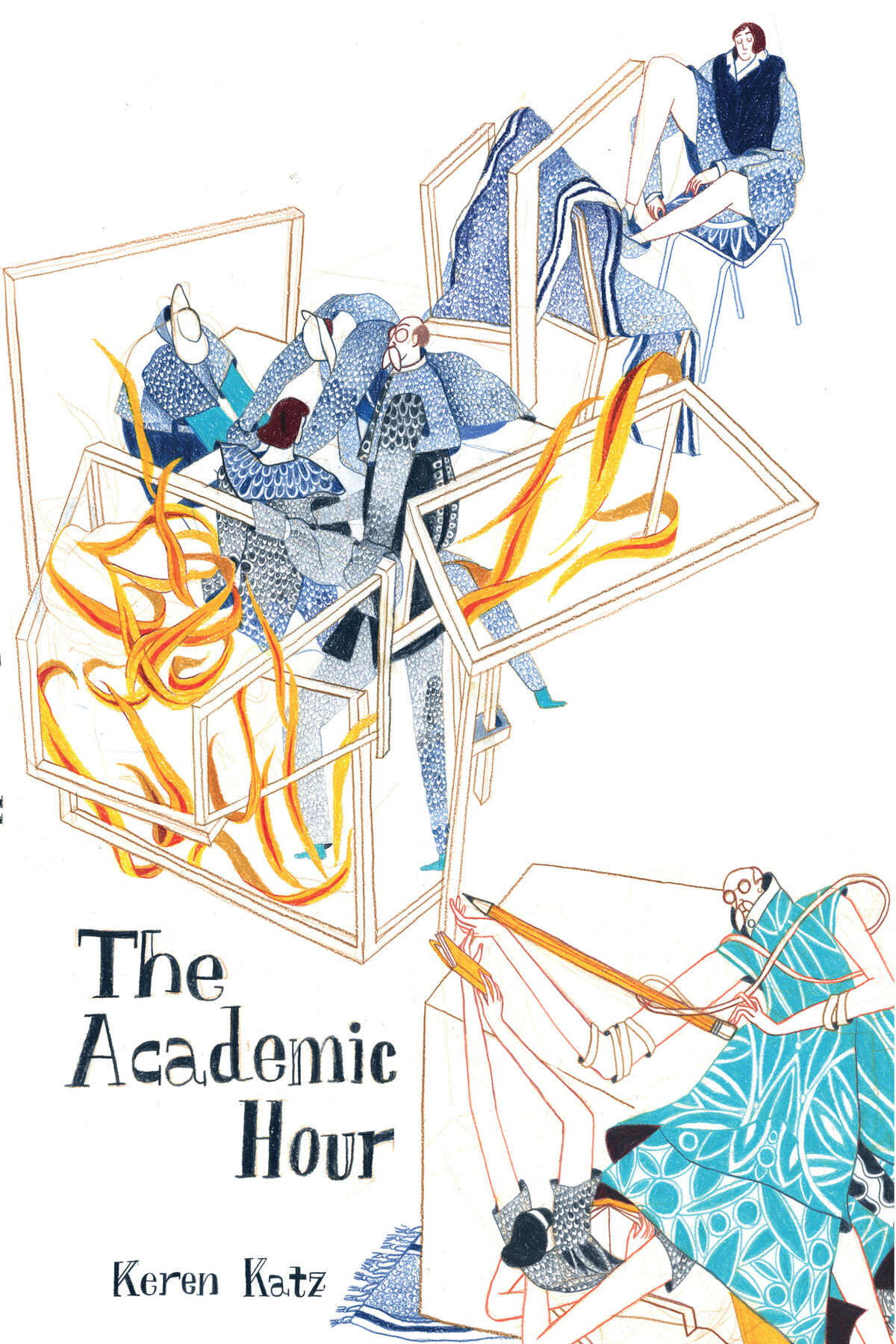 Katz's work, like that of
In Chronicles of the Falling Women, Katz describes a mysterious epidemic that destabilizes women only. The feminist subtext of this comic is typical of the way that her fables operate. Crossing the Rubikon is set in the world of competitive Rubik's Cube solving (don't forget your "cube lube"), and introduces Captain Hook as a champion speed-cuber whose hand is bitten off by a crocodile. Katz's maximalist, absurd world is autobiographical, but she tells its stories by processing her reality into a decorative, escapist Neverland.
Lale Westvind, Morpha! Utila!. Courtesy of the artist.
Westvind creates some of the most powerful work being made right now, in comics or any other medium. Obsessed with speed, power, physicality, and violence, her comics and animations transcend boundaries with the force of a Harley-Davidson ripping through a holographic brick wall. With science fiction as the guiding principle, her characters frequently become, or simply are, vehicles, pointing out the contemporary anxiety over where flesh stops and technology begins.
The cartoonist's background in traditional oil painting, video art, and animation led to her creating self-published comics at a heroic pace. In
HAX
, Amazonian warriors battle airplanes under
Organism Test
(2009) is a key to later work. Thousands of hand-drawn frames depict blob-creatures writhing in the desert, while hybrid motorcycle creatures race towards each other to collide at incredible speed: a copulatory act that generates new life. If Jack Kirby adapted J.G. Ballard's
Crash
into a
Captain Pronin
cartoon, it might begin to resemble Westvind's filmic oeuvre. Recent animations for the band Lightning Bolt and
Morpha! Utila!
, for the online TV channel
Super Deluxe
, are psychedelic masterpieces.
Although Westvind's work should be as widely seen as other artists-who-animate—
Brian Bolland, Judge Dredd. Courtesy of IDW Publishing.
Brian Bolland, Judge Dredd. Courtesy of IDW Publishing.
This English cartoonist became known in the '80s for his precisely rendered, highly detailed work on
Judge Dredd
comics and others emerging from the
2000 A.D. sci-fi anthology
. He drew covers for the
Animal Man
series, and illustrated D.C. comics, such as
Batman: The Killing Joke
. His quality stuff was eventually quoted—as in, ripped off—by the well-known Icelandic painter
.
In 2010, Bolland's images of Tank Girl from the '90s were "remixed" by Erró and hung at the
Centre Pompidou
. Bolland was startled to find his own drawings for sale as Erró prints in the gift shop.
When will this transformation from "low" to "high" become recognized for what it is: a sort of gentrification? The act of stripping away narrative from images, re-framing, and re-selling for an upscale market is akin to gutting an old tenement building, displacing its residents and their histories, and putting a luxury condo in its place. As Brian Bolland wrote in an open letter to Erró, this artistic appropriation is nothing less than an act of colonialism.
Austin English, Gulag Casual. Courtesy of the artist.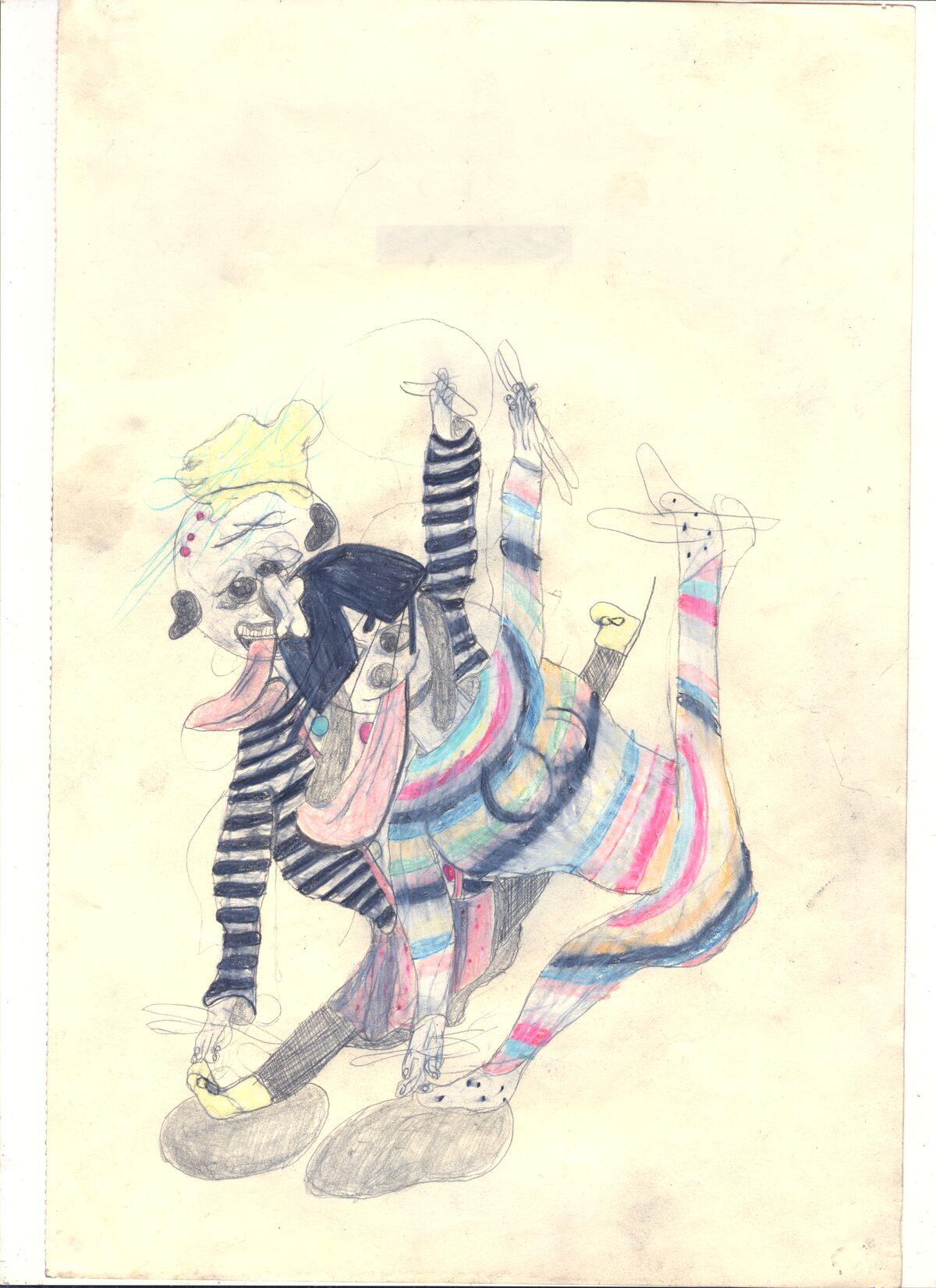 Austin English, Gulag Casual. Courtesy of the artist.
A singular figure whose work seems deftly positioned between the comics and fine art worlds, English should be increasingly noted by both. His drawings are in the grotesque,
Comics-as-poetry is an established thing: See the work of Juliacks, Sarah Ferrick, and publishers like Sonatina and 2dcloud. English's work was influential on this branch of comics-making. Unlike commercial comics—which traditionally convey emotion with simplified facial expression—the muddy, creased faces of English's characters are opaque. I see a lot of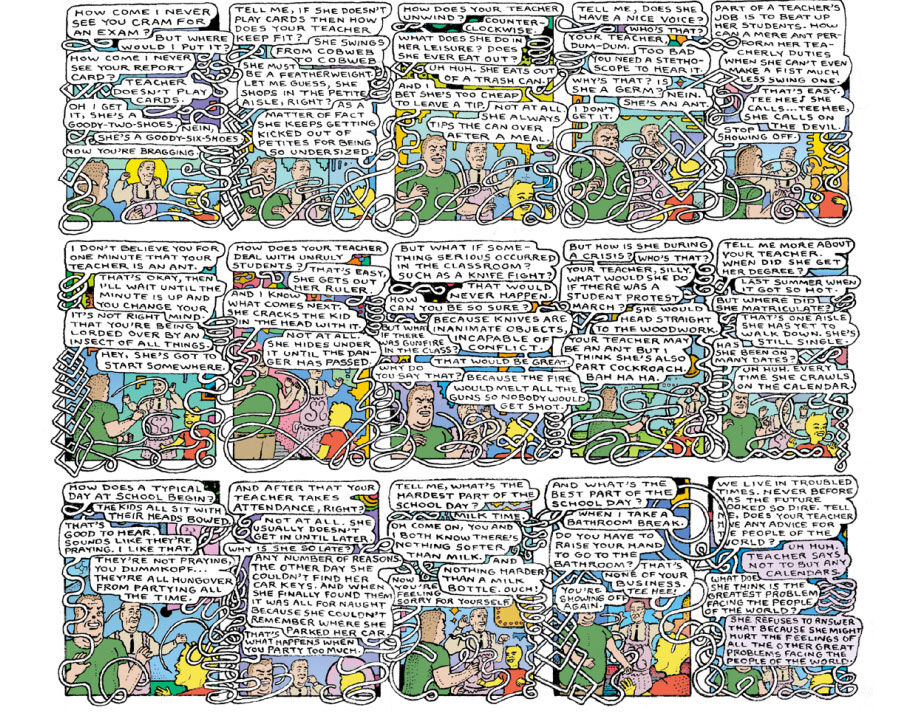 Gerald Jablonski, Farmer Ned's Comic Barn. Courtesy of the artist.
Jablonski's work should apply to lovers of formalism, of serialism, of the constraints of Oulipo, of the repetitions of
Every single one of these comics has exactly the same story:
1. Howdy crashes into Dee Dee's room and tells him to turn down his awful music, a band called "Poopy."
2. After some banter back and forth, Dee Dee reveals that his schoolteacher is an ant.
3. A discussion follows this revelation. How does this ant-teacher conduct her classes, anyway? This conversation is a vaudevillian back-and forth driven by horrible puns, which Jablonski renders with a claustrophobic tangle of word balloons, their stems intertwined like plants choking each other for survival. Nothing is resolved, the comic is completely meaningless, but the reader of Jablonski's Cryptic Wit has had a very strange experience.
What Jablonski does with comics is possibly comparable to what