10 New Yorkers Weigh in on Cattelan's Gold Toilet at the Guggenheim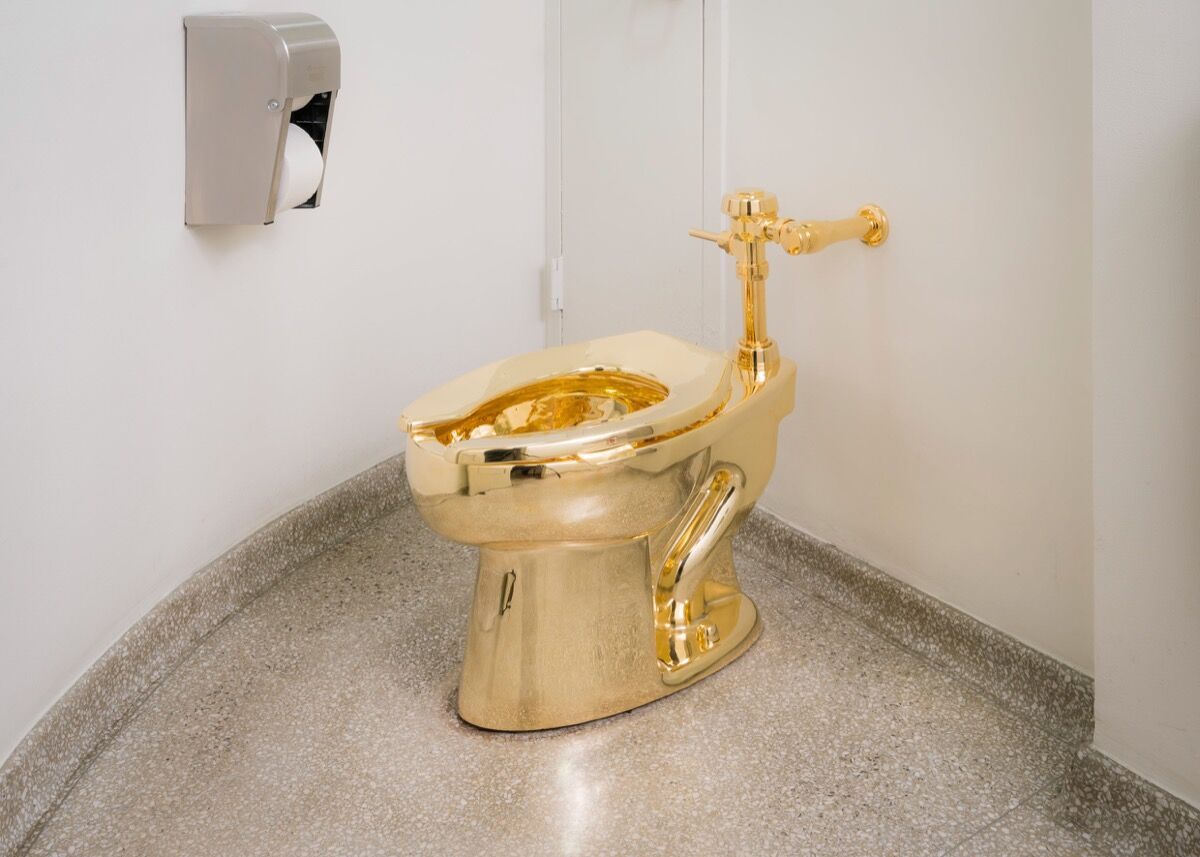 Installation view of Maurizio Cattelan, America, 2016, at the Solomon R. Guggenheim Museum, New York. Courtesy of Marian Goodman Gallery. Photo: Kris McKay © Solomon R. Guggenheim Foundation
Tucked away in an unassuming bathroom on the fifth floor of the
Guggenheim Museum
is a fully-functional gold toilet, with dozens of museum-goers eagerly lined up to use it. And the thing about this toilet—even if it is solid 18-karat gold and the latest work of art by Italian artist
In fact, half of the fun of the golden toilet (titled, provocatively, America) is the real-life drama unfolding around it. In the three hours I spent interviewing people exiting the restroom, a technician using special wipes cleaned the toilet no fewer than four times; a workman, taking a quick break from the construction in the Guggenheim's rotunda, jumped the line with a sheepish grin.

Even the interaction between guards and passersby turned into something of a comedy routine. "What's everybody waiting for?" visitors constantly asked. "The golden toilet," the guards replied, a punchline delivered in expert deadpan.

So was Cattelan's gold toilet worth a two-hour queue? Below, 10 New Yorkers weigh in. 
Annie and Tom McLaughlin
West Village
Annie: "I almost didn't want to use it. Even though there are hundreds of people waiting in line, I didn't get a sense that hundreds of people have sat down on it before me. This is the longest bathroom line I've ever been in, that's for sure. This is a bathroom highlight for me—the only other toilet that absolutely stands out in my mind is the one at the top of the Eiffel Tower."


Tom: "The top of One World Trade Center was memorable, too. We go to the bathroom in really high places because we have no idea how it gets down to the sewers. This one's not at the top of my list. I actually prefer location over a golden toilet."
Sarah Zhao
Greenwich Village
"It's interesting that there's such a long line. A lot of people, even though they criticize America for having such a big disparity between the working and the poor, are still really interested in American ideas and want to feel the luxury. I didn't really think it was different from using a regular toilet, other than everything is reflecting and it's glittering and shimmering. I wouldn't mind having it in my house."

Gary Rozal
Kips Bay
"It's kind of striking, but I can't believe people are waiting two hours for this. I'm ambivalent about it. I can't say it's not interesting, but I don't think I'd want to do it again. I tried to lift the cover but I couldn't, the thing was so dang heavy. I waited so long I couldn't hold it anymore, and I had to go use one of the normal bathrooms. When I was inside, I was thinking, why didn't they make the sink also gold? It's like a failed Trump attempt."

Nomuka Luehr
Union Square
"I was really surprised about the interpretation, about it being for the one percent. When I heard it was called America I just thought that was because America's kind of a shithole that likes to pretend like it's better than everybody else when it's not. At the end it's just a toilet."

Kelly Leong
Greenwich Village
"I would melt that and sell it if it was in my house. It's overrated. The whole idea of it being new and something we'd never experience in real life attracts people. But it's just a toilet. I mean, obviously it's a step up from squat toilets in China. But I don't do anything different on a gold toilet than a plastic one."


SeoKyeong Yoon and Adrian Tone

Sunset Park
SeoKyeong: "I spent two hours in line so I could rub my ass on the gold. I also caught a Pokémon in there. Right now I feel like it was worth it, but we almost gave up partway through the line."

Adrian: "I was hoping there'd be no line. I just kind of wanted to go in, use the toilet, and leave. Instead we waited for almost two hours. But it was good, worth the wait. There were a lot of dimples in the golden seat. I thought it would be shinier. "

Joyce Mao
SoHo
"I used it, but I didn't put much thought into it. It's just a toilet. And it's icy, maybe because it's gold."

Edwin Hirschfeld
Chatham
"It compels me to think that I just urinated into something that could have helped many people living in dire poverty or hunger. It could have cured many people of curable diseases, it could have fed a lot of people, it could have maybe taken the pressure off of a lot of working poor. I don't know how much that thing weighs, but if it's cast in 18-karat gold, it's got a lot of mileage in there. So I didn't need that piece in order to be aware of the social and economic inequities, but I do wonder: Now that we've thought about it, what's the next step?"

Marc Quinn Iris
Explore the cup collection here.
Sponsored by illy