100 Years On, Why Dada Still Matters
"How does one achieve eternal bliss? By saying dada," 
proclaimed
 the poet, musician, and theater producer Hugo Ball in the summer of 1916, as World War I raged on. "How does one become famous? By saying dada...How can one get rid of everything that smacks of journalism, worms, everything nice and right, blinkered, moralistic, Europeanized, enervated? By saying dada." In this spirit of anarchy, a new artistic and literary movement called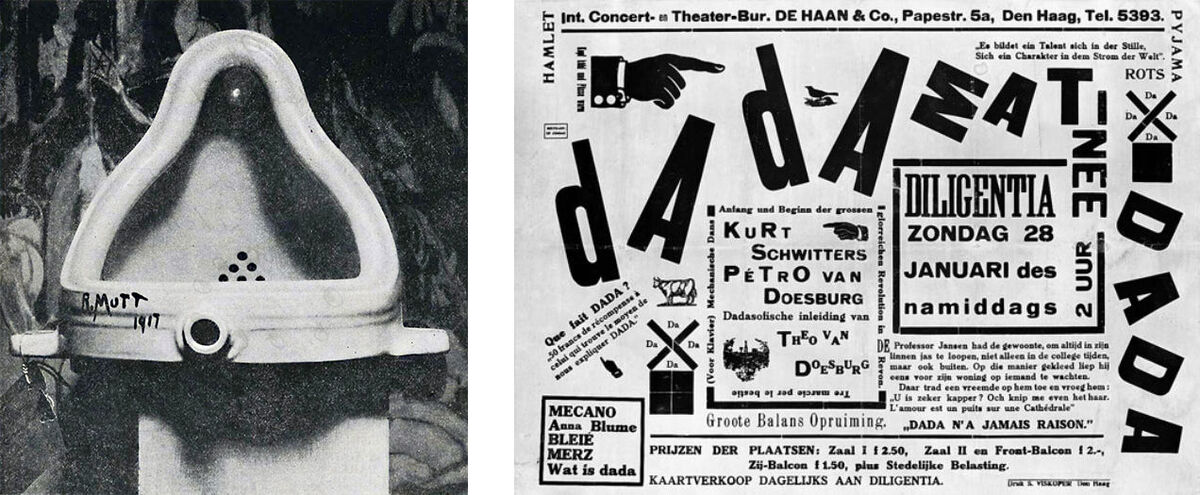 Left: Marcel Duchamp, Fountain, 1917. Photography by Alfred Stieglitz, via Wikimedia Commons; Right: Theo van Doesburg, poster for Dada Matinée, 1923. Image via Wikimedia Commons.
Dada's centennial is being celebrated across the world this year. Zurich has planned over 150 events at venues throughout the city, including the Cabaret Voltaire—which was founded by Ball and served as the birthplace of the movement. In New York,
MoMA
opens "
Dadaglobe Reconstructed
," an exhibition bringing together works by more than 40 artists that were originally made for an unrealized anthology conceived by poet and Dada co-founder,
So what's all the fuss about?
Dada! What?
Dada was a reactionary movement. It emerged when a group of Zurich-based artists and poets—including Ball, Tzara, 
Hugo Ball performing at Cabaret Voltaire in 1916. Image via Wikimedia Commons.
From Zurich, this tendency spread throughout much of Western Europe and to New York, where it was led by
Dada! Who?
Duchamp, the movement's most famous artist, advocated for a philosophy of total freedom in art-making that proved enormously influential for 20th-century artists—and that continues to guide artists today. Among his most radical works was 
Fountain
, consisting of a urinal tipped onto its back, signed, "R. Mutt," and dated 1917. Duchamp would call these types of found objects "readymades," turning them into art simply by altering their context. "I was interested in ideas—not merely in visual products," he once 
said
 of his convention-shattering approach, which prefigured the 
By incorporating the stuff of everyday life into their art—decades before
said
. Schwitters created abstract and semi-abstract compositions out of collaged trash. Berlin-based artist
Cut with the Kitchen Knife Dada through the Last Weimar Beer Belly Cultural Epoch of Germany
(1919–20). Höch's work reflected the activist political edge of Dada in Berlin, which climaxed with the International Dada Fair of 1920, featuring an effigy of a German officer with the head of a pig.
Dada! Why?

By 1924, Dada had wound down. Though it was a short-lived movement, its legacy is outsized. Its emphasis on the unconscious and the uncanny fed into
Rendering for Maurizio Cattelan, America. © Maurizio Cattelan. Courtesy of the artist and the Guggenheim Museum, New York.
Take, for example,
Mlle Bourgeoise Noire
(1980–83), a tempestuous 1950s beauty queen who would appear at gallery openings in a gown made of white gloves and, with Dada-esque boldness and blasphemy, shout poems of protest against the art world's endemic racism and sexism. Or, more recently,
Guggenheim
Museum's bathrooms. Considered to be among Duchamp's contemporary heirs, Cattelan evokes the elder artist's
Fountain
with his gaudy commode and suggests that, in the case of this particular work, Picabia may have been on to something when he
wrote
: "Art is a pharmaceutical product for idiots."