11 Art Historical Treasures to See at TEFAF Maastricht
The European Fine Art Fair (TEFAF) in Maastricht is an art-historical minefield. A jaunt through the sprawling Dutch art fair leads to everything from
Baket-Mut, Chantress of Amun, 1334–1274 B.C.
Safani Gallery, Stand 433
This statue pictures a seated couple: the Egyptian chantress Baket-Mut, who would chant during ceremonies in the Temple of Amun, and her husband. The sculpture is dated to the early reign of Ramses II, most likely created between 1334 and 1274 B.C. Baket-Mut is sculpted with intricate details, including the countless braids that make up the wig she wears (the typical head-covering for a woman of her stature would have been made from real human hair), and the hieroglyphic inscription of her name that decorated her dress. Strikingly, her husband's head and legs have been chopped off, which, the gallery believes, happened during antiquity—it was common for ancient Egyptians to damage artworks as a means of erasing a person they didn't like from history. Remarkably, though, this sculpture was still used for quite some time, perhaps even after it had been damaged—as is evidenced by the chantress's shiny knee, which was worn down by people rubbing it during ceremonies to honor ancestors.
A Greek Bronze Helmet of the Cretan Type, Archaic Period, ca. 650–620 B.C.
Kallos Gallery, Stand 3
In its heyday, this Cretan helmet would've been shiny bronze and festooned with plumage. Today, it's one of only two existing helmets of this kind, and it's the only known example with such fine detail. Though speckled in pale green patina, the surface, if you look closely, is entirely covered with engravings, including borders and patterns that frame miniature figures and highly detailed mythological scenes. One part, for example, pictures Perseus holding Medusa's head as he presents it to the goddess Athena; other sections depict tales of Apollo and the centaur Chiron.
Bacchic Scene with Drunken Silenus, Roman, 2nd–3rd century A.D.
Charles Ede, Stand 426
Just under six inches, this slab of ivory (which is quite large for the material) is a Roman antiquity, dating back to the 2nd–3rd centuries A.D. Carved with fantastic attention to detail, the piece portrays the drunk Silenus—a compatriot of Dionysus in Greek mythology—being propped up on the shoulders of two deputies. It would have likely been a decorative element inlaid into a piece of furniture. From the fine musculature of the shirtless figures to the drapery of a bystander's cloak, it displays masterful stone-carving abilities.
Standing Standard Bearer of Macuilxochitl (Five Flower), Aztec, Late Post-Classic Period, 1200–1500 A.D.
Colnaghi, Stand 306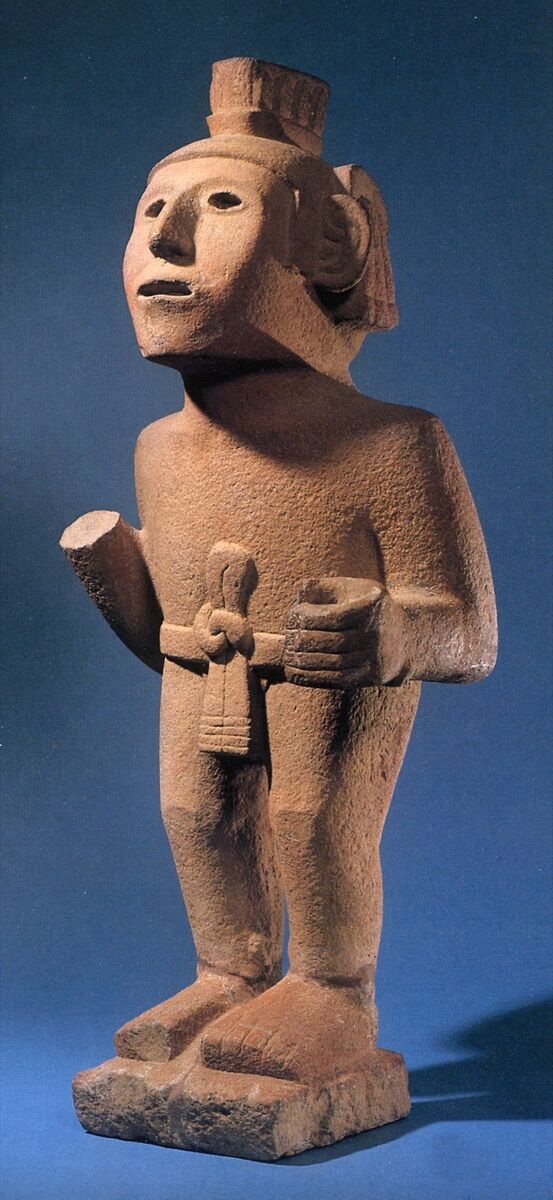 A welcome outlier at the fair (and even within the stand, which is primarily full of paintings by big-name artists of the Italian and Spanish
Brooklyn Museum
devoted to Leff's collection in the late 1960s. Made from volcanic stone and hailing from the Central Mexican Highlands, it depicts the solar deity Macuilxochitl (or Five Flower), who is identified with a tall crest on his head and carved rosettes bearing tassels. The piece would have been a standard bearer, holding a flag in its left hand, and was likely perched outside of a temple.
Portrait of a Gentleman (Antoine De Ville?), ca. 1630–35
Janus Kota, reliquary figure, Gabon, ca. 18th–19th century
Bernard de Grunne Tribal Fine Arts, Stand 121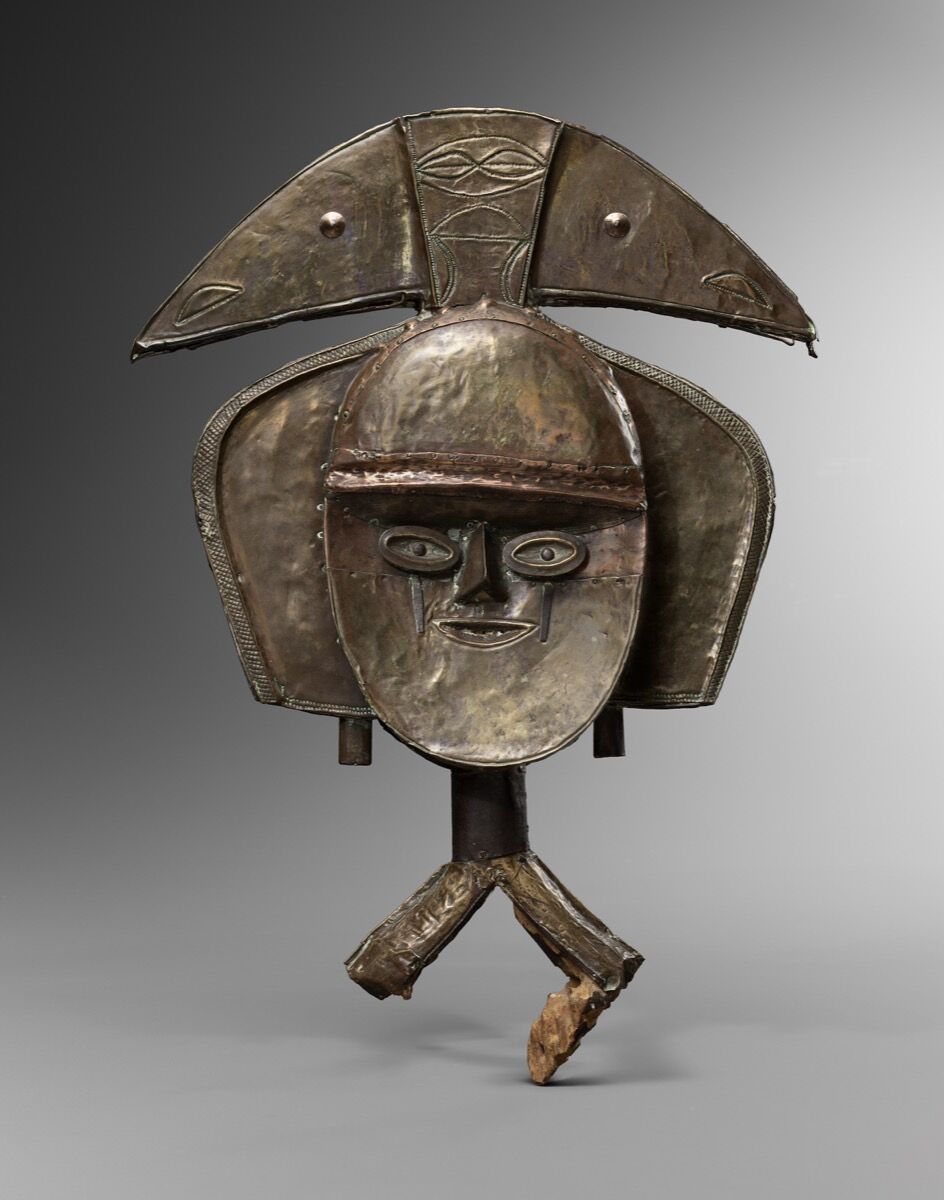 The Kota peoples' reliquary statues, used in ceremonies to protect ancestors, are well-known among experts, but this fine example is special in that it portrays not one face—as was typical—but two. Of the roughly 1,000 known Kota figures in private and museum collections, there are only believed to be 12 or 13 done in this "Janus" style. This piece, the gallery noted, would likely have been used during ceremonial dances during the full moon. (The Janus Kota figures were also important in that they could be used in ritual sacrifices of any type of animal, whereas a Kota sculpture with a single face was limited to the sacrifice of cows or chickens.) This particular piece, which is believed to be from the 18th or early-19th century, was once in the collection of the French-American, New York-based painter
Back in the late-18th century, Canova was esteemed for his sculpture and little-known for painting—despite his superlative skills in both mediums. To help rectify this perception, he made a painting for one of his major patrons, Prince Rezzonico, which was a replica of a self-portrait of Italian Renaissance master
Complex mask, Yup'ik, ca. 1890–1910
Donald Ellis, Stand 128
Taking the shape of a large fish with two faces carved into its belly, this Yup'ik mask from Alaska is impressive not only due to its excellent condition and carvings, but also due to its previous owner. New to the market, the piece was previously in the collection of
Fabergé, workmaster E. Kollin, Apple Gum Pot, 1899–1901
A La Vieille Russie, Stand 110
Though not as rare as some of the other Fabergé pieces on view (like a tiny blue hardstone figurine depicting a coachman), this charming, two-inch gum pot—a small vessel used to hold glue for sealing letters or adhering stamps—is known to have belonged to the Dowager Empress Maria Feodorovna, who was also the recipient of many of Fabergé's prized imperial eggs. Made from gold-mounted aventurine quartz, this peach-pink, apple-shaped pot has a green enamelled stem with a rose-cut diamond that acts as its seal, as well as a small brush attached to its interior. In 1901, the piece was purchased by the Russian imperial family from Fabergé in St. Petersburg for 70 rubles. "In this period, you could buy a 50-acre working farm with cattle and a couple of servants for 50 rubles," said the gallery's Adam Patrick. "Even in his day, Fabergé was an expensive place to go shopping."
Munch actually created five versions of his best-known work—one in crayon, two in tempera, one in pastel, and this lithograph, of which there are known to be 25 editions today. Of those 25, 10 are considered to be in the lithograph's the top "A" state, including this one; other equivalent examples are held by major museums, including the
Metropolitan Museum of Art
, the
Museum of Modern Art
, and the National Museum, Oslo. Priced in the seven-figure range, the work boasts a clear, even impression. Scholars have noted that the composition lends itself well to the graphic, black-and-white medium, despite the ubiquity of the full-color version that is most often reproduced.
Presented at one of the very few photography-focused stands at the fair, this unique gelatin silver print, priced at €18,300, is a fascinating (albeit small, at just nine-by-eight inches) window into 20th-century art history. The prominent Hungarian-French photographer took this image in 1939, but it wasn't printed until over a decade later, around 1951. And while Brassaï took various portraits of
Correction:
A Previous version of this article incorrectly stated that a Yup'ik mask is Oceanic; it is Native American. The article also stated that this is the 30th edition of TEFAF Maastricht; it is the 31st edition.
Casey Lesser is Artsy's Creativity Editor.