The 11 Best Photo Books You May Have Missed This Year
"In the blur of the photograph, time leaves its gleaming, snail-like track," wrote the experimental novelist and photographer Wright Morris, and his words feel right to affix to the act of reconsidering some of the strongest, most resonant, and perhaps overlooked photo books published this year, both works by new photographers and rare or unseen works by the dead and living greats.
Nancy Rexroth, photo from IOWA. Courtesy of University of Texas Press.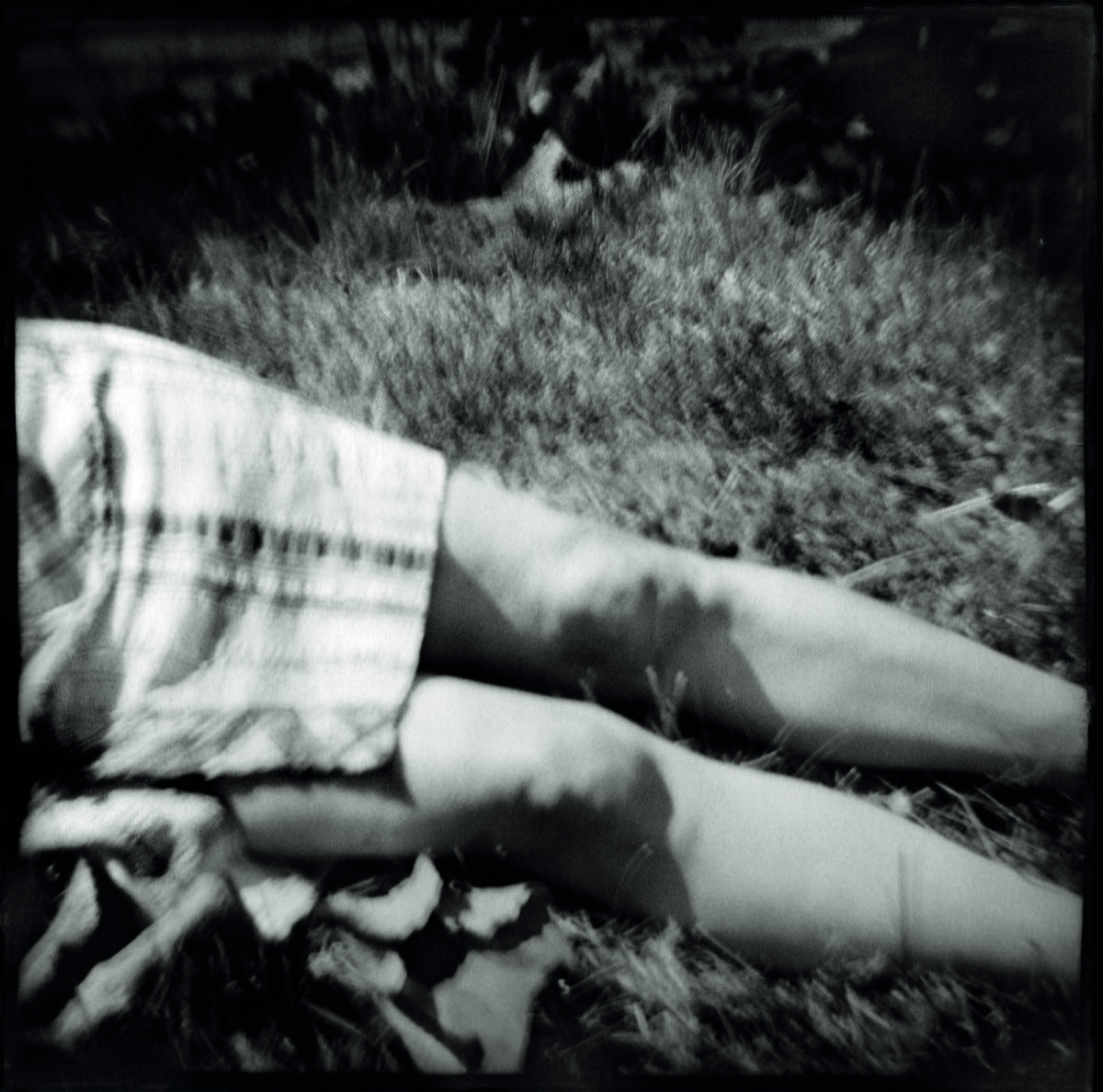 Nancy Rexroth, photo from IOWA. Courtesy of University of Texas Press.
In that vein, or rather, on that gleaming track, arrives University of Texas Press's reissue of Nancy Rexroth's
IOWA
. Rexroth's black-and-white photographs, all taken with a toy plastic Diana camera, and not in Iowa, but Ohio, land on ordinary subjects—livestock, woodframe houses, children playing in backyards and on porches, sunlit interiors—but render them as square-framed dreams, evocative and mysterious. A cult classic sought out by photobook collectors,
IOWA
returns to print for its 40th anniversary, with a foreword by the acclaimed contemporary photographer
Joseph Rodriguez, Spanish Harlem: El Barrio in the '80s
From Spanish Harlem by Joseph Rodriguez, published by powerHouse books.
There is so much heart in the images that comprise
Spanish Harlem: El Barrio in the '80s
. Vibrant and irreverent, they portray lives lived largely out in the open, in the streets and playgrounds, in daily religious and musical ritual, and also acknowledging the darker side of life in 1980s Spanish Harlem, economically forgotten and affected by drugs, crime, and poverty. The photographer's affection for the community of Harlem is rich and deep.
TBW Books's Subscription Series
Mike Mandel, photo from Boardwalk Minus Forty , 1973–83. © Mike Mandel. Courtesy of TBW Books.
This year's edition of
TBW Books's annual Subscription Series is
a consistently excellent four-book set of rare and never-before-published bodies of work by influential living photographers.
TBW Subscription Series No. 5
includes
Prince Street Girls,
her intimate photographs of a group of teenagers and girls in the Lower East Side of the late 1970s;
Boardwalk Minus Forty; Head
(whose recurring titular motif astutely, movingly, and wittingly transforms each frame); and
They Shall Take Up Serpents,
which spools a fascinating narrative in its portrayal of the lives of coal miners who double as religious snake handlers.
William Gedney, William Gedney: Only the Lonely, 1955–1984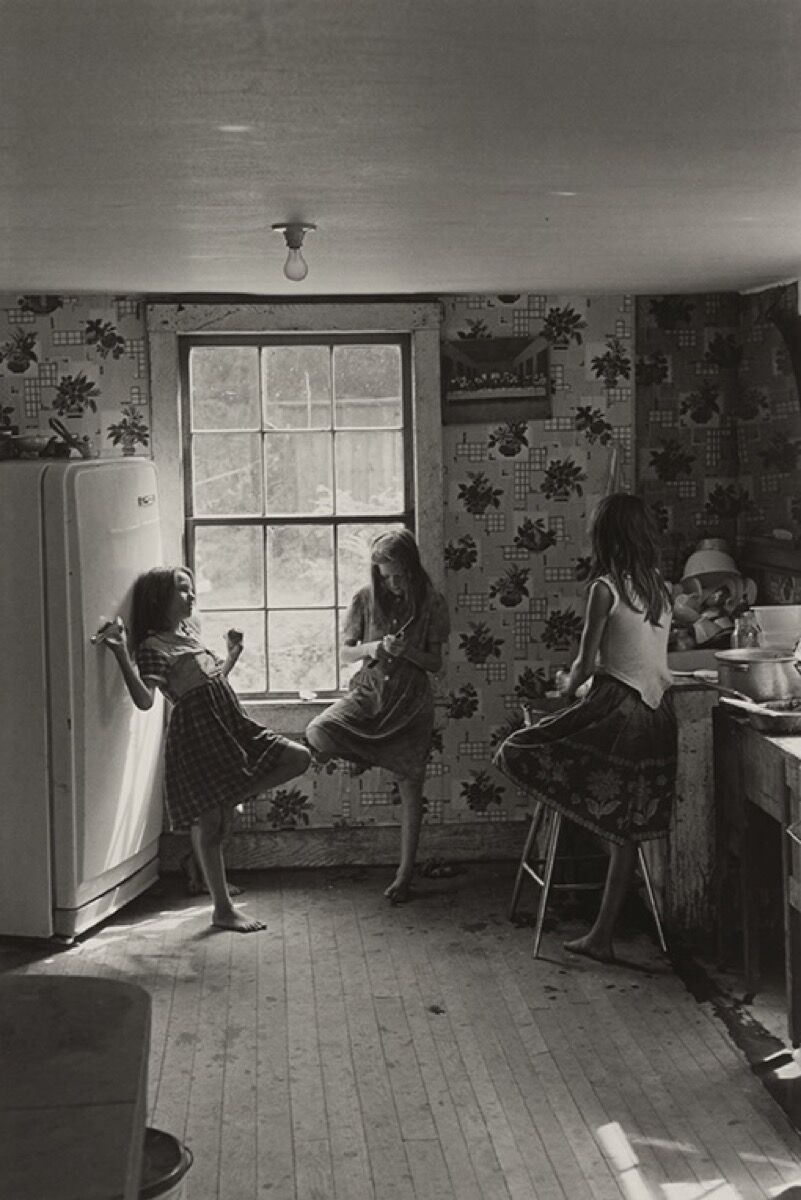 William Gedney, Cornett Girls, Kentucky, 1964. Courtesy of the University of Texas Press.
William Gedney, San Francisco, 1967. Courtesy of the University of Texas Press.
Gedney died at just 56, of an AIDS-related illness in 1989, and was not open about his homosexuality until relatively late in life. His deep, documentary-minded forays into India, San Francisco, Kentucky, and elsewhere find a resonant and emotional kinship with marginalized people and places: black-and-white photographs of a family of sharecroppers and laid-off coal miners that rival in excellence to work by his mentor
Sam Contis, photo from Deep Springs (MACK, 2017). Courtesy of the artist and MACK.
In sublime black-and-white photographs that veer between gentleness and grit,
Deep Springs
emerges from a series of trips the photographer made to the experimental, all-male northern California college Deep Springs. There she sought to reckon visual archetypes of the American West and traditional notions of masculinity with the people and close-knit world she encountered: the tangible, physical connections between young men and between the men and the rugged and romantic landscape. These are pictures that deal equally in violence and tenderness.
La Toya Ruby Frazier, And from the Coaltips a Tree Will Rise
La Toya Ruby Frazier, Maria C.'s hands holding a family photograph showing her mother, brother, and herself as a child. Courtesy of Mac's.
Rebecca Norris Webb and Alex Webb, Slant Rhymes
Alex Webb, Havana, Cuba from Slant Rhymes. Courtesy of La Fábrica.
The conversation between words and images, and between images and images, is the foundation for artistic collaborators and wife and husband
Slant Rhymes
. The title is an allusion to Emily Dickinson—"Tell all the truth but tell it slant"—and Rebecca Norris Webb, originally a poet, borrowed the idea of half rhymes, "pairings of words that echo each other," to describe the visual reverberations that accrue in these pictures.
In dual visions of the animal and human worlds on a shared trip to Havana, or palpable resonances between far-flung and seemingly disparate places (a bleak interior window on a rainy evening in the Badlands of South Dakota; women at the Kumbh Mela festival in India, a gathering of 35 million people), the pictures become a correspondence, a love letter even. Asks Rebecca: "Why do I see you more clearly when we're worlds apart?"
Jack Pierson, Pierson: The Hungry Years
Jack Pierson, Janet and Lynelle, 1990. © Jack Pierson. Courtesy of Damiani.
Mary Frey, Reading Raymond Carver
Mary Fray, from the series Reading Raymond Carver. Courtesy of Peperoni Books.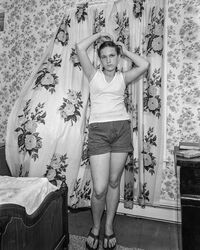 In
Reading Raymond Carver
, Mary Frey revisits a body of work she began 38 years ago, when she was teaching full-time in graduate school, and pregnant. Shot in early 1980s working-class America, her photographs of family, friends, and strangers in seemingly banal domestic scenes capture unconscious moments of grace—the woman balancing a just-baked pie on mittened fingers, the husband placing a strand of pearls around his wife's neck. Most revelatory, though, are her pictures of girls, women, and young mothers raising kids, putting on makeup and dressing up in bridal veils, listening deep to Led Zeppelin eight-tracks, and visibly trying out new ways of being. The final text of the book is a poem by Carver, bleak but affirming: "Would I live my life over again? Make the same unforgivable mistakes? Yes, given half a chance. Yes."
Sory Sanlé, Sory Sanlé: Volta Photo 1965–1985
Sory Sanlé, photo from Sory Sanlé - Volta Photo 1965-1985. Courtesy of Reel Art Press.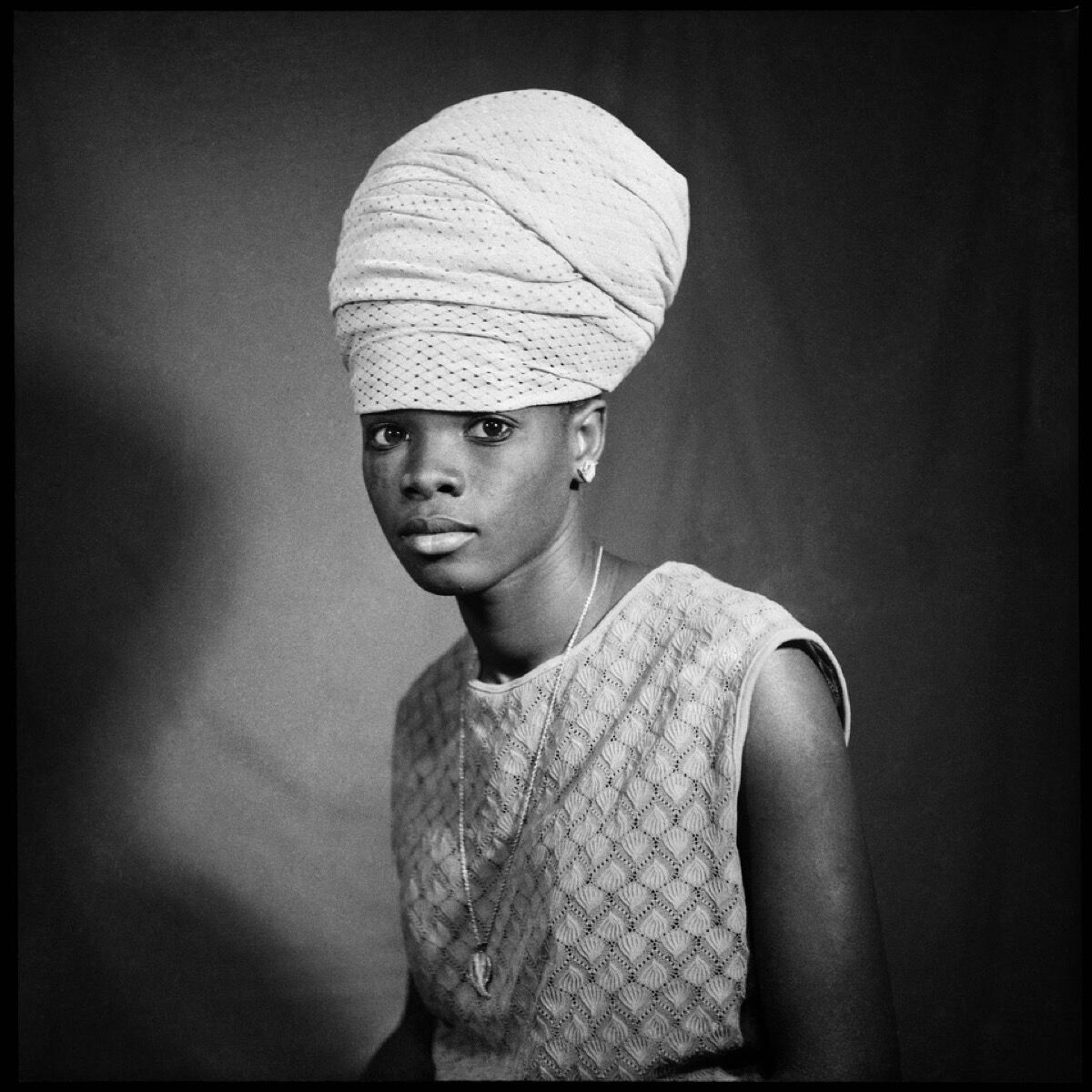 Sory Sanlé, photo from Sory Sanlé - Volta Photo 1965-1985. Courtesy of Reel Art Press.
Like his Malian neighbor
Sory Sanlé: Volta Photo 1965–1985
are both indelible portraits in their own right and a fascinating visual chronicle of both the evolving styles and dynamic cultural shifts in an underrepresented country.
William Eggleston, Election Eve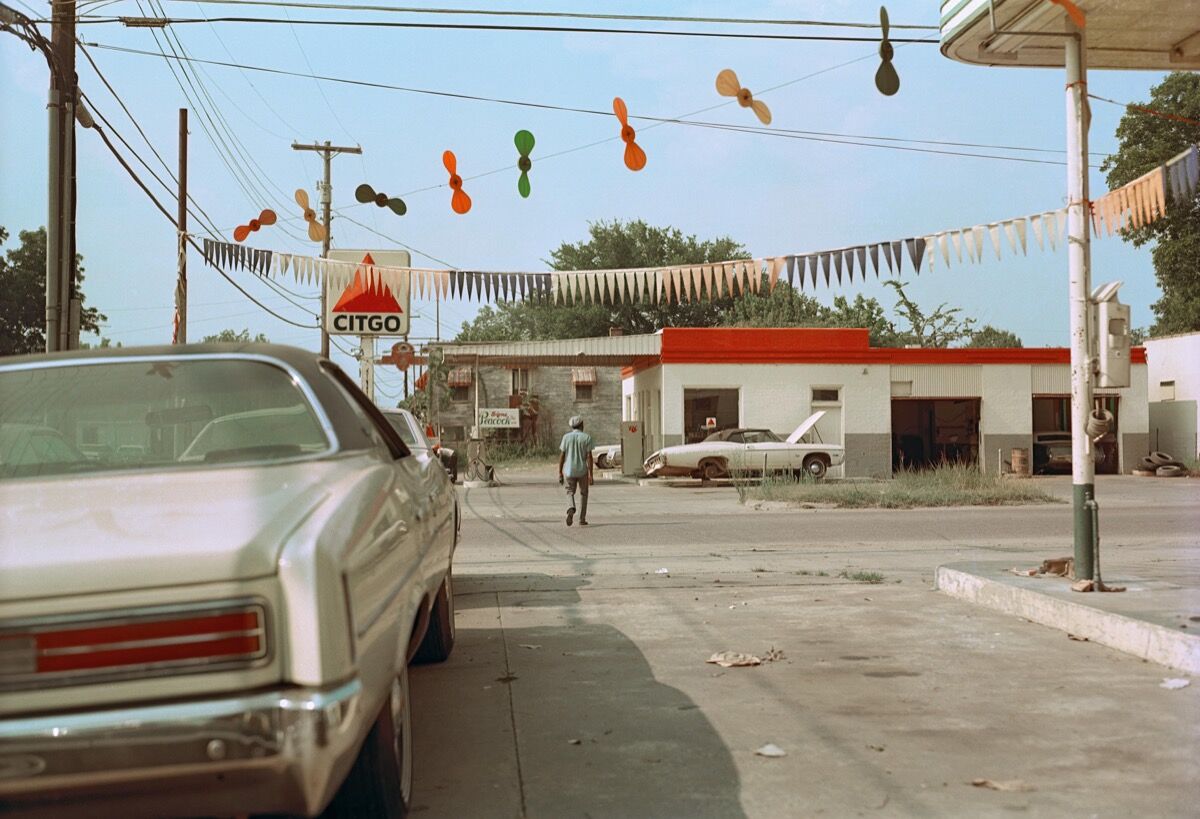 William Eggleston, Mississippi. © 2017 Eggleston Artistic Trust. Courtesy of Steil.
Finally, while it would seem disingenuous to categorize anything
Musik
, if you're interested) and the fervor for his collection of synthesizer improvisations threatened to overshadow the arrival of one of his most remarkable portfolios,
Election Eve,
now out from Steidl in a gloriously beautiful edition. In 1976, when Jimmy Carter was running for president of the United States, Eggleston was asked by a magazine editor to photograph the Southern hometown of the presidential candidate, who was once a peanut farmer. Eggleston, now 78 and resolutely apolitical, did not accept the commission, but visited Plains, Georgia, on his own terms.
The famously at-war-with-the-obvious Eggleston did not photograph the candidate, or his family, or supporters; in fact, scarcely any people appear in these pictures and there is scant indication of the impending election, other than a photograph of a "Let's Elect Jimmy Carter President" sticker plastered on the bumper of a gold-colored Chrysler. But the impressions made by human beings (particularly the photographer himself) are revelatory, and even in the languor and stillness of seemingly benign settings (parking lots, baseball field bleachers, roadsides, mounds of red Georgia dirt, the exterior of a peanut processing plant), there is a profound sense of anticipation and an elegiac discovery of beauty in the overlooked.
Viewing these pictures anew and many for the first time in 2017, it is impossible not to also see them as lessons, subtle but potent signs in the landscape, pointing to the kinds of things we as a country are still all too apt to miss.
Stir Creativity
See how Bombay Sapphire supports artistry.
Sponsored by Bombay Sapphire