11 of the World's Greatest Sculpture Parks, from Seattle to Oslo
The tradition of mounting works of art outdoors in nature stretches back for centuries. In the late 1500s, for example, Henry VIII adorned his gardens at Nonsuch Palace in Surrey, England, with sculptures inspired by Greek mythology. In Renaissance Italy, nobles like the Medicis bedecked their gardens with
What's more, while indoor museums are often crowded, sculpture parks provide a respite; their ample environments are designed to make appreciating art a harmonious experience in nature. Highlighting the similarities between natural spaces and works of art,
Below, we share 11 extraordinary sculpture parks you can visit across three continents.
Olympic Sculpture Park
Seattle, WA
Built on a former industrial site, Olympic Sculpture Park sits alongside Elliott Bay's eastern shoreline. The park is perched above the city on an elevated swath of green space peppered with evergreen and deciduous trees, affording stunning views of the bay (visitors can follow a path down to the water) and the Olympic Mountains.
Open since 2007, the park is run by the
Seattle Art Museum
and houses both a permanent collection and rotating exhibitions, with works by
Echo
(2011), has been a waterfront fixture since 2014. Named after a nymph from Greek mythology, the 46-foot-tall head gazes across the Puget Sound toward the Olympic Mountains, a gesture that nods to the mythical home of the Greek gods, Mount Olympus.
Frederik Meijer Gardens & Sculpture Park
Grand Rapids, MI
Spanning 158 acres of land with both indoor and outdoor spaces, this park mounts three temporary exhibitions per year in addition to its permanent collection. The latter includes works that date from the mid-1800s to the present, with pieces by famed sculptors including
Minneapolis Sculpture Garden
Minneapolis, MN
After a year-long expansion and renovation initiative, the Minneapolis Sculpture Garden reopened in summer 2017, renewing access to iconic, longstanding pieces like Spoonbridge and Cherry (1985–88) and Gog & Magog (Ampersand) (1988).
The new-and-improved garden also includes 17 additional works, including German sculptor
Hahn/Cock
(2013), a humorously irreverent 10-foot-tall blue rooster that originally sat in London's Trafalgar Square. In Minneapolis, the piece has taken on new meaning, recalling Minnesota's history of poultry farming. In addition to adding new pieces—which include
Walker Art Center
, through a sculpture-dotted green space.
Storm King Art Center
Windsor, NY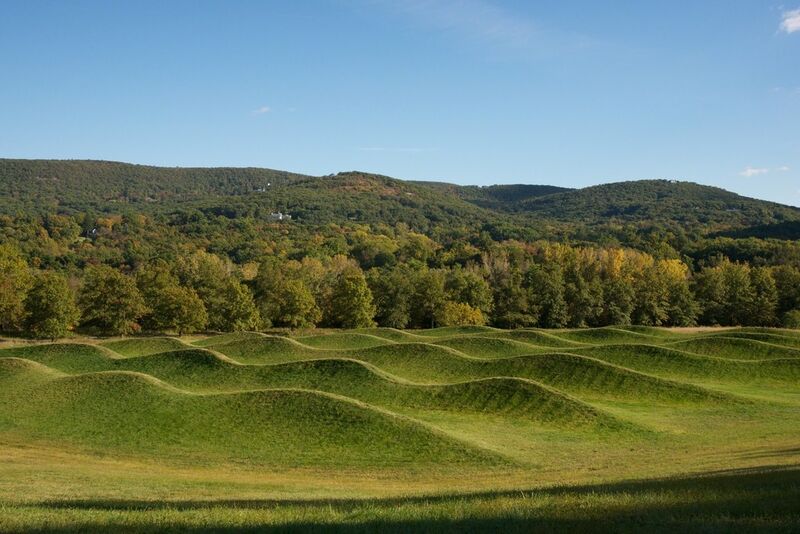 Daytripping distance from New York City, Storm King boasts tranquil hills and open fields sprinkled with monumental sculptures by
Storm King Wavefield
(2007–08), a series of undulating hills (
recently popularized
on Aziz Ansari's hit Netflix show
Master of None
), and
Storm King Wall
(1997–98), a 2,278-foot-long wall made from stones that meanders through trees and across the park. From its lauded temporary exhibitions to public programming including bird-watching and yoga, Storm King aims to foster an appreciation for sculpture and enrich the local community.
Hakone Open-Air Museum
Hakone, Japan
Just under 60 miles southwest of Tokyo, Japan's first outdoor art museum (founded in 1969) is spread across a modest 17-acre plot that serves as the permanent home to some 120 sculptures, both outdoors and inside a gallery. The museum aims to cultivate the enjoyment of both nature and art, where even those who have no prior art knowledge can,
according to
the museum's website, "nurture [their] soul." In step with this philosophy, the space features a hot spring foot bath, where visitors can recharge after a day of walking; several kid-friendly, interactive sculptural spaces designed for a mixture of play and relaxation; and Gabriel Loire's
Symphonic Sculpture
(1975), a steel-and-glass tower with a somewhat
The park also features pieces by international artists including
Yorkshire Sculpture Park
Wakefield, United Kingdom
Yorkshire Sculpture Park opened in 1977 as the first permanent park of its kind in the U.K. It now hosts some 80 sculptures and installations on its 500-acre country garden estate, complete with fields, dirt paths, scattered trees, and wooded areas. Visitors are free to wander the far-flung grounds, happening across sculptures alongside grazing sheep.
In addition to temporary exhibitions by artists like
The wide-ranging collection at Oslo's Ekebergparken (or Ekeberg Park) includes artists from Auguste Rodin and
A strong contingent of female artists is represented, too, including one of Jenny Holzer's signature text-based pieces; a curious, phallic form by Klang (2013),a site-specific, video-and-sound-based installation that is embedded in a small cave and traces the history of human communication, from ancient runes to cell phones. Open 24 hours per day, the park allows visitors to discover these pieces and more as they explore the forest-lined paths, take in views of the Oslo Fjord, and even stand on the spot that inspired the landscape in The Scream (1893).
Kröller-Müller Museum and Sculpture Garden
Otterlo,  Netherlands
With nearly 90 paintings and more than 180 drawings by
Van Gogh Museum
in Amsterdam). Outside the museum is a 60-plus-acre sculpture garden that gives way to some 160 pieces by the likes of
Opened in 1961 and now one of Europe's largest sculpture gardens, Kröller-Müller also offers inviting spaces for relaxation or picnicking and pathways for running or strolling, as well as pavilions by Dutch architects Aldo van Eyck and
Changchun World Sculpture Park
Changchun, China
The pièce de resistance of the sprawling Changchun World Sculpture Park is a 97-foot-tall concrete sculpture entitled Friendship, Peace and Spring, which is a joint work of five Chinese sculptors. Standing for global unity, the title of the piece is also the theme of the park as a whole, which embraces an East-meets-West, classical-meets-contemporary program.
Divided into five sections, each representing a different continent, the park contains some 450 sculptures by artists from over 200 countries and territories, with
Park Güell
Barcelona, Spain
A short trek from Barcelona's city center, Park Güell is a whimsical wonderland, designed at the turn of the 20th century by famed Spanish architect
Gaudí's style arose as part of a uniquely Catalan interpretation of
Lough Boora Sculpture Park
Boora, Ireland
Settled by mesolithic peoples nearly 10,000 years ago, the Lough Boora bogland has a rich history and impressive biodiversity. Within the park, five main trails cover over 30 miles of wetlands, lakes, and grasslands, which serve as habitats for frogs, dragonflies, wild goats, and some 130 bird species. Operated by the Bord na Móna company, the park is dedicated to conservation and sustainability, and its sculptural program follows suit.
The 24 works here are made from natural and industrial materials from the bog area, including wood, stone, and railway tracks, which have, in turn, been transformed by their environment through weathering or plant growth. Coupling harmoniously with their natural surroundings are pieces like Padraig Larkin's The Celtic Knot, made from a local 5,000-year-old pine tree and glacial rock, and David Kinane's Boora Convergence (2006), a latticed steel-and-wood structure intended to mirror both the local cooling towers and the drainage lines carved throughout the bog.