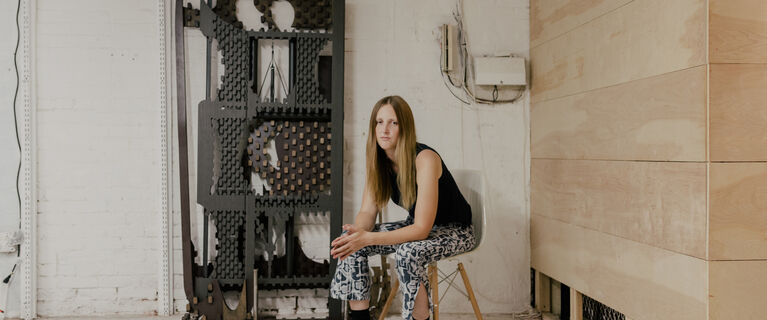 Art
12 Artists in Summer Group Shows Who Deserve Solo Shows
Artsy Editorial
Conventional wisdom holds that the bonanza of New York summer shows is little more than a sleepy pause before the fall season kicks into gear. But it's also a terrific time to scout group exhibitions for the lesser-known talent on the cusp of wider recognition—artists who will, with any justice, soon be given their own solo-show spotlight in the city.
But don't despair if you've been hiding out at the beach for the past two months: we've done the hard work for you. Below, we take a look at 12 discoveries—including a painter of video game aesthetics, a photographer of Elvis impersonators, and a sculptor inspired by seaweed—that the art world will be buzzing about before long.
Selected by Alexander Forbes
Nick Hornby
B. 1980. Lives and works in London.
Seen at: "The Curators' Eggs," Paul Kasmin Gallery, 293 10th Avenue, New York, Jul. 12–Aug. 18.
Installation view of Nick Hornby, Untitled Mask, 2017, in "The Curators' Eggs" at Paul Kasmin Gallery, New York. Image courtesy of the artist.
Hornby's untitled sculpture, a highlight of this 13-artist show, might remind you of a fragment of an ornately carved walnut table, albeit one that's scaled for a giant. Look closer, and a mask may begin to appear amid the negative space at the piece's front. Walk around to the sculpture's side and, suddenly, the silhouette of a woman in a deep backbend emerges.
This visual puzzle is a multi-layered art-historical reference. The woman is a three-dimensional rendering of Henri Matisse's cut-out Acrobat (1952). When Hornby doubled the rendering and arranged the two figures to meet at their respective midpoints, he found that the result looked, from the front, surprisingly similar to the mask in Picasso's Les Demoiselles d'Avignon (1907).
"The concept comes from a story about the beginning of Modernism 100 years ago, when Picasso visited Matisse for tea," he's said, noting that the retelling isn't entirely historically accurate. "Matisse had been collecting African masks and antiquity when Picasso found a Fang mask hanging on a wall and instantly fell in love with it. He was transfixed. Matisse let him take it home and two weeks later—inspired by this mask—Picasso painted Les Demoiselles d'Avignon (1907), thus inventing Cubism and changing the course of visual art forever."
Another version of this untitled work is installed through August 27 in "Sculpture (1504-2017)," part of the Glyndebourne Festival in East Sussex, England. It's joined by nine companions that also pull extensively from the work of major sculptors. One riffs on Michelangelo's David; others use stone that was quarried from the same Italian hills as that iconic masterpiece. But equal to his reverence for art history and interest in reconfiguring it—whether in marble or via code—is Hornby's desire to counter what he calls its "fairy tale—a reductive narrative from a Eurocentric male perspective."
Louisa Clement
B. 1987 in Bonn, Germany. Lives and works in Bonn and Düsseldorf, Germany.
Seen at: "Lyric on a Battlefield," Gladstone Gallery, 515 West 24th Street, New York, Jun. 23–Aug. 4.
Installation view of work by Louisa Clement in "Lyric on a Battlefield" at Gladstone Gallery, New York. Photo by David Regen. Courtesy Gladstone Gallery, New York and Brussels.
We first spotted Clement's work at Berlin gallery Wentrup's booth at The Armory Show this past March. There, the 2015 graduate of Andreas Gursky's class at the Kunstakademie Dusseldorf showed works from her "Avatar" series of photographs, taken on her iPhone, of the torsos of brightly hued mannequins. For "Lyric on a Battlefield," gallery director Miciah Hussey selected five works from Clement's "fractures" series, which sees her lens trained on the oddly bent limbs, hands, and feet of the mannequins, which she says fill her studio to the brim.
"The pieces are about putting together different parts of the body, which could fit together but don't quite," says Clement of the series. "I see the pieces as standing in as fragments of a person's identity; there are parts of us that don't fit into other parts of us. In a certain way, it's this lack of cohesion within a person's identity that makes them a person."
Clement engages in a rich tradition of German photographers, like Gursky, Wolfgang Tillmans, and Thomas Ruff, who manage to capture utterly banal objects and scenes in a way that they resonate on a much higher human and societal level. Along with a new series of mannequin photographs, another body of work, "Gliedermensch," currently on view as part of a show of Dadaist Luise Straus-Ernst's prints that Clement curated at Cologne's Wallraf-Richartz-Museum, pictures the molds out of which grenades and other weapons are cast.
Unlike her predecessors, Clement has been quick to move beyond photography as her sole medium. She made contact with a state-owned company responsible for destroying chemical weapons known as GEKA after learning in 2014 that it would help destroy weapons confiscated from Bashar al-Assad's regime in Syria. They offered Clement a vast supply of the obsidian-like chunks of glassy black material that are the by-product of neutralizing the gas. (She says it is otherwise crushed up and used to pave streets.) In Cologne these chunks lie in a wide strip along a white plinth, like a Richard Long with a penchant for mass destruction. And, for an upcoming show at Wentrup, Clement has delved into video, in which the brightly colored mannequins from "Avatars" are caressed by humans clad in patterned spandex.
Selected by Scott Indrisek
B. 1987 in Los Angeles. Lives and works in New York.
Seen at: "Composites," Magenta Plains, 94 Allen Street, New York, July 5–Aug. 6.
Installation view of work by Anne Libby in "NAGY / LIBBY / LE VA" at Magenta Plains, New York. Image courtesy of the artist and Magenta Plains, New York.
With its pared-down simplicity—teasingly alluding to forms that are familiar yet elusive—Libby's sculpture can recall everything from assembly-line machinery to exercise equipment and mass-market folding tables. The artist works with a range of materials, both natural and synthetic, from powder-coated steel to mylar and formica. In the first of two group shows she was included in at Magenta Plains this year, Libby presented her multi-level installation Acting Blanks (2017), which was shown alongside historical works by Peter Nagy and Barry Le Va. The sculpture resembled an in-progress model for some future, ultra-minimalist metropolis.
In the gallery's downstairs space, Tessera (2017) employed a steel structure as the basis for a very different sort of experiment: The piece was festooned with looping scrolls of laminated seaweed. "I started from a material interest in its product form," she explains. "Seawood in its natural form is buoyant and wild, but then it's pulverized and compressed into rectangles for consumption—but it still retains the transparency and fragility of its origins. Laminating furthers the compression but makes it durable again. The rolls of seaweed take on forms that refer to production, a drying rack, a conveyor belt, or scrolls on a printing press."
Sculptures that Libby exhibited in late 2015 at Night Gallery in Los Angeles acted more like industrial room-dividers or screens, seeming to simultaneously be scaled in relation to the human body and something much more imposing (like the underbelly of a car).
The artist says that she's recently been pondering the work of several older generations of artists, from Nina Beier to Diane Simpson, Haegue Yang, and Marisa Merz. It should be fascinating to see how Libby further explores the tensions present in her sculpture—especially so in a larger institutional or solo context, where she'd be free to sprawl.
Tommy Kha
B. 1988 in Memphis, Tennessee. Lives and works in New York and Memphis.
Seen at: "Discursive Selves" at Westbeth Gallery, 55 Bethune Street, New York, Jul. 21–Aug. 11.
Tommy Kha, Headtown (I), Arlington, TN, 2016. Courtesy of the artist.
Navigating the field of creative, eccentric self-portraiture can be a minefield, full of clichés and missteps. Somehow, this young photographer has found a way to enliven the genre, with a body of work that is alternately sweet, comic, sentimental, campy, vulnerable, and formally astute. Along the way, he makes sure to nod to his sexuality and race, not to mention his upbringing in the American South.
Kha is a busy man, juggling a number of projects at once. One of them is a series, "Return to Sender," in which friends, acquaintances, and others kiss him in staged vignettes. Another is "I'm Only Here To Leave," which mixes sculpture with photography. "Through stock images, I fabricated a 3D-printed mask of my face," he explains, "and then I have queer, Asian bodies wear that mask—attempting to make myself more queer, more Asian. I'm also working with photographic prints of my body: creating cardboard cut-outs of myself, placing them in the world, and documenting them."
Given his Memphis roots, Kha has always had something of an Elvis fetish. An ongoing series involves photographic portraits of Elvis impersonators (who Kha stresses like to call themselves "Elvis Tribute Artists," which sounds more refined). He's also entertaining another long-running obsession—with the NBC police drama Law & Order: SVU, now in its 18th season. "I've joined a casting agency," he tells me. "My dream is to be in the background of an SVU episode—dead or alive. I've been making a video-art 'documentary' about this." He's also been filming himself in some rather unique scenarios: "I've been having athletic people throw me over their shoulders and squat me," he says.
Tanya Merrill
B. 1987 in New York. Lives and works in New York.
Seen at: "Look Her Way," Thierry Goldberg Gallery, 103 Norfolk Street, New York, Jun. 15–Jul. 14.
Tanya Merrill, The Uprising, 2017. Image courtesy of the artist and thierry goldberg gallery.
Tanya Merrill, The Reckoning, 2017. Image courtesy of the artist and thierry goldberg gallery.
Often working with flashe and oilstick on raw linen, Merrill creates paintings that are intensely gestural. In three canvases on view this summer, viewers found her experimenting with a hapless, but oddly sympathetic, cowboy archetype. More work in this same slapstick Wild West vein can be seen this fall during Merrill's participation in the Columbia MFA Open Studios.
"It began as the downfall of a man who is usually in control—not only of himself, but of the world around him, the land and the animals he claims under his rule," Merrill explains. "I wanted to see what would happen if everything that is usually true for this man turns against him."
Not surprisingly, Merrill says that each of her paintings begins with a number of study drawings. "A successful painting," she adds, "usually starts with a good round of laughing, and having fun with free-associative drawings."
Even if she occasionally borrows familiar tropes, it's always in the service of commenting on the here-and-now. "In a way, the American West came in as a backdrop, a recognizable stage—of colonialism—to set, and then subvert," Merrill says. "I enjoy using a familiar space and a set of characters from art history, film, and literature. But beyond playing with the history of art, I'm deeply concerned about real life, and hope to point to what I care about: Politics and work. Families and love."
Mathew Zefeldt
B. 1987 in Clayton, California. Lives and works in Minneapolis, Minnesota.
Seen at: "Summer Breaks" at Joshua Liner Gallery, 540 West 28th Street, New York, Jul. 13–Aug. 18.
Installation view of "Marble Head from a Herm" at Circuit 12 Contemporary, 2016. Courtesy of the artist.
This painter seems fully at ease in the postmodern mingling of style and era—sampling equally, as he describes it, from ancient Greek sculpture, 17th-century Dutch still life, and 1990s video game aesthetics borrowed from Castle Wolfenstein or Duke Nukem. The result is an intriguing addition to the canon of what might be called Post-Internet Art, or images made by digital natives who take such a ragged quilt of influences for granted.
Often, Zefeldt will obsessively repeat a single image over a dozen times within a single composition. "It takes the pressure off each individual image," he says. "When relaxing the eye, seeing the gestalt, the paintings function like a Magic Eye or stereogram: A myriad of near-identical painted images create a kaleidoscopic pattern, image-based post-abstraction. I think about the idea of gesture as it relates to software operations: rotate, zoom in, zoom out, copy, cut, paste, stretch, skew, transform, tile…."
Even though much of Zefeldt's subject matter is derived via screens, he notes that there's still a vital difference in the translation. "I paint a lot of images that already exist, so there is a sort of faithfulness there," he says. "But it's a painting, and my hand is all over it. That's why it's important to see in person: What looks like a really tight, digital image from a distance, or in a JPEG, looks a lot more painterly up close."
Dickon Drury
B. 1986 in Wiltshire, England. Lives and works in London.
Seen at: "Condo New York, hosting Koppe Astner, Glasgow, and Sandy Brown, Berlin," at Rachel Uffner Gallery, 170 Suffolk Street, New York, NY, Jun. 29–Aug. 2.
Dickon Drury, The Who's Who of Whos, 2016. Courtesy of the artist and Koppe Astner, Glasgow.
Dickon Drury, The Music Room (please don't touch the harp), 2016. Courtesy of the artist and Koppe Astner, Glasgow.
"I'm sort of a lazy storyteller," Drury asserts. "As a painter, you have to be. Narratively, I want to do as little as possible—once things become too well-defined, the exchange between artist and viewer becomes a swift transaction of visual information, instead of something more poetic and conversational. I don't think people go to a gallery looking for answers."
As part of Condo New York—a kind of exchange-program in which out-of-town galleries set up shop in local institutions—Americans got a glimpse of London-based Drury's vision at Rachel Uffner Gallery. Here, he spotlighted—for the first time—a series of his drawings. The artist's larger-scale paintings, exhibited at Koppe Astner in Glasgow and Frutta in Rome, have a fizzy, magical-realist humor about them. Even a simple jug of water on a table possesses a certain frisson.
"Quiet paintings are often the most rewarding to look at—they have to work a bit harder," he says. "If you can inject some sexual tension into a tablecloth, or bestow a lemon with a creeping sense of dread, then you've won. You've become an alchemist. That ability to transform the everyday is what makes painting so magical."
Drury's future plans include a Frieze London outing this fall with Koppe Astner, as well as a solo exhibition with Galleri Opdahl in Stavanger, Norway, slated for February 2018.
Bryce Zackery
B. 1984 in Rochester, Minnesota. Lives and works in New York.
Seen at: "Garden Dwellers," Regina Rex, 221 Madison Street, New York, Jul. 12–Aug. 9.
Bryce Zackery, Coal Miner, 2017. Courtesy of the artist.
Bryce Zackery, Skoll, 2017.
"I create visual narratives that attempt to motivate action," Zackery has said. "There is a theory that 50% or more of communication is nonverbal, and I feel like the same can be conveyed in a physical object."
While they have a message, Zackery's sculptures, assemblages, and textile paintings can also be seductively cryptic. His series of "Stitch Paintings" upend the conventions of portraiture, presenting gnarly, occasionally grotesque figures composed of strands of rope. Some works incorporate driftwood to create weathered, totemic faces. For other series, Zackery experiments with polyurethane resin, creating bold casts of common objects—bones, for instance, as well as wood planks, chains, and small bird statuettes. Exhibition A, for whom the artist produced a suite of small-scale sculptures, rightly ties Zackery to the mixed-media legacy of Louise Nevelson.
As for how he would identify himself and his chosen materials, Zackery prefers to remain fluid. "I'm an artist who doesn't accept limitations," he tells me. "If I can't do something, I learn how. I paint, sculpt, shoot and edit film, do carpentry and a touch of printmaking. It's the only way I know how to work. When I was a kid and got asked what I wanted to be when I grew up, I had a list of 15 things. The teacher said, 'Oh, so you want to be a Renaissance Man?' Two decades later, and people are still asking the same question."
"I make art because I love art," he continues. "We as artists have the responsibility to not only record the styles, traditions, and sentiments of today—but also to promote and uplift people to work toward a brighter future, by teaching them to understand and interpret the lessons of the past."
Selected by Alexxa Gotthardt
Haley Josephs
B. 1987 in Seattle, Washington. Lives and works in Brooklyn, New York.
Seen at: "Visible Range," Deli Gallery, 10-16 46th Avenue, Queens, New York, Jul. 14–Aug. 6.
Haley Josephs, Transformation, 2017. Courtesy of the artist.
Haley Josephs, Storm Dream, 2017. Courtesy the artist and Deli Gallery, NY
"These ladies are trying to find the light, but also with great and deep respect for the dark," Josephs tells me, discussing the women depicted in her paintings. The Brooklyn-based artist, who graduated from Yale's MFA program in 2014, paints her scenes and figures in fiery hues that recall roadside flares, crystal balls, and the magical insides of mood rings. The women, often alone, in nature, and sometimes naked, appear with eyes rolled back in their heads, caught in the grip of transformative emotion. These are paintings of psychological struggle and, occasionally, triumph.
At Deli Gallery, the figure in Josephs's Transformation (2017) is rendered in deep oranges, pinks, and ochres—colors so warm you almost expect them to give off heat. The late-sunset tones of the subject's skin are balanced by her clear blue eyes, while the rainbow-shaped trail of a butterfly hovers over the composition. According to Josephs, her painted characters are responding to "life, and especially the trauma within it," she explains. "I think of them as coming to terms with something that is sometimes apocalyptic."
Emily Ludwig Shaffer
B. 1988 in San Francisco. Lives and works in New York.
Seen at: "MFA Summer Show," False Flag, 25-20 43rd Avenue, Long Island City, New York, July 19–31; "Cats without Claws," curated by Maggie Goldstone, Mom's, New York, Jul. 2017.
Installation view of work by Emily Ludwig Shaffer at Columbia MFA Thesis Exhibition, curated by Deborah Cullen-Morales, Lenfest Center, 2017. Courtesy of the artist.
If you visited Columbia University's MFA exhibition this past May, you might have taken a rest on what you thought was a bench, only to realize it was actually a human-scale cat tower—and the unexpected nexus of Ludwig Shaffer's thesis work.
Pet furniture, house plants, water-filled vases, and architectural details all offer inspiration for the New York-based artist. Both Ludwig Shaffer's sculptures and smooth-edged, gradient-saturated paintings magnify these objects. In the process, they also highlight the significance and absurdity of certain human behaviors (like living with cats and erecting towering, carpet-coated homes for them).
"Banality is a term I use to describe the constellation of places, objects, and ideas I pass by on a daily basis," Ludwig Shaffer tells me. "I'm interested in it as a metaphor for trying to understand what we take for granted."
At False Flag, visitors will find Ludwig Shaffer's Jungle (2016), a painting that depicts the latticed branches of what looks like a house plant. But something is slightly off about it: Its leaves are all the same size and symmetrical, as if popped out on an assembly line before being arranged by a perfectionist robot. And in "Cats without Claws" at Mom's gallery, a close look at the artist's sculptural painting of a cat reveals that it has human—not feline—facial features. These works hint at a range of contradictory human urges: to connect with nature and, simultaneously, to preen, tweak, and control it. "Like species of carp that grow to fit their enclosure, I think about and observe how domesticated plants and everyday objects adapt to and reflect their environment," she explains.
Chris Bogia
B. 1977 in Wilmington, Delaware. Lives and works in Queens, New York.
Seen at: "in the hopes of not being considered," Kate Werble Gallery, 83 Vandam Street, New York, Jul. 13-Aug. 11.
Chris Bogia, Sun Standers, 2017. Courtesy of the artist and Kate Werble Gallery, New York. Photography: Elisabeth Bernstein Photography.
Installation view of Chris Bogia, The Decorator (2017) and The Plant That Sold The World (2016), at Queens Museum.
Bogia doesn't heed the hierarchies that divide fine and decorative art. "I'm neutral on which is 'better,' or 'smarter,'" he's explained. To this end, the Queens-based artist embeds elements of both into his sculptures and wall reliefs, which resemble deconstructed playhouses inspired by the Memphis design movement or shrines devoted to abstract themes like pleasure and pride.
For Bogia, the stratification of the art world mirrors how sexual orientations have been ranked and classified. And he uses the liminal space between fine and decorative art to explore the elastic concept of queerness—both queer meaning strange and Queer meaning gay. At Kate Werble, his 2017 sculpture Sun Standers is the nucleus for a show that gathers various practices informed by the AIDS crisis in particular, and by queer culture in general.
The piece stands tall in the middle of the gallery, where various, candy-colored wood shapes balance harmoniously within a window-like, free-standing frame. A plump, flower-stuffed vase sits on a pink shelf jutting out from the structure; the whole system rests on a rug that resembles a mat meant for either prayer, or the beach.
The parts that make up Sun Standers come together as an altar of sorts. But unlike a religious icon or a mausoleum, Bogia's adaptation doesn't honor a single god or special human. It pays homage to the exuberance and resilience of an entire community instead. Bogia also runs the Fire Island Artist Residency, an LGBTQ residency program. "I spend a lot of time in the sun orchestrating lots of moving parts with a group of incredible queers," he tells me via email. "Sun Standers is an optimistic composition. It illustrates how the brightest, sunniest things often require many forces to be held aloft."
Louise Sartor
B. 1988. Lives and works in Paris.
Seen at: "Sticky Fingers," Arsenal Contemporary New York, 214 Bowery, New York, Jul. 14–Sept. 6.
Louise Sartor, Puffa, 2017. Courtesy Galerie Crèvecoeur, Paris, Marseilles © Aurélien Mole.
Louise Sartor, Rose, 2017. Courtesy Galerie Crèvecoeur, Paris, Marseilles. © Aurélien Mole.
The smallest piece in Arsenal's "Sticky Fingers" is also one of the show's most memorable. Sartor's Bolo (2017) (French slang for bolognaise) measures a tiny 6-by-5 inches and catches a woman in the act of raising a large forkful of pasta to her lipstick-smothered mouth. The angle at which Sartor depicts her subject feels voyeuristic: a shock of blonde hair obscures the pasta-eater's facial features, and Sartor crops the scene at the middle of the subject's forehead on top, and the middle of her chest on the bottom. The effect is of a stranger's camera lens zooming in on the scene from afar.
Sartor's general approach to portraiture is unconventional: she routinely crops the faces of her female figures out of compositions, or shrouds them with hair and handbags. What's left resembles snapshots taken by paparazzi, playing with ideas of the feminist mystique and the ever-present male gaze.
In her paintings, women are reduced to their superficial basics: their curves, their hair color. But Sartor also disrupts her scenes with small details; some women devour meals, others tug at the edge of a sweatshirt or idly tap their keys on a laptop. It's as if the artist wants to remind us that her well-groomed subjects remain wholly human, despite the cultural pressure encouraging them to become glossy, sexualized fembots. Sartor will also have her first-ever solo show at Paris's Galerie Crèvecoeur this fall.
—Alexander Forbes, Alexxa Gotthardt, and Scott Indrisek
Artsy Editorial
Header image: Portrait of Anne Libby in her Brooklyn studio by Daniel Dorsa for Artsy.