The 130-Year-Old Paint Shop That Invented Oil Pastels for Picasso
The French
Meanwhile, another revolution—this one technological—was quietly taking place behind the scenes.  
In 1841, American artist John G. Rand invented the tin paint tube as a replacement for the pig bladders previously used to store paint. This innovation made it easier for artists to travel with their materials in tow, facilitating the plein air techniques that became a signature of the Impressionists. Paint itself had seen rapid developments in recent years, with the introduction of machine-ground pigment and the invention of never-before-seen synthetic hues.
In turn, the increasing diversity of available art supplies spawned a new group of experts. Until the mid-18th century, artists in Europe had purchased their pigments from drugstores that also peddled minerals, spices, and resins imported from far-flung locations like Africa and the Far East. But shop owners soon began to specialize, and by 1770 the term marchands de couleurs (or "color merchant") was in regular use.
The trade flourished, particularly in Paris. In 1817, there were 79 color merchants; in 1830, 270; and by 1885, there were 600.
At least one more appeared on the scene in 1887. His name was Gustave Sennelier, a skilled draftsman who illustrated catalogues for the chemical industry. But his true passion was chemistry itself; for five years, the young man took evening classes at the Conservatoire des Arts et Métiers.
And then, one April morning, he saw a chance to pursue his greatest interest. Riding down Quai Voltaire in a horse-drawn carriage, Sennelier noticed a "for rent" sign posted in front of an art supply shop. He took over the lease and purchased all the remaining stock from the shop's bankrupt owner.
At first, Sennelier sold pre-made paints. But it wasn't long before he decided to produce his own range of colors, criss-crossing Europe to make connections with the world's best pigment manufacturers. He transformed the previous owner's studio into a workshop, and installed two mills to grind and mix pigments. Soon, the shop could make anywhere from 900 to 1200 tubes of paint a day—some of them, like "Chinese Orange," exclusive to Sennelier.
Other shades were developed at the request of particular painters who patronized his shop. By the end of the 19th century, color merchants were seen less as suppliers than consultants. A painter might come into the shop requesting a darker red or a white with a matte finish. Today, Sennelier's descendants list
In 1912, Sennelier published The Chemistry of Colors, a guidebook that outlined how he created paint. He hoped artists would "understand the sincerity of this essay, and how it is untouched by the shadow of advertising," he wrote. "Chemistry is a science one does not obfuscate." He hoped to instruct artists on the importance of their materials—a singular vision at the time. He was the only color merchant of that period to publish such a book.
Sennelier did not limit himself to paint, either.
So successful was the business that it was passed down through generations. Henri Sennelier, the grandson of Gustave, was approached by
It took him a year, but Henri returned with something he called "oil pastels"—sticks of pigment that were waxy rather than chalky, and which could be used in thick, dense strokes. Picasso, satisfied, bought 40 of each of the 48 colors. Henri threw the rest of his stock on the shelf, wondering if they'd sell. They quickly became a sensation, and the store still makes them today.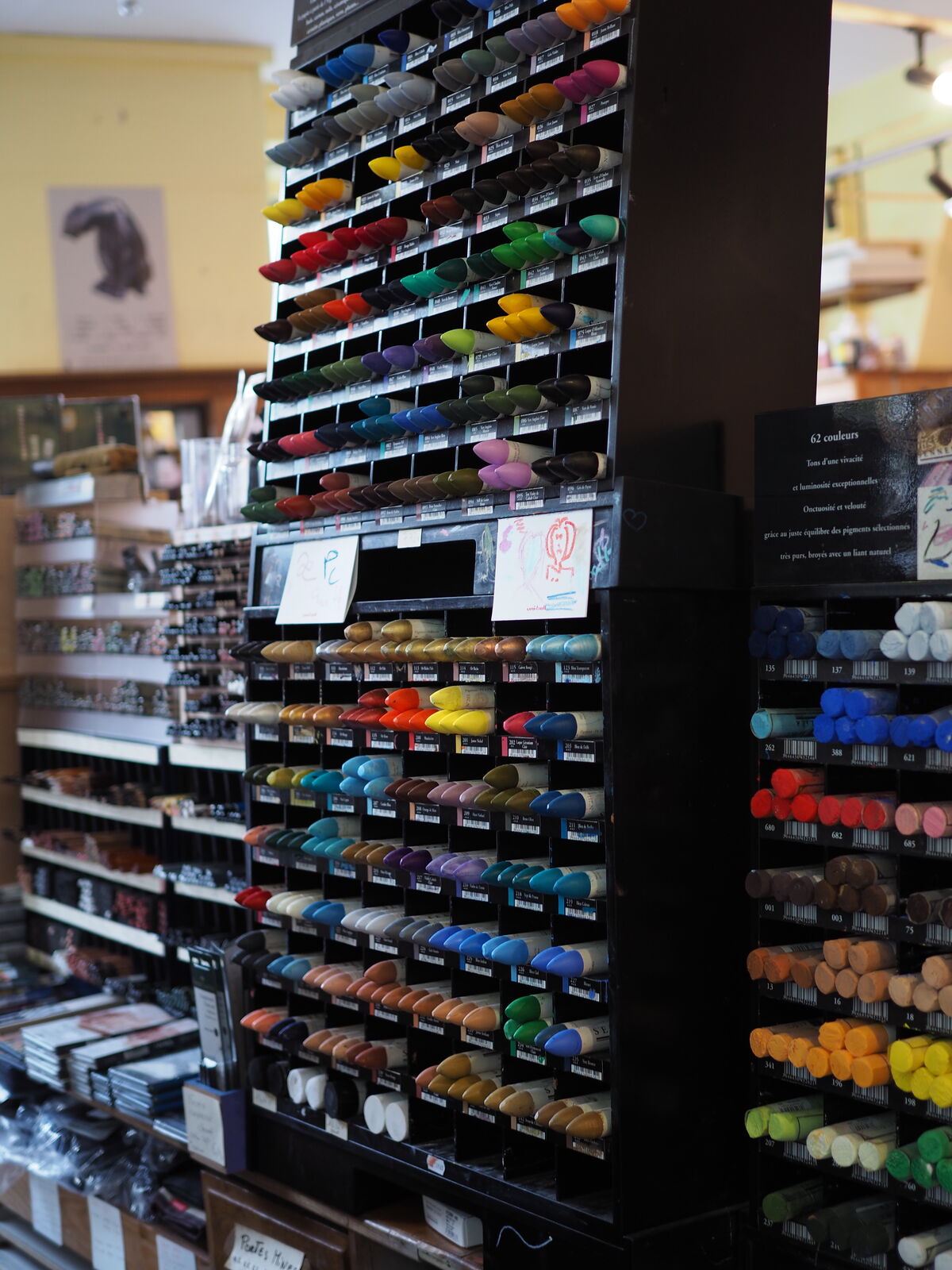 Today, the original Sennelier shop has become a global brand. But some things have stayed the same. The original storefront on the Seine still operates. And the Sennelier family—now fourth-generation—still runs the shop.
Perhaps most tellingly, they're still providing custom materials to ground-breaking artists. Sennelier worked with Grand Canyon (1998). And they work with countless other artists, many unknown.
"But tomorrow,"
said
Dominique, "maybe [they] are the Cezanne of the 21st century."