$157 Million Modigliani Breaks Sotheby's Record at Otherwise Underwhelming Impressionist and Modern Sale
The auction house sold the most expensive work in its roughly 274-year history—Nu couché (sur le côté gauche) —after an anticlimactic single bid. Nonetheless, Sotheby's Impressionist and modern art evening sale brought in a total of $277.4 million Monday night. The fee-adjusted figure of $318.3 million constitutes an 83 percent rise from last May's tally of $173.8 million (which also saw the withdrawal of its star
This May's star lot met with surprisingly languid bidding given the hype around it
.
Created in 1917, the Modigliani painting boasted an estimate of $150 million, the highest estimate in auction history, and carried a guarantee somewhere in that region, as well. But ultimately, it hammered down at $139
million after only a single bid
. The identity of the buyer has not yet been reported.
Auctioneer Helena Newman, chairman of Sotheby's Europe, quickly announced that the $157.2 million final price, with fees, made Nu couché the most expensive work ever sold by Sotheby's. Setting expectations aside, that's a record the auction house is happy to coo about, representing a six-fold increase on the $26.9 million that Nu couché sold for in 2003. But beyond the one work, the auction didn't boast any other smashed records.
Amedeo Modigliani, Nu couché (sur le côté gauche), 1917. Courtesy of Sotheby's.
"I think we're seeing some price resistance at the very top end after seasons of escalating records," said Brooke Lampley, vice chairwoman of the fine art division at Sotheby's. "But broadly, we're seeing that the market supports good material that is accurately priced."
Buyers are clearly taking a long, hard look before raising their paddles, especially after the breadth of material offered last week at the sale of David Rockefeller's estate at Christie's.
The first lot of Monday night's auction,
Fleurs de Printemps
(1930), augured a promising evening with frenzied bidding from 10 bidders in the room, including underbidder
David Benrimon
. It ultimately sold for $2.1 million ($2.5 million with fees), clearing the $1.5 million high estimate. The very next lot,
Three Seated Women
(1942), also attracted a brouhaha, but not inside the saleroom. The piece was controversially consigned by the Berkshire Museum, one of two pieces in the night's auction that attracted the ire of a dozen protesters who picketed outside Sotheby's. Inside, the drawing sold far below its low estimate of $400,000, hammering at $240,000, or $300,000 with fees. (That the piece still went home with a buyer makes one wonder what, if any, reserve the work had.)
Claude Monet, Matinée Sur La Seine, 1896. Courtesy of Sotheby's.
Pablo Picasso, Le Repos, 1932. © 2018 Estate of Pablo Picasso / Artists Rights Society (ARS), New York. Courtesy of Sotheby's.
And many of the top pieces fell in the orbit of their estimates. Matinée sur la Seine (1896) went off the goal post, as they say in sports, selling at a hammer price exactly equal to its low estimate of $18 million (or $20.5 million with fees). Le Repos (1932) hammered for $32.5 million ($36.9 million with fees), slightly below its $35 million high estimate, after Sotheby's Asia president Patti Wong triumphed on behalf of an Asian phone bidder against the house's head of contemporary art, Grégoire Billault. The artist's Femme au Chapeau Assise (1962) hammered for $4.5 million ($5.3 million with fees) between its estimates of $4 million and $6 million.
But while Picasso had a solid night, he stumbled somewhat on his
march towards a $1 billion year
(especially after Christie's announced it was withdrawing a $70 million piece from its sale Tuesday). Of the 46 works in the Sotheby's sale, 11 were by the artist, and five failed to find buyers. The artist's sculpture
Cigare
(1941)—molded by Picasso from found pieces of wood amid wartime scarcity in Paris, as he avoided Nazi restrictions on artwork—was bought in at $480,000. Picasso's own
Nu Couché
failed to find a buyer, passing at $900,000, as did
Femme Au Chien,
which was bought in at $11 million.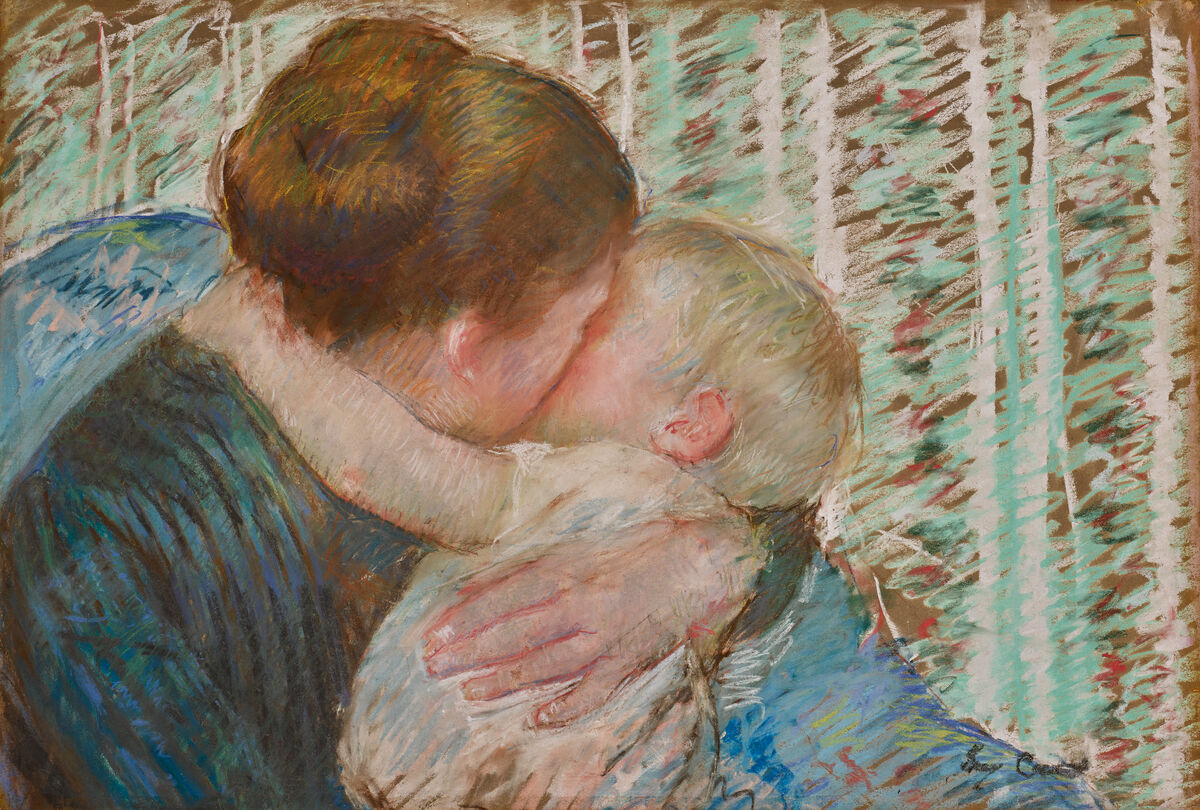 Mary Cassatt, A Goodnight Hug, 1880. Courtesy of Sotheby's.
A deserving hero of the evening was A Goodnight Hug (1880) went for almost four times the high estimate of $1 million, hammering for $3.8 million ($4.5 million with fees) after a protracted tête-à-tête between a would-be buyer in the room and a client on the phone, who ultimately walked away with the piece. (The stellar result may have been helped by a retrospective of the
Cassatt's painting will not headline any auction report, but as a work of art, it arguably deserves our attention far more than the night's nude cover girl. Against a quivering background of decorative abstraction, Cassatt depicts a mother, uninterested in our gaze, engaging in a tender act of domestic labor—the kind of work all too often overlooked or implicitly belittled by male artists of the period and the art historians that followed. Cassatt's vibrant domestic scene fills mother and child with such life and humanity, we can almost hear the sound of a lullaby wafting out from the canvas. And the artist does this all without showing us a face.
Les Jeunes Filles (1930), which fuses
Edvard Munch, Sommernatt (Summer Night), 1902. Courtesy of Sotheby's.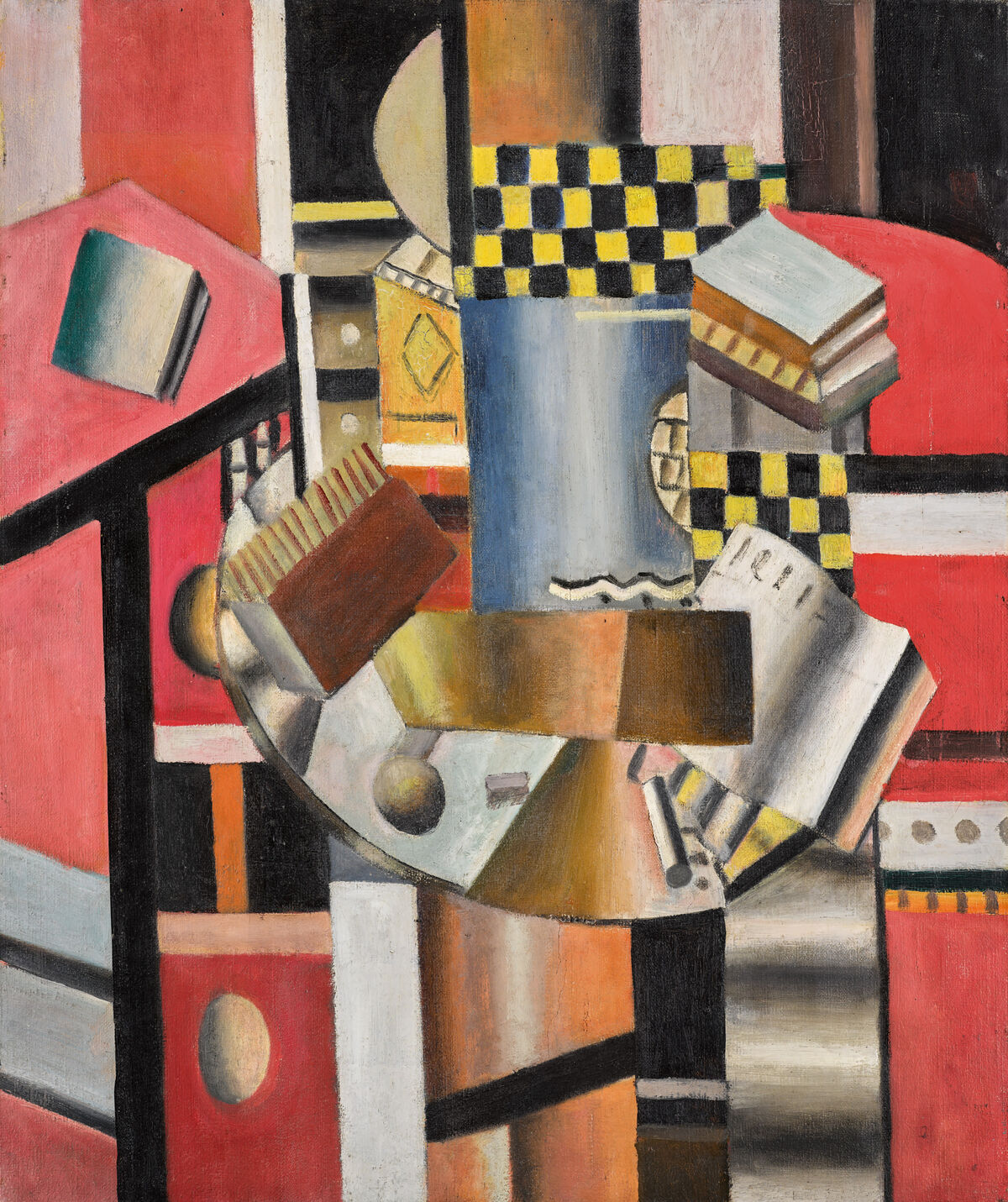 Fernand Léger, Le Damier Jaune, 1918. Courtesy of Sotheby's.
New York auction week continues Tuesday night with Christie's Impressionist and modern art auction.
Isaac Kaplan is an Associate Editor at Artsy.