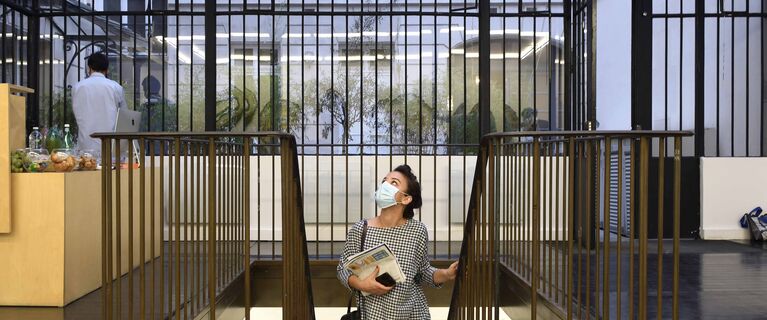 Paris Art Week: Itineraries
LE PARI(S)
Several groups of galleries encourage the discovery of the Parisian scene through thematic, geographical, or event-based itineraries.
Plusieurs regroupements de galeries encouragent la découverte de la scène parisienne à travers des prismes thématique, géographique ou évènementiel.
Théo Mercier, courtesy Mor Charpentier
Paris Avant Première is an initiative to support the emerging art scene, bringing together a community of young galleries and independent Parisian spaces. The project draws a map which aims to support a younger generation of artists on the fringes of the classic collector circuit.
Paris Avant Première est une initiative de soutien à la scène artistique émergente rassemblant une communauté de jeunes galeries et d'espaces indépendants parisiens. Le projet dessine une cartographie qui défend la jeune scène artistique, en marge du circuit classique du collectionneur.
Yu Nishima, Playback, 2020, oil on canvas, 145,5 112 cm. Courtesy of the artist and Crèvecœur, Paris.
The Grand Belleville network brings together the actors and structures of the Parisian neighbourdhood of Belleville, which support contemporary art and more particularly the artists of the emerging French and international scene. Twenty or so venues in the Grand Belleville area (artist-run spaces, residences, galleries, institutions, publishing houses) open their doors throughout the Belleville Weekend, which takes place an the very end of Paris Art Week.
Le réseau du Grand Belleville regroupe les acteurs et les structures du quartier parisien de Belleville qui défendent l'art contemporain et plus particulièrement les artistes de la scène émergente française et internationale. Pour clôturer la semaine de l'art, la vingtaine de lieux du Grand Belleville (artist-run spaces, résidences, galeries, institutions, maisons d'éditions...) ouvrent leur portes tout au long du Belleville Week-end.
Explore all Grand Belleville participating galleries
Marais.guide
Art walk in the Marais gallery district | Sundays, 18 & 25 October, 2PM – 6PM | marais.guide
A collaborative project in solidarity, marais.guide is a mobile application that lists the initiatives of a hundred or so galleries in the Marais. With monthly openings on Sundays and geolocalized itineraries, marais.guide is a new way to discover contemporary art in Le Marais.
Projet collaboratif et solidaire, marais.guide est une application mobile qui recense les initiatives de la centaine de galeries du Marais qui la constitue. Avec des ouvertures mensuelles le dimanche et des parcours géolocalisés pour découvrir toujours plus d'expositions et de galeries, marais.guide est un moyen inédit de découvrir le Marais artistique et contemporain.
Gallery Night
Nocturne des galeries
Thursday, 22 October | 6PM – 10PM | fiac.com
Raphaëlle Peria, Zoohantus, 2020, Grattage sur photographie, 30 x 40 cm. Courtesy Galerie Papillon
Le PARI(S) is delighted to collaborate with FIAC for this edition of the annual Gallery Night. More than 170 galleries welcome you at nightfall. Find the selection proposed by FIAC on fiac.com.
Le PARI(S) est heureux de collaborer cette année avec la FIAC pour la traditionnelle Nocturne des galeries. Plus de 170 galeries vous reçoivent à la nuit tombée. Retrouvez le parcours proposé par la FIAC sur fiac.com.
Sunday Openings
Ouverture exceptionnelle le dimanche
Sunday, 25 October | 2PM – 6PM
Courtesy galerie Charlot & Co, Paris
LE PARI(S) is pleased to list more than 140 galleries and events, which open on Sunday, October 25th to extend the pleasure of discovering and encountering art.
Le PARI(S) est heureux de recenser plus de 140 galeries, tous évènements et regroupements confondus qui ouvrent exceptionnellement le dimanche 25 octobre pour prolonger le plaisir de découvertes et de rencontres artistiques.
Hospitality: foreign galleries welcomed in Paris
Hospitalités: les galeries étrangères accueillies à Paris
Emphasizing the international dimension of the Paris arts scene, about forty galleries invited their foreign counterparts to exhibit within their spaces. Whether presenting a single work or an exhibition, galleries from Brussels, Marrakech, Beirut, Los Angeles, and Lisbon will take part in Paris Art Week.
Soulignant l'ouverture internationale des galeries parisiennes, une quarantaine d'entre elles a pris l'initiative d'inviter des consœurs étrangères à exposer au sein de leurs espaces. Présentant une œuvre ou une exposition, des galeries venues de Bruxelles, Marrakech, Beyrouth,Los Angeles ou encore Lisbonne se retrouvent à Paris pour cette semaine de l'art.