How the 1973 Whitney Biennial Helped Blow Open the Market for Contemporary Art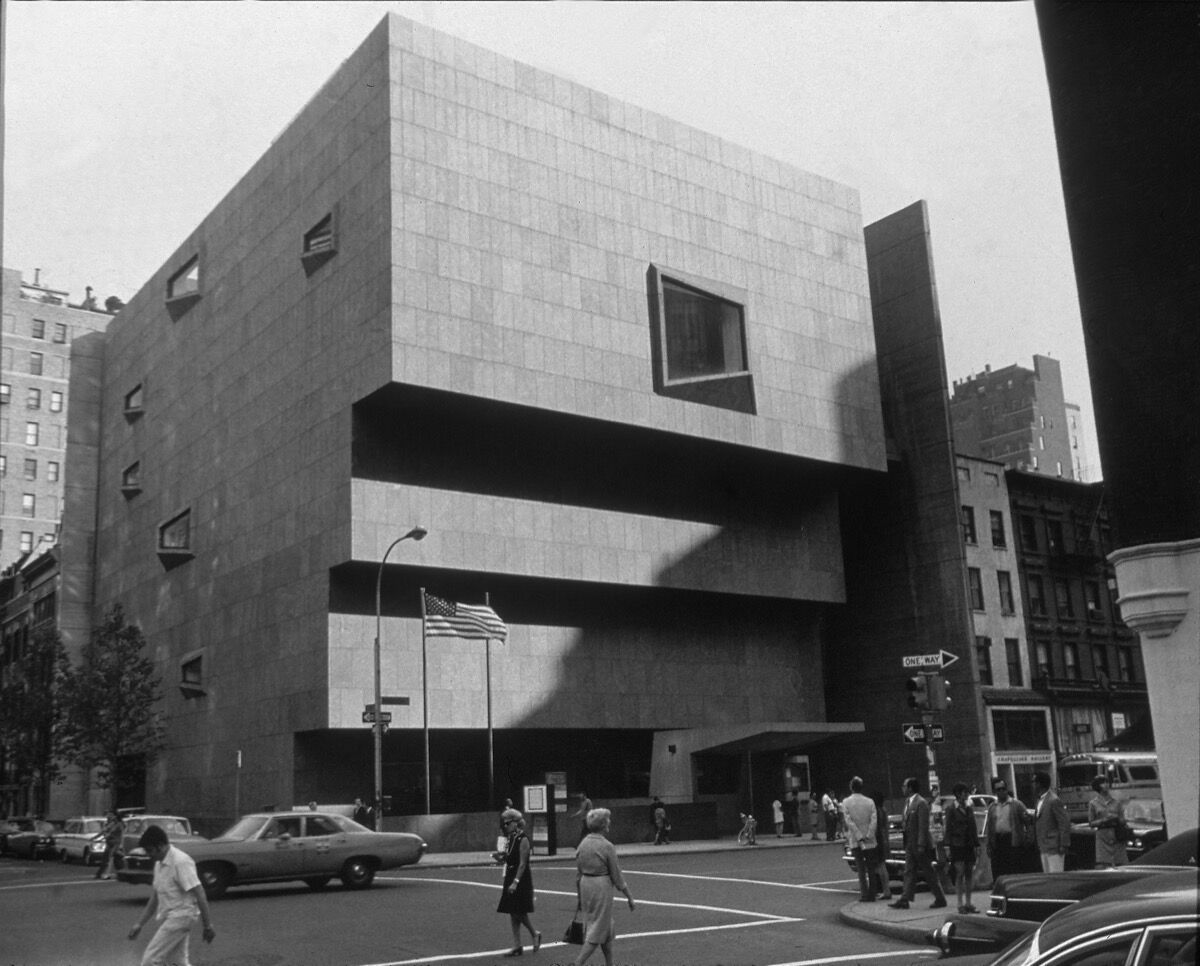 The Whitney Museum of American Art on Madison Avenue, New York City, which opened in 1966. Photo by Arthur SwogerArchive Photos/Getty Images.
What if a reputable museum held an exhibition of contemporary art with the express intent of boosting the artists' prices? A show in which most of the work on the wall was for sale, the prices readily available at the information desk along with the names, contact details, and studio addresses of each artist? What if the works on offer were fresh-to-market efforts by
Welcome to the
Whitney
Biennial, New York City, 1973, the first to combine sculpture and painting in one event. The contemporary art world is a tiny underground society. The artists are down-at-the-heels bohemians, living and working in SoHo's abandoned industrial lofts. The collectors are more counter-culture idealists in flared pants than slick financiers. Contemporary art is still a consumer good, not an investment strategy or an auction category. And the outlandish concept of an art advisor is still a decade away.
Today, it's considered déclassé for a museum to explicitly use its curatorial reputation to goose the market for living artists. But the 1973 Whitney Biennial, and the events and dynamics that surround it, represent a cultural and financial turning point for the contemporary art market. What happened in the intervening 44 years, and what lessons can we learn from this groundbreaking event?
Major art market shifts come quietly and unexpectedly
The German philosopher Georg Wilhelm Friedrich Hegel said that the owls of Minerva take flight at dusk: Only with time and distance can we recognize a major cultural shift. Early 1970s New York is one of those flashpoints, but few would have known it at the time. The city, modernism's great symbol, was in decline, exhausted by the excesses of the 1960s, careening towards bankruptcy, steeped in chaos and crime. But amidst the graffiti-covered subways and fire escape junkies, a cultural and art market revolution was afoot: the rise of contemporary art as a cultural phenomenon and capital asset.
Before the biennial opened in 1973, post-war contemporary art was an insider's game, a tiny clique of dealers, collectors, academics, and downtown drifters who supported a group of brilliant and brash avant-gardists. Contemporary art was a lifestyle, a signaling mechanism for a certain crowd, conspicuously consumed as a statement, a secret handshake of sorts. It was never meant to hold on to—let alone accrue in—monetary value.
The organizers of the Whitney Biennial presented their inaugural edition in January to champion the market prospects of American contemporary artists. It marked the beginning of a market shift. By October of that year, contemporary art's early patrons, Robert and Ethel Scull, consigned to Sotheby's Parke-Bernet many works by artists included in the Biennial.
The controversial sale
officially launched the contemporary art market, which has come to dominate both the zeitgeist and the market.
Gaming the expected returns for living artists can be a fool's errand
The Whitney's curatorial committee presented living artists who defined contemporary art in 1973. Our analysis reveals that the overall financial return, even on the eve of an unprecedented 40-year bull run in the segment, significantly lags the S&P 500. Still, our case study reveals that considerations such as exhibition history can help boost returns.¹
The 221 American artists included in the 1973 Biennial comprise two groups:
For comparison, the S&P 500 annualized return from January 1973 to September 2017 was 7.1% per year, 10.2% annually with dividends reinvested (source S&P.com). The total return of the S&P 500 from the eve of the 1973 Whitney Biennial to September 2017 was 2,000%, or over 7,500% if you reinvested your dividends.²
Bottom line: The tepid financial returns of an expertly curated, culturally significant exhibition of post-war icons, on the eve of the art market's global expansion, should be a warning to the financially driven collector. If you must buy art purely as an investment, pay attention to an artist's exhibition history. The returns of 1973 Biennial artists with an established exhibition history exceed their early-career emerging peers by several orders of magnitude.⁶
Beware of art market indices
The 1973 Biennial shows that only a small percentage of celebrated artists will establish a secondary market. Therefore, beware of art market indices, constructed from publicly available auction data. They suffer from severe survivor bias, and generally overestimate returns. While several artists from the 1973 Biennial enjoy an active market today, the great majority never appeared at auction and likely never will. These works don't show up in the indices.  
The infrastructure of the art market is tenuous and dynamic
Many of the artists in the 1973 Biennial never developed an auction market due partly to the inherent instability of the gallery system. Of the 59 galleries that contributed artists' works to the 1973 Biennial, only nine of those galleries exist today, including
Pace
, Paula Cooper,
Marlborough
, and Forum Gallery. Many Group 2 artists' careers fizzled after the closing of their gallery, a catastrophic event for an emerging artist's long-term prospects (and another reason to be troubled by the recent trend of gallery closures in New York, London, Los Angeles, and now Shanghai). Many galleries representing Whitney Biennial artists in 1973—Bykert, Parker Street 470, New Gallery, Lo Giudice—closed within a generation. If you buy emerging artists' works, pay attention to the near-term prospects of their galleries. Many early-career artists never recover when their primary dealer closes shop.
Identifying the important artists of our time has become more difficult post-1973
A month after the 1973 Biennial closed,
The "Biennial Bump" can be very real in the near-term
Earlier this year I attended the 2017 Whitney Biennial Opening, a hash-tagged gathering of art world cool kids mixed with unassuming types like yours truly. Amidst the proto-punk music and air-kissing I noticed a group of psychedelic paintings by
My first opportunity was at Phillips's 20th Century & Contemporary Day Sale in May. The work had a respectable $8,000 to $12,000 estimate, a range in which I was prepared to bid. It sold far above the high estimate, at $37,500. Two days later a work titled Rock Collection, modestly estimated at $6,000 to $8,000 sold for $68,750, a whopping 10 times its estimate. I took one more swing in September. A gestural work of Shara's titled Chillax came up in Phillips's New Now Sale with an estimate of $10,000 to $15,000. I visited the Park Avenue saleroom and placed an absentee bid slightly above the high estimate. As I spoke with the young specialist, I could hear her pity through the phone line. "This isn't going to do it, is it?" I asked. "Probably not," she gently responded. "Interest in the work is quite high." The painting hammered down for $56,250 after fees and I'm still on the hunt, but with a recalibrated price in mind. The Biennial was a decisive catalyst for her market in the near-term.
Returns are driven by influence
If Shara Hughes fails to influence other artists or find her way into museum collections, her Biennial bump will fade like so many of those artists in the 1973 edition. So beware of the bump. Long-term expected returns of an artist are driven by influence, which can be measured in many ways: level of critical coverage, number of museum exhibitions, number of times an artist appears in a textbook. Think of the collapse of the market for
Evan Beard is the National Art Services Executive at U.S. Trust, Bank of America Private Wealth Management.
Past performance is no guarantee of future results. The case studies presented are hypothetical and do not reflect actual clients. They are for illustrative purposes only and results will vary. These examples are intended to illustrations; they should not be considered offers, solicitations or endorsements. They do not necessarily represent the experiences of other investors, nor do they indicate future performance.
This content represents thoughts of the author and does not necessarily represent the position of Bank of America or U.S. Trust.
U.S. Trust operates through Bank of America, N.A. and other subsidiaries of Bank of America Corporation. Bank of America, N.A., Member FDIC.
© 2017 Bank of America Corporation. All rights reserved.
¹ U.S. Trust calculations based on S&P Dow Jones Indices Data and Artnet Transition Database, as of September 2017
² S&P Dow Jones Indices Data, as of September 2017
³ Based on comparable sales in Artnet Transaction Database, as of September 2017
⁴ Based on comparable sales in Artnet Transaction Database, as of September 2017
⁵ Based on S&P Performance Data (S&P Dow Jones Indices Data), as of September 2017
⁶ U.S. Trust calculations based on comparable sales figures in Artnet Transaction Database of artists included in 1973 Biennial, as of September 2017
Stir Creativity
See how Bombay Sapphire supports artistry.
Sponsored by Bombay Sapphire