4 Photographers Who Are Masters of Disguise
Liu, often called The Invisible Man, is best known for his series "Hiding in the City" (2005–present), in which the artist camouflages himself in complex environments, such as the soda aisle in the grocery store or the Great Wall of China. To create these images, Liu stands for hours as a team of collaborators paints his body to perfectly match his surroundings. Liu's "invisibility" is all created manually, on location—none of his images are manipulated post-production in Photoshop. For the artist, these photographs are not only a technical feat, but also a political statement. "I chose to camouflage my body into the environment because this way, people will pay more attention to the background's social property," he 
explains
. Liu staged his first "invisible" work in 2005, posing amid the ruin of his Beijing studio, which had been destroyed by the Chinese Government as part of the city's restructuring ahead of the Olympic Games.
While American artist Sherman has dedicated her career to photographing herself, she insists that her works are not self-portraits. "I feel I'm anonymous in my work," she has 
said
. "Sometimes I disappear." Beginning with her famed "Untitled Film Stills" (1977–80),
Sherman has transformed into a multitude of characters, from society women to haunting clowns to mutilated mannequins, often taking on archetypes of femininity that are prevalent in popular culture or art history. To create these disguises, Sherman adorns herself with meticulous costumes, wigs, prosthetics, and makeup—a practice that has roots in her childhood. The youngest of five siblings, Sherman recalls using dress-up to garner her family's affection and as a form of escapism. "To be really psychological about it," she 
says
, "it was also partly, 'If you don't like me this way, how about you like me 
this
 way?' Or maybe you like this version of me."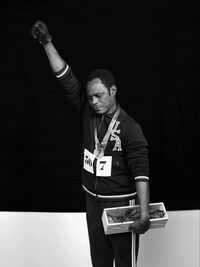 Cameroonian artist Fosso—often called "the man of a thousand faces"—has earned this nickname for his ability to disguise himself in his work. Fleeing the civil war in Nigeria at age 13, the artist settled in the Central African Republic and began making a living taking wedding portraits and passport pictures. Fosso would use the leftover frames to take self-portraits, at first to send to his mother in Nigeria. "I wanted to show how good I look," Fosso 
has noted
 about these early pictures, referencing his practice of dressing up in bell bottoms, disco boots, hotpants, and other costume attire for his self-portraits. In his series "African Spirits" (2008), Fosso has continued to transform his appearance by posing as 14 iconic figures of the African Independence and U.S. Civil Rights movements, casting himself as Angela Davis, Malcolm X, and Muhammad Ali, among others.
Unlike Sherman—who never revealed specific information about her characters' identities or backstories—Japanese photographer Morimura casts himself as identifiable figures from history, such as Marilyn Monroe and Michael Jackson. In his series "Daughter of Art History," among others, Morimura restaged famous portraits from the Western canon, costuming himself as 
Girl with the Pearl Earring,
 and even Duchamp's Rrose Sélavy. Disguising himself as these icons "bring[s] them back to life as things of the present," Morimura has 
said
, "a bit like reconstituting freeze-dried tofu and serving it up again to eat now."
Stir Creativity
See how Bombay Sapphire supports artistry.
Sponsored by Bombay Sapphire