$416 Million Christie's Impressionist and Modern Sale Sets Records for Malevich, Brancusi
Christie's continued a lucrative spring auction season on Tuesday night, following up its
Rockefeller bonanza
last week with a solid $415.8 million Impressionist and modern art evening sale, a sign that the top end of the art market still has room to run.
Between the sale of the estate of David and Peggy Rockefeller, which had
$832.6 million in sales
; Sotheby's sale on Monday night of $318.3 million; and Tuesday night's sale at Christie's, collectors have already gobbled up over $1.5 billion worth of art in the span of two weeks—and there are still three more evening sales of post-war and contemporary art to go.
Adrian Meyer, co-chairman of the Impressionist and modern art department at Christie's and the auctioneer for Tuesday evening's sale, said in a post-sale press conference that one question on everyone's minds recently had been "whether the art market could respond and absorb such a huge volume" of work at once. The answer appeared to be yes, with multiple bidders on many lots, and bids coming from 35 countries.
Kazimir Malevich, Suprematist Composition, 1916. Courtesy of Christie's.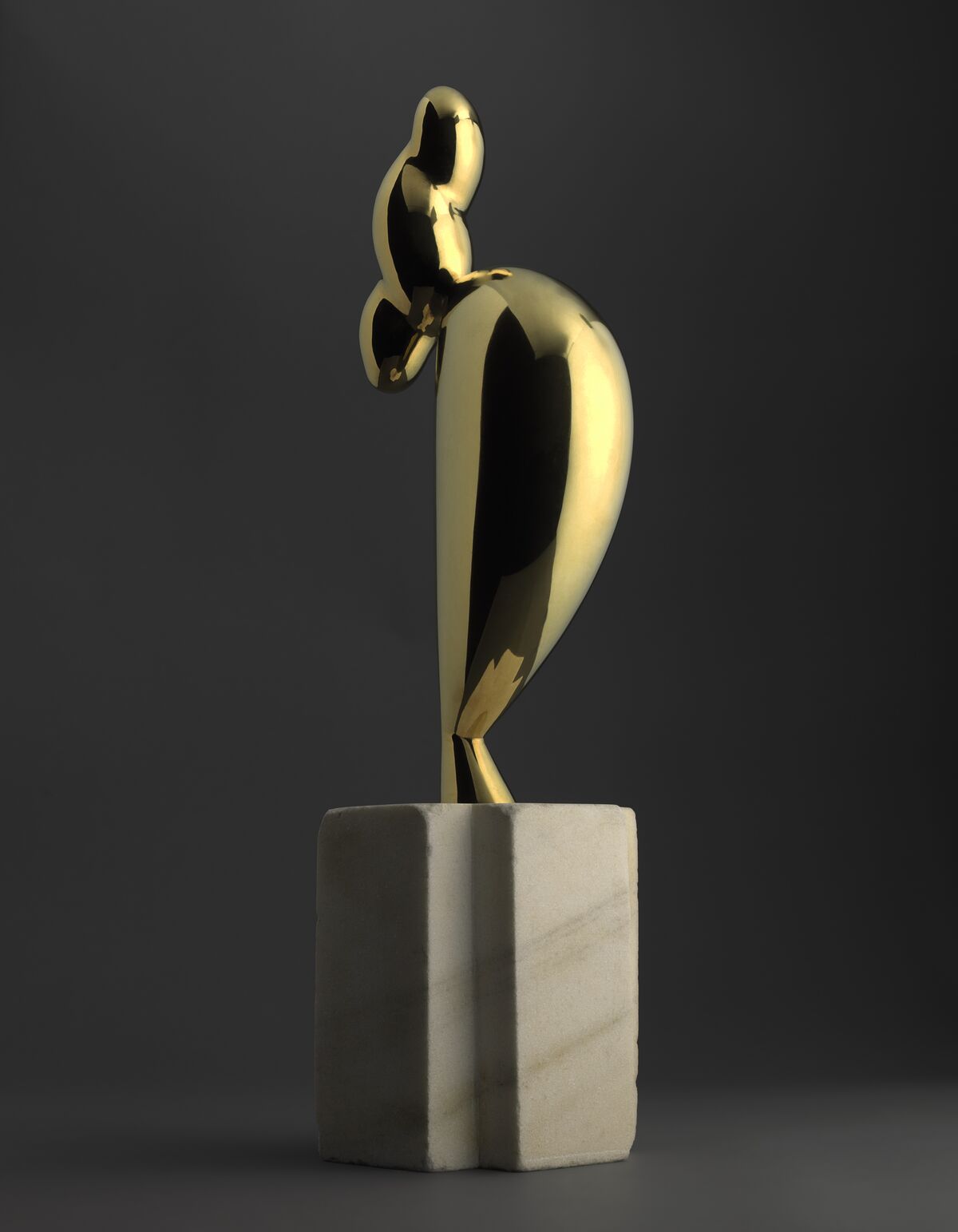 Constantin Brancusi, La jeune fille sophistiquée (Portrait of de Nancy Cunard), conceived in 1928, cast in 1932. Courtesy of Christie's.
Christie's had sold over 1,600 lots from the Rockefeller estate (though some were disappointed the total didn't hit $1 billion, a new milestone that people are casually bandying about after the
$450 million sale last fall
of
Salvator Mundi
from 1490). Christie's CEO Guillaume Cerutti said the house needed to take a different tack this week.
"We had to send a different message to the market with a tighter sale," he said.
Several lots were withdrawn,
including two Picassos
owned by casino magnate Steve Wynn, who resigned from his resort company in February after allegations of sexual assault. As reported by
Bloomberg,
one of the works was damaged on Friday; the two works had combined estimates of roughly $100 million. Of the 40 remaining lots, 36 sold, for a sell-through rate of 89 percent by lot and 99 percent by value. The hammer total was $362.2 million (before adding fees that the buyer pays to the auction house), squarely in between the pre-sale estimates of $326 million on the low end and $450 million on the high end. The sale total of $415.8 million, including buyer's premiums, was a rise of nearly 44 percent from last May's $289.1 million.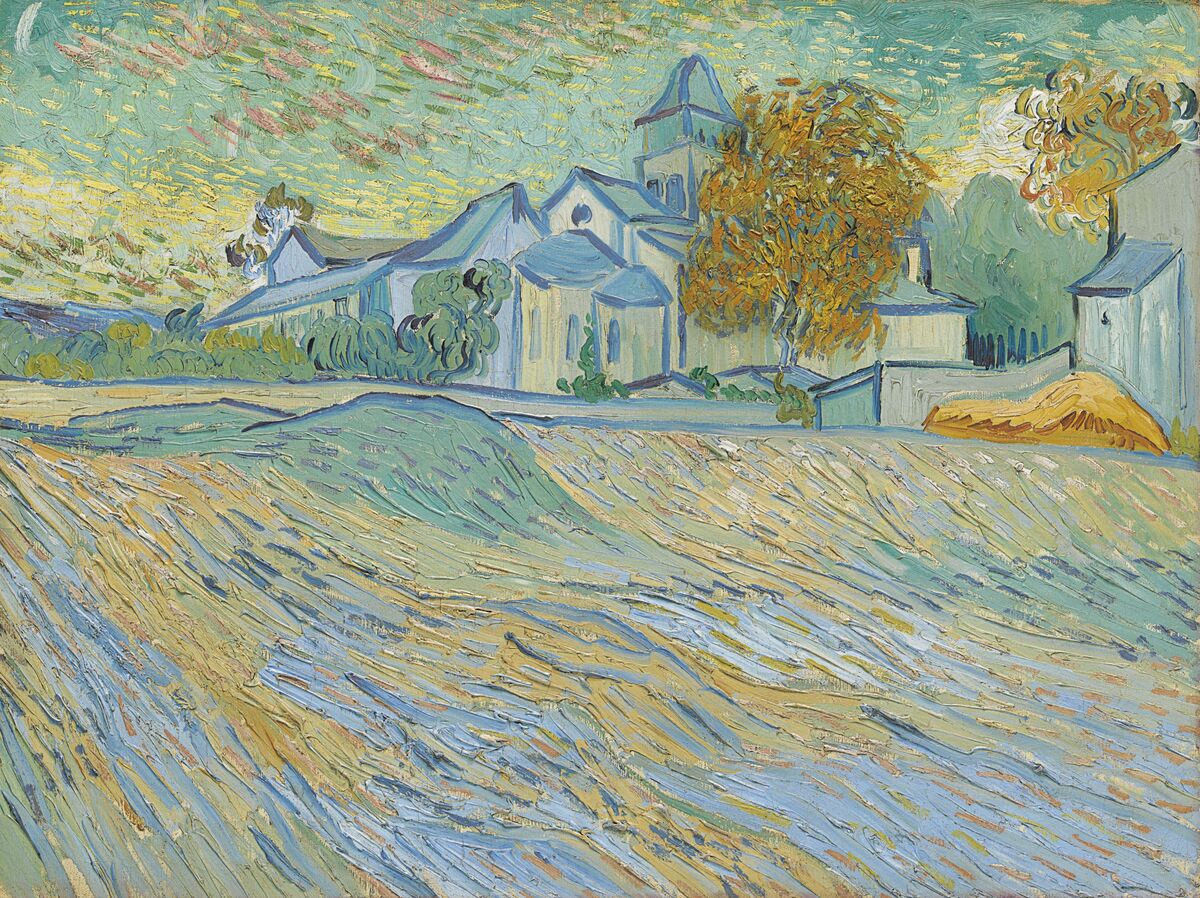 Vincent Van Gogh, Vue de l'asile et de la Chapelle Saint-Paul de Mausole (Saint-Rémy), 1889. Courtesy of Christie's.
The mega-lot of the evening,
Suprematist Composition
(1916), was barely 2 by 3 feet in size, but very pricey per square inch. It was
won by Brett Gorvy of Lévy Gorvy for $76 million
, or $85.8 million with buyer's fees, exceeding its $70 million estimate—setting an auction record both for the artist, and for any work of Russian art in general. Why? Christie's catalogue describes Malevich's "Suprematist" paintings, first shown in late 1915 at the Dobychina Art Bureau in St. Petersburg, as "the very first purely geometric abstract paintings in the history of modern art." While not part of his 1915 breakthrough show, this painting is believed to have been painted soon after. The work was last on offer at Sotheby's in 2008 when it was purchased by the Nahmad family. It had previously been the subject of a lengthy restitution dispute between Malevich's heirs and the
Stedelijk Museum
in Amsterdam, which had acquired the painting in 1958.
The other top lot of the night was a blockbuster
La jeune fille sophistiquée (Portrait de Nancy Cunard)
(conceived in 1928 and cast in 1932), which follows on the heels of last May's $57.3 million Brancusi bronze head,
La muse endormie
(1913). That one had
set a then-record for the artist
after a nine-minute bidding contest.
Tuesday night's bronze had been estimated at $70 million, but
bidding ended at $63 million
, bringing the total to $71 million after buyer's fees are accounted for. The sculpture depicts the shipping heiress Nancy Cunard, "a legendary personality of the Parisian
années folles
," according to the catalogue, and has been in the hands of collectors Elizabeth and Frederick Stafford since they purchased it from the artist in 1955 for $5,000 ($46,733 when adjusted for inflation). It was sold to a client bidding on the telephone with Christie's co-chairman of post-war and contemporary art, Loic Gouzer, who beat out deputy chairman Maria Los and a single bidder in the room.
Fernand Léger, Le grand déjeuner, 1921. Courtesy of Christie's.
Vue de l'asile et de la Chapelle Saint-Paul de Mausole (Saint-Rémy)
(1889) hit its low estimate of $35 million, coming to $39.6 million with fees. Painted while Van Gogh was being treated for mental illness, the landscape once belonged to film star Elizabeth Taylor, at whose 2012 Christie's estate sale it was acquired by the current owner for £10.1 million. Taylor's father was an art dealer who bought it at a 1963 auction for £92,000, according to
a report in The Telegraph.
Odalisque, mains dans le dos (1923), depicting the model Henriette Darricarrère semi-nude and standing in front of exotic textiles, got hammered down for $12.5 million, shy of its low estimate of $15 million. It had last changed hands in 1975 at a Sotheby's sale in New York. With fees, the total came to $14.3 million.
Le grand déjeuner (1921), depicting three futuristic-looking dames enjoying a futuristic-looking meal (including what appears to be a blue sandwich), fetched $17 million at the hammer, or $19.4 million after fees, beating its low estimate of $15 million.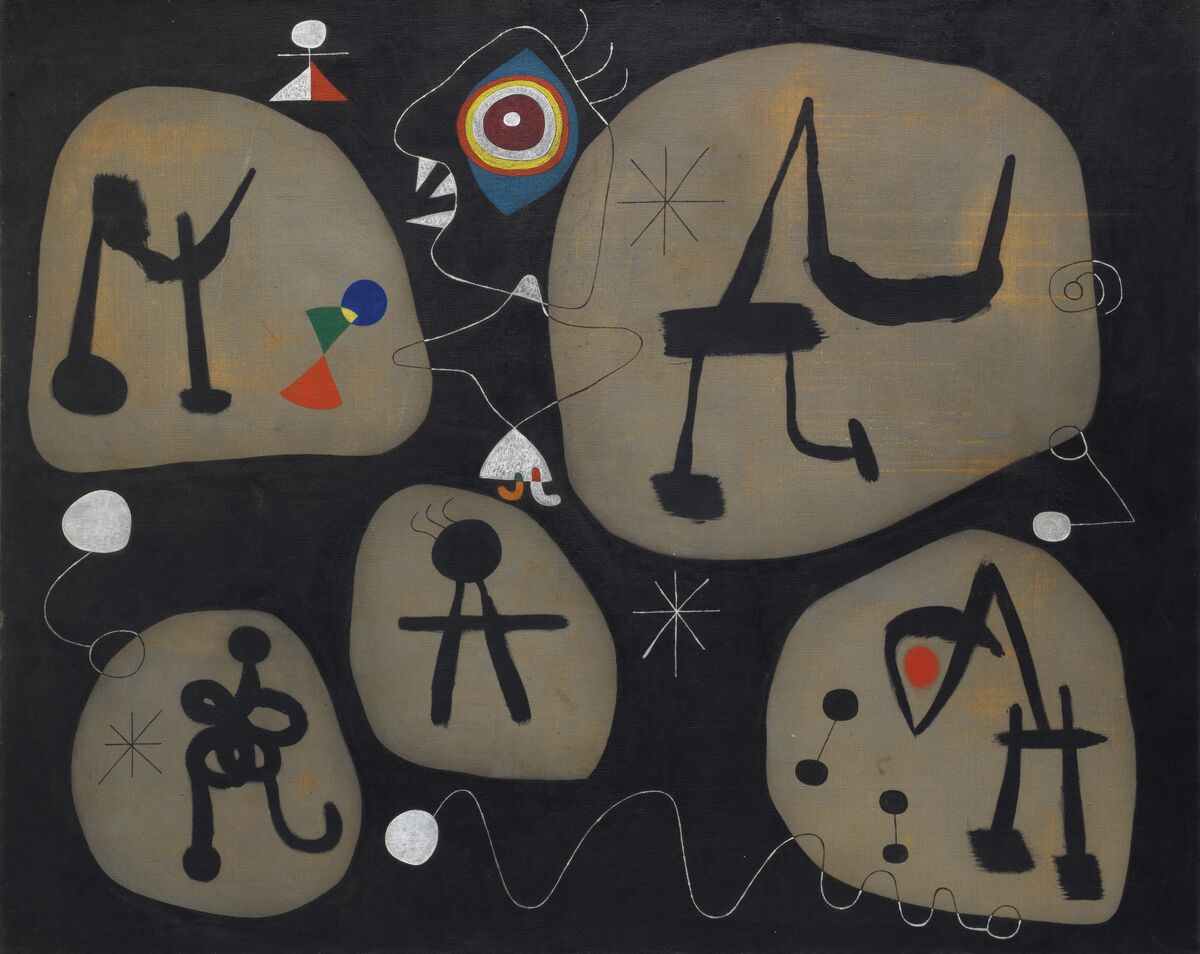 Joan Miró, Femme entendant de la musique, 1945. Courtesy of Christie's.
A subsequent Léger on offer from the collection of Joan and Preston Robert Tisch, Les trois femmes au bouquet (1922), also treated a group of three women as its theme, but failed to reach its low estimate of $12 million, hammering down at $11.25 million, or $12.9 million with fees. Femme entendant de la musique (1945), also from the Tisch collection, fared better, with multiple bidders driving it well past its high estimate of $15 million to $19 million before fees, or $21.6 million after. A third Tisch collection work, La Clairière (conceived in 1950 and cast from 1950–52), a grouping of nine female figures cast in bronze, sold for $13.75 million before fees, against an estimate of $10 million to $15 million, and $15.7 million after fees.
Two paintings significantly outperformed their estimates, including a small Le Pommier (1879), estimated at $1.5 million to $2.5 million and hammered down at $6 million, or $7 million with fees. Just after, L'Italienne (1860) by
Pablo Picasso, Deux nus, 1962. Courtesy of Christie's.
Eight Deux nus (1962), a crayon and pencil work, kicked off the sale with vigorous bidding, bringing the hammer price to $2.8 million, nearly three times the high estimate of $1 million, and $3.3 million with fees. Fillette au pendentif (1901) sold for $7.5 million, or $8.7 million with fees, nearly scraping its low estimate of $8 million. L'Atelier (1955) sold for $8.2 million, or $9.5 million with fees, against an estimate of $6 million to $9 million. Nature morte: Tête de taureau (1939) sold for $6.4 million, within its estimate of $5 million to $7 million, or $7.5 million with fees. Portrait d'Inès (1942) sold for $6.8 million, well above its high estimate of $4.5 million, and $7.9 million with fees. Le Peintre (1967) sold for $3.8 million, or $4.5 million with fees, again above its high estimate of $3.5 million. L'Huilier (1910–11) came down at $2.6 million, above a high estimate of $2.5 million. Compotier avec fruits (1918) sold for $1.5 million, or $1.8 million with fees, just at its low estimate of $1.5 million.
New York auction week continues with post-war and contemporary evening sales at Sotheby's, Christie's, and Phillips on Wednesday and Thursday.
Anna Louie Sussman is Artsy's Art Market Editor.
TEFAF New York Fall 2018
October 27-31, Park Avenue Armory
Sponsored by TEFAF New York Fall