5 Lots That Will Make or Break the Upcoming New York Auctions
Next week, billions of dollars of art will be up for sale at New York City auction houses, and the performance of top lots will set the tone for the art market for the next six months. The five biggest sales will take place at the global powerhouses Christie's, Sotheby's, and Phillips, and we've chosen to spotlight one pivotal lot from each sale—not necessarily the most expensive lots, but the ones that could reset an artist's market or alter the way the house conducts auctions in the future. Read on to learn about the highlights everyone is chattering about before they potentially make history next week.
Paul Cézanne, Bouilloire et fruits (1888–90), at Christie's Impressionist and Modern Art Evening Sale on May 13th
The consignment from the estate of magazine baron S.I. Newhouse that's gotten the most attention is, understandably,
Rabbit
(1986), a stunning stainless steel sculpture of an inflatable bunny that
scandalized the art world
when it was unveiled in 1986—but went on to become the transformative object in Koons's world-conquering career. To make sure the
Rabbit
excitement went beyond the art world, Christie's hired the ad agency LIDA to design a sprawling ad campaign that blasts the tagline "Own the Controversy" across social media platforms, and encourages users to share the hashtags #goodbunny or #badbunny.
But there's another Newhouse work that needs no such hype machine:
Bouilloire et fruits
(1888–90)
,
a still life by the
Acquavella
in New York. With such an estimate, a lucky, uncontested single bidder
could
get the work for less than what Newhouse paid in 1999, $29.5 million, which is equivalent to $45 million now. But advisors are saying the price that wins this picture will be higher. Cézanne's still life paintings of fruit are among the most iconic artworks made in the last two centuries, and the chance to own a piece of art history that was also part of Newhouse's storied collection may prove irresistible.
William-Adolphe Bouguereau, La Jeunesse de Bacchus (1884), at Sotheby's Impressionist and Modern Evening Sale on May 14th
At Sotheby's New York headquarters, the dramatically transformed galleries are among the most talked-about narratives of the season—so much so that, even at a recent Christie's preview, some of the specialists asked nervously, "What's the new space look like up at York Avenue?" (Staff at each house seldom dare utter the name of their archrivals.) Well, sorry Rockefeller Center, but OMA's Shohei Shigematsu has turned the 1920s cigar factory Sotheby's calls home into a deeply attractive place to look at art, and nowhere is that more apparent than in the two-story atria meant to host monumental works in museum-quality spaces. One such work is installed there right now: La Jeunesse de Bacchus (1884), an 11-foot-tall, 20-foot-wide stunner of a painting that hasn't been exhibited since 1985.
The enormous painting is Bouguereau's finest work to ever come to market, and if it gets a single bid it will smash his current record of $3.5 million, set in 2000—it's estimated to sell for $25 million to $35 million. Bouguereau may not be as well known as other artists in the Sotheby's sale, but in the span of a few minutes of bidding, he could become something of a household name. There's a reason it took this long: The painting of nymphs frolicking at a bacchanal has been in the artist's family since its creation, only leant to exhibitions a handful of times in the last century. But now that it's on view,
La Jeunesse de Bacchus
has been swarmed by visitors to the revamped Sotheby's building on York Avenue. During a recent visit, it attracted more gawkers than the
haystack painting
(estimate $55 million) or the
consigned
by
SFMOMA
(estimate $35 million to $50 million). See it before it could go back into private hands for another 135 years.
Robert Rauschenberg, Buffalo II (1964), at Christie's Post-war and Contemporary Art Evening Sale on May 15th
Thaw (1958)—which he'd sold to Scull for $900—was auctioned off for $85,000, or nearly $500,000 when adjusted for inflation. When he realized the value had increased almost 100 times over, Rauschenberg approached Scull after the sale and, giving him a shove, told him: "I worked my ass off just for you to make a profit."
Now, the Rauschenberg market is about to be reset again, this time by
Buffalo II
(1964),
expected to sell
at Christie's for between $50 million and $70 million, which means it could triple the current record, set when
Johanson's Painting
(1961) sold for $18.6 million at Christie's in May 2015.
Buffalo II
comes from descendents of Robert and Beatrice "Buddy" Mayer, who was the heiress of the Sara Lee cake fortune, and built up a formidable collection of
Buffalo II
was bought from Leo Castelli for $16,900, which means the sale could represent a 300,000% increase in value over the decades.
Willem de Kooning, Untitled XVI (1976), at Philips 20th Century and Contemporary Art Evening Sale on May 16th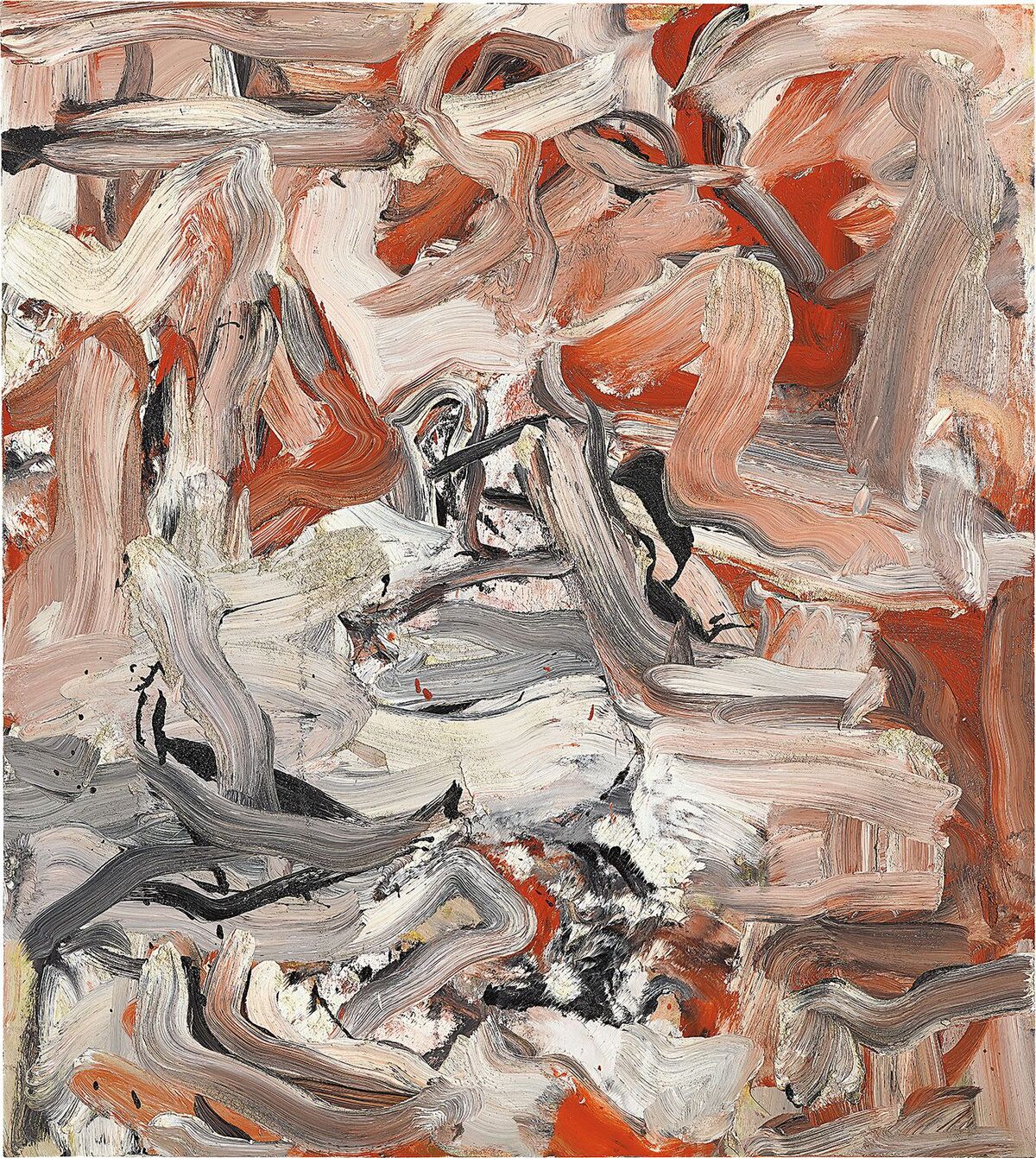 Phillips is the younger, hipper little sibling to the set of fighting twins that is the Christie's–Sotheby's duopoly, and accordingly the house has a sterling reputation for cultivating the careers of young contemporary artists new to the market. Untitled (Fold) (2010) sold for a record £1.1 million ($1.8 million) during an evening sale at the London salesroom in October 2014, and next week at the Philips 20th Century and Contemporary Art Evening Sale, the in-demand young artist Landscape (2015), which is estimated to sell for between $100,000 and $150,000. But increasingly, Phillips seems more intent on playing in the big leagues—that is, selling old work by dead masters for a whole lot of money.
Last year in London, for instance, it sold
La Dormeuse
(1932) for £41.8 million ($57.8 million), more than double the high estimate, and coasted to the
top-grossing sale
in its two centuries of auctions. While there's nothing in next week's sale that will outpace that Picasso, a mid-career
Untitled XVI
(1976), has an estimate of between $8 million and $12 million and could very well help to convince consignors of classic work to hand their treasures over to the Phillips team. Also helping is the recent appointment of David Norman as the house's chairman of the Americas, part of what a press release described as evidence of "the increasing importance of the Modern Art category to the company's global growth strategy." There's no doubt that Norman has the right resume. When he was a vice chairman at Sotheby's, he helped lead the teams that sold both the first $100-million painting and the first $100-million sculpture.
Lee Krasner, The Eye is the First Circle (1960), at Sotheby's Contemporary Art Evening Sale on May 16th
Though she was long overshadowed by the mammoth reputation of her husband,
market has been rising steadily since 2003, when
Celebration
(1960) quadrupled its pre-sale estimate at Christie's and sold to the
Cleveland Museum of Art
for $1.9 million, nearly 10 times her previous auction record of $198,400. Her record currently stands at $5.5 million, set when
Shattered Light
(1954) doubled the high estimate of $2.5 million at Christie's in November 2017.
Now, Sotheby's believes Kransner's
The Eye is the First Circle
(1960) can vault her into what's thus far an unfortunately small club: women artists whose works have sold in the eight-figure range. That club currently counts just
last June
,
Nate Freeman is Artsy's Senior Reporter.