5 Standout New York Exhibitions to See This April
Here, we share a roundup of notable shows to see in New York this April, chosen by Artsy Editors.
Paul Mpagi Sepuya's show at Team Gallery is as sexy as it is smart. The artist's new series, "The Conditions," consists of shots taken entirely in his studio, using his friends as models. Simple objects (drop cloths, a mirror, a bench) complicate the compositions. Some shots, such as Orifice (2018), connect photography itself to the queer black experience: In the image, hands hold up a rich brown cloth, with a camera lens peeping out from the center. The work seems to remind us that an aperture, after all, is just a hole.
Other pictures are more subtle. A Portrait (2017), for example, captures a woman in a blue dress, standing in front of a mirror that reflects Sepuya and his own tripod. Yet strange details—three fabric circles at the mirror's top edge; rogue tripod legs that distort the viewer's sense of space—give the composition an off-kilter aura that becomes more curious the longer you look. A sense of warmth pervades the series, saving it from ever becoming too esoteric. Despite his clearly rigorous process, Sepuya and his friends appear to be playing around as they work, having some (very erudite, very intimate) fun.
Sarah Zapata creates some of contemporary art's most colorful, exciting work in fiber and felt. Her Deli Gallery show includes 15 new pieces, in two and three dimensions. New tapestries (hung on the wall and laid on the floor) depict a series of bright faces and patterns behind bars, resulting in a sense of both imprisonment and depth. They offer glimpses of a mystical world that's unavailable to the viewer. In her sculptures, Zapata pairs fiber-wrapped clay pots with thread-bound mannequin feet; the assemblages link craft with fashion. The artist has
discussed
how her Peruvian heritage and queerness influence her practice: She uses Peruvian weaving techniques and makes her own clothing for drag king performances. Yet the work invites the viewer into its complex politics with its sumptuous, exuberant surfaces.
In a red-carpeted theater at Metro Pictures, Isaac Julien's gorgeous new film
Lessons of the Hour
(2019) plays across 10 screens; the piece offers reimagined and reenacted scenes from the life of Frederick Douglass. In addition to portrayals of Douglass speaking at a podium, traveling, and walking through the woods, some channels simply focus on lush atmospheric shots: orange leaves in an autumnal forest; ornate interiors; a train chugging along a barren landscape. Importantly, Julien's work gives viewers a creative new depiction of a historical subject; Douglass himself
prized photography
and the popularization of his own image. On a purely aesthetic level,
Lessons of the Hour
provides a beautiful study in color and form. Julien asks viewers, at any given time, to contemplate the 10 different vignettes as one coherent narrative about an iconic figure—while relating Douglass's struggles to the current moment. (While at the gallery, be sure to head upstairs to also see
dreamy, bizarre paintings—one of which features a family of potatoes.)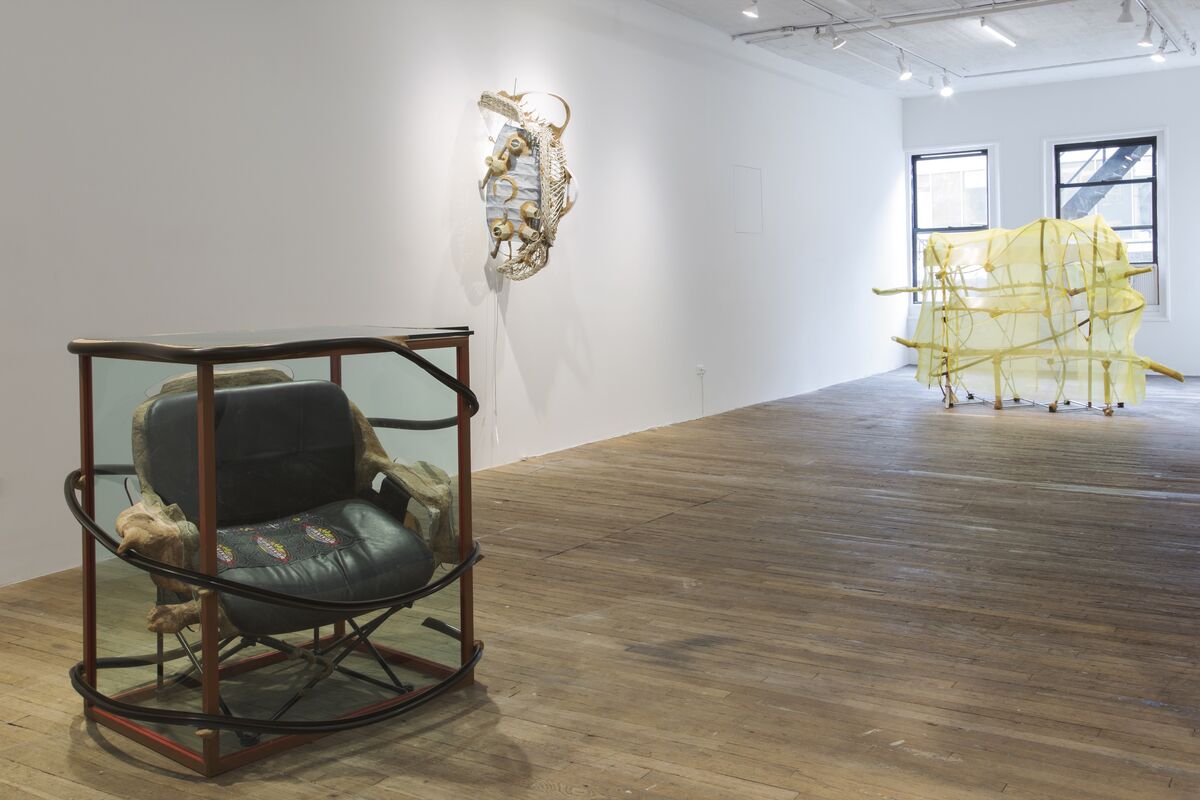 Jessi Reaves is known for conflating art and design in her furniture pieces that sit at the contested border of good and bad taste (and are often barely functional). In her new show, she pushes her trash-chic aesthetic into weird and welcome new directions. Redemption island standing table (2019) reminded me of an aquarium: The piece features a black chair with sawdust arms and Survivor-branded fabric across its seat, situated in a glass box (that might serve, judging by the title, as a table). A rubber coil snakes around the entire contraption. The wry nod to a pop-cultural phenomenon that's just past its prime squares neatly with the idea of putting on a chair on display, trapped in a table, as though the form (and furniture) itself is passé—utility be damned.
There's also beauty in all of Reaves's wreckage. Walking up was getting into discipline, nyc stick shelf (2019) consists of racks of wood and metal clothed in sheer yellow fabric with zippers, resembling a tent. As the afternoon light shines into the gallery, the artwork creates a lovely golden glow.
The conceit of Aki Sasamoto's delightful film Do Nut Diagram (2018) sounds like a potential
Alina Cohen is a Staff Writer at Artsy.
Update: Paul Mpagi Sepuya at Team Gallery was extended from April 13th to April 20th. The text has been updated to reflect this change.