5 Zürich Gallery Shows You Need to See This Summer
The art-world caravan stops this month in Switzerland, which plays host to Europe's most lucrative fair and its most progressive biennial. If you're in Zürich this month, visiting
Manifesta 11
or in need a break from the fevered deal-making of Art Basel, don't miss the slew of heavyweight exhibitions programmed by the city's most important galleries to take advantage of the influx.
"Schwitters Miró Arp" at Hauser & Wirth
Jun. 12–Sep. 18, Limmatstrasse 270
Installation view, "Schwitters Miró Arp," Hauser & Wirth Zürich, 2016 © 2016, ProLitteris, Zurich. Courtesy Hauser & Wirth
This year marks
the centenary of Dada's birth at Zürich's Cabaret Voltaire
, converted this summer into an "artist's guild" for the duration of Manifesta 11.
Hauser & Wirth
celebrates the 100th birthday of the movement with a museum-quality exhibition of three of its most important practitioners. The show particularly illuminates, through a series of early collages, the close relationship between
May 12–Jul. 22, Stampfenbachstrasse 59
Installation view of "To Sophie, Sonia, Elsa, Hannah..." at Häusler Contemporary. Photo courtesy of the gallery.
Häusler Contemporary
pays a different kind of homage to the greats of the early 20th century, dedicating a group exhibition to the modernist pioneers
Exchange
(2008) by Austrian artist
June 11–Aug. 6, Rämistrasse 37
Installation view of "John Baldessari—New Works" at Mai 36 Galerie. Photo courtesy of the gallery.
Closer to the spirit of Dada, perhaps, is an exhibition of new paintings by the great American conceptualist
May 27–Jul. 22, Via Serlas 12 
Installation view of Olivier Mosset at Galerie Andrea Caratsch. Photo courtesy of the gallery.
A different variety of painterly conceptualism is on show at
Galerie Andrea Caratsch
, of a markedly different hue. While Baldessari's paintings combine languorous humour with a Pop sensibility,
Untitled
, 2015) suggest blankness and impersonality. Installed around the gallery's walls, these works suggest a non-believer's equivalent to
The Menil Collection
in Houston, Texas. But where Rothko's multi-layered canvases invite the viewer into spiritual contemplation, Mosset's bounce back the gaze.  
Jun. 12–Aug. 27, Löwenbräu Areal, Limmatstrasse 270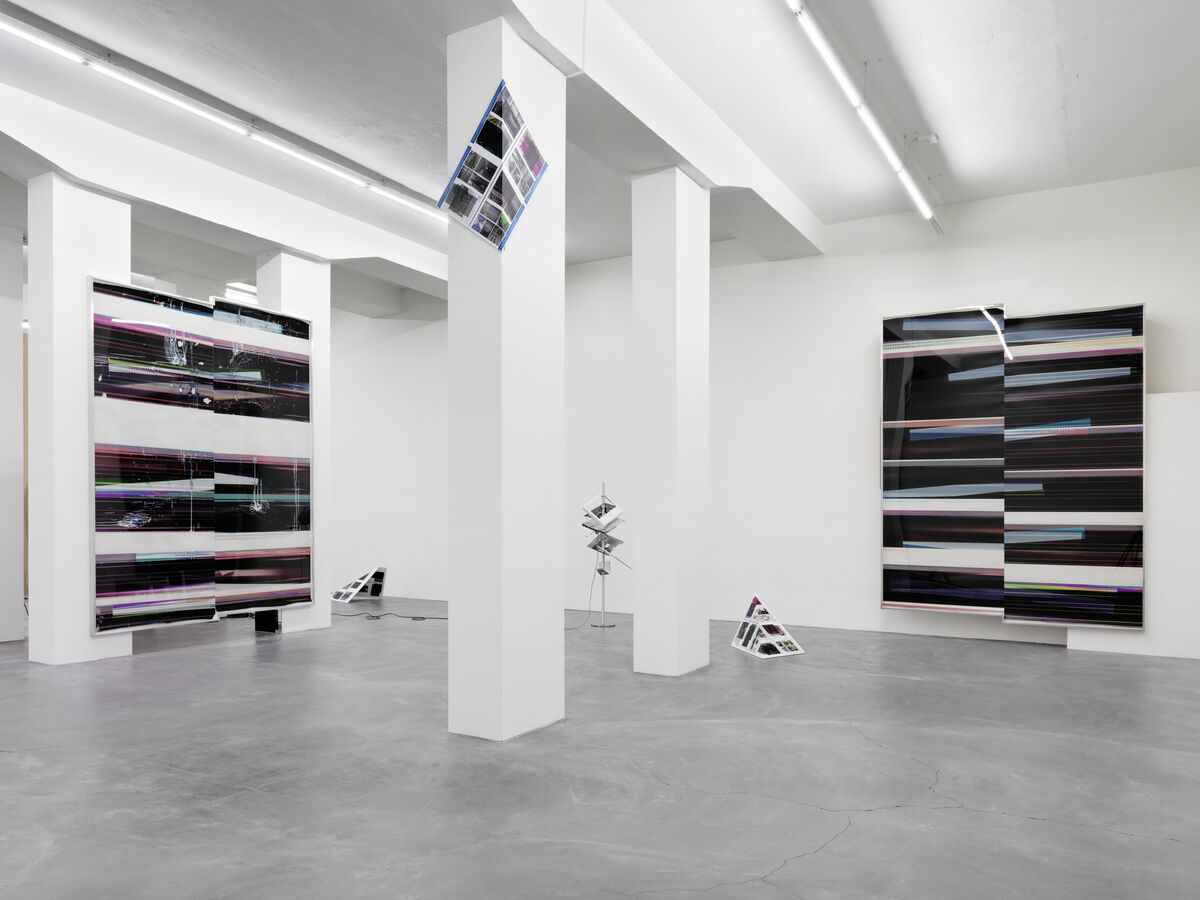 Installation view of Walead Beshty at Galerie Eva Presenhuber. Photo courtesy of Galerie Eva Presenhuber.
The visitor at 
Galerie Eva Presenhuber
's 
(the surface of which is smeared with grease marks from their transportation and installation by hand)—extrude from the wall. Although Beshty's aesthetic will appeal immediately to anyone with a taste for hard edges and clean lines, his practice is based in the everyday. As such, it makes a fitting conclusion to any tour of a city whose greatest artistic legacy was the dismantlement of any distinction between art and life.