How 500 High Schoolers Helped Keith Haring Pull off One of His Most Ambitious Projects
Photo by Irving Zucker. Courtesy of Chicago Cultural Counsel.
But some of the artist's most ambitious projects were completed with the help of hundreds of high school students. In 1986, for instance, he joined forces with 1,000 kids from New York to create a 10-story-tall banner depicting the Statue of Liberty. The following year, he and a group of teenagers covered a wall in a low-income neighborhood in Philadelphia with a series of figures, grooving ecstatically in unison. And in 1989, just months before his death from AIDS, Haring traveled to Chicago and enlisted the talents of 500 public school students to forge a 488-foot-long mural in the city's center.
"Whatever else I am," Haring wrote in a journal entry, "I'm sure I, at least, have been a good companion to a lot of children and maybe have touched their lives in a way that will be passed on through time."
Photo by Irving Zucker. Courtesy of Chicago Cultural Counsel.
Indeed, the Philadelphia mural
still stands
. And this year in Chicago, the sprawling 1989 mural Haring worked on with high schoolers has been reinstalled in the city's Cultural Center as a highlight of their "Year of Creative Youth."
Former Chicago public school teacher and arts advocate Irving Zucker, now 71 years old, helped Haring coordinate the mural project in 1989. He'd met the artist two years earlier during a trip to New York. Zucker's childhood friend, curator Diego Cortez, introduced them at Tony Shafrazi Gallery's
Together, they hatched a plan for an ambitious mural project that would engage an unprecedented number of Chicago students. Zucker worked closely with the city to determine a location, the Museum of Contemporary Art to secure funding, and the public school system to find Haring's cohort of assistants. "It took a lot of meetings with different entities and a lot of parent permission slips," Zucker laughed, "but we eventually made it happen." By May, 500 teens across 63 high schools had signed up and were ready to get started on their mural.
Photo by Marcelino Y. Fahd. Courtesy of Chicago Cultural Counsel.
Anthony Lewellen was one of them. At the time, he was a 16-year-old art student at a local high school who spent his free time skateboarding and tagging walls with his nickname, "Tony El." He also watched MTV, where he'd seen Haring's work in a Grace Jones video. "He saturated pop culture, even at that point," Lewellen said. "So I was aware of his work on that level, but not intimately by any means."
Soon, however, Lewellen was watching Haring paint in person. The artist began the mural by outlining a tapestry of his signature shapes and figures in black—like "a big coloring book," Lewellen recalled. The students were then brought to the site, located in area of Grant Park now known as Millennium Park, over a span of five days. They were given instructions, paint, and brushes by Haring and his team and quickly went to work filling in the outlines.
Zucker was struck by Haring's natural instincts as a mentor and teacher. "When he was with the kids, he was so happy. And they knew it! He was gentle and kind and funny," Zucker said. "It was never forced. He loved hanging out with that age group and watching them express themselves." Photographs from the event capture students concentrating hard on their designated sections, or smiling wide with Haring as he gives them pointers or paints on their T-shirts and baseball caps—beloved souvenirs from the project.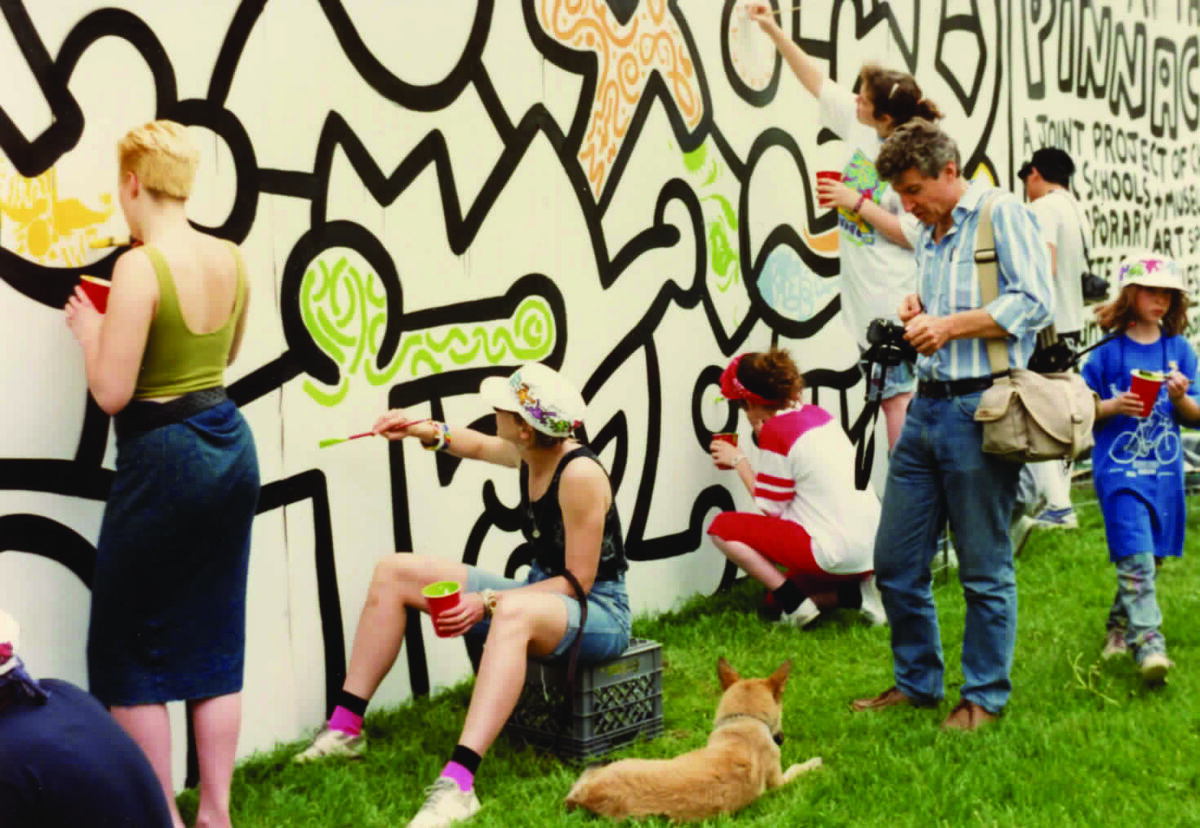 Photo by Irving Zucker. Courtesy of Chicago Cultural Counsel.
While Haring offered some guidelines for the project (for instance, adjacent sections should be painted with different colors), he wanted each student to convey their own creative voice within his outlines. "They do this with every kind of painting technique imaginable," Haring once
said
. "All these kids are a wonderful mixture of every possible ethnic and cultural background."
"He didn't pander down to them," said curator Nathan Mason, who organized the current exhibition at the Chicago Cultural Center. "He asked them to step up and do their best and gave them the freedom to make decisions about how they wanted to express themselves creatively."
This was empowering for many of Haring's student-assistants. Lewellen remembers feeling encouraged to go wild within the sections he painted. He can still pick them out in the mural: wacky patterns tagged with his former graffiti pseudonym.
Photo by Irving Zucker. Courtesy of Chicago Cultural Counsel.
Today, Lewellen is an art director and artist who has made his own murals around Chicago. In retrospect, he acknowledged that his 1989 work with Haring helped inspire his career as an artist. He described the process of making work for the public, and seeing their positive response, as "empowering for a disenfranchised 16-year-old kid who had creative inclinations and didn't know how to go about being an artist."
"[The project] demystified what it meant to be an artist," he continued. "It made it feel like something I could do."
Alexxa Gotthardt is a contributing writer for Artsy.