The 6 Artists to Watch at Independent Brussels
After months of anticipation, Independent Brussels is in full swing. The fair brings its signature exhibition-level curation to the Belgian capital, with 72 exhibitors spread across six floors. These six emerging artists stood out from the pack in the fair's first days. 
Lloyd Corporation
ON VIEW AT CARLOS/ISHIKAWA
Left: Lloyd Corporation, The saga of the costume continues, 2016. Right: Lloyd Corporation, I used to work for DHL back in the 90's..., 2016. Photos courtesy of Carlos/Ishikawa.
Lloyd Corporation is a collaboration between The saga of the costume continues, 2016, priced at €5,500) that hangs in the booth. Carlos explained of the work: "They are very interested in amateurism, and this very iconic Hollywood costume that gets co-opted," by many, including those in the U.K. who collect money outside of the tube stations in DIY superhero suits. Sharing the same wall, I used to work for DHL back in the 90's... (2016; €8,500) includes 12 works—watercolors and protest posters collected at environmental and anti-war rallies among them.
Josh Tonsfeldt
ON VIEW AT SIMON PRESTON
Left: Josh Tonsfeldt, Untitled, 2016. Right: Josh Tonsfeldt, Nick, GoPro, 2016. Photos courtesy of Simon Preston.
Collectors keep returning to Simon Preston's booth to see the work of Brooklyn-based artist
MASS MoCA
, and ahead of the artist's solo at Raucci/Santamaria in Naples, the gallery presents sculptural works incorporating layers of television screens in order to make the objects behind them appear to be digital. "Josh is thinking about how we mediate through the lens of the phone, through the camera, and how we then view everything through the lenses of iPads and computers," said gallery director Paula Naughton. Amongst four works on plaster, overlaid with peeled-apart flatscreen panels (available for €8,000), the highlight of the booth is a sculptural, deconstructed television that's been hung vertically (
Untitled,
2016; €10,500). Still functioning, the housing displays video of a morphing form that undulates through found objects and debris from his studio.
Win McCarthy
ON VIEW AT OFF VENDOME
Installation view of works by Win McCarthy at Off Vendome's booth at Independent Brussels, 2016. Photos courtesy of Off Vendome.
In three weeks, McCarthy's work will open in a five-person group show at the
Whitney Museum
. But this weekend, it commands one of the sleekest corners of Independent Brussels. Two walls of New York gallery Off Vendome's booth are lined with a new body of work. Like a lot of the young artist's work, the plexiglass boxes function as self-portraits. "Each one encapsulates a moment in time," said gallery founder Matt Moravec. That includes a quite literal interpretation of the theme,
10/22/15
(2016), in which the artist has incorporated items from a photograph taken while on a walk and newspaper cutouts of the day's weather. The best of the bunch,
Anger and Scrutiny
(2016), is a teaser to the artist's Whitney debut. It offers a glimpse of one of his new works (a cutout of the island of Manhattan) through a black-and-white photograph that was snapped in his Red Hook studio. The work pictured also includes a figure (the artist himself) that appears again in the sculpture at the booth's center. In both instances, it sits symbolically beneath a spotlight. 
Julien Monnerie
On view at Room East
Left: Installation view of Room East's booth at Independent Brussels, 2016. Right: Detail view of Julien Monnerie, Manchette, 2015. Photos courtesy of Room East.
Visitors to Room East's booth might initially be lured by the Manchette (2015), "they'd been given to him by a Japanese friend whose grandfather had passed away," said the gallery's Juliette Premmereur. "They're all nautical-themed, and each tell a different story." Like the Broodthaers work, she noted, "the works are trying to create meaning out of a sequence of items, to relate one symbol after another."

Milano Chow
ON VIEW AT MARY MARY
Left: Milano Chow, Mantelpiece (interview), 2014/2015. Right: Milano Chow, Shoes (oxford, loafer, monk), 2014/2015. Photos courtesy of Mary Mary.
Charlotte Prodger
On view at Koppe Astner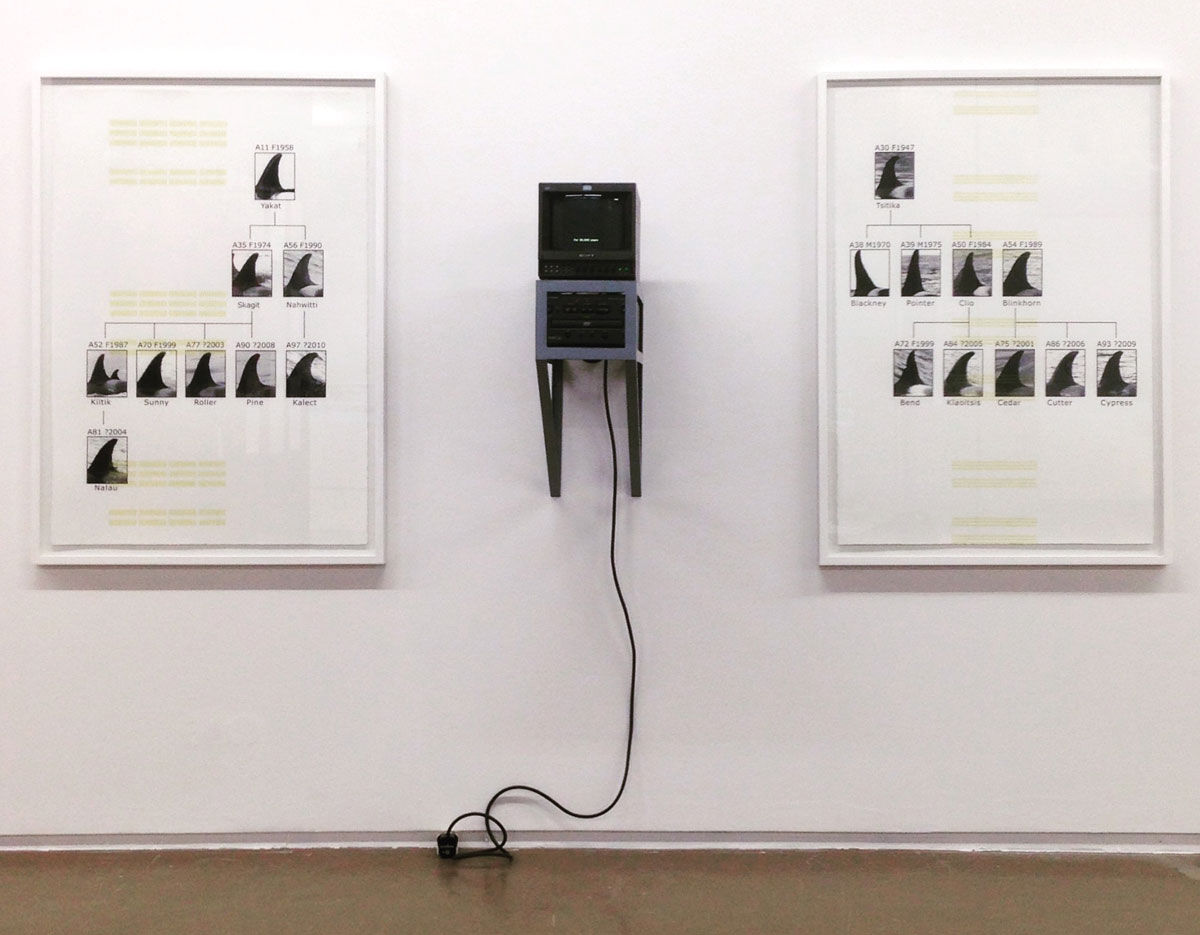 Installation view of Koppe Astner's booth at Independent Brussels, 2016. Photo courtesy of Koppe Astner.
Glasgow-based video artist
the British Art Show
and looking ahead to a July exhibition at Kunstverein in Düsseldorf, constructs narratives culled from sources spanning YouTube videos and historical documents. At Koppe Astner, the 38-year-old artist presents
Flat/Placed/Spread
(2016). The work (priced at €11,000) sees a video monitor play subtitles from Marguerite Duras's 1979 short film,
Les Mains négatives,
which describe the prehistoric handprints found on the walls of caves in Southern Europe. It is flanked by two pages from a microbiology book, depicting the matrilineage of an orca, as identified by its fins. "The handprint and the fin are surface trademarks that identify the whole," said the gallery's Emma Astner. "It's a quite conceptual work," she added, noting, however, that it's been well-received by the "committed Belgian collector base, which takes a lot of time to find out information about a work."
Molly Gottschalk is Artsy's Features Producer.