6 Modern Churches That Are Serene Refuges from the World
Shigeru Ban, Cardboard Cathedral, 2013
Christchurch, New Zealand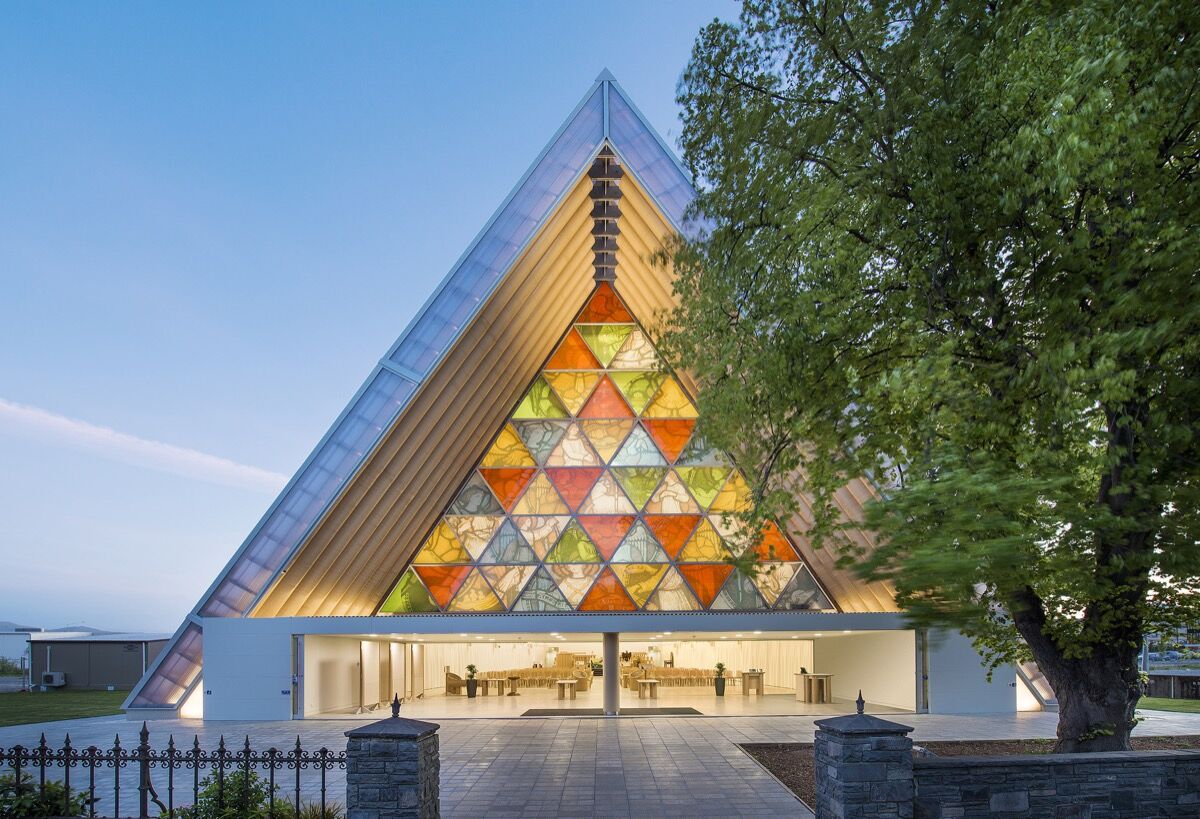 Photo by Forgemind ArchiMedia, via Flickr.
The Transitional Cathedral in Christchurch, New Zealand, was built to temporarily replace (for a span of 50 years) an iconic 19th-century Anglican cathedral after it was severely damaged in a series of earthquakes, most notably the 6.3 magnitude quake that devastated the city in 2011.
Known as the "Cardboard Cathedral" and designed by the Japanese architect
E. Fay Jones, Thorncrown Chapel, 1980
Eureka Springs, Arkansas
Photo by Bobak Ha'Eri, via Wikimedia Commons.
Inspired by the Sainte-Chapelle in Paris, American architect
With its repeated vertical structure and over 400 glass windows, the chapel is a transparent "forest within a forest" that maximizes natural light and aims to inspire its guests to connect to both nature and God. A close friend of starchitect
Peter Zumthor, Bruder Klaus Field Chapel, 2007
Mechernich-Wachendorf, Germany
Photo by Kateer, via Wikimedia Commons.
This evocative field chapel in the German countryside pays homage to Bruder Klaus, the 15th-century patron saint of the local farmers—the latter of whom helped build the design by Swiss architect Zumthor. It's noted for its novel method of construction: Twenty-four layers of concrete were poured on a wigwam frame of 112 tree trunks, which was then ignited, resulting in singed walls and a hollow cavity within.
The oculus in the roof allows rain and sunlight to infiltrate the space, creating different atmospheres depending on the weather and time of day. (On a sunlit day, the hole resembles the blaze of a star, an allusion to Bruder Klaus's vision in the womb.)
"To me, buildings can have a beautiful silence that I associate with attributes such as composure, self-evidence, durability, presence, and integrity, and with warmth and sensuousness as well," Zumthor has said. "A building that is being itself, being a building, not representing anything, just being."
Eero Saarinen, North Christian Church, 1964
Columbus, Indiana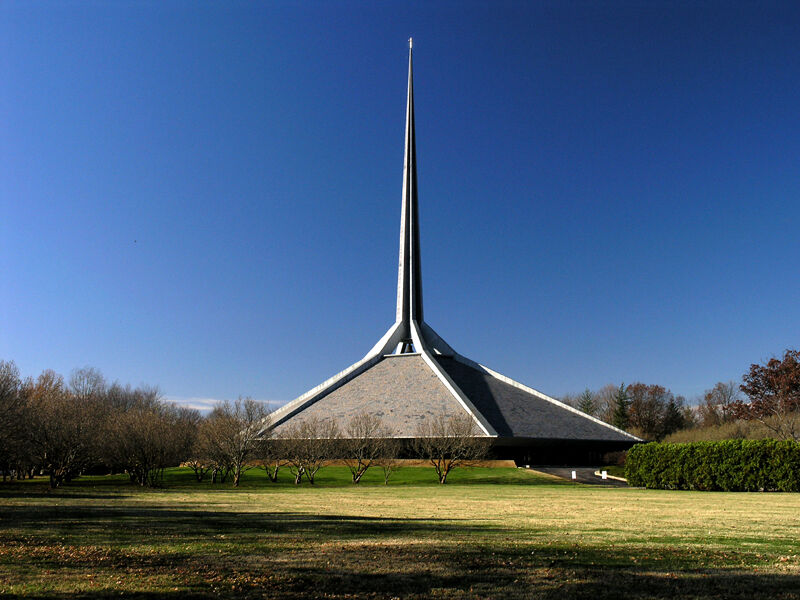 Photo by Greg Hume, via Wikimedia Commons.
During the planning stages of his North Christian Church, Saarinen lamented the increasing relegation of contemporary religious architecture to secondary spaces within large complexes. "Today, there are Sunday school rooms and good-fellowship rooms and kitchens and gymnasiums and square dancing rooms and so forth.…The church itself has become an insignificant, and almost forgotten little thing," he
said
.
To solve this problem in his design for the church—the last building he designed before his tragic death in 1961—Saarinen sequestered all secondary functions to the floor beneath the central space of worship. The building's plan consists of a hexagon with piers on each corner converging at the top of the roof, which shoots upwards into a spire topped with a small gold cross.
Tadao Ando, Church of the Light, 1989
Osaka, Japan
Photo by Chris HE, via Flickr.
Completed in 1989, Ando's Church of the Light was commissioned as part of the first phase of a redesign of a Christian compound in Ibaraki, a residential suburb of Osaka, Japan. (A sunday school by Ando was later added to the compound in 1999.) The lack of any embellishments or frills within the structure, which is composed of heavy concrete walls and largely devoid of traditional Christian imagery, results in a serene, contemplative space.
"I create enclosed spaces mainly by means of thick, concrete walls," Ando once said. "The primary reason is to create a place for the individual, a zone for oneself within society." The Church of the Light is a prime example of Ando's signature use of light to shape spatial perception. The sole religious motif inside the building is a void in the shape of a cross that has been cut into the east facade, where it filters light into the otherwise dark interior.
Oscar Niemeyer, Cathedral of Brasília, 1970
Brasília, Brazil
Photo by Joana França, via Wikimedia Commons.
The visionary Brazilian architect
said
. "Now I live for Brasília."
Along with the Presidential Palace and Ministry of Justice buildings, Niemeyer designed a striking cathedral with a hyperboloid structure composed of 16 concrete columns that radiate out, resembling two hands reaching up toward the heavens, or by some accounts, the crown of thorns. Inside, the 360-degree ceiling is decorated in stained glass of aquamarine hues, and three winged angels hang over the nave. Outside, a group of figurative statues known as the Four Evangelists stand guard. Niemeyer was awarded the Pritzker Prize for the cathedral in 1988.
Demie Kim is an Editorial Associate at Artsy.