6 Things You Didn't Know about Francis Picabia, Dadaist Master
With a career that sprang out of
Museum of Modern Art
is the first since 1970. So, who is this stunningly multifarious artist? Here are six things you probably didn't know about Picabia.
At 15 years old, Picabia replaced his family's art collection with his own convincing copies.  
Portrait of Francis Picabia, published in Guillaume Apollinaire, Les Peintres cubistes, 1913.
According to the artist, Picabia exchanged the works (which were, depending on the retelling, owned by either his father or his uncle) one by one and then sold the originals to fund his stamp collection. His family was none the wiser that young Picabia's forgeries now hung on their walls. "When no one had noticed, I discovered my vocation," he recalled. Although the episode could be interpreted as a simple teenage prank (and the artist was no stranger to jokes and hijinks throughout his career), Picabia's self-proclaimed origin story may have greater significance to his eventual practice. "Fraudulence, he came to realize," Gordon Hughes writes in the MoMA exhibition catalogue, "is not something passed through en route to hard-earned authenticity but part and parcel of the very structure of modernism itself."
He owned 127 cars over the course of his life.
Picabia was born into wealth, with a father descended from Spanish nobility and a mother who hailed from the Parisian bourgeois. His personal fortune made him an exception among avant garde artists in the 20th century. He was by far the richest Dadaist and spent his money freely on yachts, cars (he bought his first of 127 by 1900), and gambling. Wealth allowed Picabia to pursue art full-time from the very start, encouraged by his family. It also granted him the freedom to explore styles and approaches without the onus of actually needing to sell the art—a boon for an artist whose work was so aggressively ahead of its time that it frequently ruffled the feathers of critics and buyers.

Although he's best known for his Dada works, Picabia began his career as a celebrated Impressionist.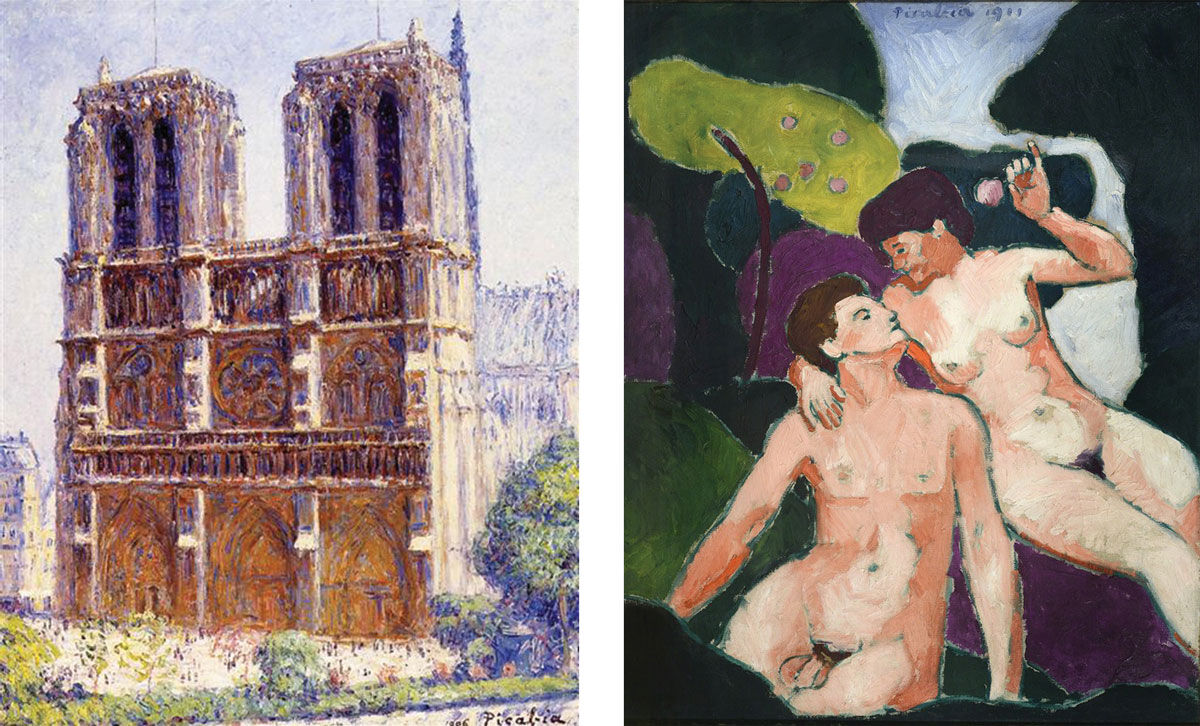 Left: Francis Picabia, Notre Dame, The Effect Of Sunlight, 1906. © Francis Picabia. Right: Francis Picabia, Adam et Ève (Adam and Eve), 1911. Image courtesy of MoMA, New York.
After meeting the two sons of Impressionist painter en plein air (to Pissarro's horror). Instead, he copied photographic postcards and, in some cases, even replicated earlier works by major Impressionists—his paintings of haystacks and Notre Dame's facade practically shout "
Some historians credit him with the first abstract painting.
In a move that would become his signature, Picabia gave up a thriving career in Impressionism when he abruptly broke contract with his dealer in March 1909. Later that summer, he created the watercolor Caoutchouc (Rubber), which has been hailed by some researchers as the first abstract painting. (The distinction has also been handed to La source (The spring) (1912). Critics found the work's red-hued, fragmented planes distasteful, with one noting that they "evoke encrusted linoleum." Picabia's work also predicted several movements that would arrive after his death—he has been credited with creating early prototypes of 
He didn't stop with Cubism—Picabia was also one of the founding fathers of Dada.
Picabia's career is notoriously difficult to categorize, perhaps best defined simply by its breadth. As ARTnews put it in 1928: "Picabia is the grasshopper of contemporary art, leaping lightly from ism to ism and having a very gay time of it." By 1915, he had sprung from Cubism to Dadaism, where he would work with close friends 
Several of his later works ended up on the walls of North African brothels.
As World War II loomed on the horizon, Picabia began to paint canvases of women that lifted imagery from movie posters and 1930s soft-core pornography. The figures—
Stir Creativity
See how Bombay Sapphire supports artistry.
Sponsored by Bombay Sapphire