7 Artist Recipes, from Dalí's Avocado Toast to Ed Ruscha's Cactus Omelette
As art history shows, artists have always been fixated on food. In the Dutch Golden Age, they flaunted their painting skills by depicting extravagant tabletops overflowing with grapes, meat, and wine. In the 20th century, food was a natural subject for
Within the comfort of their own kitchens, some artists also looked to food as another creative outlet; as
Frida Kahlo's Strawberry Atole
1 ¼ Cups of masa harina
6 Cups water
2 Cups strawberries
¾ Cups brown sugar
Frida Kahlo, The Bride Frightened At Seeing Life Opened, 1943. Jacques and Natasha Gelman Collection, Mexico City.
At Casa Azul, her Mexico City home,
On October 31st, Rivera writes, Casa Azul "moved into high gear" in preparation for the Day of the Dead festivities. The menu for the occasion included both sweet treats, like dead man's bread and pumpkin in syrup, and savory foods, like chicken in pipián sauce and tamales in banana leaves. Served alongside these dishes were cups of strawberry atole, a hot, corn-based drink often flavored with fruits or spices. Though typically served on the Day of the Dead, it's an ideal sipper for any chilly day.
To prepare, dissolve the masa harina in 4 cups of water and let sit for 15 minutes before straining. In another bowl, puree the strawberries with the brown sugar and 2 cups of water, then drain. Mix the masa harina and strawberries in a large saucepan and stir constantly until thick.
Adapted from:
Frida's Fiestas: Recipes and Reminiscences of Life with Frida (Clarkson Potter, 1994)
Marcel Duchamp's Steak Tartare
½ pound chopped raw beef
2 eggs
chopped raw white onion
bright green capers
curled slivers of anchovy
fresh parsley, chopped fine
black olives minutely chopped in company with yellow celery leaves
"Let me begin by saying, ma chere, that Steak Tartare, alias Bitteck Tartare, also known as Steck Tartare, is in no way related to tartar sauce," writes Artists' and Writers' Cookbook (1961), which features 220 recipes by 55 painters, 61 novelists, 15 sculptors, and 19 poets—including Harper Lee, Irving Stone, John Keats, and
With an eye for artistic arrangement, Duchamp specifically recommends that you prepare the dish on an ivory plate "so that no pattern will disturb the distribution of ingredients." First, arrange beef "with artistry into a bird's nest," and place egg yolks in its hollow core. Surrounding the nest, in the shape of a wreath, place bouquets of onion, capers, anchovy, parsley, and chopped olives with celery leaves. "Each guest, with his plate before him, lifts his fork and blends the ingredients with the egg yolks and meat," he concludes. "In center of table: Russian pumpernickel bread, sweet butter, and bottles of vin rosé."
Adapted from:
Artists' and Writers' Cookbook (Contact Editions, 1961)
Salvador Dalí's Avocado Toast & Casanova Cocktail
3 avocados
1 lamb brain
9 oz. minced almonds
12 slices of rye bread
3 tbsp. tequila
⅓ cup vinegar
½ cube of beef bouillon
salt
cayenne pepper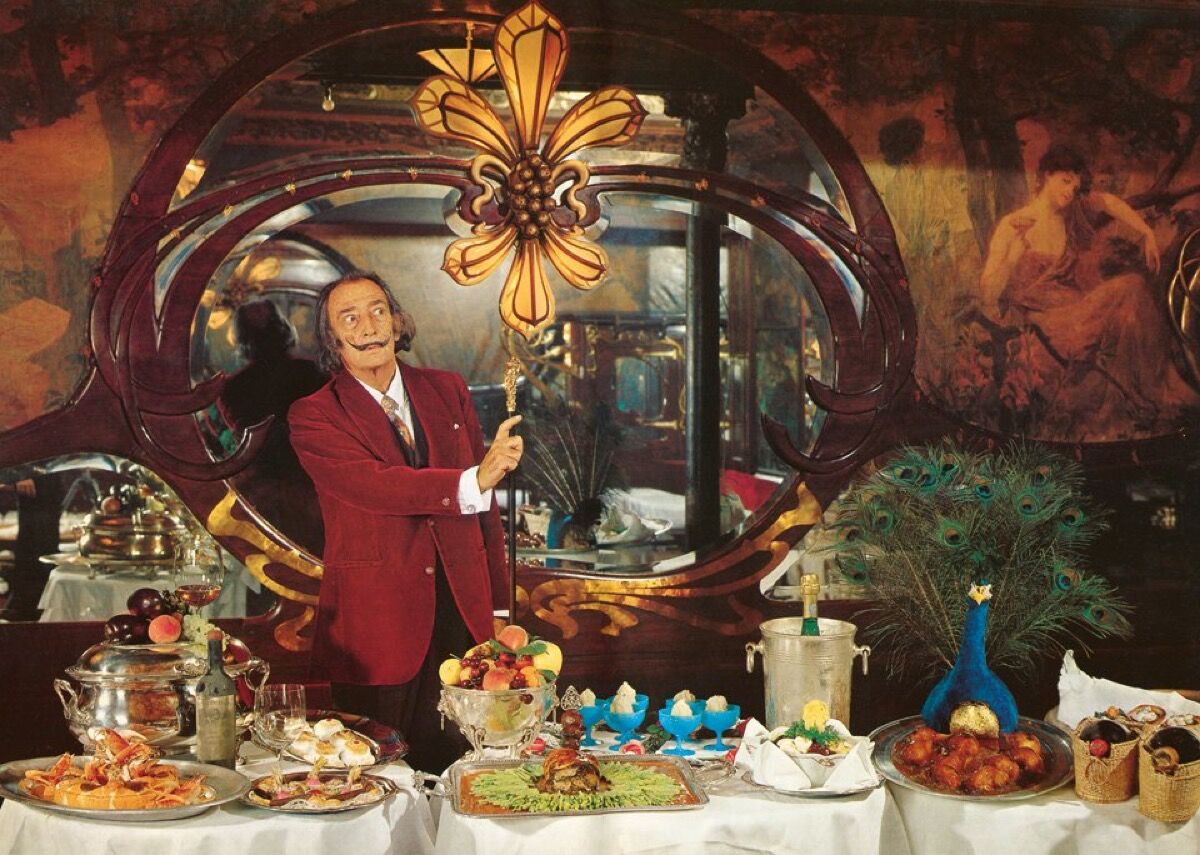 © Salvador Dalí. Fundació Gala-Salvador Dalí, Figueres, 2016. Photo courtesy of TASCHEN.
"If you are a disciple of one of those calorie-counters who turn the joys of eating into a form of punishment, close this book at once; it is too lively, too aggressive, and far too impertinent for you." So begins Les Diners de Gala. Originally translated to English in 1973 and named for his wife Gala, with whom he threw costumed dinner parties, Dalí's cookbook is a work of art in itself. Chock full of illustrations, the book includes 136 extravagant recipes that are equal parts cannibalistic and erotic: One chapter is devoted to "les cannibalismes de l'automne," while dishes include "Cytherean meatballs," "Aphrodite's purée," and "Siren's shoulder." The cookbook was a lifelong dream for the artist, who wanted to be a chef since he was six years old.
Among the delicacies is a simple recipe for a rather decadent spin on avocado toast. The first step: Soak the lamb brains (a specialty of French cuisine) in cold water, remove their outer skin, and place back in the water. Meanwhile, boil a pint of water; add vinegar and beef bouillon. Remove the brains from the water, drain to remove excess water, and mix with avocado pulp. Then add minced almonds, salt, cayenne pepper, and tequila. Spread on toasted slices of rye.
If you'd prefer to pass on the lamb brains, try the simple "Casanova cocktail" instead. In a glass, combine a pinch of cayenne pepper and a teaspoon of ginger; pour in a tablespoon of Campari, 4 tablespoons of brandy, and 2 tablespoons of Vieille Cure (old brandy). Refrigerate or chill in freezer for 30 minutes, then mix in the juice of one orange and stir. "Let us stress another advantage of this particular pep-up concoction is that one doesn't have to make the sour face that usually accompanies the absorption of the remedy," writes Dalí. "Drink...and wait for the effect. It is rather speedy."
Adapted from:
Claude Monet's Chestnut Cookies
½ cup unsalted butter
1 cup unsweetened chestnut purée
¾ cup sugar
3 eggs, separated
en plein-air while the sun was still out.
Monet's Table: The Cooking Journals of Claude Monet, a cookbook of recipes translated from the artist's own journal, includes several classic French dishes in addition to treats the artist and his friends enjoyed over tea. Though vert-vert, a green cake with pistachio cream, is said to be his favorite, the chestnut cookies seem especially fitting for the holidays. To prepare, preheat the oven to 350 degrees and grease 20 cupcake molds. Over low heat, melt the butter; add chestnut purée, sugar, and egg yolks (set the whites aside) and stir. Take the pan off the heat. Beat the egg whites to form stiff peaks, and fold them into the mixture. Add the mixture to the molds and bake for 20 minutes or until firm.
Adapted from:
Monet's Table: The Cooking Journals of Claude Monet (Simon & Schuster, 1990)
Louise Bourgeois's French Cucumber Salad
6 cucumbers, peeled
6 tbsp. olive oil
2 ½ tbsp. tarragon vinegar
½ tsp. tarragon
salt
pepper
chopped chives or green scallions
The Museum of Modern Art Artists' Cookbook. "Today I know that the notion is absurd." After cooking for her father for many years to assist her ailing mother, Bourgeois avoided cooking entirely as a student, getting by entirely on yogurt, honey, and pumpernickel bread in an effort to make up for what she perceived as lost time. In the 1960s and '70s, however, while immersed in the New York avant-garde, she became fond of entertaining her artist friends: "When the galleries close, we all troop over to my house. I have to be prepared to feed as many as fifteen people at a moment's notice. It is easy for me because of my pressure cookers and my freezer," she said at the time. Post-vernissage, Bourgeois would serve her friends meat, vegetables, and white wine to relax and refill before a long night at Reno Sweeney's or the Bottom Line.
Bourgeois's contributions to the MoMA cookbook (which also features her contemporaries
Adapted from:
The Museum of Modern Art Artists' Cookbook (MoMA, 1978)
Ed Ruscha's Cactus Omelette
2 eggs
2 tbsp. small curd cottage cheese
2 tbsp. diced celery
3 tbsp. diced cactus (nopalitos, commonly found in a grocer's international section)
1 tbsp. sweet butter
salt
pepper
The Artists' and Writers' Cookbook: A Collection of Stories with Recipes © 2016, edited by Natalie Eve Garrett, illustrated by Amy Jean Porter, published by powerHouse Books.
When The Artists' and Writers' Cookbook. (Inspired by the 1961 version, this volume features the likes of
For Ruscha's cactus omelette, whisk eggs in a bowl, heat a pan with butter, and prepare an omelette as you normally would, lifting the edges when they harden and tilting the pan to let the runny layers slide underneath. While the top is still moist, add salt, pepper, and cottage cheese in the center, followed by celery and the nopalitos. Fold in half and let the omelette set for one minute over low heat. "For people who like shaggy dog stories, add little bits of the green cactus on the top of the omelette to make sad or funny faces," Ruscha says.
Adapted from:
Demie Kim is an Editorial Associate at Artsy.
Stir Creativity
See how Bombay Sapphire supports artistry.
Sponsored by Bombay Sapphire