The 7 Most Awe-Inspiring Installations from Desert X
Desert X, a sprawling outdoor art exhibition in California's Coachella Valley, returned in its second iteration this week. Its 19 featured artists and collectives are unapologetically taking on timely topics, from indigenous rights to nuclear testing. The widely acclaimed show, made up of site-specific installations by leading contemporary artists, received over 200,000 visitors in its 2017 debut and became a social-media sensation.
This year, stretching over 50 miles, Desert X (which is open to the public through April) places its focus on California's shrinking Salton Sea, thus bringing environmental issues to the forefront in a region speckled with indelible traces of climate change. And given the show's proximity to the hotly debated U.S.–Mexico border, commentary on the treacherous landscape, the hope of refugees, and the nature of borders has also become central. Here, we share seven of Desert X 2019's most compelling works (all dated 2019).
Bright, sleek, and geometric, SPECTER stands in stark contrast to the rugged terrain surrounding it. Creating a void in the landscape and looming like an apparition, the retangular mass at once obscures and reveals. Minimal in form and maximal in color, the work speaks to the Los Angeles–based artist's broader practice; he seems to have navigated every extreme of the aesthetic spectrum—from polished to vandalized, austere to ornate, planned to erratic.
Known for his expressive use of fabrics and materials, New York–based artist Halter reframe the angular exterior of the gas station and render the rigid space fluid. In ever-changing ebb and flow, Mack's materials evoke a sense of borders in flux, and the parameters of the gas station's physical space—like the desert—become difficult to define.
With their coral reef–inspired piece Dive-In, Danish art collective
Cara Romero, Jackrabbit, Cottontail & Spirits of the Desert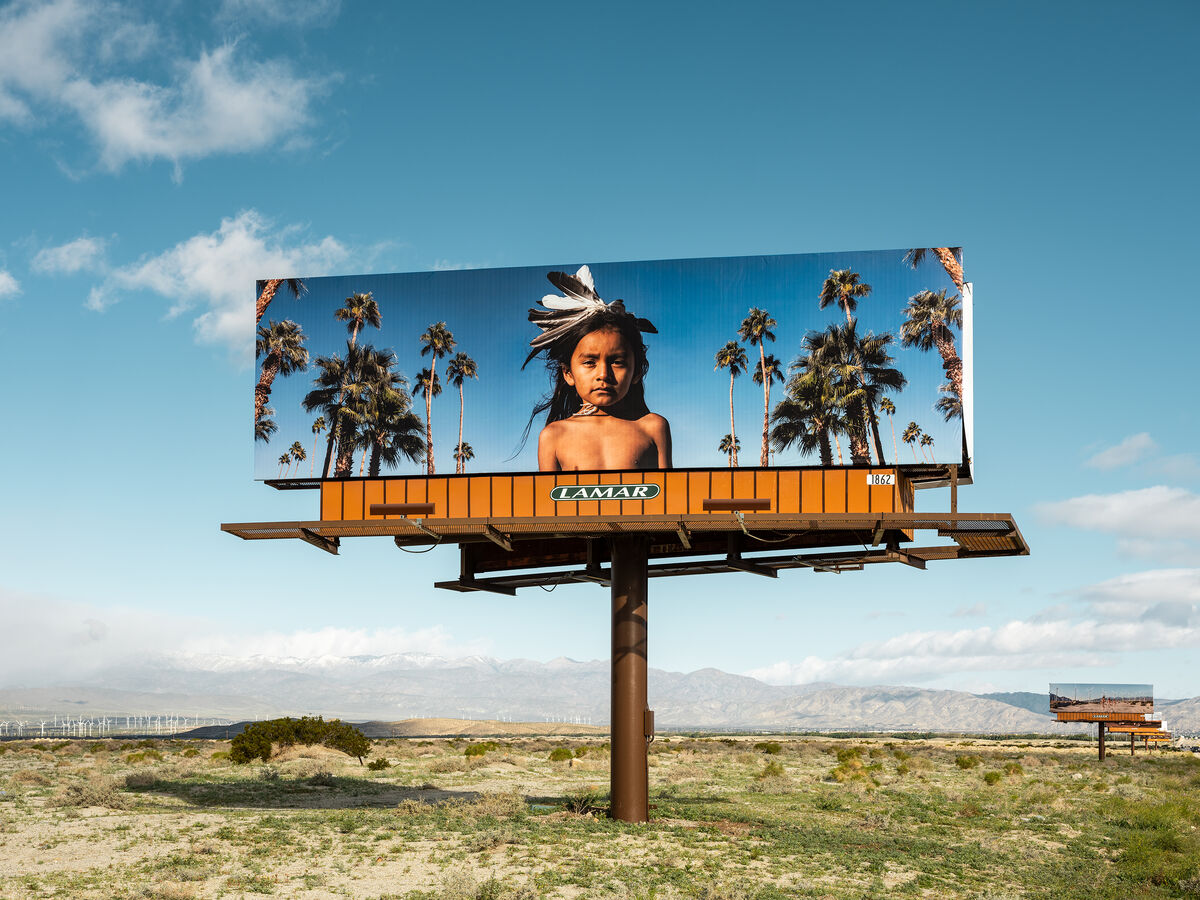 Pia Camil, Lover's Rainbow
Comprised of two identical rainbows in Baja, Mexico, and Coachella Valley, California,
Lover's Rainbow
represents the hopes both realized and crushed amidst the harsh terrain and contentious political realities at the U.S.–Mexico Border. Made from rebar and inspired by abandoned homes Camil has
seen around Mexico City
, the rainbows evoke themes of construction and desertion. Engaged in a transnational conversation about connectivity and inclusivity, Camil's sculptures aim to "re-insert" hope into the land.
Cecilia Bengolea, Mosquito Net
A performance artist with a penchant for relating dance forms to the natural world, Mosquito Net. Collapsing distinctions between ancient and modern, divine and secular, Mosquito Net draws on Bengolea's interest in animism and human-animal relations. The sculptural component, a collage-like mass of dramatically posed human figures interspersed with real and imagined animals, is just offshore in the northern part of the Salton Sea.
Nancy Baker Cahill, Revolutions and Margin of Error
contribution to Desert X can only be seen through a smartphone screen. Download the
4th Wall app
and you can see her augmented-reality works
Revolutions
and
Margin of Error
,whichcomment on energy use and the ensuing man-made environmental crisis, in a state that—with fires in the north and a shrinking sea in the south—is at the height of environmental catastrophe and the center of climate change discussions. Baker Cahill uses a variety of media in her work, including virtual reality. She is interested in the body's relation to space—evinced here by the perceived colossal scale of the piece.
Kelsey Ables is an Editorial Intern at Artsy.