7 Things to Know about Mid-Century Design Pioneer Florence Knoll
In the male-dominated world of post-war modern—and, let's face it, contemporary—design, Mad Men) has Knoll Bassett to thank for revolutionizing the way we live and work in the modern home and office.
As the creative force behind Knoll, the legendary furniture company founded by Hans Knoll in 1941, Knoll Bassett (née Florence Schust) was a highly skilled designer and architect in her own right when she joined the company in 1943. She had previously studied and worked with some of the era's most esteemed design intellectuals, whose iconic works she would also license and bring into production, along with many of her own. Believing that modern architecture naturally reinforced a need for modern interiors, Knoll Bassett famously referred to her work as the "meat and potatoes" or "fill-ins" for commercial projects (a humbling and charming analogy to her former teacher
A perfectionist committed to style and quality, Knoll Bassett created timeless works that comprised nearly a third of Knoll's catalog offerings by 1950—and many remain in production to this day (the brand is reviving a few of her archival works in celebration of her 100th year). In honor of the occasion, we share a few things to know about Florence Knoll Bassett.
The Saarinens discovered her talents at age 12.
Born in 1917 in Saginaw, Michigan, to parents that died early in her life, Knoll Bassett was orphaned by age 12. It was by fate and chance that a foster guardian enrolled her to Kingswood School, a boarding school for girls that was part of the Cranbrook Educational Community—the legendary art, education, and museum campus whose chief architect, the world-renowned Finnish designer
Noting her talents and interest in the campus buildings, Saarinen and his wife, Loja, a textile designer, took Knoll Bassett under their wing. She also grew close to their son,
Trained by Bauhaus pedigree, she practiced a philosophy of "total design."
As an alumnus of some of the most progressive design schools—she studied architecture at the Cranbrook Academy of Art, Illinois Institute of Technology in Chicago (IIT), and spent a few years at London's Architectural Association—Knoll Bassett's social and intellectual orbits read like a who's who of modern design. Her classmates at Cranbrook included
With her multidisciplinary approach in design and architecture, Knoll Bassett practiced a philosophy of "total design"—one that considered form and whole environments at every scale: from the building structure, to its interiors, furnishings, colors, graphics, material, and textiles. She often presented designs in her signature and pioneering "paste-up" method of space planning.
She revolutionized the world of post-war office interiors.

With a wide-ranging skillset role and her Bauhaus pedigree, Knoll Bassett's role at Knoll Associates was, accordingly, various. She founded the in-house interior design studio, Knoll Planning Unit, in 1945; and the KnollTextiles division in 1947, leading both. A designer of several Knoll classic furniture pieces and showrooms, she also directed the Furniture Design Development department. Upon Hans Knoll's death in 1955, she assumed the role of president, a position she held until her retirement in 1965.
It was through the Planning Unit that Knoll not only designed the interiors for the company's growing number of showrooms, but also the corporate offices of some of the largest American companies, including IBM, GM, CBS, and Seagram's. "The Planning Unit existed because of my background in architecture," Knoll Bassett later recalled. "It was the very first furniture company [that] ever had a planning department. This came from my special interests. Expansion came from Hans...who was an empire builder."
"I am not a decorator."
Knoll Bassett achieved prominence as a design powerhouse and polymath in her own right, and by 1964,
a profile in the New York Times
declared: "That revolution in the of­fice took place 20 years ago and Florence Schust (Schu) Knoll, the woman who led it, is today the single most power­ful figure in the field of mod­ern design." The writer continues: "To be accepted by Knoll is to have it made. And while Knoll has a committee to pass upon such submissions, it is Florence Knoll, as director of design, who makes the final decision."
But it's a quote from Knoll Bassett herself that is the most memorable: Lest her rigorous and comprehensive, efficiency-driven approach to architectural space planning and design be mistaken for merely decoration, she emphatically stated: "I am not a decorator. The only place I decorate is my own house."
She was both a talent and an agent for other talents.
One of Knoll Bassett's many roles was in acquiring licenses to manufacture furniture by other designers. Modern-day classics like the Diamond Chair, Barcelona Chair, and Cyclone Table, all of which remain in production to this day, were designs brought in by Knoll Bassett.
By that time, Knoll Bassett had set up a system of issuing pieces by individual designers—many of them her friends or former teachers, such as Mies van der Rohe, Breuer, Bertoia, and
In addition to her own designs, many of the classic pieces Knoll Bassett licensed belong in countless museum collections, even as they have remained in continuous production. As a designer herself, she created over 100 furniture designs for Knoll, forming nearly half of its entire product line. (In honor of her centennial this year, Knoll has issued several new furniture designs heavily inspired by a few of her early mid-century works, including a few out-of-production models.)
Her enormous (and beloved) sheepdog was Knoll's company mascot.
Hans and Florence were partners in work and life, and the couple's family dog, an Old English Sheepdog named Cartree, was beloved by many in their social and professional circles. Cartree makes an appearance in several 1950s Knoll ads by graphic designer
The de facto Knoll company mascot, Cartree was often seen at Knoll Bassett's studio, and came along to more than a handful of gatherings. As Knoll Bassett later recalled, Cartree "enchanted everyone, especially Herbert Matter, who used him in our catalogues, brochures and advertisements. He also appeared in Vogue and The New Yorker, as he happily obliged when photos were taken and he was the center of attention."
Admiring the dog at a party Matter once hosted at his home, the illustrator and artist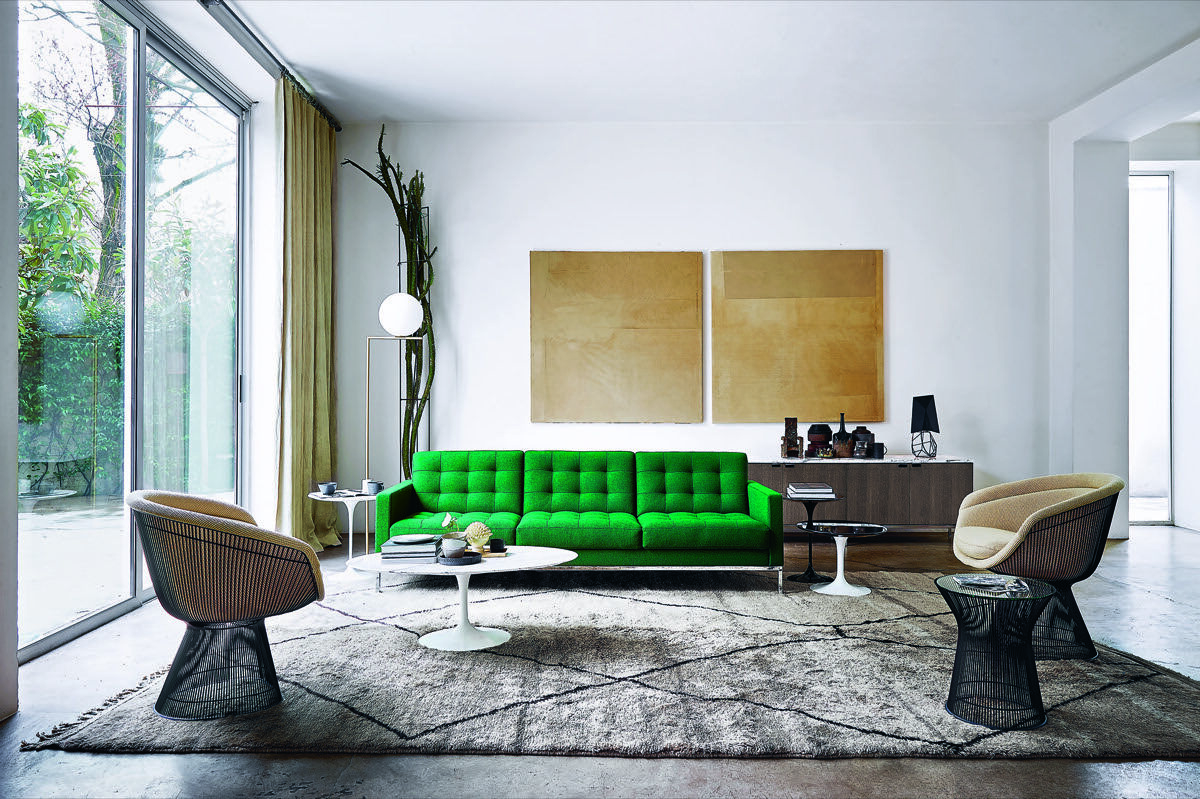 She came out of retirement to design a mini-retrospective of her work.
Exercising her enduring approach to total design, she called in each piece for the show herself. She specified the color, textiles, placement, and interior scheme with her signature "paste-up" method of space planning for the small and somewhat challenging gallery space—a 330-square-foot room that museum staff endearingly referred to as the "Shu-box." Clean-lined, space-efficient and still elegantly functional, the traveling exhibition was a small indication that more than five decades after her retirement, her time-tested approach to modern design continues to resonate today.