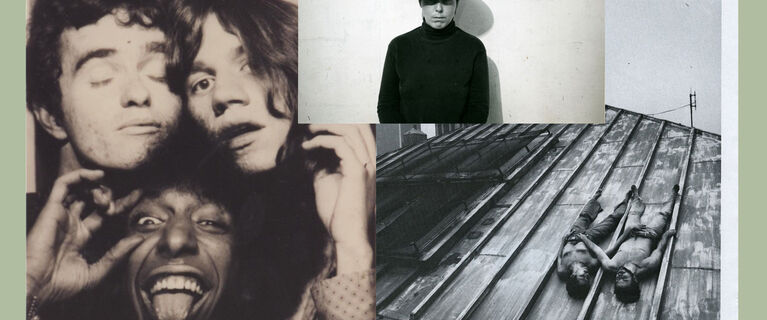 Art
Artists and Creatives Reflect on How Stonewall Changed Art
Artsy Editors
It's been half a century since the fateful Saturday of June 28, 1969, when members of New York's gay community retaliated against an early-morning police raid at Greenwich Village hangout the Stonewall Inn. A spontaneous series of demonstrations continued throughout the summer months. The Stonewall Riots, as they have come to be known, sparked the Gay Liberation Movement and brought the fight for LGBTQ civil rights to national attention.
On Stonewall's 50th anniversary, we asked artists, writers, and activists to share their reflections on how that moment affected queer life in New York City, as well as their own creative practices. Artist Tommy Lanigan-Schmidt, the only surviving person featured in Fred W. McDarrah's iconic 1969 photograph Celebration After Riots Outside Stonewall Inn, recounts the insular ways gay communities operated before the riots. Photographer Arthur Tress observes that drag performers' camp theatrics opened him up to surrealistic and homoerotic themes in his own work. Artist and writer Harmony Hammond conveys the necessity of recording the history of lesbian art to prevent its erasure.
All of the figures who have gone on the record here describe an opening up of gay life in the years after Stonewall. Their insistence on living authentically—and on fighting for the right to do so—reflects the urgent issues of identity that we continue to grapple with today.
The feminist artist, activist, curator, and writer recollects curating her first lesbian art show and taking on the task of recording the history of lesbian art.
Stonewall was a momentous event which of course impacted my life, but I didn't have that "moon-landing moment." Generally speaking, the Women's Liberation Movement affected my life more than the Gay Liberation Movement. In 1970, I joined a consciousness-raising group with primarily women artists (both straight and lesbian identified). Until the Women's Movement, women artists didn't talk to each other because women's lives, feelings, and experiences were not valued. With consciousness raising, we began to understand that women as a class were oppressed, and began to take women's work seriously. Within my group, there was a lot of support for experimenting and speaking from a gendered voice.
While there were a lot of gay and lesbian artists in the downtown art scene, sexual preference—much less sexual identity—often went unnamed, and in being unnamed, remained apolitical. Even gay men, many of whom were curators, dealers, and art writers, discriminated against women artists. Just as we needed exhibitions that focused on historical and contemporary women artists, we needed shows of work by lesbian-identified artists who were absent in the historical narrative of Western art.
In 1978, I curated "A Lesbian Show" at 112 Greene Street. A few lesbian artists I knew didn't want to be in such a show as they feared labels would limit how their work would be viewed or that their careers would suffer. Most welcomed the opportunity to put the words "lesbian" and "artist" together, as scary as it was. I don't have trouble claiming labels—they are only limiting if you let them be.
Biographies on lesbian and bisexual artists like Betty Parsons, Louise Nevelson, Agnes Martin, and Nell Blaine weren't published yet. The history of lesbian art and artists was missing. That's why I curated "A Lesbian Show" and wrote Lesbian Art in America: A Contemporary History (2000). It's not only about making our work; we have to document and preserve it and insist on a place in history or it too will be erased.
Image one from left: Harmony Hammond and daughter Tanya at Christopher Street Liberation Day Gay Pride March, NYC, 1974. Photo by Cidne Hart for Liberation News Service. Printed in Majority Report. Getty Research Institute, LA. Cover of Harmony Hammond, Lesbian Art in America; A Contemporary History (Rizzoli, NYC, 2000). Cover image: Dyke, 1993 by Catherine Opie. Cover of Our Bodies, Ourselves, 1970. Image two from left: Cover of The New Woman's Survival Sourcebook, 1975. Harmony Hammond, Self Portrait with Black Hat, 1973. Getty Research Institute, LA. All images courtesy of Harmony Hammond.
Martha Shelley
The Gay Liberation Front co-founder, writer, and poet accidentally found herself at the Stonewall Riots. Here, she reflects on how artistic representations of lesbians were altered by the event.
In the years before Stonewall, when women went to a march, they had to wear skirts, and men were in suits and ties. I hated it. I was not wearing skirts normally. It was so phony: "Please, we're just like anybody else." Well, we weren't. Or at least I didn't think of myself like that. When Gay Liberation came up, we were saying: "We're gonna be out on the streets and in your face." We would go as a group to anti-war marches, or picket at the women's detention center when Angela Davis was there. We had demonstrations demanding our rights as who we are, not a slight variation on Mr. and Mrs. Suburbia.
Before gay liberation, if a movie had a gay character, especially a woman, she had to be killed at the end. There was a film based on a D.H. Lawrence novella, The Fox, with two women in it—one blonde and one brunette. The brunette is the "butch," though they both look very feminine. She gets killed in the end, and the guy walks out with the blonde. That's the kind of imagery we got.
After Stonewall, there was an explosion of art that, for the first time, represented us in a positive way. My poems and essays became less romanticized and more realistic. I didn't have to disguise or make things flowery. Over the years, I've written three historical novels, a trilogy. There are lesbians in it. They just live their lives and their struggles. For me, being a lesbian has become the way it is as opposed to something that has to be hidden. And I think my art has gotten better for it.
Images from left: Martha Shelley at the Lavender Menace action in 1970. Women's LibeRATion, 1970. Courtesy of the artist.
The artist, who was in his early twenties during Stonewall, reflects on his community of gay teenage runaways and Manhattan's drag culture.
It was like a different civilization back then. Gay teenagers spoke a street talk of their own. It was illegal for men to carry certain types of handbags or shoulder bags—instead, street queens wore Pan Am bags or these touristy, Grecian bags. A "husband" was anyone a person was having sex with at the moment. "Scare drag" meant all men's clothing, but you could have eye makeup and backcomb your hair: It was against the law if you weren't wearing at least three articles of men's clothing.
I ran away from home in New Jersey when I was a teenager. Forty-second Street was too fast for me—druggy, a lot of hustling. The nice thing about the Village was you could sit outside and read a book. Down there, I met a group of other gay teenage runaways. Our biggest enemy was the police. We had different labels for them, like Lily Law, or Lillian, or Lily. When a cop was a foot away, you could say, "Hey girl, there's Lillian." All these words created a world only me and my friends could understand.
There was this area of the Village, between Christopher Street and the docks, that could be called a "gay ghetto." Stonewall was in the middle of that. All different classes of gay people mixed, and it was a vibrant place for sharing ideas. Stonewall was important because you could slow dance there, which created a space that wasn't just about jumping into having sex. It was a ritual space where you and another person could mutually decide if you were going home together. There was an alteration in consciousness. We were doing the same thing heterosexuals were doing. It was an embrace of personhood.
Around the time of the Stonewall Riots, I started performing in drag as Ethel Dull (Ethel Scull was a major collector). I'd invite people to where I lived and give a tour. I played music and had these chalices and crowns and twinkle lights, which are common in the art world now, but nobody was using them then—the art world had no place for anything gay.
Back then, the term "queer" was always a negative thing. In the mid- [to] late 1960s, public intellectuals like Charles Ludlam, Christopher Stocks, and Jack Smith started to change that. It wasn't invented by academia. Academia should have more humility. Art didn't change after Stonewall—we changed it.
Image one from left: Thomas Lanigan-Schmidt, Mother Stonewall and the Golden Rats, 1989. Stonewall friends: Thomas Lanigan-Schmidt (top left), Martin Boyce (top right), Birde Rivera (center). Image two from left: Thomas Lanigan-Schmidt in scare drag as Ethel Dull. Thomas Lanigan-Schmidt, The Dialectic Between Eros and Agape, 1989. All images courtesy of the artist and Pavel Zoubok Fine Art, New York.
Wendell Walker
Now deputy director for operations, exhibitions, and design at the Museum of the Moving Image, Wendell Walker recalls the empowering energy of New York in the decade after Stonewall.
When I moved to the city in 1977, Stonewall was already legendary. You'd hear stories at the bar about what happened. The heroism of it, the fact that these drag queens had stood up and acted. When the March on Washington happened in 1979, on the 10th anniversary of the riots, I think that's when a lot of things gelled. There was an Amtrak chartered down to D.C.—it was like a gay express train. The energy was incredible. I don't think any of us had ever experienced something like that.
The idea of being out and proud was still a new concept. I grew up in Mississippi—obviously, not a very gay-friendly environment. To come out in public like that, with so many people, was very empowering. I think the march launched what we now think of as the gay rights movement.
Then the first Day Without Art in 1989 [which united art professionals responding to lives lost in the AIDS crisis] was an amazing event. That's when people started realizing the impact of the gay rights movement on culture. It took some time for Stonewall to influence art. Sometimes, events take a long time to be digested and filtered into our consciousness. They can have more resonance several years later.
Image caption: Portrait of Wendell Walker (right) with Leon Waller, an artist and his partner of almost 42 years, circa 1979. Courtesy of Wendell Walker.
The photographer contemplates how Stonewall ecouraged him to break away from street photography to develop the surreal, often queer-inflected scenes for which he has become famous.
By 1968, I was out as a gay person, which was a little bit unusual for the time, but I didn't deal with gay subject matter in my work. That was probably a financial decision. I did do a series in 1968 of gay men cruising each other in the Ramble near the Boathouse in Central Park. I would go with my camera and show people trying to pick each other up or standing around posing. It wasn't until 1977 that I was able to exhibit and show those photos.
The Stonewall movement created a public for my work. Photography galleries like the Leslie-Lohman Gay Art Foundation began to show gay art for the first time, which was quite an extraordinary thing. Just 10 years after I took the photos in the Ramble, I was able to earn a living doing gay material. There was a new era of gay magazines like Honcho, Christopher Street, and Mandate. I worked for them almost like a staff photographer.
After Stonewall, I became involved with Charles Ludlam and the Theater of the Ridiculous. That opened me up. Gay people are often open to surreal, theatrical kinds of camp and drag experiences. You might say that drag queens' over-the-top theatricality legitimized that; these are really powerful people who have gone into themselves and are not afraid of exposing their inner queerness to everyone by crossdressing.
My work began tending to a more queer point of view, whatever that means. I felt that I didn't have to be a macho Magnum photographer anymore. In 1970, I broke away from street photography, which had always been done by these heterosexual guys, with my series "The Dream Collector," which shows dreams of children flying, falling. It was liberating for me to bring my imaginative fantasy life into my photography and put that on the wall.
Image one from left: Robert Mapplethorpe, Peter Reed, and Sam Wagstaff at Arthur Tress opening, 1979. Arthur Tress 2000. Millennial postage stamp commissioned by the Royal Post with gay theme. Couple Municipal Building Roof, New York, Christopher St. Magazine, 1978. Image two from left: Arthur Tress, Self Portrait, Abraham Lincoln High School, Brooklyn, 1958. Arthur Tress at the first Gay Pride Parade, Central Park, New York, 1970. All images courtesy of the artist.
Michela Griffo
The artist, who was 20 during Stonewall, remembers her activist beginnings with the Gay Liberation Front, her first political artwork, and the importance of dance.
When the Stonewall Riots occurred at night, I had no idea. I believe there was a small article—it was all kind of hush-hush. There was so much going on at the time, from the Panthers to the SDS [Students for a Democratic Society, an anti-war group] up at Columbia to the Young Lords [a civil rights group]. Kent State was about to happen. Everybody was in the streets rioting about something. But I was used to being spit on and yelled at because I was part of the Redstockings, the first group that wanted to change abortion laws in New York. I was also one of the first 12 members of the National Organization for Women (NOW).
My high-school sweetheart and I separated when he introduced me to his family—religious differences. In August of 1969, I was leaving a Red Stockings meeting in a Methodist church and this attractive model asked me to get coffee. She invited me to Andy Warhol's parties; her best friend was Divine. I had no idea we were dating: The idea of being with a woman just wasn't on my radar. In February of 1970, she kissed me. That was it. At that time, "lesbian" was the worst thing you could call a feminist. So many in NOW were closeted.
I saw an ad in the paper for the Gay Liberation Front. That was the beginning of my gay activism. Drag queens were a definite part of our culture. I worked with Marsha [P. Johnson] and Sylvia [Rivera]—they were two of the group's first members.
Few people know this, but it's the lesbians who closed down the mafia-run gay bars—they were abusive, the drinks were expensive. Flavia Rando and I picketed and handed out leaflets. We wanted women to come to our dances instead, at Alternate U, down the street from the 14th Street mafia bar Kooky's. One night, some mafiosos showed up. I saw the guns! I gave our cash box to [photographer] Donna Gottschalk and told her to take it down the back stairs in a garbage bag. I said to them, "We don't have any money. You're welcome to stay if you like." In a matter of weeks, the bars run by the mafia were closed. For the first Gay Pride March (1970), I made a poster that read "I am your worst fear; I am your best fantasy." It was the first piece of political art I ever made.
Images from left: Portrait of Michela Griffo by Ellen Shumsky; courtesy of the artist. Diana Davies, Donna Gottschalk holds poster "I am your worst fear I am your best fantasty" at Christopher Street Gay Liberation Day parade, 1970. Photo by Diana Davies, Manuscripts and Archives Division, The New York Public Library. Courtesy of The New York Public Library.
Flavia Rando
The art historian recalls how she and fellow lesbians found their voices and new context for their work in the wake of the riots.
ImagI must have read an article about the riots. I walked down to the Village. It seemed like something very important, that queer people were fighting back. It was really a bar for young guys and street queens, but I felt empathy. I knew why they were resisting, and I'd been looking for a movement practically ever since I came out. In a way, you didn't even need to go to Stonewall to see what was going on—we were treated with disdain everywhere.
In 1973, Fran Winant, a poet in her own right, published the first anthology of lesbian art and poetry. She founded Violet Press, just for that kind of work. You see a huge shift after 1969 and the riots: Lesbians, we found our voice. Through actions on the street. Through working together. Even creating poetry and art for the first time. Self-taught classes. We had a food co-op for three or four years. There was an enormous shift in self-realization. I can't even begin to express the sense of freedom that we felt. We still had to fight for it politically. But there was an enormous sense of relief in finding others who would struggle with you.
Sandra de Sando's portraits began to document a new generation of activists. Even abstract artists had a new context for their work. Our sense of shame was gone. We organized dances and poetry readings and performances. We had to have flowers. None of us were particularly wealthy, but somehow we found the money. To celebrate oneself is really a wonderful thing.
I'm a coordinator of the Lesbian Herstory Archives, which is celebrating its 45th year. In the first decade, fantastic work went into the posters. Many of the people who made them were "fine artists," but everyone's words or visual expressions had value. The strength of the work is astonishing, and it never would have been made without the feminist struggle, and the struggles for lesbian freedom—which are, of course, deeply intertwined. The 50th anniversary of Stonewall is not just about a night, or three nights, of riots. It's about 50 years of activist work.
Image caption: The Duchess bar in the West Village, during the Pride Parade (later the LGBT Pride March) in New York City, June 1982. Amongst the photographs are images of Eleanor Roosevelt and author Radclyffe Hall. Photo by Barbara Alper/Getty Images.
Delmas Howe
The artist recalls the political climate in the late 1960s and the inception of disco.
I lived on 8th Street between 5th and 6th, right in the West Village. The night the riots began, I went out for my nightly walk; it's normally called cruising. Angela Davis was incarcerated at the Women's House of Detention, which was right down the street—there were demonstrations every evening because of her. I thought that's what the noise was. So I was surprised when I went by Stonewall (where I always passed on these strolls) and saw drags in high heels, setting fires and turning over police cars. I was very aware of the riots, and the beginning of gay rights.
I used to hang out at a bar called Charades, near Spanish Harlem on the east side. It was owned by the black mafia. They allowed men to dance, when it was still illegal for men to dance in bars. Finally, the police raided it, and a judge who ruled on the whole situation declared that dancing between men was not illegal in this city. So that was the beginning of disco, and I was very involved with that transformation.
When I first moved to New York in 1961, you could still be arrested for putting your arm around another man in public. But I was always painting the gay community, beginning in the early 1960s. It's just that no one would show my work. The beginning of the gay rights movement, though, allowed gay artists to start expressing themselves openly. Andy Warhol and Robert Mapplethorpe started to get shown. Charles Leslie and Fritz Lohman exhibited my work. It was the beginning of a great celebration.
Correction: A previous version of this article misstated that Arthur Tress took photographs for Look magazine. He actually photographed for Honcho. The text has been updated to reflect this change.