8 Artworks That Self-Destruct
Artists have experimented with ephemeral art throughout much of the 20th century and beyond, crafting performances or objects that occur only for a finite period of time—works that offer a temporary experience and leave little trace of their existence, save perhaps for documentary images.
Works such as these—as in the performances of
Often playful and fun, though sometimes dark and harrowing, the self-destructing works below at times make sharp, pointed statements about the human condition, as in Homage to New York, or Sky Ladder, which honors the artist's grandmother.
Jean Tinguely, Homage to New York, 1960
In 1960, Swiss artist
MoMA
. He produced a 27-foot-tall towering tangle of discarded iron fragments; remnants of a piano, go-kart, and bathtub; motors; wheels. Titled
Homage to New York
, the work was intended to transfer kinetic energy from one part to the next before destroying itself entirely. But an errant spark foiled Tinguely's plans: The sculpture caught fire and was ended preemptively by the New York Fire Department a mere 27 minutes into the performance.
Cai Guo-Qiang, Sky Ladder, 2015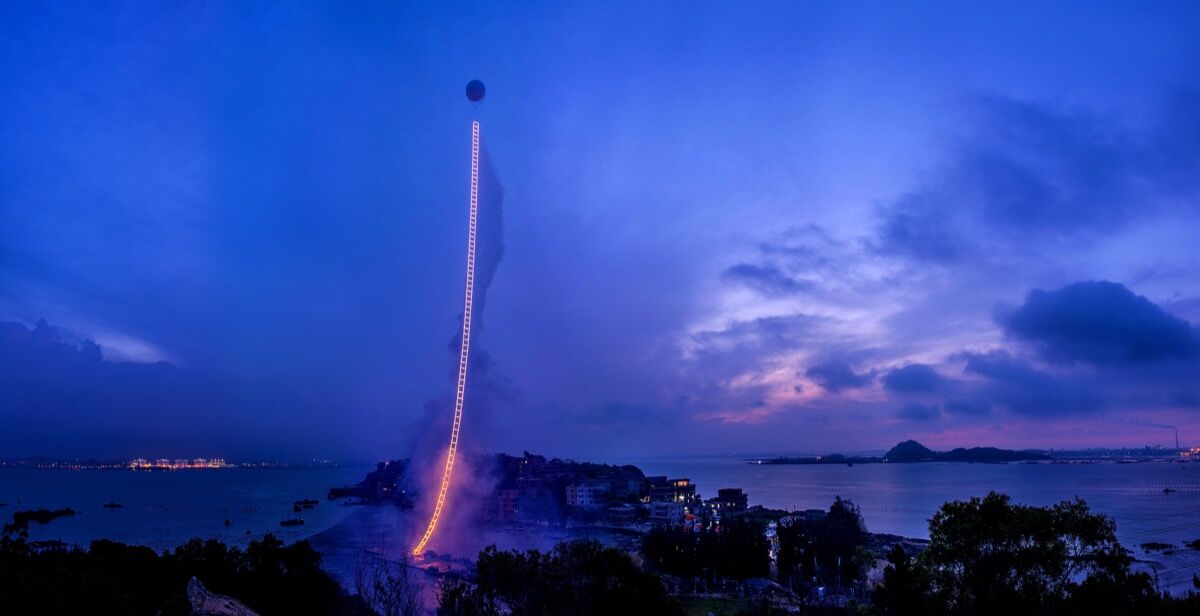 Cai Guo-Qiang, Sky Ladder, June 2015. Courtesy of Cai Studio.
Chinese artist Sky Ladder in 2015—a free-floating sculpture in the sky that connects earth to the universe. The piece emerged in the middle of the night above China's Huiyu Island Harbour, with the artist using a combination of gunpowder, firework fuses, a hot air balloon, and a fair amount of moxie to bring the work to life without permission.
More than 20 years in the making, Sky Ladder took just 150 seconds to complete. The flames crawled up each side of the ladder, alternating in tandem like two cars in a drag race, ultimately creating the effect of painted latticework in the sky.
Andy Goldsworthy, "Ice Sculptures," 1980–ongoing
When the temperature in Britain falls below freezing, artist
Urs Fischer, candle portraits, 2001–ongoing
Swiss artist
Fischer's candles burn progressively over the course of a few months, prompting the viewer to confront life's slow decay and the march towards mortality. As the sculptures burn from the head down, they become disfigured, parts of their physical form dripping down in long, thin strips of wax—until all that is left is a puddle on the floor.
Felix Gonzalez-Torres, "Untitled" (Portrait of Ross in L.A.), 1991
Felix Gonzalez-Torres, "Untitled", 1992. Candies individually wrapped in variously colored cellophane, endless supply. Overall dimensions vary with installation. Original size: 2 x 48 x 48 in. Installation view: A Day Without Art. St. Louis Art Museum, St. Louis, MO. 29 Nov. – 3 Dec. 2002. Photographer: Robert Pettus. © The Felix Gonzalez-Torres Foundation. Courtesy of Andrea Rosen Gallery, New York.
Felix Gonzalez-Torres, "Untitled" (USA Today), 1990. Candies individually wrapped in red, silver, and blue cellophane, endless supply. Overall dimensions vary with installation. Ideal weight: 300 lbs. Installation view: Felix Gonzalez-Torres: Specific Objects without Specific Form. Wiels Contemporary Art Centre, Brussels, Belgium. 16 Jan. –  28 Feb. 2010. Cur. Elena Filipovic; 5 Mar. –  2 May 2010. Cur. Danh Vo. © The Felix Gonzalez-Torres Foundation. Courtesy of Andrea Rosen Gallery, New York.
At first glance, "Untitled"  (Portrait of Ross in L.A.) appears to be nothing more than a 175-pound glistening pile of candy. But the work's allure effectively causes its own destruction: viewers may pluck from the heap of sweets, which could be seen as a metaphor for the impact on the human body of the devastating AIDS epidemic that swept through the '80s and '90s, when the piece was first staged.
Though the artist left his work open to interpretation, Gonzalez-Torres is thought by some to have created the piece in tribute to his late lover, Ross Laycock, who fought a long battle against the devastating syndrome. The artist stipulated that exhibition staff could replenish the pile at their discretion, to maintain a weight of175 pounds.
Judy Chicago, "Atmospheres," 1968–74
Judy Chicago, A Butterfly for Pomona, 2012. © Judy Chicago. Photo © Donald Woodman.
In her series "Atmospheres,"
In some instances of the work, women painted their bodies to match or contrast with the smoke's colors. Though she produced "Atmospheres" in the late '60s and early '70s, the series only achieved prominence relatively recently, perhaps most notably when it was recreated for L.A.'s first iteration of the city-wide art festival Pacific Standard Time.
Jonathan Schipper, Slow Motion Car Crash, 2012–16
In his 2012 performative work staged over the course of a month, Slow Motion Car Crash sees a white Volkswagen destroy itself by slowly crashing into a wall—propelled forward by a pneumatic mechanism beneath the vehicle that moves at a rate of seven millimeters per hour. The car's movement is almost undetectable to the human eye, and barely evidenced in a time-lapse video of the event. But the car's form gradually degrades, becoming a metaphor for human mortality.  
Fischli & Weiss, The Way Things Go, 1987
Calling to mind a Rube Goldberg machine, The Way Things Go was a witty and imaginative 30-minute-long, self-destructing reactionary chain involving fire, gravity, water, air pressure, dry ice, explosions, and tires, among other common supplies. The sequences, which were recorded in a hypnotic film, get progressively more elaborate as objects burst, topple, and burn, transferring kinetic energy from one piece to the next—and ultimately imploding altogether as the piece runs out of steam.
Stir Creativity
See how Bombay Sapphire supports artistry.
Sponsored by Bombay Sapphire