8 Detroit Galleries Fueling the City's Creative Community
Detroit certainly hasn't had an easy decade since the financial crash of 2008 and subsequent housing crisis—indeed, the city filed for bankruptcy in 2013, and has since struggled to get back on its feet. But both its residents and recent transplants are resilient. Detroit's tight-knit art community, in particular, has banded together to create a host of platforms for creative exchange.
Today, experimental and commercial spaces are scattered all over the city, which has no single, centralized creative district. Some have made their way in the fast-developing downtown, a regeneration project bolstered by Quicken Loans billionaire Dan Gilbert's real estate ventures (which are
not without controversy
). Others make their home in less conspicuous spaces, like a former fire engine repair shop or a long-abandoned Jeep dealership.
No matter what the backdrop, however, Detroit's galleries have become gathering places for the city's ever-growing collaborative community of artists and creatives. After exploring the Midwestern city's art landscape through the inaugural
Detroit Art Week
, we've highlighted just several of the rich group of galleries the Motor City offers.
Installation view of Nina Chanel Abney, I LEFT THREE DAYS AGO, 2016. Courtesy of Library Street Collective.
Library Street Collective began by primarily showing talent involved with or adjacent to the street art movement, from
The Belt, as the outdoor exhibition venture has been dubbed, is one of many public art projects organized by the gallery since its inception in 2012. The Curises also work with Quicken Loans billionaire Dan Gilbert's real estate company, and curated the murals on his downtown Detroit buildings—including ones from Fairey,
joyous, energetic black-and-white mural
is, in this writer's opinion, a crown jewel of the city's public art).
Programming within the gallery continues to diversify. In the past year, it has hosted standout solo shows by
Bahamas Biennale
3106 Bellevue Street, McDougall Hunt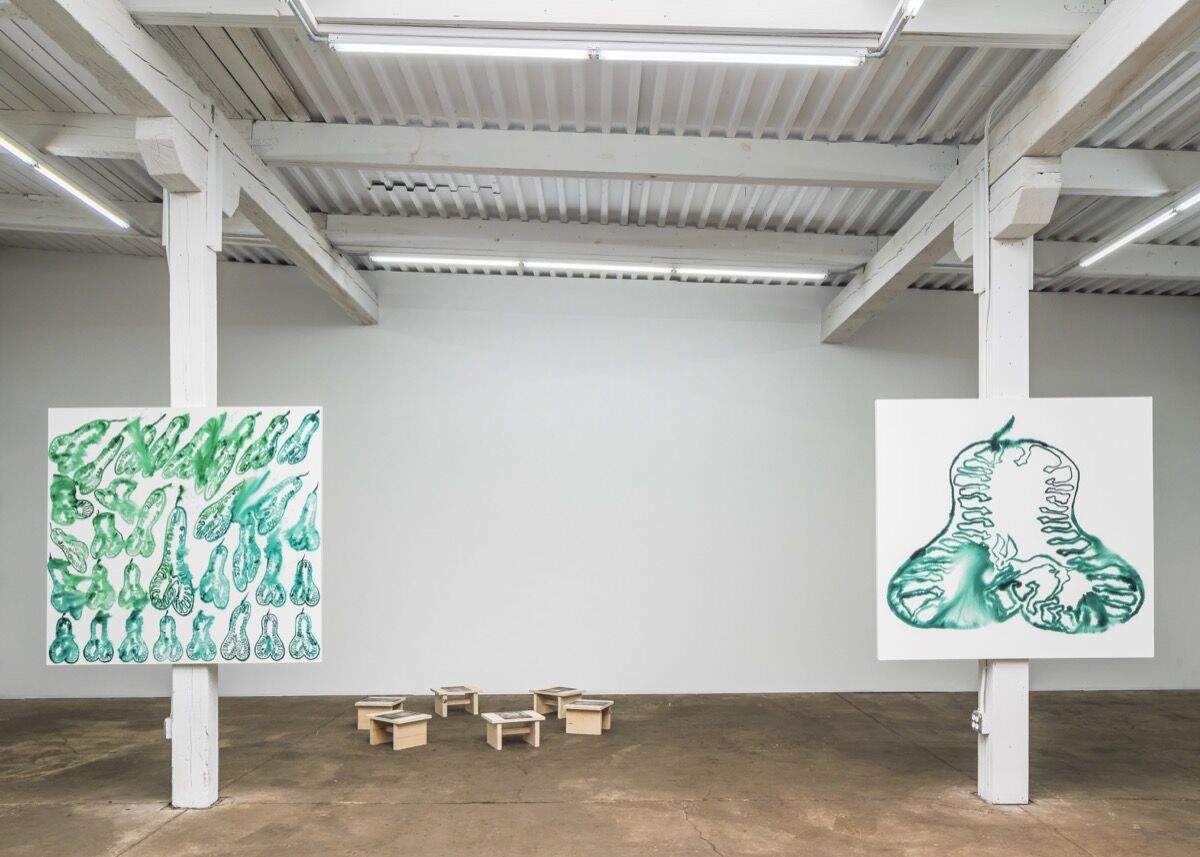 Installation view of Brook Hsu, "Fruiting Body" at Bahamas Biennale, Detroit, 2018. Courtesy of Bahamas Biennale.
Wisconsin native Sean Thomas Blott cut his teeth working in galleries across Milwaukee, St. Louis, Chicago, New York, and Los Angeles before landing in Detroit to open his own. The city's low overhead and rich artistic community were draws. "I always wanted to grow the gallery outside of New York, because it lets me have a better quality of life—and probably allows me to be an art dealer full-time before I should be," he said, laughing, during a recent walkthrough of his East Side space.
Blott initially operated Bahamas Biennale out of the apartments he was living in, first in Milwaukee and then Detroit. (The gallery's cheeky, somewhat absurd name was hatched during a bleak Wisconsin winter, as Blott pondered
Caribbean Biennial project
.) As Blott made more sales, he graduated to a 1,000-square-foot industrial building, and in 2017, he moved to his current location: a 107-year-old former broom factory that also had a past life as a storage facility for the auto industry.
Last May, Blott christened the space with a show of New York-based artists UPCYCLE planter for book you now find problematic (2017): a succulent planter forged by gouging out the center of a
According to Blott, he can afford to have a largely experimental program in Detroit due to the availability of relatively inexpensive real estate. "I can produce projects here that maybe I couldn't in New York, because the work is unsellable or just difficult," he explained. In other words, there's less pressure to constantly show paintings, the bread and butter for many galleries. (The current show, Brooke Hsu's "
Fruiting Body
," is the gallery's first exhibition of canvases since landing in its new home.) In recent months, Blott has also shown the work of Detroit-based ceramics collective Hamtramck Ceramck, French sculptor Annabelle Arlie, and New York-based photographer
Popps Emporium
2025 Carpenter Avenue, Hamtramck
Exterior view of Popps Packing. Courtesy of Popps Emporium.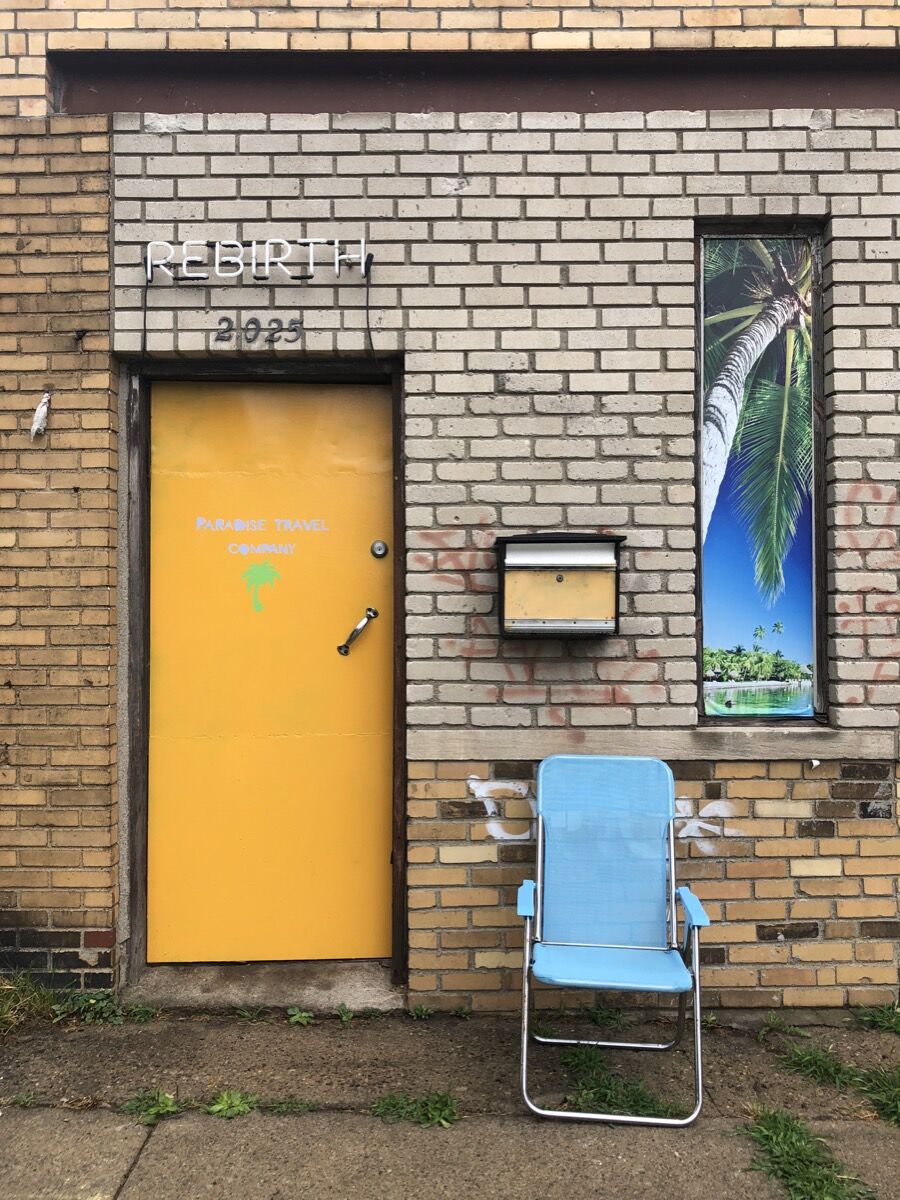 Exterior view of Popps Emporium. Courtesy of Popps Emporium.
Like many art spaces in Detroit, Popps Emporium is a multi-hyphenate operation. In the ground-floor storefront portion, a gallery hosts immersive exhibitions by local and international artists. Behind it, a communal living room, tool library, and barter board (used to facilitate trades between neighbors and friends in lieu of exchanging money) are in the works. Upstairs will eventually house a residency, while the backyard doubles as an outdoor workspace and garden, complete with composting toilet constructed by a visiting German artist.
Founding artists
city-within-a-city
bordering Detroit's North End that was hit particularly hard by the 2008 financial crisis). By opening Popps Emporium, the couple wanted to "formalize what was already happening in our home," explained Lerman.
While the space's tool library and residency quarters are still under construction, the gallery has been up and running since 2012 and hosts projects that play with the idea of a storefront, investigating what an artistic business or social-practice project can be. Detroit-based artist
current installation
transforms the storefront into a conceptual travel agency filled with tchotchkes used to promote paradise (hyper-saturated beach shots, perfectly-shaped palm trees, and big neon sunglasses abound). In this environment, Jova performs as the travel agent—helping visitors envision their ideal tropical island getaway, while also questioning the connections between tourism and the history of colonialism.
Installation view of Puppies Puppies, "Andrew D. Olivo 6.7.1989 - 6.7.2018" at What Pipeline, 2018. Courtesy of What Pipeline.
Michigan natives Daniel Sperry and Alivia Zivich were art-school grads and neighbors when they started meeting on their apartment building's front porch to discuss the Detroit art scene. The pair saw an opportunity to present what they craved more of in the city: rigorous, experimental solo projects by emerging artists. They envisioned opening a space that would host artist-friends from the coasts and abroad, and outsiders who were curious about Detroit and wanted to make and show in the city. "We thought, 'What can we offer?'" recalled Sperry. "'We can help bring people here.'"
In 2013, Sperry and Zivich launched What Pipeline, a small gallery situated between a Mexican bar and an empty lot whose lone decoration is a road sign pointing north to Canada. The space's inaugural show juxtaposed the work of Berlin-based new media artist
The gallery has since become a platform for the experimental practices of artists based within the region (Detroit's
are showing
one of their most irreverent and inspired artists,
Installation view of work by Karen Azoulay, Bianca Beck, and Kyle Lockwood for "Root of the Head" at Simone DeSousa Gallery, 2018. Courtesy of Simone DeSousa Gallery.
In 1998, Simone DeSousa moved from her native Brazil to Detroit. She set up her painting practice in the city's legendary Russell Industrial Center—the Midwest's largest studio complex, housed within a landmarked, Albert Kahn-designed complex of warehouses. There, she found affordable space and an immensely collaborative community of artists. But over time, DeSousa realized something was missing; there weren't enough commercial galleries to support artists with the infrastructure and sales needed to sustain and advance their work.
In 2008, DeSousa opened her namesake gallery in a former Jeep showroom in the heart of the city's legendary Cass Corridor neighborhood. Not far from Wayne State University, the area is known for a group of avant-garde artists who lived, worked, and fraternized there in the 1960s and '70s. Their paintings and sculptures, which have been described collectively as "Urban Expressionism," were raw and deeply personal—a response to Detroit's crumbling, post-industrial landscape.
DeSousa has become one of the movement's most ardent supporters. In 2017, she organized a series of exhibitions entitled "Cass Corridor, Connecting Times," which highlighted the work and legacy of artists like
Root of the Head
," juxtaposes work by
In 2017, DeSousa also launched Edition, an adjacent storefront filled with more accessibly priced works by Detroit-based artists and designers, including print editions, unique ceramic objects, and a fantastic series of tongue-in-cheek "
Lofty Bitch
" coasters by
Installation view of Miles Huston, "The Style: Dweller On the Threshold" at Reyes Projects, 2018. Courtesy of Reyes Projects.
Los Angeles native Terese Reyes worked for years in galleries around Manhattan, but when it came to choosing a home for her own space, she landed on Birmingham, Michigan: a suburb that is a 20-minute drive from downtown Detroit. Reyes Projects stretches across two floors and occupies 4,600 square feet of the town's storied Wachler Jewelry building.
Last April, the gallery's inaugural show took full advantage of its ample footprint. Organized by Detroit-based artist
Reyes Projects now has 17 shows and three art fairs under its belt. It's also brought longtime New Yorker Bridget Finn into the fold as managing director. (Previously, Finn co-founded the Brooklyn gallery Cleopatras and served as a director at
Mitchell-Innes & Nash
.) Together, they've organized delightfully smart group shows like this summer's "Body So Delicious," which probed the relationship between sexuality and sustenance, desire and hunger.
But solo presentations highlighting emerging and overlooked mid-career artists take precedence on the gallery's calendar. Currently, the Detroit-born, New York-based artist
plaster reliefs of door knocker earrings
and gold-capped teeth hang in the gallery's first-floor space; they read as future fossils marking Brown's legacy as a young black woman and the culture and commodities that surround her. This fall, Scott Reeder and New York-based sculptor
Playground Detroit
2845 Gratiot Avenue, Eastern Market
Installation view of work by Victoria Shaheen and George Vidas for "A Difficult Pair" at PLAYGROUND DETROIT, 2018. Courtesy of PLAYGROUND DETROIT.
In 2012, Michigan natives Paulina Petkoski and Samantha Banks Schefman were living in New York City when they began coordinating East Coast shows of Detroit artists. By 2014, they decided to find a permanent home for their roving exhibition platform, and brought it back to their hometown.
These days, Playground, which is located on the city's East Side, focuses on supporting local artists. Recent shows have included Elysia Vandenbussche's installation of miniature porcelain wall works; musician-painter SHEEFY's bold prints inspired by the city's nightlife; and a dual exhibition of playful, neon-accented pieces by Cranbrook grad
Installation view of work by Ken Aptekar and Abigail Murray in "Color-aid" at Wasserman Projects, 2018. Photo by P.D. Rearick. Courtesy of Wasserman Projects.
A sprawling brick building once used as the Detroit Fire Department's engine repair shop now houses Wasserman Projects, a gallery that operates as an LC3 (an LLC with a nonprofit mission). "That structure really reflects our program in that it allows us to have the role of a commercial gallery—and support artists financially—while also gearing our programming towards education, interactivity, and engagement," explained the gallery's director,
Alexxa Gotthardt is a contributing writer for Artsy.
Stir Creativity
See how Bombay Sapphire supports artistry.
Sponsored by Bombay Sapphire