8 Female Surrealists Who Are Not Frida Kahlo—from Meret Oppenheim to Dorothea Tanning
Mexican artist and cultural icon
LACMA
's catalogue
In Wonderland: The Surrealist Adventures of Women Artists in Mexico and the United States
, the companion to the museum's 2012 exhibition, "Surrealism's legacy included a model for creative practices that encouraged many women to adapt its principles in their search to link artistic self-identity to the realities of gender and female sexuality."
Despite the Surrealist movement that took place in 20th-century Europe being male-dominated, women have contributed to this genre throughout that century—and all the way up to the contemporary period, as seen in the work of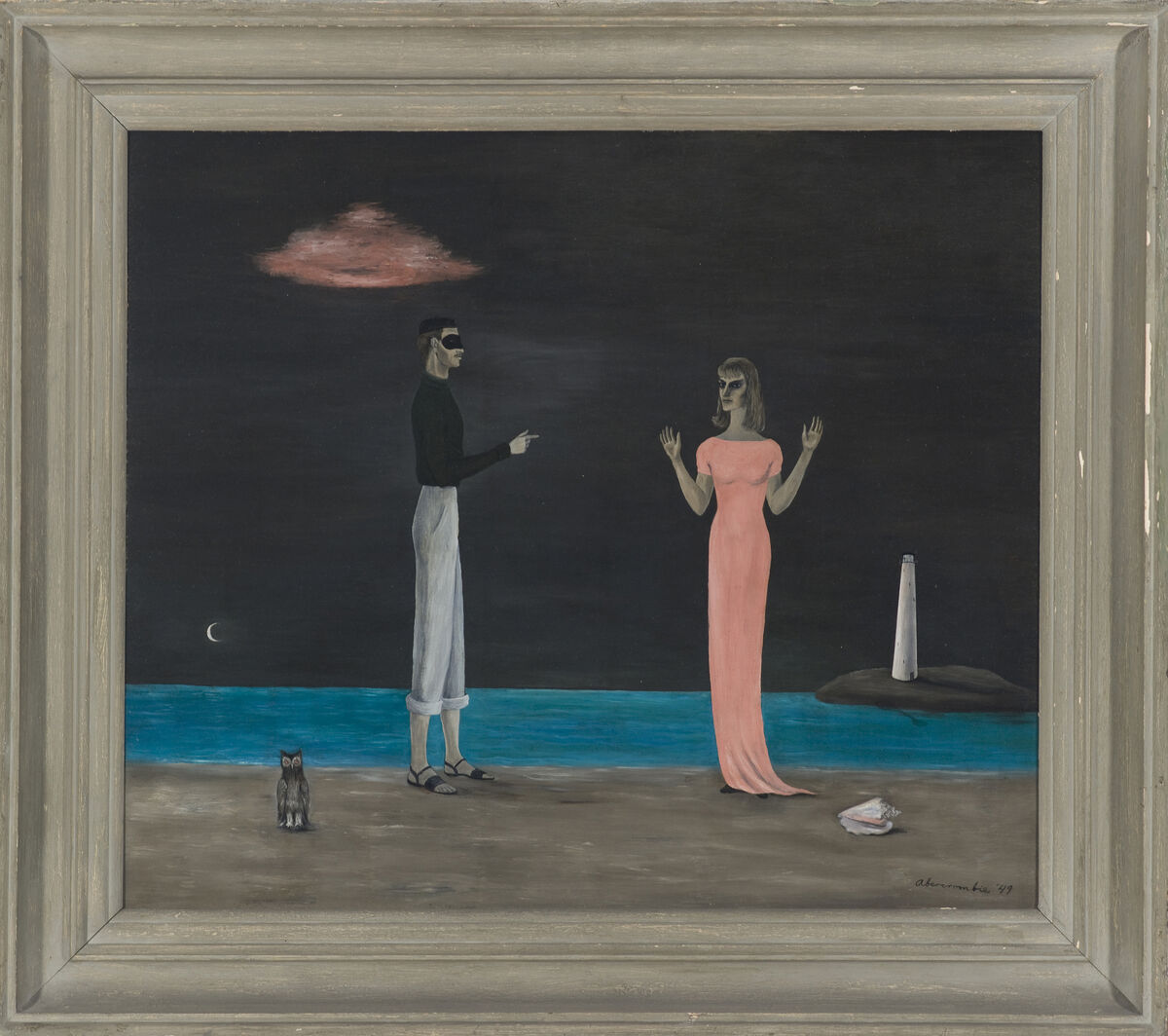 With a penchant for the moon, black cats, and mysterious women, Gertrude Abercrombie conjured an imaginary, gothic Midwest in her paintings. Originally from Austin, Texas, Abercrombie spent most of her life in Chicago and, by the 1940s, she and her husband settled into a lavish Victorian home, where they often threw extravagant parties for jazz musicians and artists. In contrast to her revelrous life, Abercrombie's flat figures and expansive landscapes—which are quietly illuminated by the night sky—render the mundane otherworldly.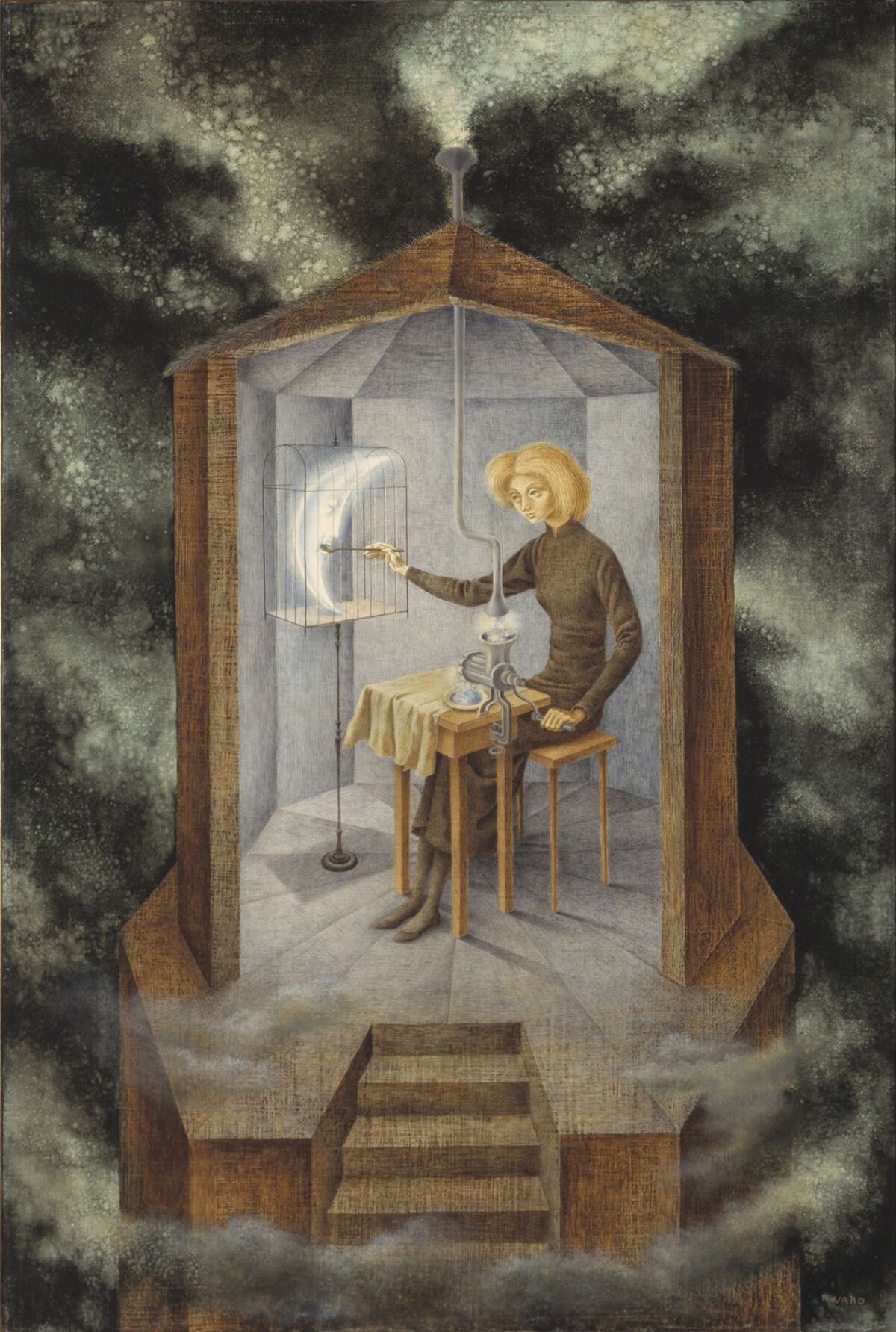 At the start of World War II, the Spanish painter Remedios Varo and her second husband, the French Surrealist poet Benjamin Péret, fled Franco's Spain and Nazi-occupied Paris, eventually settling in Mexico, where Varo developed her witty style of Surrealism. Highly influenced by literature, nature, religion, and her friendships with fellow Surrealist painter Leonora Carrington and the photographer Kati Horna, Varo translated her intellectual and spiritual curiosities into fantastical images. From the cloaked woman with almond-shaped eyes and wild silver hair, preparing to free herself from a male spirit in Woman Leaving the Psychoanalyst (1960), to a slender female figure who is seen perched in space, grinding the stars, and feeding a caged crescent moon in Celestial Pablum (1958), Varo's paintings are the wildest of dreams.
Tanning's seductive and haunting
Birthday
(1942) is a self-portrait of the artist as a bare-breasted woman. She and a mythical, winged creature gaze out at an unknown intruder—who might be us, the viewers, disrupting the figures before they embark on a journey through the infinite hallway of open doors. Inspired by
Dada
, Tanning often depicted young women in emotionally and sexually charged states of repose. She lived in New York, where she met fellow Surrealist (and her eventual husband)
In 1934, one of California's most significant female Surrealists, Helen Lundeberg, and her husband,
In 1930s Paris, Meret Oppenheim moved in the same circles as Breton and Ernst, and famously worked as
The evocative Surrealism of Kay Sage—which recalls
Rosa Rolanda
Originally from California, Rosa Rolanda maintained a celebrated career as a broadway dancer in New York during the early 1900s, but, influenced by a romantic affair with the Mexican artist
The U.K.-born artist Leonora Carrington had an illustrious career that spanned seven decades, producing a diverse range of paintings and sculptures that explored mythical subject matter. She also published stories. Settling in France with partner and fellow Surrealist painter Max Ernst, Carrington exhibited at the "International Exhibition of Surrealism" in 1938. Within the next four years, she would suffer a nervous breakdown, participate in the 1942 exhibition "First Papers of Surrealism" in New York alongside En bas (Down Below) (1943), and emigrate to Mexico. There, Carrington developed a close friendship with Varo, married the Hungarian photographer Emeric Weisz in Mexico City, and mastered her captivating, magical realist style.