8 Artist-Run Food Establishments, from Los Angeles to Berlin
In the fall of 1971, the doors of a curious restaurant located at 127 Prince Street opened just south of New York's Houston Street. Inside, if you were hungry, an artist might ladle you a steaming bowl of caldo gallego from one of three large cauldrons bubbling away over a low stove in the center of the room. Soup in hand, you'd make your way to a table where slices of bread were stacked around a huge heap of butter. Come another night and you might've been served the now-famous "bone dinner"—frogs' legs and roasted marrow bones, among other skeletal dishes—then left with the remnants, rigorously cleaned and given a second life as wearable jewelry.
This was the restaurant and conceptual art project Food, run by artists Carol Goodden,
2013 fair
, involving several of the original chefs, the short-lived project has secured its place as one of the most iconic blurrings of the lines between art and food. The 1970s Soho establishment is far from the only artistic foray into the culinary realm, however, so we checked in on a handful that have been around for years, and a few others that are still taking shape.
Zagreus Projekt
Ulrich Krauss
Berlin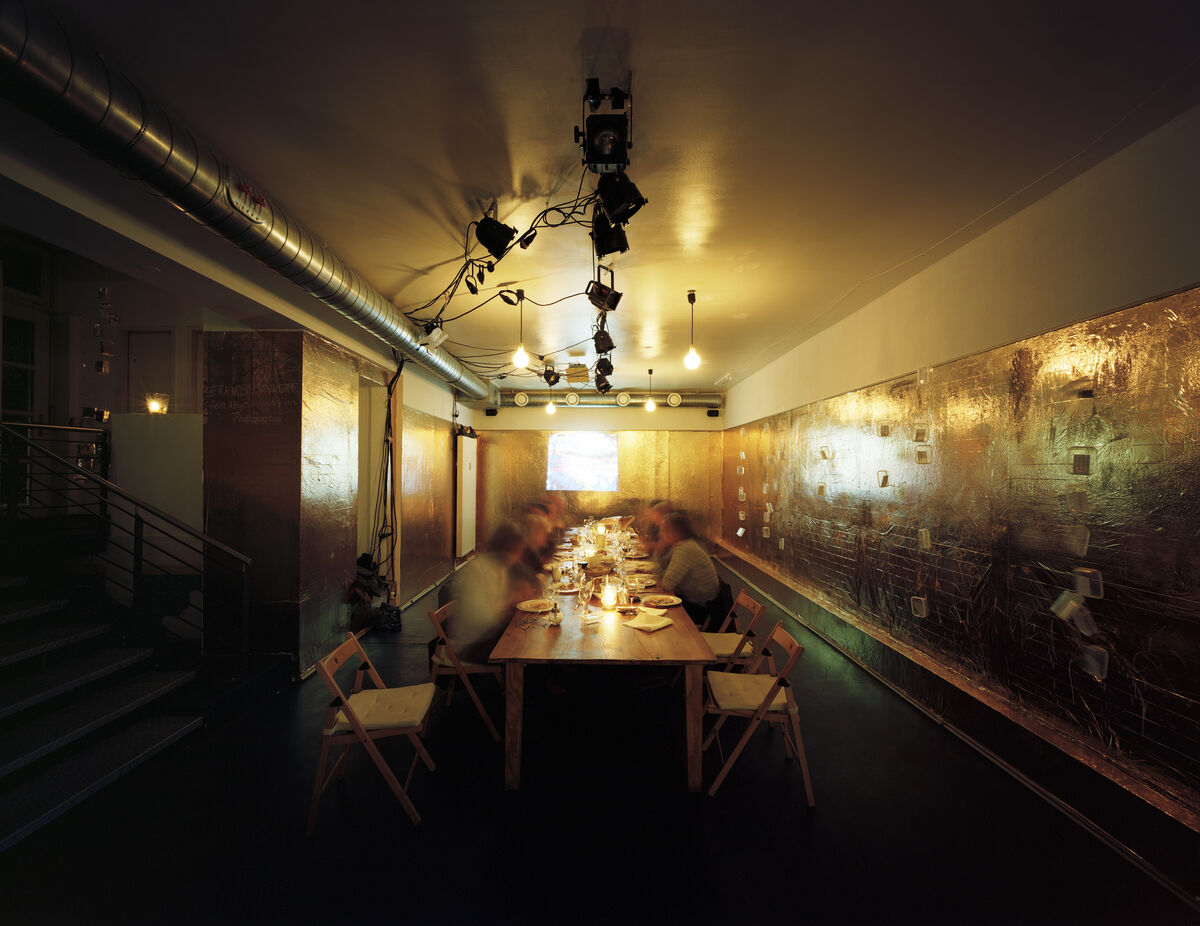 An in-progress meal at Zagreus Projekt. Courtesy of Zagreus Projekt.
"Food and art were the two elements in my life that were always there," explains Ulrich Krauss, the founder of the Berlin food project space Zagreus Projekt. "I grew up in a butcher shop and I studied art." He went on to apprentice as a chef, spending time cooking at a fancy hotel in southern Germany. "When you are in that world, it is so restricted, and you have rules for everything," Krauss says. "It's a very narrow world, so I got the feeling I had to escape from that." Krauss left for Berlin, where he balanced artmaking—mostly performances—with cooking in restaurants. "I have to found a place where I bring things together," he remembers thinking of his double life. Zagreus Projekt took shape.
Its first iteration found a home in the backroom of Galerie Markus Richter, a space for conceptual and minimal art that shuttered in 2005. Since then, Zagreus Projekt, which Krauss is careful to point out is not a gallery, has relocated to the elegant Mitte district. Artists bring ideas for exhibitions that in some way relate back to food, and a collaboration ensues to devise a menu that matches. FOOD ART, a collaboration that launches April 8th, pairs the talents of the artist-turned-chef with a Swiss-German artist couple, Hendrikje Kühne and Beat Klein, who make elaborate, three-dimensional collage sculptures, often including images of food and fragments of advertising and newspapers. "With every exhibition we do here, we have a different point of view on food or on the situation of eating, and that is the most important thing," Krauss explains. But the demands of the project, 16 years on, are not without their toll. "I don't see myself as an artist anymore," says Krauss. "I see myself as a chef."
Pharmacy 2
Damien Hirst  
Newport Street Gallery, London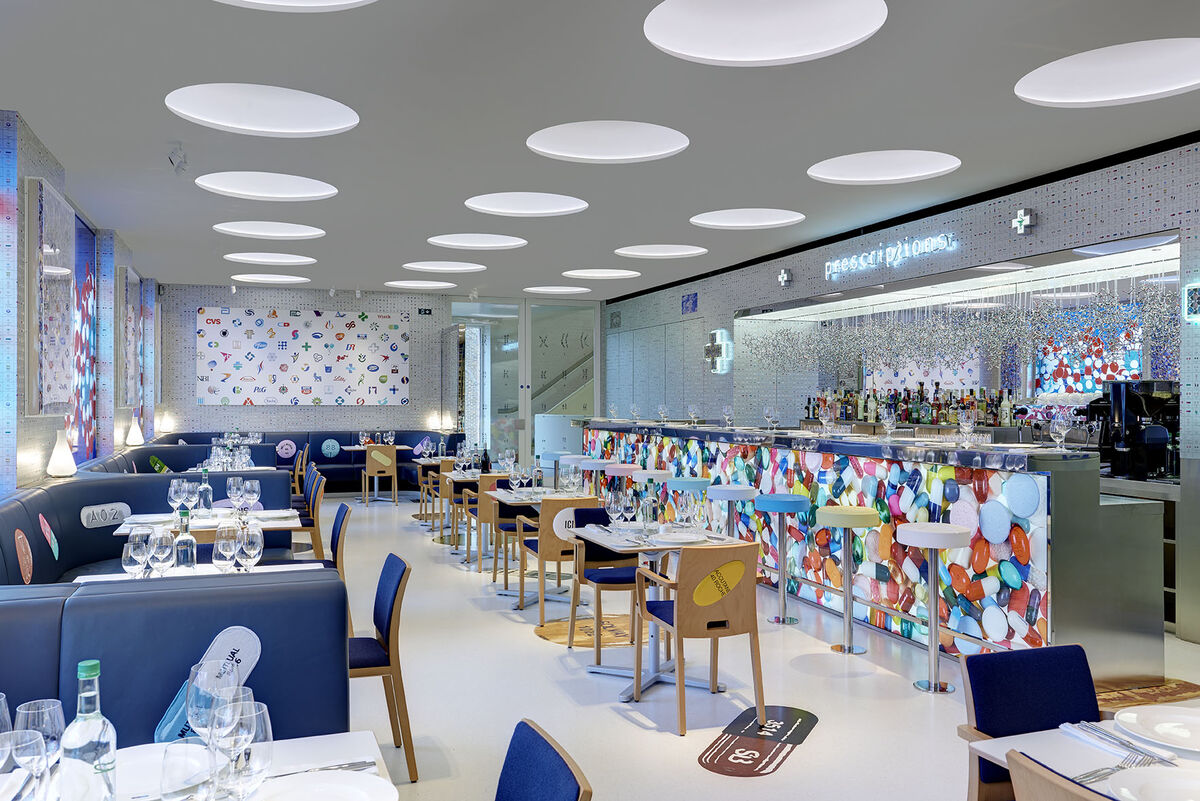 The interior of Pharmacy 2. Courtesy of Prudence Cuming Associates © 2H Restaurant Ltd. All rights reserved, 2016.
Diners enjoy chef-collaborator Mark Hix's cooking, which eschews pharmaceuticals for fresh ingredients and a British-inflected menu of European classics, including crispy squid with green chilis or Hix's riff on the traditional German apples-and-potatoes side "Heaven and Earth." "Damien designed a formaldehyde 'Cock and Bull' for my restaurant Tramshed, so it makes sense for me to exchange my skills," the chef explains.
[restaurant not yet named]
Raphael Lyon  
New York
The soon-to-open Bushwick space under construction. Courtesy of Enlightenment Wines (@enlightenmentwines).
"There is a long-running joke in the food industry that most artists are unrealized chefs," the artist Raphael Lyon, who grows sculptures using geologic processes, tells me. "Which is just a way of saying that huge numbers of self-identified artists may have turned to art only because they wanted to be respected for working creatively with their hands, and that maybe they would have been more fulfilled in a kitchen rather than a studio." Together with partner Arley Marks, Lyon is opening a restaurant off the Jefferson Street stop of New York City's L train in the coming weeks. He also owns Enlightenment Wines, where he works as a "mazer," fermenting honey and herbs into a wine-like beverage. "This will be something like a public home for that research," he explains.
Lyon also hopes it will be "a place of sincere curiosity—whether it's for a dry mead made out of Christmas trees and gold flake or just rethinking the pickled egg." The artist's deep knowledge of food and wine yields unusual revelations. "What interests me about winemaking, and more generally the American food scene writ large, is how until very recently discourse around it was obsessed with really awkward notions of authenticity," Lyon observes. He suggests there's a link between this approach to thinking about food and how people talked about European painting before Modernism. "A good part of the development of art in the last century was a move away from validity based on authentic regional expression to validity based on ideas," he continues. "That's happening in the food world, particularly in New York."
ZAX Restaurant
Will Stewart
Brooklyn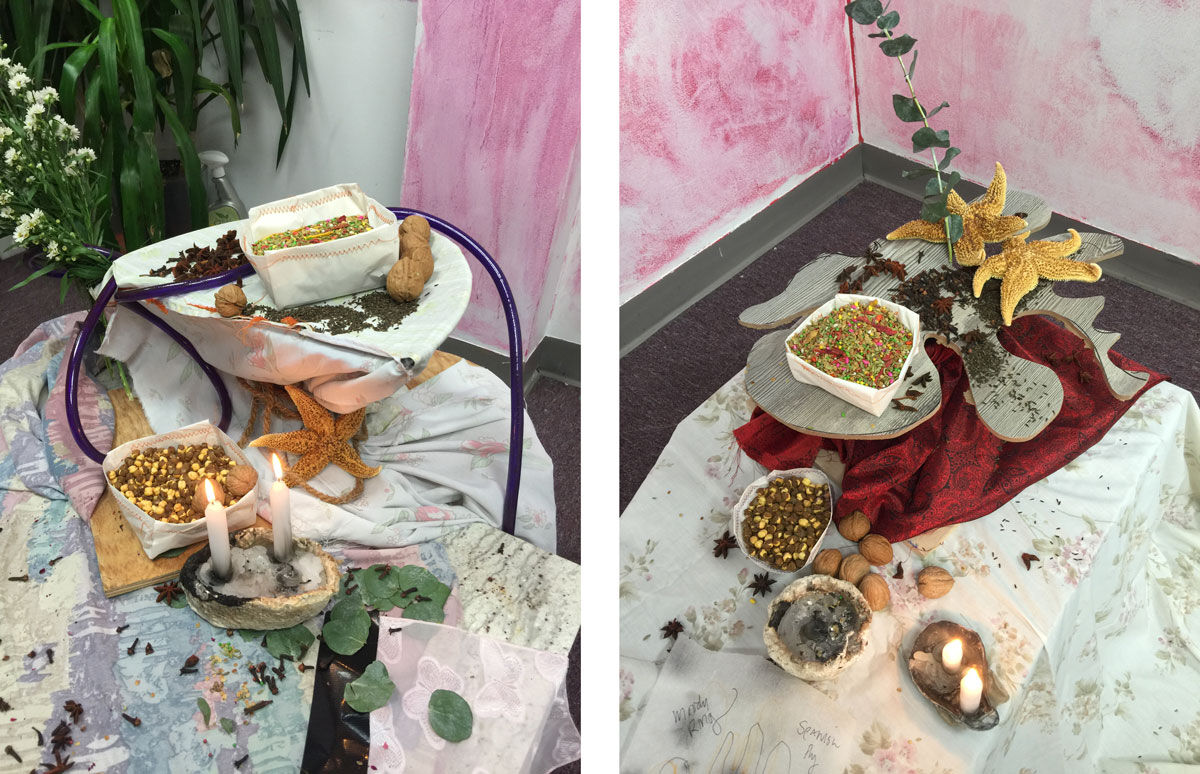 The December "Fertility Meal" at ZAX Restaurant. Courtesy of Maia Ruth Lee and Violet Dennison.
"Generally, the stereotype of 'starving artist' isn't far off the mark in New York," says
ZAX's December "Fertility Meal," put together by artists/guest chefs Maia Ruth Lee and
Conflict Kitchen
Dawn Weleski & Jon Rubin
Pittsburgh
Left to right: Iranian, Afghan, and Cuban iterations. Courtesy of Conflict Kitchen.
"What you choose to eat every day is a creative moment," says Dawn Weleski, who, together with Jon Rubin, directs the Pittsburgh eatery Conflict Kitchen. "We provide an outlet for that creative expression." The two artists work to address thorny social issues through food. "We were always thinking about how to re-envision the city, how to make it the city we wanted to live in," Weleski, a Pittsburgh native, observes.
A simple but powerful premise guides their restaurant: Serve cuisines from countries with which the United States is in conflict. In its six years of operation, hungry residents who might not have given much thought to the social implications of U.S. foreign policy have filled up on Afghan, Cuban, Venezuelan, Palestinian, North Korean, and, most recently, Iranian cuisine. "We were trying to think of ways with which to engage the politics of the city, and to get people to have conversations in public spaces that weren't typically had in Pittsburgh, let alone in the rest of America," Weleski explains. 
Currency Exchange Café
Theaster Gates
Chicago
Interior of Currency Exchange Café. Photo by Sarah Pooley, 2014. Courtesy of Currency Exchange Cafe.
The project joins the Gary barbecue-and-soul-food fixture Mama Pearl's, which is and will remain in the space, as a tenant in a large building being transformed into a multi-use facility boasting a commercial kitchen for training, an incubator for culinary businesses, a pop-up café with a menu that changes based on input from incubator participants, and even an exhibition space for art. The ambitious project is sewing the first seeds of what the rustbelt city hopes will be a leap toward fostering a cultural district, bringing to its residents a place where they can come together over a meal and admire the many talents of their neighbors. 
Thank You For Coming
Laura Noguera, Jonathan Robert, Jenn Su Taohan, and Cynthia Su Taopin
Los Angeles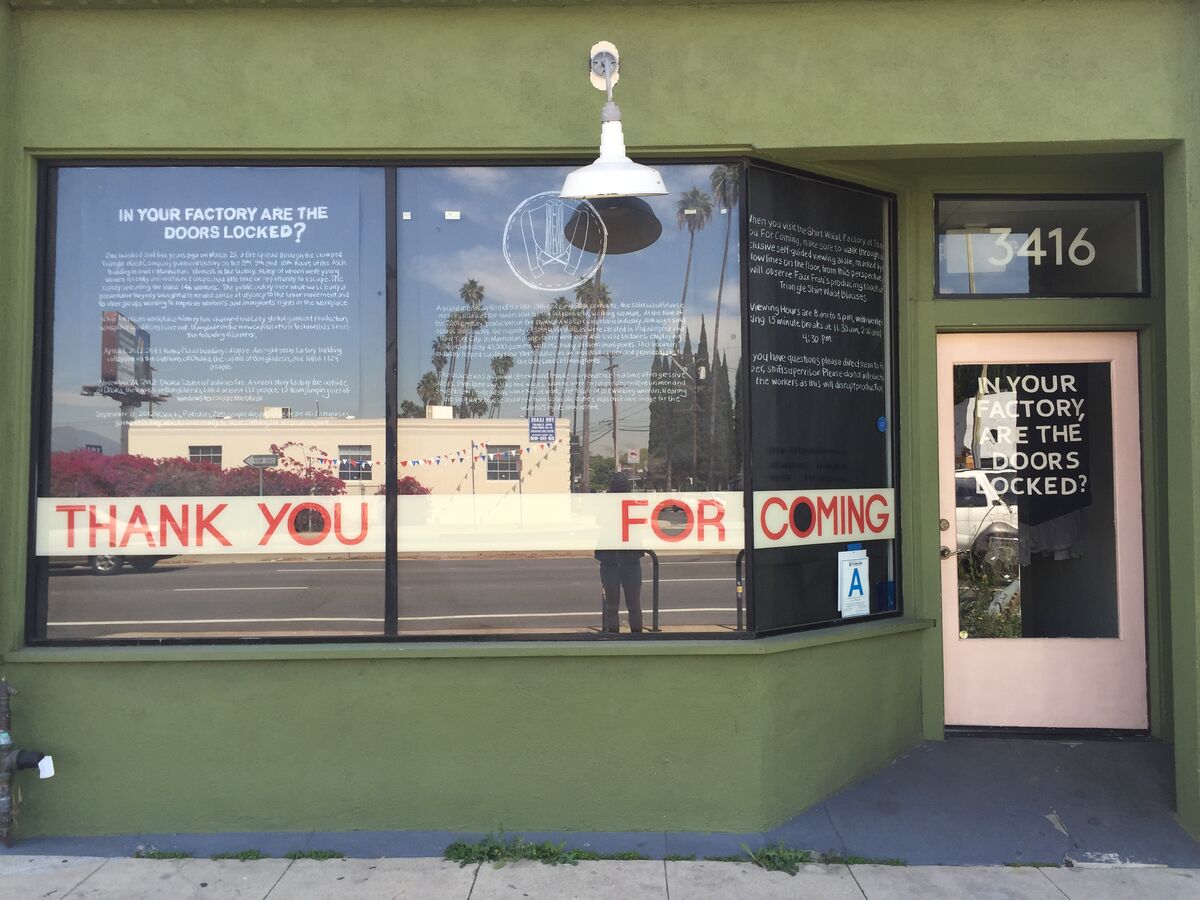 A March 25, 2016 installation to commemorate the Triangle Shirtwaist Factory Fire. Courtesy of Thank You For Coming.
Thank You For Coming is an experimental space that pairs a permanent restaurant serving simple weekend brunches with a series of creative residencies, as well as playing host to an eclectic array of additional programming. The mission is to "encourage spontaneous interactions and alternative understandings of food associations." Located just across the Los Angeles River from Los Feliz in Atwater Village, the open-ended project space welcomes performances and installations, and makes its commercial kitchen available for use. Those who come do everything from bread-baking to zine-making, and well beyond. It has also reworked the cardboard-box-full-of-potatoes approach to the CSA, letting that final 'A' stand for art as well as agriculture. Members can expect packages including cheeses, hand salves, delicious fruit preserves, infused spirits, hand-sewn aprons, or "an artist-made functional object."
George and Lennie
Brett Walker
San Francisco 
Exterior of George and Lennie. Photo by Carson Lancaster. Courtesy of George and Lennie.
Brett Walker opened George and Lennie, a coffee shop in San Francisco's centrally located Tenderloin neighborhood, last August. The project came about, in part, when Walker realized there were two pronounced continuities in his life: making art and making coffee. Walker came to San Francisco for a conceptually rigorous graduate program at Berkeley, where he made sculptures like inflatable rain jackets or plant-watering systems constructed from dehumidifiers, all while working at the trendy San Francisco café Four Barrel Coffee. "I was getting tired of having my art have to be about something," Walker admits. "I slowly began making less and less obtuse conceptual art."
Frequently, the work addressed the strained relationship between being an artist and a common laborer, circling around the necessity of supporting himself and his family through something other than art. "It occurred to me that for these reasons, I needed to do a show of my work in the place where I worked," he says. So he swallowed his "snobby art-school pretensions" and took pains to fine-tune and perfectly hang pieces in the café where he was working. Eventually, the opportunity to run his own place came around, and Walker seized it. "Opening the café was no different than taking on some sort of art project," he says of his merging of these two threads in his life with George and Lennie, which, fittingly for the artist's work, takes its name from Of Mice and Men. He's even transformed it into a makeshift portrait studio in which he creates images of his patrons."This is an artist-run place," Walker explains of his café, "but I think I view it as less an artist-run space and more of an art project in and of itself."

Stir Creativity
See how Bombay Sapphire supports artistry.
Sponsored by Bombay Sapphire