9 Inventions That Changed the Way We Make Art
The creation of art has, since its beginnings, been determined by what tools, techniques, and mediums are available to artists. While many inventions have made artmaking easier and available to all, others have ushered in radical concepts and new understandings of how we define "art." Some artistic innovations from centuries ago are now so deeply ingrained in the modern consciousness, it's hard to imagine what art would be without them. Below we share the brief history of nine inventions that, whether historically, practically, or conceptually, have changed artmaking for good.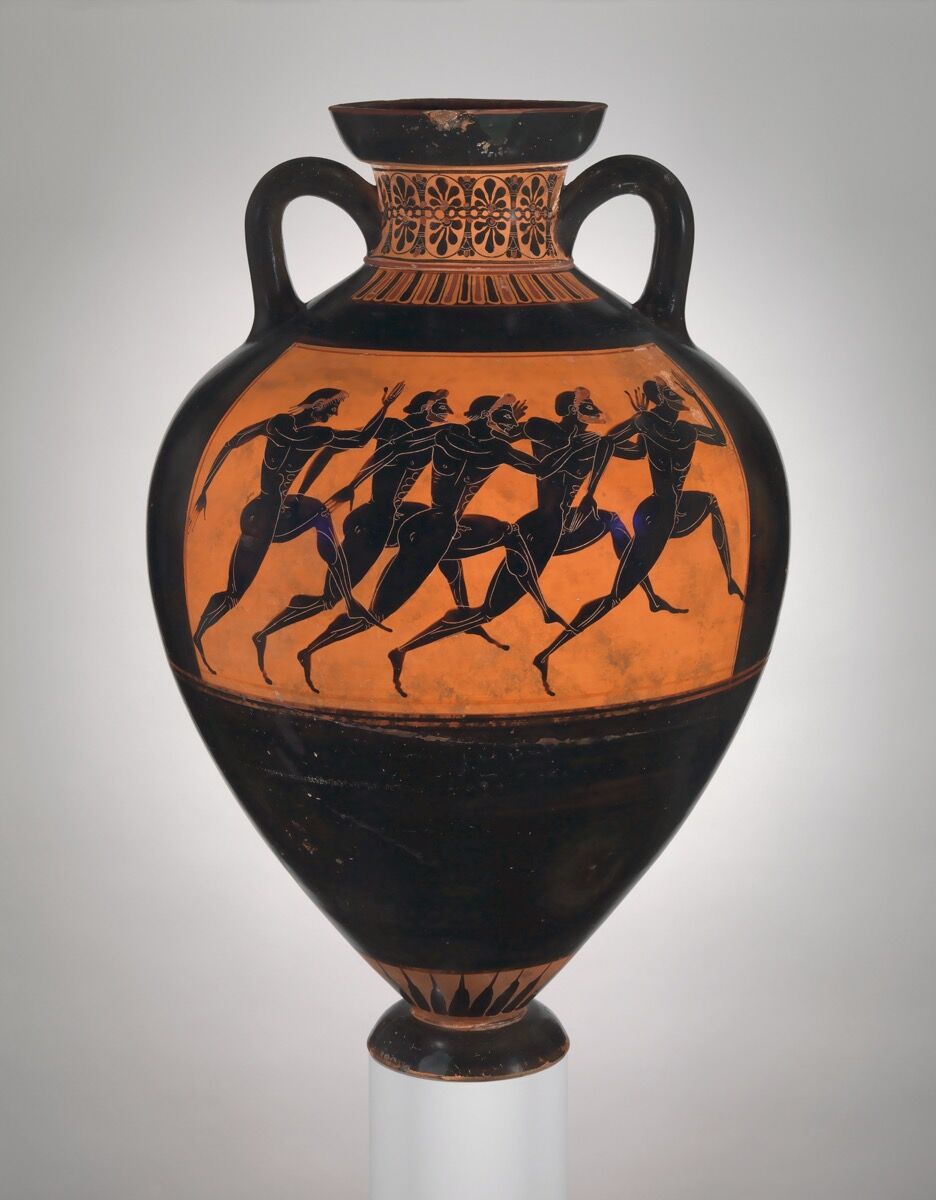 One of the oldest forms of art,
While it's not known who these people were, or when exactly they made this discovery (though the oldest extant ceramic figurines, like the Moravian Venus of Dolní Věstonice, date to between 29000 and 25000 B.C.), their "pit kiln" is the earliest known type of the furnace used to make ceramics. Enclosed kilns would emerge among ancient civilizations; Ancient Greek kilns typically had a two-chamber design that directed smoke upwards, while Roman kilns were equipped with pipes, and some could hold up to 40,000 vessels.
By 200 A.D., Chinese artisans in the Han period had developed equally massive "dragon kilns"—also called "climbing kilns" because of their steep slope along hillsides—that contained multiple chambers. These kilns produced the world's first porcelain objects, and with them, China became the global center of ceramics. The kiln's design (along with porcelain) spread throughout East Asia and eventually reached Europe. While many dragon kilns still operate today, they've largely been phased out by electric kilns, which were invented in the 1920s by Brown-Boveri Ltd., a Swiss engineering company. Smaller in scale, safer to use, and easier to transport, electric kilns can be found in studios and schools, and have largely contributed to the thriving of
ceramic artists today
.
The process of coloring glass with metallic oxide powders, otherwise known as stained glass, is most commonly associated with
Stained glass windows as we now know them—with multiple panes of luminous colors—were pioneered by Christians in the 1st century A.D., likely in the English town of Jarrow. In the 1970s, one of the oldest known pieces of multicolored stained glass were discovered at the town's St. Paul's Monastery, which formed in the year 686. Muslims were also using stained glass as early as the 8th century, as evidenced by Persian chemist Jabir ibn Hayyan's writings on 46 glass-coloring techniques in the Book of the Hidden Pearl.
By the Middle Ages in Europe, stained glass was both a refined art form and a religious phenomenon: Not only did its brilliant properties create a divine experience for churchgoers, it also provided a platform for Christian imagery. The oldest known surviving figurative piece of stained glass, which pictures Christ, dates to the 10th century and was found at the Lorsch Abbey in Germany. The ever-extravagant cathedrals of the Gothic age ushered in highly detailed and richly colored stained glass windows, often representing biblical scenes.
While its peak was in Gothic Europe, stained glass has had its own renaissance in more recent years, popularized in 19th-century America by
Art Nouveau
lamps and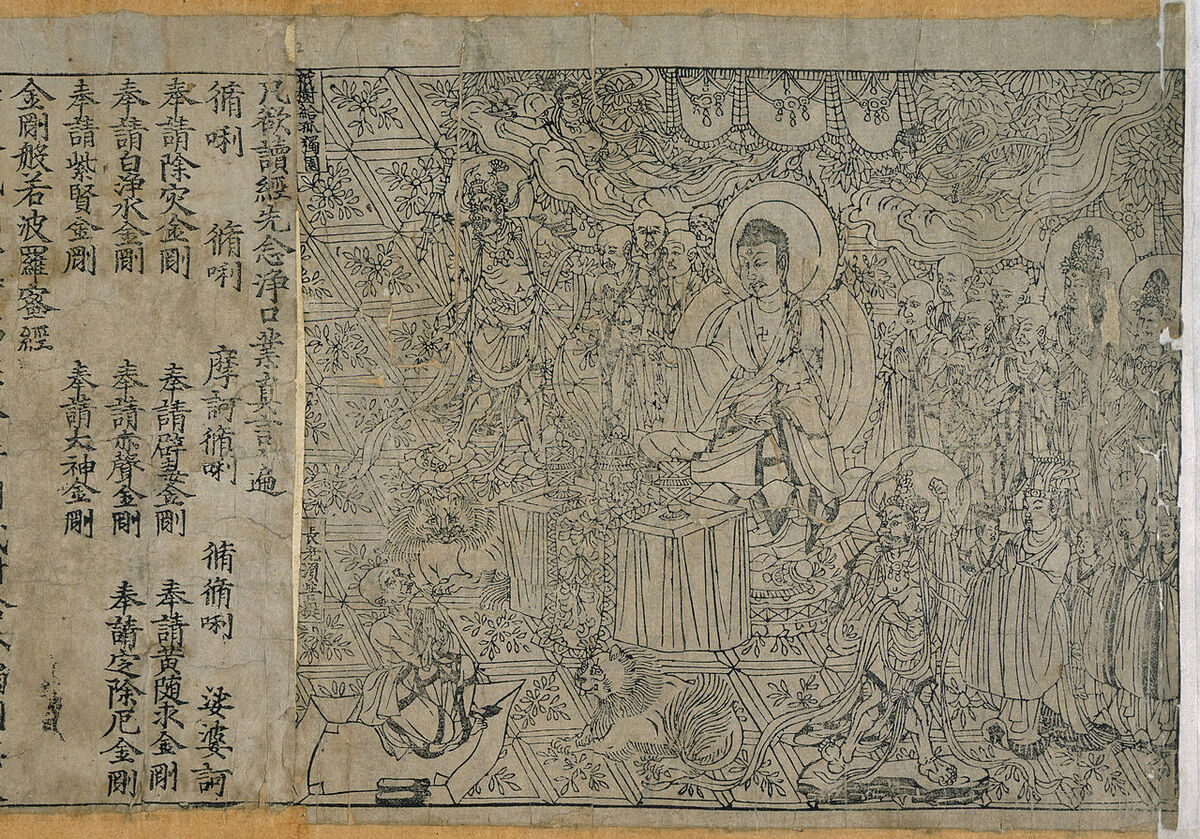 The Tang dynasty, widely considered a golden age of Chinese art and culture, ushered in many cultural innovations from 618 to 907, but the most consequential was woodblock printing. The technique—which involves carving into a block of wood, then adding ink to portions of it, before pressing it into paper—was initially used for replicating Buddhist texts, but the occasional image was made, as well. The earliest known example of a woodblock print artwork is an illustration for the Diamond Sutra from 868.
However, as only one shade of ink can be used per block, it wasn't really established as an art form until the millennium, when artisans in the Song period developed two-tone printing, using separate blocks for different colors, namely vermillion along with the typical black. In the 14th century, during the Ming period, full-color compositions emerged, made with multiple blocks. It was around this time, too, that woodblock printing reached Europe, with artists like
And in Japan, although people had used the technique for centuries to produce texts, artists there didn't begin using woodblock until the 18th century. In 1765, nishiki-e; before then, prints were usually colored with vegetable dye. Soon, brilliantly hued depictions of geishas, kabuki actors, and city scenes appeared, all rendered in a style known as ukiyo-e and pioneered by artists like The Great Wave, c. 1829–33). Ukiyo-e prints were made in the thousands and sold on the streets of Edo for just a few cents—quickly making woodblock prints some of the most popular art in Japan.
Originally introduced in 14th-century Italy as a more affordable alternative to wood panel, canvas consists of strong, tightly woven fabric that's often primed with a paint binder called gesso and stretched across a wooden frame. Though a smoother surface and lower price points have made canvas the most popular support for painting today, it took centuries to catch on—perhaps because most The Birth of Venus (c. 1486) for the Medici's Villa di Castello in the hills of Tuscany.
By the 16th century, Italian artists and their patrons started to realize that wood is prone to decay, and canvas became the ideal surface for painting. The best quality canvases came from Venice and eventually spread to Northern Europe, where they slowly overtook the panel tradition that had reigned supreme for years. Even staunch panelist Wolf and Fox Hunt (c. 1616), helped popularize canvas in his native Flanders, and by the 18th century it had become the de facto support for painting.
Canvas painting in the 20th century was marked by experimentation and destruction. In mid-1940s Buenos Aires, Madí artists
The first camera that resembles the modern-day device has its roots in an experiment conducted around 1826 by French amateur scientist Nicéphore Niépce. While playing with his camera obscura—which by then had become portable—Niépce tried placing a bitumen-coated pewter plate inside of it, and left it before a second-story window in his home for eight hours. Afterwards, as he washed the plate, pieces of bitumen that weren't hardened by sunlight began fading away—and Niépce was left with the first-ever photograph, capturing the upper-floor view of neighboring buildings and a distant landscape.
Back in the 1840s, Rand was living in London and had become increasingly frustrated with the shelf life of his oil paints; he'd often find them dried up before they were even used. At the time, there were two common (yet not ideal) methods for storing paint: in fragile glass jars or syringes, which were dangerous to carry around, or in pig bladders, which artists would fill with pigments and seal with string. To access these colors, artists like Rand had to poke a hole in the bladder and scrape out as much paint as possible; because the hole couldn't be re-sealed, whatever paint they didn't gather went to waste. (Besides, who wants to store their precious pigments in a pig's bladder?)
In 1841, Rand had an epiphany: Small metal tubes would make storing paints simpler, cleaner, and handier, while increasing their longevity and portability. By March 6th, he'd taken out patents on these "metallic collapsible tubes," and they soon became a hit. With this ingenious invention, artists were able to bring however many shades of paint they wanted, wherever they wanted—whether that was a cafe, a garden, or an open field. The tube also let artists work in completely new ways, such as applying thick layers of paint directly from the tube.
It's clear that the Impressionists—whose practices were distinctly marked by all of these approaches—relied on Rand's paint tube, and on the ability it gave them to paint outdoors, directly from the world before their eyes. Indeed, as Renoir one remarked, "without colors in tubes…there would be no Impressionism."
But the paint tube was revolutionary even beyond Monet's France, improving painting for artists everywhere. In 1904, British chemist William Winsor added a screwable cap to Rand's tube, allowing painters to save colors for later use. Pigment experts could then produce and sell paints in bulk without fear of them drying out, thereby making the medium cheaper. These mass-manufactured paints also had more even consistency, which could be thinned down with material such as turpentine—enabling further experimentation among artists, like Frankenthaler's inventive soak-stain technique in the 1950s.
While the first mechanical typing devices date back to as early as 1714, the modern "QWERTY" keyboard was patented by American inventor Christopher Sholes in 1868, and soon after, the first commercial typewriter was on the market. Revolutionary, yet extremely heavy and not so user-friendly, the typewriter didn't change much until IBM introduced its Selectric typewriter in 1961, a more compact (and in keeping with '60s style) update to the now century-old device. IBM continued to improve upon their product leading up to the computer age, by which point the keyboard—its modern name—became ubiquitous.
Neon and Fluorescent Light
Over the latter half of the 20th century, artworks made from neon and fluorescent light have increasingly appeared in museum collections, and have been central to art movements such as
However, neither neon nor fluorescent light—the former made of thin, bendable glass tubes whose colors are determined by gas mixtures; the latter made of long, straight tubes with more limited color options—would cross the commercial-to-fine art threshold for some decades, until Gyula Košice (of the aforementioned Madí movement) incorporated neon into works like Estructura lumínica Madí 6 (1946), marking the first time an artist used such a medium.
Artists of the 1960s and '70s, like
Dia:Beacon
in upstate New York and the aptly named Museum of Neon Art in Glendale, California—have mounted permanent displays of these illuminating artworks.