A Century After Malevich Rocked the World, Galerie Hans Mayer Celebrates with Robert Longo's Homage to Radical Abstraction
Installation view of "Robert Longo 'The Invention of Zero (after Malevich), 1991,'" at Galerie Hans Mayer, Düsseldorf. Courtesy Galerie Hans Mayer and the artist
The centerpiece of the show is Longo's The Invention of Zero (after Malevich), 1991 (1991). The gallery timed this presentation of this work to coincide with the 100th anniversary of the year that Black Square (1915), a black square on a white canvas. At the time, this minimalist approach was revolutionary and announced a new approach to art —one that stripped the object of representation, illusionism, symbolism, and content. This radical gesture ushered in the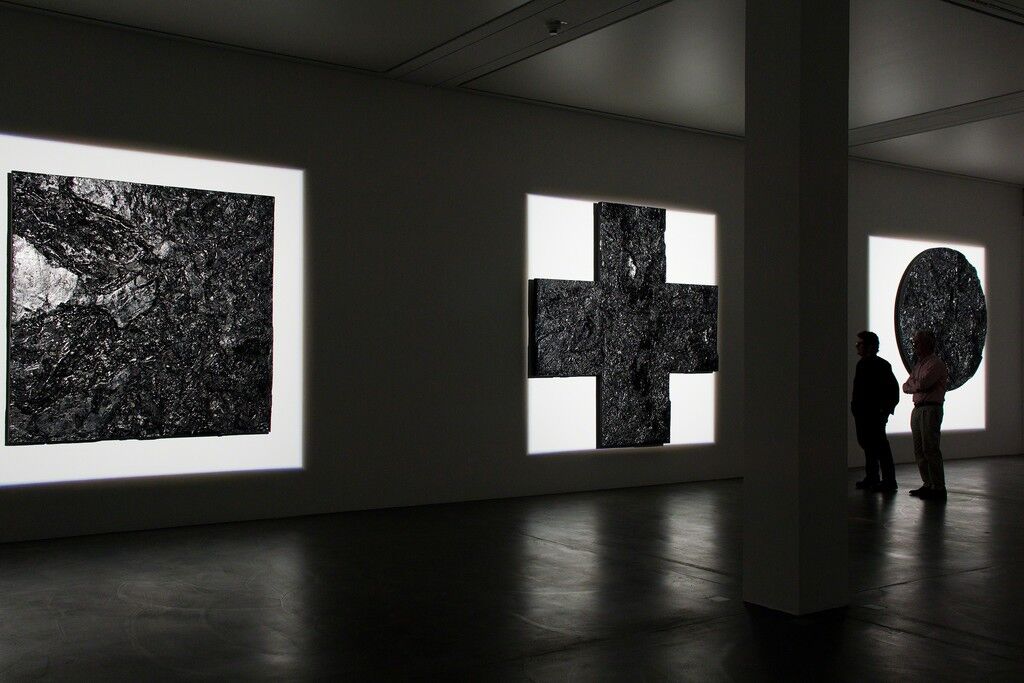 Installation view of "Robert Longo 'The Invention of Zero (after Malevich), 1991,'" at Galerie Hans Mayer, Düsseldorf. Courtesy Galerie Hans Mayer and the artist
Installation view of "Robert Longo 'The Invention of Zero (after Malevich), 1991,'" at Galerie Hans Mayer, Düsseldorf. Courtesy Galerie Hans Mayer and the artist
Longo created both The Invention of Zero (after Malevich), 1991 and his "Face Time" series of works on paper—selections from which are also on view in the show—when he was living in Paris in the early 1990s as an expat surrounded by news of the fall of the Berlin wall and the dawn of the Gulf War. For "Face Time," Longo responded to the charged headlines that streaked across daily papers by covering a page from The Herald Tribune with paint each day. Longo almost completely obscured the text but let some especially forceful phrases show through, and in the end, the extended series served as a means of engaging with important world events that the artist felt at once removed from but deeply affected by.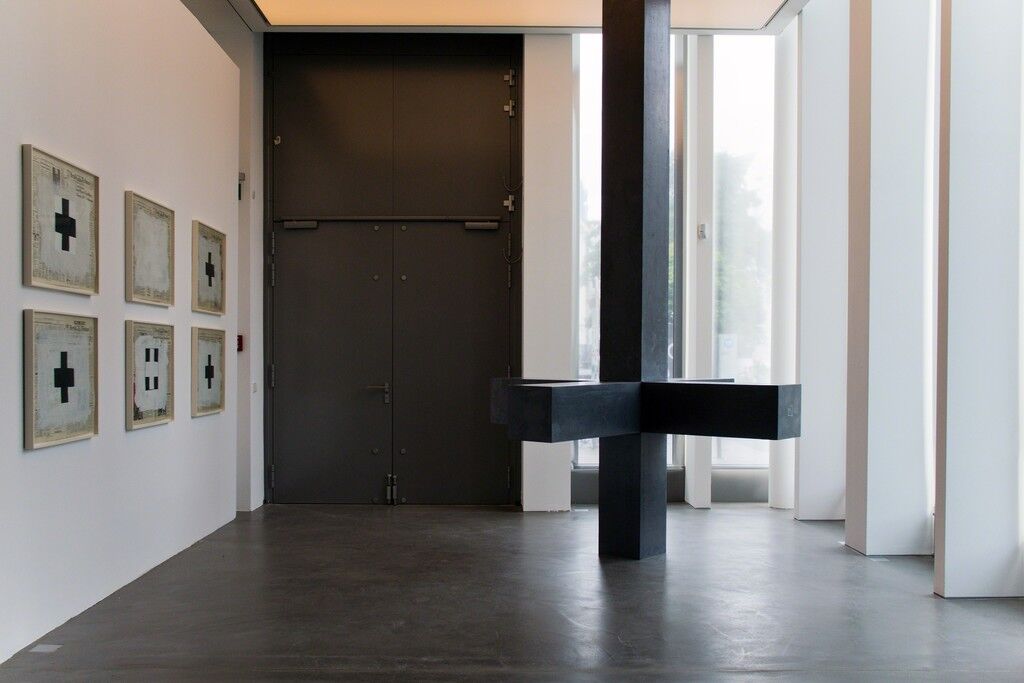 Installation view of "Robert Longo 'The Invention of Zero (after Malevich), 1991,'" at Galerie Hans Mayer, Düsseldorf. Courtesy Galerie Hans Mayer and the artist
The Invention of Zero (after Malevich), 1991 consists of three large-scale wax-on-wood reliefs of shapes that appear in Malevich's paintings: a square, a circle, and a cross. They are painted entirely black with textured, almost burnt-looking surfaces. Hung side-by-side to form a triptych, the panels are each "framed" by bright light cast on the wall in the shape of a square, recalling the white canvases upon which Malevich painted his geometric shapes. The lighting effects give the triptych a paradoxical sense of both immateriality and depth.
But if Malevich was working to separate art from life, Longo was responding, albeit obliquely, to major political and social events. Finding words and images too limiting for his purpose, he turned to abstraction to express what was otherwise too huge and complex for representation to contain.
Stir Creativity
See how Bombay Sapphire supports artistry.
Sponsored by Bombay Sapphire