Agnes Martin and Navajo Craftswomen Made Spiritual Works Inspired by the Desert
Navajo women weaving a blanket at Monument Valley, Arizona, USA. Photo by Universal History Archive/UIG via Getty Images.
she once wrote
: "Art work is the only work in the world that is unmaterialistic." Martin was drawn to both Taoist and Zen Buddhist philosophies, which emphasize, alternatively, harmony and acceptance, personal enlightenment, and the relinquishment of earthly concerns. For decades, she lived a quiet, ascetic life in New Mexico. Yet that hasn't stopped critics from connecting her work with objects and places that are very much of our world.
"So supressed or subtle were the traces of Martin's hand," art historian Anna C. Chave observed in a 1992
essay
, "that there was…a sense of encountering a blank canvas, a blank page—or one just lightly, evenly ruled off, where images, numbers, writing, calendar notations, or musical notes have yet to appear." If the blank page is a metaphor, it's also a familiar, mundane object.
Scholars
also
speak of Martin as a product of the Coenties Slip, the Lower Manhattan neighborhood where she lived from the late 1950s through most of the '60s, alongside artists including
Pace Gallery
is organizing an exhibition that links Martin's oeuvre with Navajo textiles and the Southwest landscape.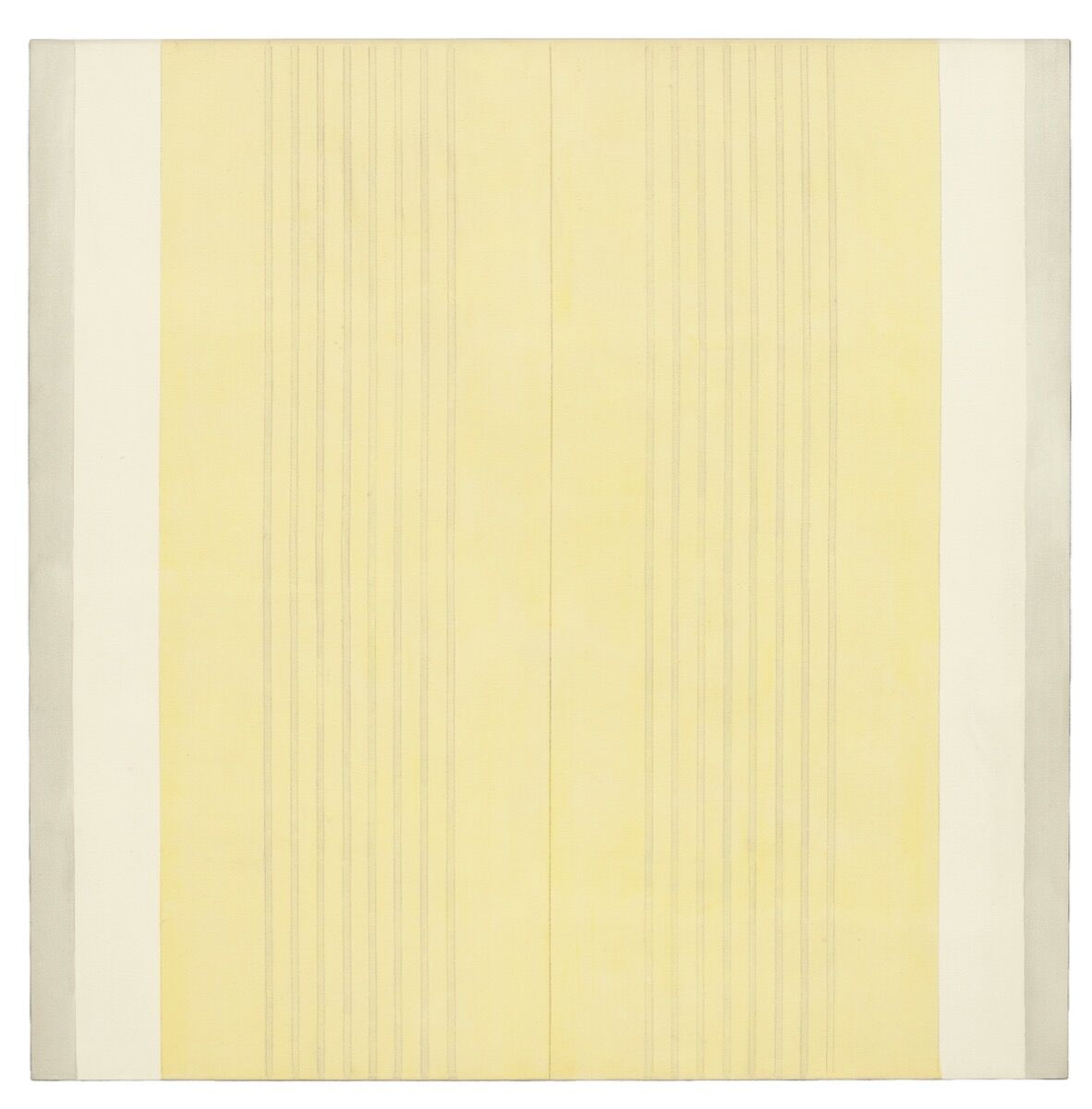 Agnes Martin, Untitled #5, 2002. © 2018 Estate of Agnes Martin / Artists Rights Society (ARS), New York. Courtesy of Pace.
Agnes Martin, Untitled, c. 1960. © 2018 Estate of Agnes Martin / Artists Rights Society (ARS), New York. Courtesy of Pace.
The exhibition
"Agnes Martin / Navajo Blankets," opening at Pace's Palo Alto location on September 28th (and traveling to the New York gallery in November), will pair six of Martin's paintings with 10 handmade blankets by female Navajo weavers (the Navajo are also known by their original name,
the Diné
). The blankets, which were made in the 1800s, all hail from a private Bay Area collection. They are "chief's blankets," or the highest quality and most valuable of their kind.
Most of the included works, woven and painted, feature horizontal compositions. Martin's bands are delicately wrought and mostly pastel, while the Navajo blankets feature bolder stripes—and the occasional diamond—in rich browns, blues, and pinks.
"We have these amazing women artists all being showcased together," said Elizabeth Sullivan, director of Pace's Palo Alto gallery, who are "all influenced by the landscape. That's what's beautiful." She mentioned that the Navajo craftswomen took inspiration from the same landscape that Martin adored, though they worked over a century apart. Positioning Martin with a group of women artists is particularly intriguing, given the artist's skeptical views on gender. When journalist Jill Johnston once asked her about feminism, Martin
apparently
told her: "I'm not a woman."
Navajo people, A Classic Second Phase Chief's Blanket with Manchester Bayeta, Navajo, c. 1840. © 2017 Joshua Baer & Company, a New Mexico Corporation. Courtesy of Pace.
Indeed, Martin is frequently grouped with male abstractionists or
Born in Saskatchewan in 1912, Martin lived in New York throughout the 1940s, '50s, and '60s. She intermittently relocated to New Mexico, then settled there permanently around 1970 (she died in a retirement community in Taos in 2004). Her exodus from the Northeast stemmed, in part, from mental health issues. Afflicted with paranoid schizophrenia, Martin preferred the quiet, tranquil desert to the chaos of New York City. Her work, the Pace show subtly proclaims, is about a healing, spiritual landscape, and is connected with the people and practices that populated the American Southwest before the Declaration of Independence was even ratified.
The Navajo
settled
in the Southwestern region of the modern-day United States as early as the 14th century. In the 1500s, European arrivals to the area brought domestic sheep with them. Influenced by Pueblo weaving techniques and Aztec design, and with access to a steady supply of wool, the tribe set about weaving striped and more intricately patterned blankets. In the 1700s, they began dying their fabrics and producing more colorful threads with hues developed from natural sources like bugs, roots, and herbs, and eventually, synthetic agents.
Agnes Martin, Blessings, 2000. © 2018 Estate of Agnes Martin / Artists Rights Society (ARS), New York. Courtesy of Pace.
Agnes Martin, Affection, 2001. © 2018 Estate of Agnes Martin / Artists Rights Society (ARS), New York. Courtesy of Pace.
Notably, both European and Native American traders valued Navajo blankets long before they entered any gallery setting. "Chief's blankets were expensive—by 1830, they were the most expensive garments in the world—but they held their value," wrote Joshua Baer
in his 2012 essay
"The Chantland Blanket: A Navajo Masterpiece." "You could trade twenty horses for one chief's blanket, wear the blanket for a year, and then trade it for hides or rifles."
Baer describes four categories of Navajo blankets, all of which will be on view at Pace: first phases, second phases, third phases, and variants. The complexity of patterns—ranging from horizontally striped fields with no foregrounds to more intricate designs that manifest a sense of depth—distinguishes each group. According to Baer, the blankets express an "idealization of balance." The same might be said of Martin's serene paintings, which exude equanimity and calm.
Though she lived near Native American communities in New Mexico, Martin herself never wrote about any direct connection between her work and their crafts. "I'm sure she came into contact with them," Sullivan said, "but she never made a reference to them." Instead, Sullivan thinks the pull of the Pace show lies in the fact that "when the Navajos were weaving, the loom looked out on the landscape. Every day, Agnes would take a break, but she'd be looking at the landscape, as well."
Navajo people, A Classic First Phase Chief's Blanket, Woman's Style, Navajo, c. 1860. © 2017 Joshua Baer & Company, a New Mexico Corporation. Courtesy of
James Shaeffer, the New York director of
Simon Lee Gallery
, noted that Martin didn't view her paintings as landscapes, but works rendered "as if she had her back to the world. Almost as if these things were an act of remembering what the world could look like." This month, the gallery will screen Mary Lance's 2002 documentary about the artist, fittingly titled
Agnes Martin: With My Back To The World
.
After divorcing herself from the New York art world, Martin constructed her own adobe home and studio—one writer
has even connected
Martin's paintings to her house building, though the artist denied they had anything to do with her art. "The spaces she created for living and painting demonstrate a keen interest in her surroundings," explains Joanna Weber in the article. "Both painting and building with adobe are manual, deliberate, and progressive projects, with concrete end results."
One might say the same about weaving and, indeed, about any process-driven craft or art form.
Los Angeles Times
critic Christopher Knight has also
likened
Martin's painting to "a little piece of hand-crafted furniture without discernible function—except to be looked at and pondered, like some strange amulet."
Whether or not Martin made any subconscious connection between her artworks and other forms of making, scholars and gallerists have imposed links between her artworks, blankets, furniture, and houses. These comparisons do emphasize a crucial part of Martin's practice: how she seamlessly integrated painting into her everyday routine. "There isn't a binary between what she had as inspiration or what was part of her daily life versus her work. They weren't separated," Shaeffer said. Between Martin's paintings and Navajo blankets, "there was a similar spirituality, integrating life and art and work."
Alina Cohen is a Staff Writer at Artsy.
Stir Creativity
See how Bombay Sapphire supports artistry.
Sponsored by Bombay Sapphire