Ai Weiwei Installs Fences across New York, Making Locals Face the Refugee Crisis
within the span of a few days
he unveiled four gallery shows, unleashed on
Public Art Fund
commission "Good Fences Make Good Neighbors" is taking over the entire city, and at the same time,
Human Flow
, his new documentary on the refugee crisis, is opening in theaters.
The projects are clearly intertwined. A half hour into Human Flow, a striking statistic appears onscreen. "When the Berlin Wall fell in 1989, there were 11 countries around the world with border fences and walls," it reads. "By 2016, 70 countries had built border fences and walls." Ai cited this figure again on Tuesday morning as he introduced his massive new Public Art Fund project, for which he's mounted a variety of fences across Manhattan, the Bronx, and Queens.
Taking its name from the Robert Frost poem Mending Wall, the sprawling public show activates over 300 sites across all five boroughs, with site-specific artworks, ranging from large-scale, interactive sculptures to 200 banners, 100 documentary images appearing on bus stops and LinkNYC kiosks, and graphics that will adorn five city newsstands. Among 18 sculptures total, the hallmark pieces are installed at Doris C. Freedman Plaza (located at the southeast entrance to Central Park), around the Unisphere in Corona Park, Queens, and within the historic Washington Square Park Arch.
Together, these elements draw attention not only to the global refugee crisis, which has seen over 65 million people displaced in recent years, but also to the problematic function of fences today, both the physical and metaphorical kind—from border walls to discriminatory policy.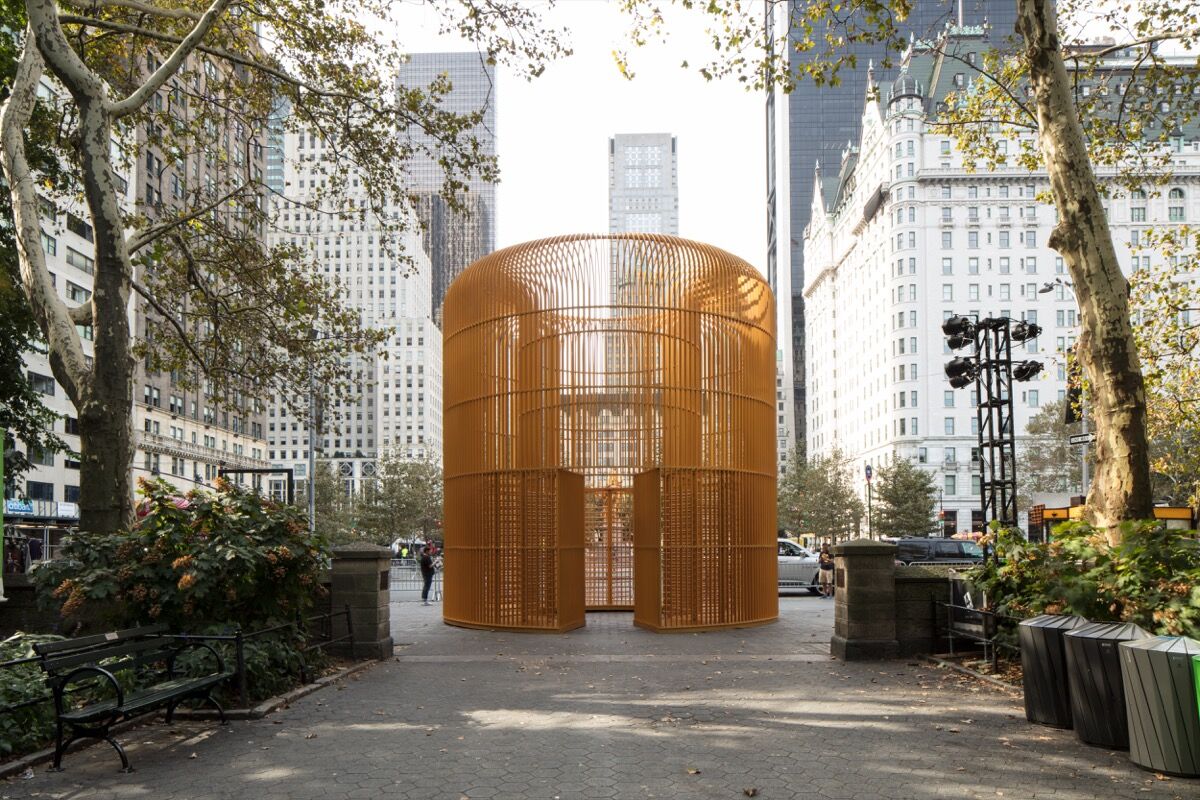 "Fences or territories always relate to our identity, and also our understanding of ourselves and our attitudes towards others," Ai said, addressing press at Doris C. Freedman Plaza, the site of a towering circular fence resembling a giant golden birdcage.
"We are living at a time where there's no tolerance, we're divided," Ai noted, "and they try to separate us by colors, race, religion, nationality, which I think is completely going backwards—against freedom, humanity, understanding of our time."
Ai certainly knows of what he speaks. As a child he lived in exile after his family was forced to leave Beijing due to his poet father's "rightist" politics. After achieving later renown for activist artworks that advocated for human rights and freedom of speech in China, Ai was infamously detained in 2011 and had his passport revoked. In 2015, upon having his travel documents returned to him, he moved to Berlin and set up a studio there, and began to focus his practice on the plight of refugees.
In the years since, the artist has mounted several highly publicized, large-scale installations to draw attention to the crisis, like an installation on Berlin's Konzerthaus made from refugees' lifejackets, and "Laundromat," a 2016 exhibition at Deitch Projects in New York that saw clothing left behind at the Idomeni refugee camp in Greece cleaned and displayed on racks, as if in a retail store.
Human Flow is a different sort of project, one for which he undertook massive amounts of travel and research, eventually editing the film together from over 1,000 hours of footage. Using his own camera and working with a dozen cinematographers, Ai and his crew traveled to 23 countries—from Turkey and Greece to Jordan and Afghanistan—and met with and filmed people at 40 refugee camps. The 140-minute documentary, brimming with desperation and strife, aims to represent (as well as a video camera can) the visceral reality and scale of the crisis.
"Good Fences Make Good Neighbors," in contrast, doesn't deliver the same immediate, emotional impact—but it will make New Yorkers stop and think, or at least slow down.
"They're not impenetrable barriers, but powerful immersive and resonant additions to the fabric of the city," said Nicholas Baume, chief curator of the Public Art Fund, of Ai's sculptural interventions. The show was conceived and produced over the past two years—and has become a monumental way to mark PAF's 40th anniversary—but Baume had initially invited Ai to create a work in New York with the nonprofit eight years ago. Events of the intervening years (namely, Ai's travails with the Chinese government) precluded any real progress until 2016.
Ai took a democratic approach to mapping out the show, placing works where they could be experienced by a wide swath of New Yorkers, along public transport routes and in city parks. And he's taken the concept of the fence and stretched its meaning, so as to integrate "fences" into the city, allowing people to see or interact with them, without impeding foot traffic. This includes a series of 10 pale grey sculptures that wrap around bus shelters, which simultaneously obscure the transparent glass structure, and offer a small bench for seating. Meanwhile, 100 posters fill spaces normally used for advertisements with documentary images, statistics, or poetry pertaining to Human Flow and the refugee crisis. Ai has also adorned lampposts around the city with elegant, perforated vinyl banners that feature the portraits of real and historic refugees.
Other, more traditional fences have been installed across the city, including a series of chain link structures that can be found mounted on buildings (one can be found on East 7th Street near 2nd Avenue, a few doors down from the basement apartment where Ai once lived). There's also Circle Fence, a barrier that loops around the Unisphere in Queens, composed over over 1,000 feet of rope netting mounted on metal stanchions. The symbolic site was chosen not just due to the iconic globe—synonymous with international unity, as it was the center of the city's World's Fairs in 1939 and 1964—but also for the community that surrounds it, home to a richly diverse population of immigrants. The work had already drawn fans on Tuesday morning, including some who turned it from a barrier into a place of relaxation: Lingering tourists and local families were nestled in its web, lounging on the fence as though it were hammock.
Ai said that he initially struggled with mounting such a monumental show in a city that was close to his heart. "I was quite hesitant because it's a city I love so much," he explained. "It's not easy for me to just put a simple sculpture in the city. I have to do something to pay back my respect, my love."
That love traces back to the decade the artist spent in New York, between 1982 and 1993, during which time he lived in the East Village and the Lower East Side, enrolled at Parsons and the Art Students League, and took a
huge number of photographs
. Ai said it was difficult to live in the city, but even so, recalled it as the place where every young artist wanted to be. "I learned so much from this city," he said. "[In] this city you never feel you are a foreigner," Ai continued. "New York is great only because New York is mixed; there's people from everywhere, and they are so passionate."
He felt the refugee crisis was a fitting topic through which to engage a New York audience, particularly now. The city's vital immigrant communities certainly inspired a great deal of the exhibition. But so, too, have nationalist and anti-immigrant policies that have become pervasive across the country—namely the current administration's "travel ban," and the nationalist movements that have gained steam in United States and across western Europe.
It's no coincidence that Gilded Cage, Ai's massive gold birdcage, sits in view of Trump Tower, just blocks away down Fifth Avenue. "The project was made for the people of the city; of course, if he's a resident of the city, President Trump is also welcome to enjoy this sculpture," he said, and then quipped: "I made the sculpture gold to please him, you know, to make it very friendly."
Ai wants to inspire everyday viewers to get involved. But such a call to action isn't immediately evident from many of the fences and other sculptures. Wandering into Gilded Cage, for example, one encounters five turnstiles, positioned behind bars, out of reach; the piece raises questions of access and movement. Inevitably one is left looking up, uncertain of what comes next.
Elsewhere, the fences operate as even more subtle metaphors. Five of them fill the archways on the facade of Cooper Union's building on Astor Place.
Here
, we see "the idea of existing structures that a fence can then simply attach itself to," Baume said. "What we have always thought was open can suddenly be closed, it doesn't ask our permission, we wake up one day and there it is."
That sentiment recalls a moment in Human Flow, where Ai's crew, stationed at Idomeni, speaks with a family of Afghan refugees as they find out that the Macedonian border had been closed to them; they hadn't expected it to be closed for months. When asked what their plan is, the younger woman replies, "We don't have a plan," laughing nervously. "We can't go back. No one leaves their country lightly. You only put yourself through the hardship of fleeing in order to find safety. To find peace somewhere."
The Afghani woman's optimism materializes with the final of Ai's three major works, which fills the opening under the Washington Square Park Arch. The large silver cage has a shiny stainless-steel passageway cut through it in the shape of two people huddled together. The motif was inspired by a work of
A small crowd ogles the arch within the famous arch; they take photographs of it, then walk through (some stop to take an inevitable selfie in the gleaming mirrored interior). A symbolic channel from point A to point B, it represents a border that's been reopened; a way to safety and peace. In Ai's words, "a door obstructed, through which another door opens."
Casey Lesser is Artsy's Creativity Editor.