Alex Brewer (aka HENSE) Channels the Rhythm of the Streets in New Graffiti-Inspired Paintings
Though the paintings, prints, and works on paper by Alex Brewer (aka
currently on view
at Detroit's
Library Street Collective
, came out of his studio, they stem from the street. It was the artist's early passion for graffiti that led him to where he is now: between his studio in Atlanta and galleries, museums, and public spaces around the world where he shows striking abstract paintings, in which expressive gestures and vivid forms join forces. But while his place in the professional art world is now firmly secured, he has never forgotten where he began making work—on city streets. 
Brewer credits his artistic family with instilling in him an appreciation for art early on; but it was graffiti that awakened his creativity. In his teens, in the 1990s, he adorned the streets of his native Atlanta (where he still lives and works) with text-based tags that visualized his pseudonym in different fonts. Sometimes angular and scrawled across train cars, sometimes balloon-like and painted over long outdoor walls, "HENSE" cropped up all over the urban landscape. The tag was a vehicle for experimentation, allowing Brewer to explore a diverse array of colors, styles, and substrates. For the young artist, graffiti also provided a meaningful art education—"a learning tool," as he 
describes
 it.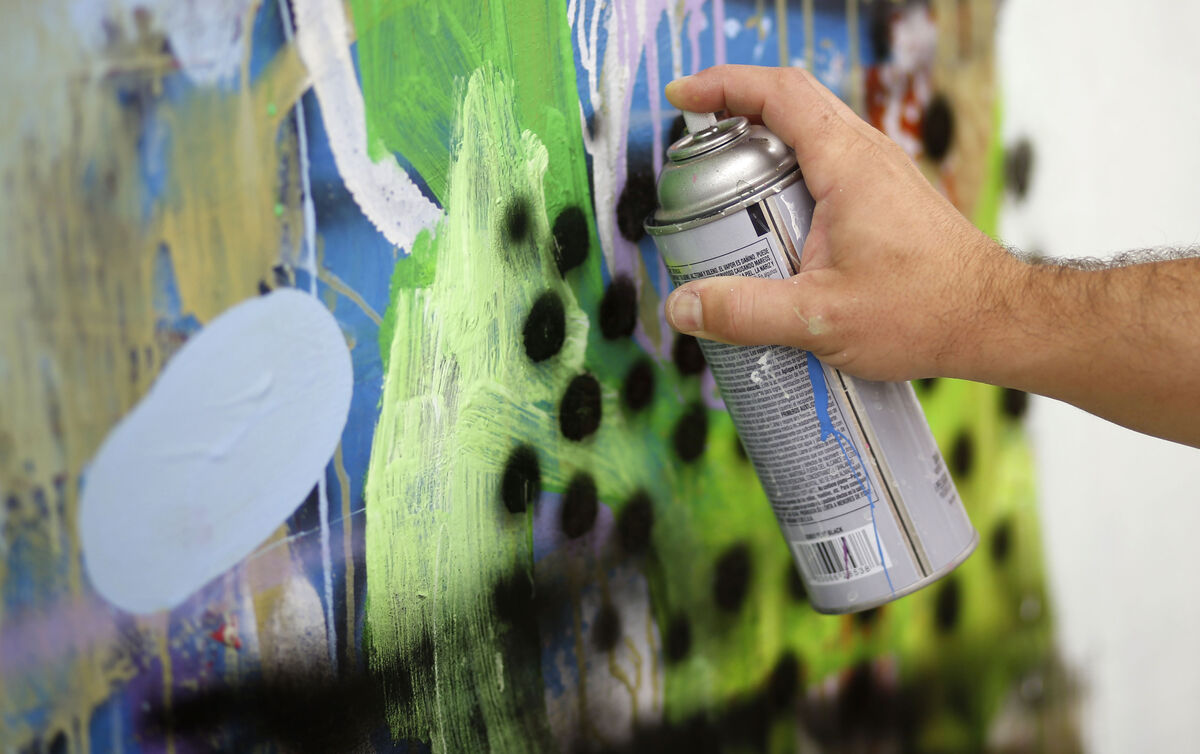 Like many other graffiti artists—including
As his new body of work at Library Street Collective attests, Brewer is no stranger to formal considerations and fine art materials. His large-scale mixed media paintings are jam-packed with swaths of color, expressive brushstrokes, and veils of dripped pigment. His medium-scale monoprints feature a handful of vividly colored forms floating on white backdrops; small drawings executed in paint and ink pop with intersecting lines, dots, and blobs. These pieces channel the punch and compositional complexity of his public murals and sculptural works, and demonstrate his interest in materials, color, line, and scale.
The artist thinks of his recent works on panel as a form of collage, in which, as he
describes
, he adds and subtracts different forms until the work feels finished. The results could be described as an elegantly choreographed cacophony, in which loosely geometric forms jostle one another and, in some of his paintings, rub up against kaleidoscopic patches of pigment. At their generous size, these works engulf viewers, sweeping us up in their visual rhythms—in which you just might detect the pulse of the street.