Alex Strada Is Contractually Binding Her Collectors to Support Emerging Female Artists
Alex Strada & Tali Keren, National Park, 2017. Image courtesy of Scott Lynch, Socrates Sculpture Park.
New York artist Alex Strada used to not give much thought to artist contracts. She's hardly alone. Even though large swaths of the art world—from museum exhibitions to art fairs—depend on dense legal agreements, you're not going to find a legal class on contracts as a required course at Columbia University's visual arts program, from which Strada received an MFA in 2016.
But what if the invisible legal documents that make the art world go round were not only more conspicuous, but were also a mechanism through which to address the art world's gender imbalance?
That's the question Strada is posing through her recently unveiled
artist contract
, which, among other provisions, requires anyone who purchases one of her works to sell it 10 years later and use the accrued proceeds to buy a piece by an emerging female artist.
"Purchasing [my] work means buying into and supporting that fairly underrepresented demographic within the art market," said Strada, herself an emerging female artist. The contract's 10-year resale provision aims to project that support into the future.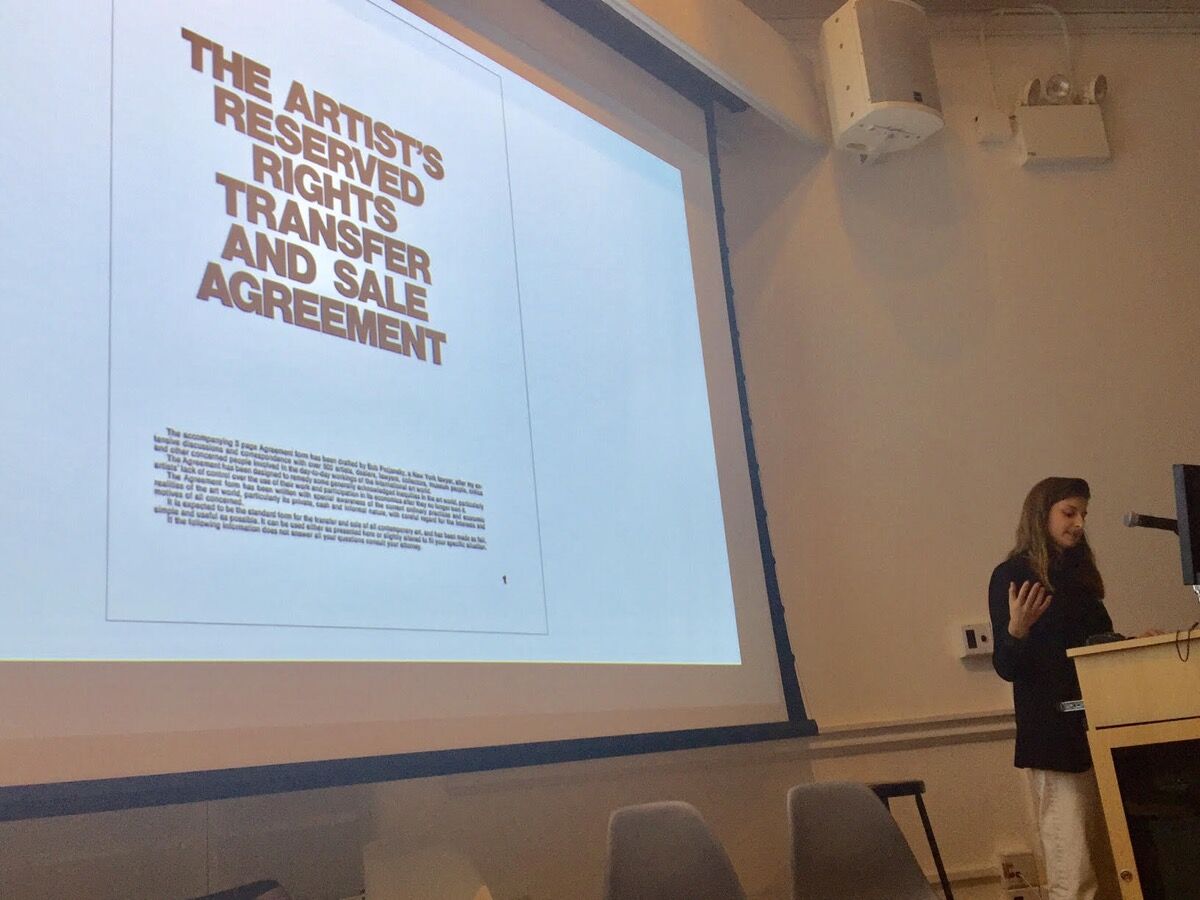 Oral Arguments, October 28, 2017, NYU. © The Art & Law Program. Courtesy of The Art & Law Program.
This isn't the first time an artist has looked to contracts to create a more level playing field in the art world. Strada was inspired by the Siegelaub agreement—a contract drawn up in 1971 by gallerist (and later textile artist)
Siegelaub
described
his original contract, which has never been tested in court, as a "practical real-life, hands-on, easy-to-use, no-bullshit solution to a series of problems concerning artists' control over their work." In addition to helping address the economic imbalance between artist and collector, the contract also serves as something a piece of
Strada came across the Siegelaub agreement, and began developing her own version, while enrolled in the Art & Law Program, a semester-long seminar run by lawyer Sergio Muñoz Sarmiento that explores the conceptual and tangible intersection of the two fields. Of the artists who have adopted the agreement, (who include
"I was really excited by the idea that contracts could be a place to infuse my own political beliefs, feminist beliefs, and views of how the art market could potentially work," Strada said.
Strada worked with Sarmiento off and on over the course of a year to draft the version that she unveiled on her website in late October. Like the Siegelaub contract, it's a conceptual work in itself, highlighting the legal and other back office work that underpins and protects creative production. It includes a provision that the document itself must be displayed in some form next to her artwork when on view. The wording of the document leaves some creative flexibility: The display of the contract can be two or three dimensional, even performed live or "distributed in any manner" that Strada and the signee agree upon.
"Part of having the contract there is to remind people of all of the bureaucracy it took for that [artwork] to get there," Strada said.
While Strada's and Siegelaub's contracts are legally binding, they rely more on the force of norms and mutual respect between artist and collector. A collector who buys a piece from Strada could challenge the agreement in 10 years; courts tend to frown on contracts that burden what people can do with their property. But would a collector really sue? Haacke has noted that, for the most part, those who buy his conceptually-charged political works are typically aligned with the ideas of equity in the contract he attaches. Strada said the same is likely going to be true in her case.  
"I'm trying to attract people to the project who, in and of themselves, are invested in these ideas," Strada said. The contract creates not just a legal obligation but an element of collaboration between the artist and the collector—they're both working towards a goal of supporting emerging female artists. "It gives you a firmer road map than if it was just an oral promise," said Sarmiento. "If they sign it, they're on board with it."

Alex Strada, windows on the world, 2016, photography and audio installation. Courtesy of the artist.
That's part of the reason why the term "emerging" is left intentionally vague by the contract. "Emerging artist" is notoriously tricky to define since it can't simply be reduced to an age range. So rather than limit what emerging means, Strada is anticipating that collectors invested in the idea of selling her work in 10 years to buy an emerging artist aren't going pick up a
It remains an open question whether a dealer would embrace the document with similar warm sentiments. Strada, who has
said in the past
that she is not very interested in following the route of the commercial gallery, does have a work on view at Queens's Socrates Sculpture Park, where she is an emerging artist fellow, created in conjunction with artist
In many ways, the art world has changed drastically since 1971, when Siegelaub first minted his contract. But the economic and power imbalance between collectors and artists, which the agreement sought to remedy, still endures. Strada's contract, though still in its early stages, has the potential to increase support for emerging female artists. It is a timely and creative experiment in the possibilities—and potential limits—of using legal methods to reshape the art world.
Isaac Kaplan is an Associate Editor at Artsy.
Stir Creativity
See how Bombay Sapphire supports artistry.
Sponsored by Bombay Sapphire