Alexander Calder's Jewelry Turns People into Living Sculptures
In 1930, a 32-year old
"I thought this would do for a wedding ring," the American sculptor recalled in 1966. "But Louisa merely called this one her 'engagement ring' and we had to go to Waltham, nearby, and purchase a wedding ring for two dollars." Calder would continue to gift his wife with handmade jewelry throughout their marriage: brooches inscribed with the date of an anniversary or birthday, statement necklaces hung with shards of colorful glass, and even buttons for a coat.
While she was his greatest muse, Louisa was far from the only one to wear Calder's creations. The artist made more than 1,800 pieces of jewelry during his lifetime, the very first of which he crafted for his sister's dolls at the very start of the 20th century. It wasn't until age 29 that he returned to jewelry-making in earnest.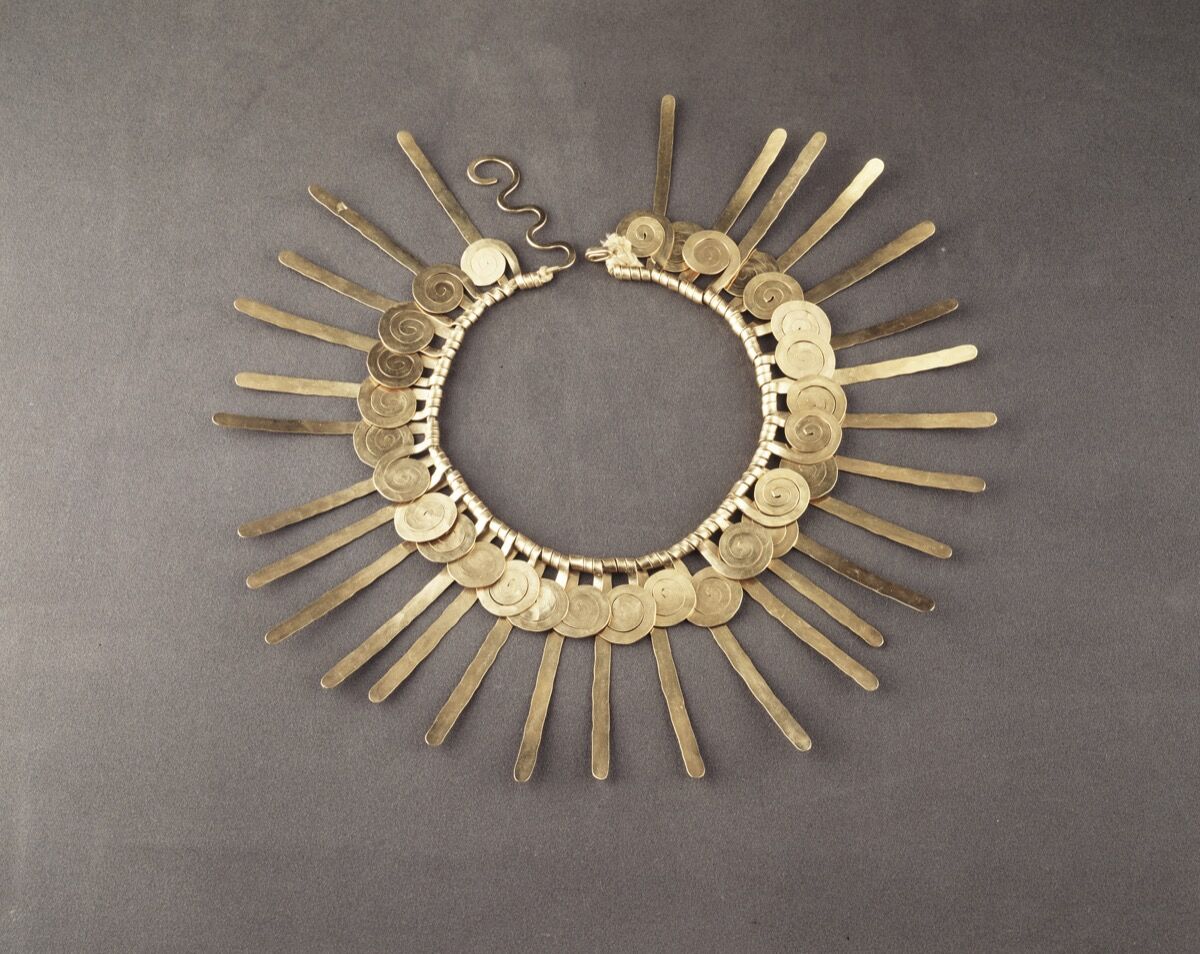 At that time, Calder was living in Paris, creating ringmasters, tightrope walkers, and lion tamers to populate his miniature circus, dubbed
Cirque Calder
. His fluency with metal wire made it easy for him to twist and hammer out simple bracelets, necklaces, and rings. Throughout the 1930s, Calder continued to make jewelry as a way to supplement his income. His prices were eminently reasonable—
Philadelphia Museum of Art
curator Elisabeth Agro says one of the Calder brooches in its collection was originally listed by the artist for a mere $25.
Soon, his work adorned several of the most high-profile women in New York City. "Every woman in New York who is fortunate enough to be decorated by a Calder jewel has a brooch or a bracelet or a necklace," powerhouse collector Peggy Guggenheim once boasted. "I am the only woman in the world who wears his enormous mobile earrings." Mary Rockefeller often sported a brass Calder necklace at modern art exhibitions, one that "required a little elbow room" because of its dramatically flared sides.
This is one hallmark of Calder's jewelry: a lack of attention to comfort. "Too big or unwieldy, his objects are not 'jewelry' in the conventional sense," writes curator Mark Rosenthal in a catalogue essay. "Instead, Calder's jewelry may be seen as a sort of
Agro, who co-curated a show of Calder's jewelry at the Philadelphia Museum of Art in 2008, said the artist saw no separation between his sculptures and his more diminutive earrings or necklaces.  "He saw invention in everything, that is what made him a genius," she explains. "He applied his vision as a sculptor to almost anything. He saw people as functional forms in which to hang further dangles in order to create movement beyond our appendages."
And each one of these works was unique. Calder received a number of offers to start mass-producing his jewelry, but he always declined. "Mass production makes me think of paintings of Martha Washington on the insides of candy boxes," he once said. "Ought to make people get thin, but somehow it doesn't work."
Calder made each and every piece of jewelry by hand, eschewing traditional jewelers' techniques like soldering or welding. Often, they were created with specific family members or friends in mind.
Sometimes, however, his gifts were even less premeditated. "You were at a dinner party, if he liked you, he'd get up from the table, disappear into his studio, and half an hour later you left with a brooch or bracelet," Agro says.
Many of his pieces incorporate objects that might otherwise have been discarded, like broken bottles, shattered porcelain plates, and even his daughter's extracted molar. "You know when you're walking on the street and find a cool little button that fell off someone's shirt, or you're on the beach and you see an interesting seashell?" Agro says. "What do you do with it? You put it in your junk drawer. Calder did the same with found treasure, in a way, but he put them into his jewelry."
One of his earliest pieces was a necklace for his mother. A gift for her 64th birthday, it was made from shards of ancient pottery he picked up off the ground in Corsica and then placed in wire settings.
"I have been making a lot more wire jewelry," he wrote in the accompanying letter, "and think I'll really do something with it, eventually."