Anna Boghiguian Explores the Violence of History through a Personal Lens
Anna Boghiguian, Woven Winds: The making of an economy – costly commodities, 2016.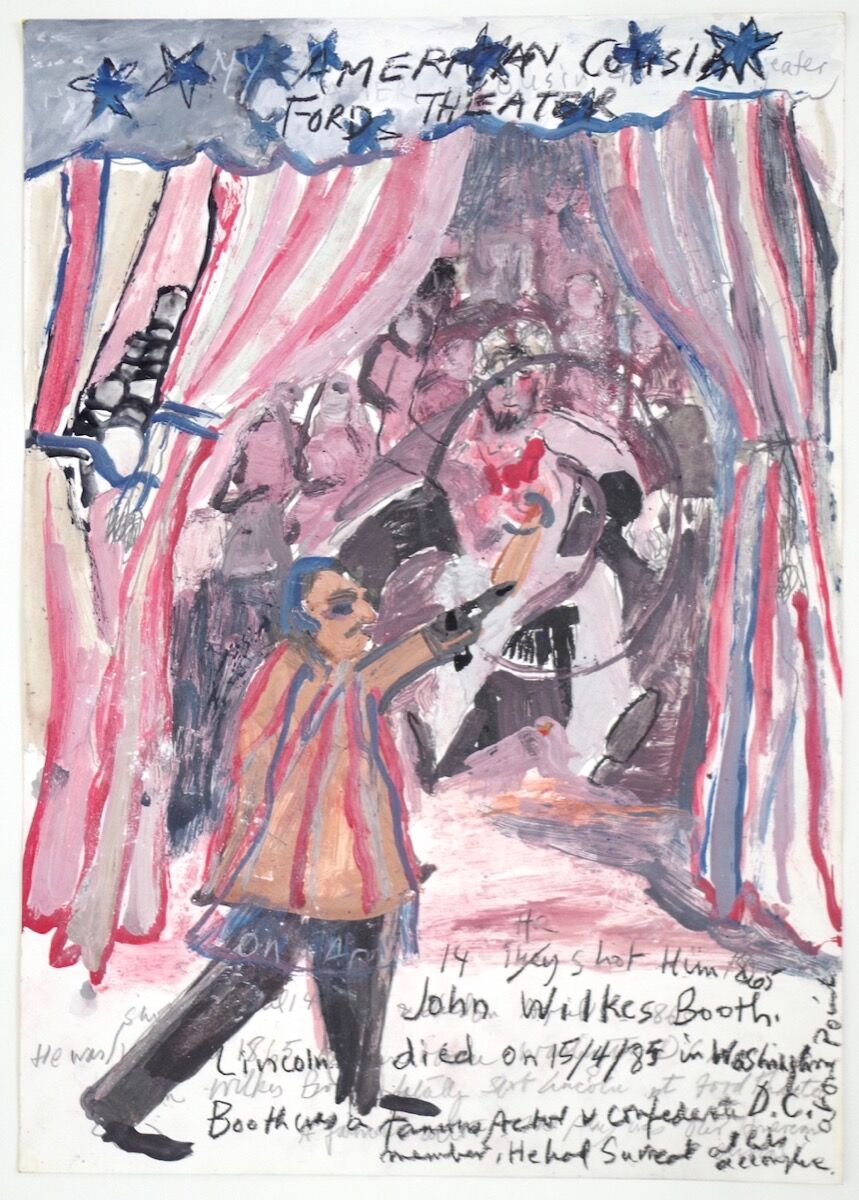 Anna Boghiguian, Woven winds: The making of an economy – costly commodities, 2016.
The artist
This past week, I met Boghiguian at the
New Museum
, where her first U.S. solo exhibition, "The Loom of History," is on view through August 19th. The show is full of work in which ears represent the importance of keen listening and questioning in a world where leaders have a tendency to lie.
"The Ear knew of its emperors…its suppressions and oppressions, and of its Revolt," reads part of a text that Boghiguian painted on the walls of the exhibition space. She placed the phrase behind a screen of recent collages covered with images of history's most recognizable dictators and today's populist and alt-right leaders. They collide with cutouts of animals, stills from horror films, floating body parts, and Boghiguian's own frenetic scribbles. The resulting compositions are both funny and very frightening.
Anna Boghiguian, Untitled, 2016. Courtesy of the artist and Sfeir-Semler Gallery, Hamburg/Beirut.
In some, Boghiguian interprets historical events with a darkly comedic twist. One collage riffs on the time, in 1998, when then-British prime minister Margaret Thatcher invited Chilean dictator Augusto Pinochet for tea. In Boghiguian's rendition, a gorilla joins them at a table set with two cups and a dirty toilet. Another shows an image of U.S. president Donald Trump's screaming face next to the wide-open, smiling maw of a monkey. A disembodied ear hovers in the corner, a witness to absurdity.
"That's one of the ways her work is very powerful," said Natalie Bell, the exhibition's curator. "That she can have a micro perspective, and then a macro, as well. She's thinking not just globally, but across history."
This series, "In the World: East and West, North and South," unfolds like a timeline of the world's authoritarian leaders, interspersed with images of wild-eyed animals, fire, and Hitchcockian villains. "We're often not aware that we're being wooed by a despot," as Boghiguian told me.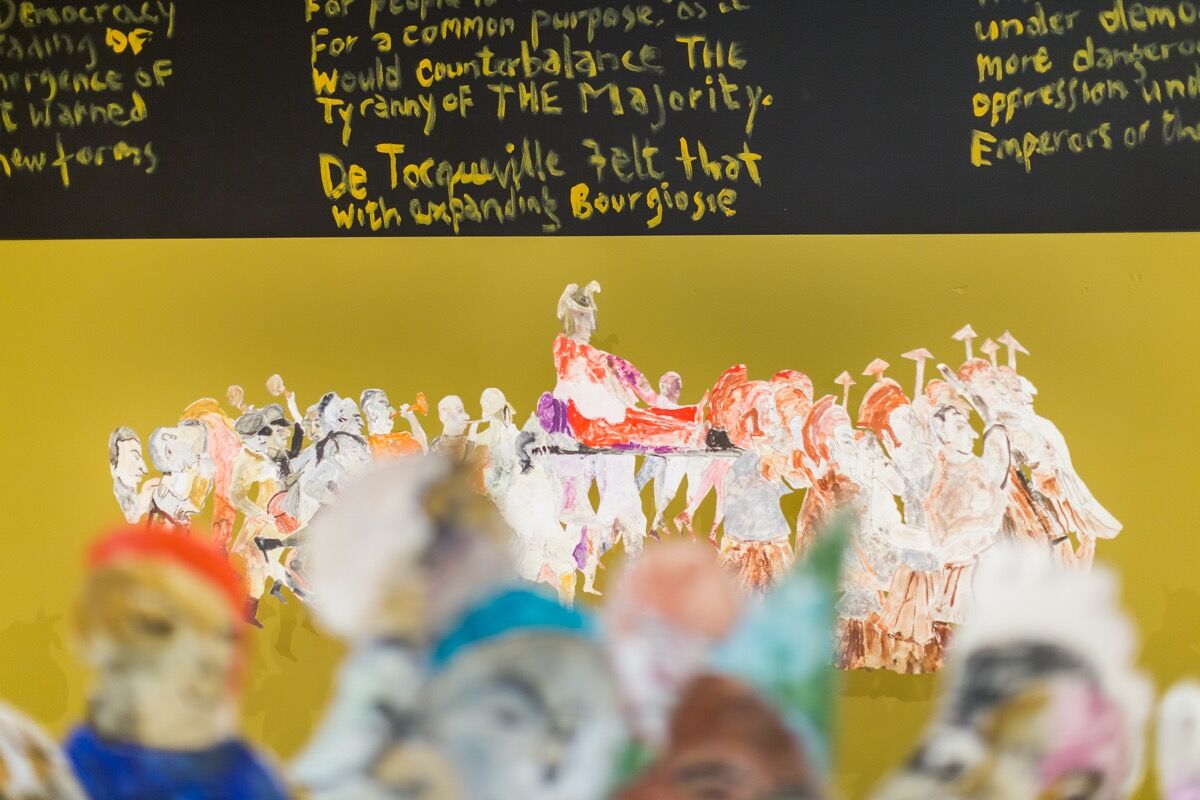 Since Boghiguian began making art in the 1980s, she's immersed herself in themes of power, trade, war, displacement, and oppression. These are global concerns, but they're also personal: Boghiguian grew up in Cairo, the granddaughter of survivors of the Armenian genocide.
As a young adult, the artist studied political science and the writings of philosophers like Nietzsche and Hegel. Later, she took up art. She began traveling extensively, too, mapping the world through her wanderings and research, creating drawings and diaries to document what she experienced. The curator Carolyn Christov-Bakargiev, who organized a retrospective of Boghiguian's work at the Castello di Rivoli last year, has referred to Boghiguian as "always on the go" and "at home and in exile everywhere."
Though she keeps a home and studio in Cairo, Boghiguian often lets her hungry curiosity lead her around the world (India has long been a favored destination). She is interested in how history has affected the present, and it's these patterns that power her travels. Eventually, she interprets them in her artworks.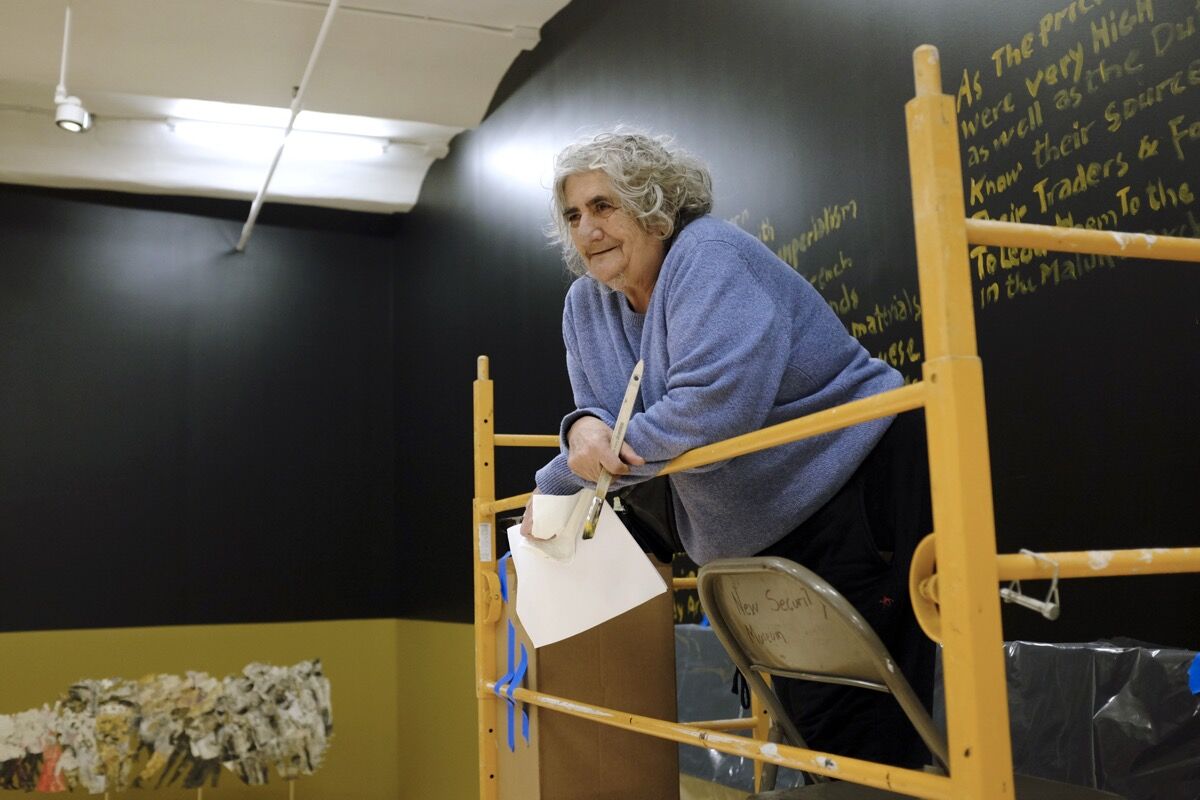 Anna Boghiguian installing "The Loom is History," at the New Museum, New York, 2018. Photo by Chloe Foussianes. Courtesy of the New Museum.
In 2012, for Documenta 13 in Kassel, Germany, Boghiguian contributed a sprawling installation entitled Unfinished Symphony (2011–12). Across more than 100 drawings, she connected Nazism and the genocide it spawned to the colonialism that preceded it. The drawings read like a book documenting the suffering and forced exile that results from dictatorships, as well as the "never-ending circularity of history," as Christov-Bakargiev has written.
Since then, Boghiguian has continued to emphasize this circularity by drawing additional lines between past events and present conflicts. "The Loom of History" at the New Museum not only connects past dictators with the current rise of populism, but also ties colonialism to the cotton industry to slavery and, finally, to the unrelenting oppression of people of color in the U.S.
Boghiguian succinctly links these events in Woven Winds / The Making of an Economy - Costly Commodities (2016), an installation of drawings, collages, and free-standing cutouts included in the show. The work explores the rise of global trade through depictions of sea travel, slaves working in cotton fields, the Civil War, and images conveying human greed. In one powerful work on paper, Boghiguian paints a tower of dollar bills, which, as a scrawled text points out, are also made of cotton.
Installation view of Anna Boghiguian, "The Loom is History," at the New Museum, New York, 2018. Photo by Scott Rudd. Courtesy of the New Museum.
Boghiguian's practice doesn't only focus on the agents of oppression, however; she also shows the revolutionaries who have repeatedly risen up against them. The painted cutouts arranged across the floor of the exhibition depict groups marching in protest. "They are the cultivated people. People who want a change of life," Boghiguian told me. "The people of the revolution today."
One figure, who seems to be leading the pack, has a massive ear, as if listening intently to the concerns of those who surround her. Another opens his mouth wide in protest. Nearby, a phrase from Boghiguian's painted wall text seems to suggest that, even in a sea of power-hungry leaders, attentive individuals can still affect change: "The Ear has histories and peoples, music and dance, and the Rituals that unite the Cosmos. The Brain searches for the Truth, the mouth recites what the Brain has sent to the mouth and with the Tongue, words take shape."
Alexxa Gotthardt is a contributing writer for Artsy.
Stir Creativity
See how Bombay Sapphire supports artistry.
Sponsored by Bombay Sapphire