At Art Basel Opening, a Pair of $14 Million Joan Mitchell Sales Shows Surge in Market for Women Artists
The world's top collectors streamed into the 49th edition of
Art Basel
in Basel, Switzerland, on Tuesday morning to see the top offerings from 290 galleries at the world's premier contemporary art expo, where, in the past, more than $3 billion of art has been up for sale. In the first few hours, a work by the
Hauser & Wirth
booth for $14 million to a European collection. The price was high for the artist—it was not far off from the $16.6 million auction record set for her at Christie's post-war and contemporary art auction in May.
It was one of nearly a dozen works by Mitchell spread out over at least seven galleries, all carrying prices that several dealers said have been pushed markedly higher than in years past by a rising interest in female artists. There's also a growing understanding that Mitchell should be selling for as much as her contemporaries, who included
"It was obviously a time for a correction in perception, and in price, for her—as with a lot of women," Hauser & Wirth co-owner Iwan Wirth told me while standing in his booth Tuesday afternoon.
As we talked, the Mitchell painting that sold, Composition (1969), loomed in the background. It is a visually striking work with an explosion of yellow blooming up to the top left of the white canvas, and swirled purple and red figurations falling down below it.
Wirth said that he's aware of these trends, but has also simply brought work by Mitchell to Art Basel for years, and has held multiple exhibitions of her work at its galleries. In fact, this very work was last sold out of a show at the Hauser & Wirth London space in 2007, Wirth said. He did not reveal the earlier price paid, but acknowledged they've gone up considerably in that time.
"We've always sold every Mitchell that we've brought to Art Basel, the prices have just moved," Wirth said.
Later in the day, Zwirner sold an untitled painting by Mitchell from 1958 to an Asian collection for an asking price of $7.5 million, after it was circled by three collectors and institutions all afternoon. And around the corner,
Lévy Gorvy
also had a significant work by Mitchell, a large untitled work from 1959 dominated by a thrashing of blood red, priced at $14 million—by mid-afternoon, it was on hold for a collector, and gallery co-owner Brett Gorvy said the deal was hopefully forthcoming shortly. When asked how the gallery priced the work, Gorvy revealed that in the past year, he's sold five Mitchell works privately for figures between $12 million and $14 million, and in the years to come, Mitchell's market is poised to go much higher. (After the publication of this story, Lévy Gorvy told me that the Mitchell was confirmed as sold in the last hours of the fair.)
"When you have a strong market force, the prices change—shortly, we're going to see $20 million to $30 million Mitchells," he said.
Gorvy said that Mitchell has long been a staple of German and Swiss collections, and that the new interest comes from a reevaluation of her as an Abstract Expressionist—and her role as a woman artist in a male-heavy movement.
"She's a female artist, but she's also an artist who's been a time coming," Gorvy said.
A few booths away,
Van de Weghe
had sold a giant Mitchell diptych—
No Room in the End
(1977), 9 feet high and nearly 12 feet long—for an undisclosed price, but other dealers were still working on selling their works by the artist. Often, collectors prolong pulling the trigger in the opening hours of the fair, even if several galleries had pre-sold some of the big-ticket items. (Over the weekend in Zurich, I heard from a source close to the gallery that Hauser & Wirth had already found a buyer for
Passage
, 1973–74, from the collection of Giuseppe and Giovanna Panza, which their daughter consigned in full to the gallery. The asking price was said to be $14 million.)
Richard Gray
had a smaller untitled work by Mitchell on sale for $2 million that was still available by the afternoon.
David Hockney, Chrysanthemums, 1996. Courtesy of Pace Gallery.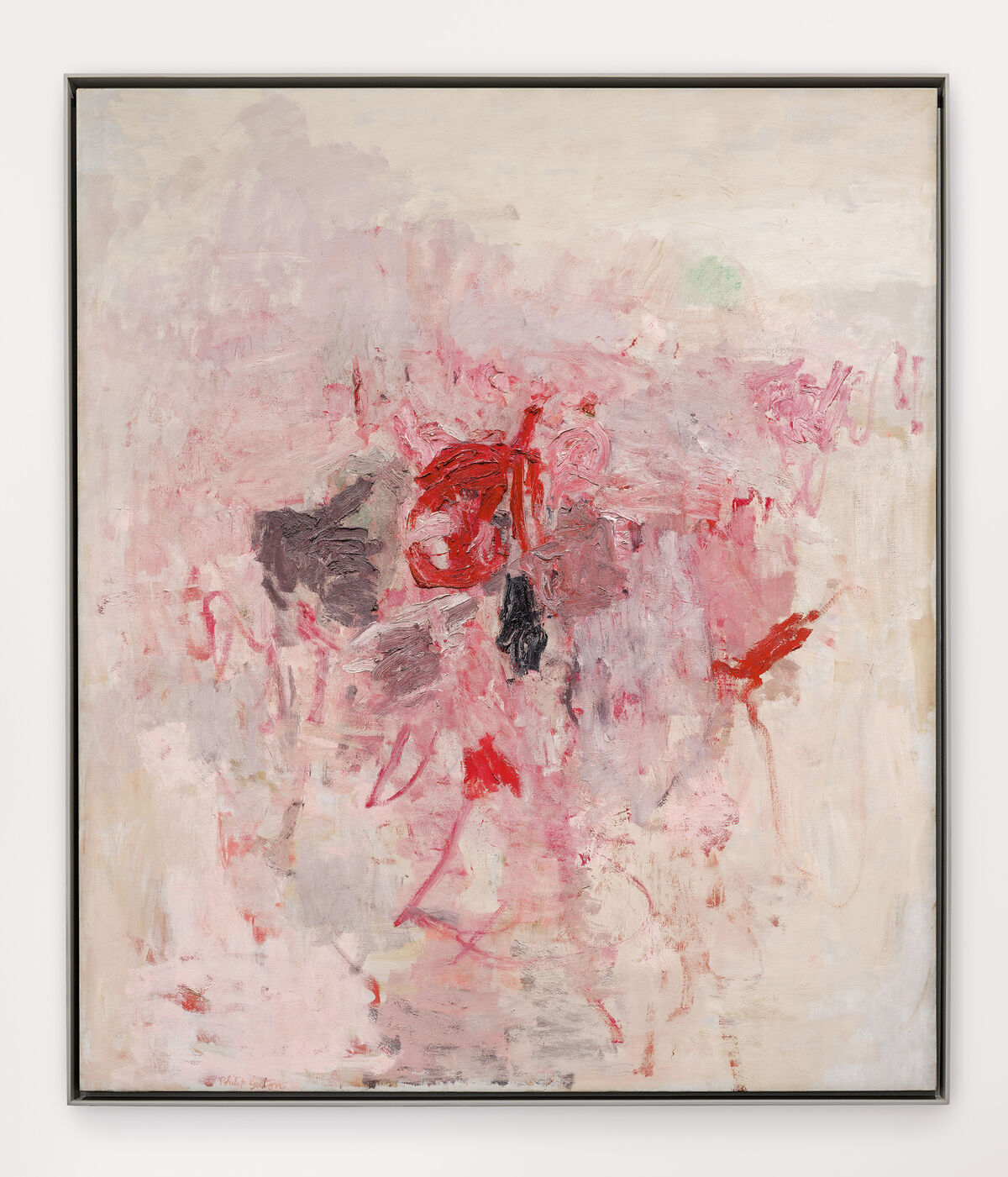 Philip Guston, The Visit, 1955. © Philip Guston. Courtesy of the artist and Hauser & Wirth.
And at
Cheim & Read
, the New York gallery that represented Mitchell before the foundation moved to Zwirner this past May, had a 9-foot-tall painting,
Red Tree
(1976), that had not yet sold at the price of $6 million. But gallery owners Howard Read and John Cheim said they were certain it would sell; the interest in her work in general affected them, as well, even if Read made it clear that "the new interest is everywhere else—we've been showing her in the Basel art fair for
years
."
"There's an explosion, and now you see it on every restaurant menu in Basel," Read continued. "There's a hunger in the market. She's being recognized as one of the greatest Abstract Expressionists, and it helps that now there's all this interest in art made by women."
Cheim added that his gallery has long been a champion of women artists, and was not just showing work by Mitchell and
"I think they could be $30 million or $50 million," Cheim said. "If Franz Kline can be, why not Joan Mitchell?"
There were several other big sales in just the first gasp of the fair—
The Visit
(1955) went for what Wirth would only say was more expensive than the $16 million Mitchell he sold. The gallery also sold
The Three Graces
(1947) for $4.75 million. Galerie Thaddaeus Ropac sold
Death Star II
(2017/2018), for $1.5 million to a European museum, and
Ruby Re-Run (Spread)
(1978) for $1.45 million to a European collection.
Pace Gallery
sold
Chrysanthemums
(1996) for $2.5 million.
Lehmann Maupin
sold out all of its work by
There are plenty more sales to come, as Art Basel will be open on the Messeplatz through Sunday.
Nate Freeman is Artsy's Senior Reporter.
Stir Creativity
See how Bombay Sapphire supports artistry.
Sponsored by Bombay Sapphire