The Art of China's Empresses Reveals Their Powerful, Secret Lives
At the onset of Empresses in the Palace, the 2011 miniseries that caused a sensation in China, a beautiful young woman, Zhen Huan, is paraded before the emperor. She is one of many marriage-age girls who have been summoned to Beijing's Forbidden City to be considered for the Yongzheng Emperor's harem. Although it is an honor to be chosen as an imperial consort, Zhen is dismayed—she must leave her family behind and enter into a new life of luxury, restriction, and scheming ambition.
In the historical epic, set against the backdrop of the flourishing
The real women who lived in the palace are shrouded in mystery, but Daisy Yiyou Wang and Jan Stuart—the curators of a new exhibition that delves into the empresses' lives—emphasize that the TV show is a dramatization. At least, there's not enough evidence to prove that the salacious backstabbing and love affairs that dominate the plot actually took place.
"Empresses of China's Forbidden City, 1644–1912," a collaboration between the Palace Museum in Beijing; the Peabody Essex Museum in Salem, Massachusetts; and the
Freer and Sackler Galleries
in Washington, D.C. (where it is now on view), capitalizes on the popularity of such costume dramas. The exhibition centers on five empresses' little-acknowledged influence on art, religion, and politics through the furniture and objects they used, the paintings they enjoyed, and the jewelry and clothes they wore.
The relative obscurity of these women runs counter to our understanding of royalty today. "If you watch the royal wedding in England, it's a public affair, a spectacle," Wang said. "Back then, imperial women were probably completely invisible to the general public." In European monarchies, copies of rulers' portraits were circulated around the world for others to venerate; in China, access to imperial powers was a privilege, their images considered sacred.
The curators also knew they were up against pernicious gender bias in their field. Scholars of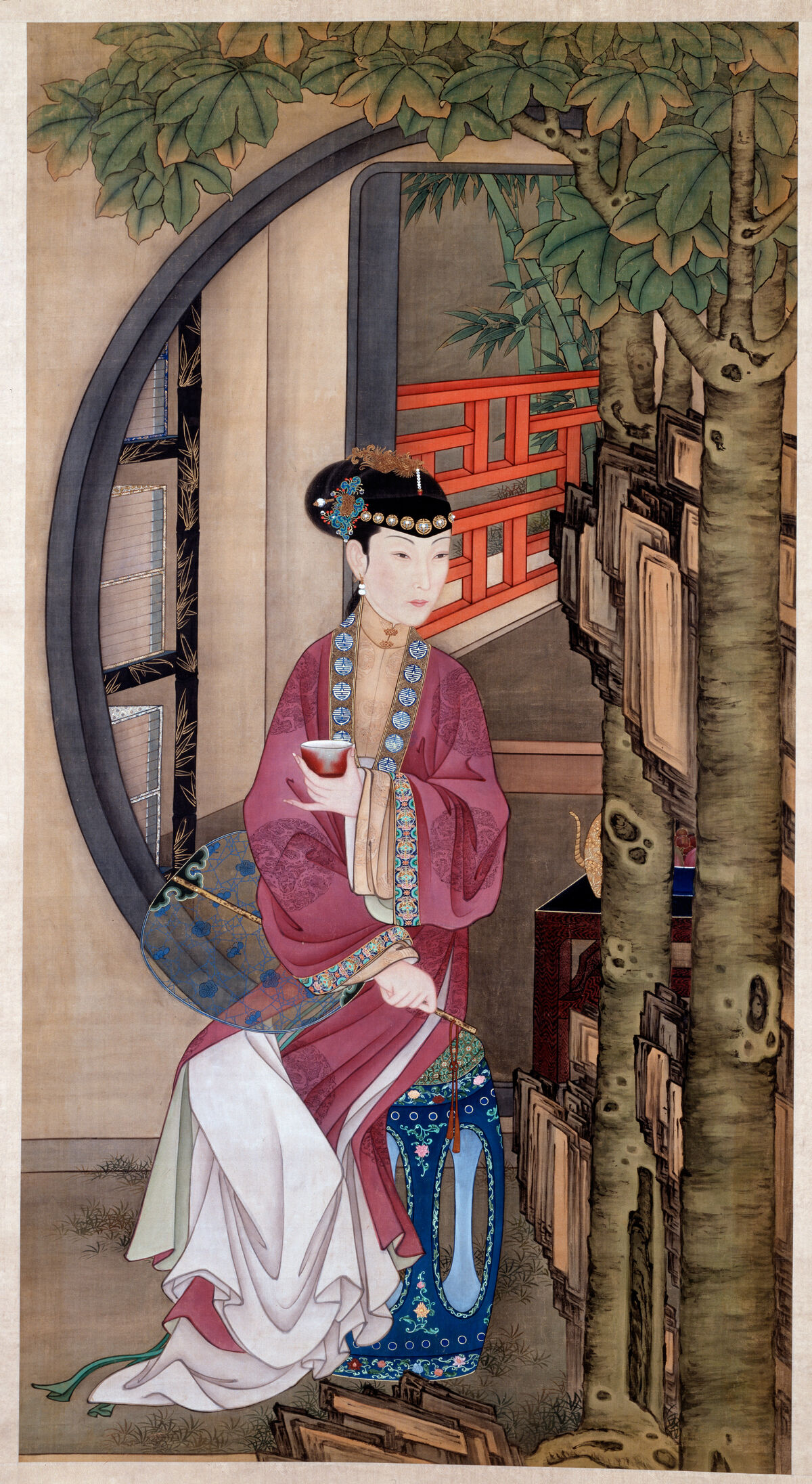 The curators found that the quality of art and objects owned by these high-ranking ladies matched those of the emperor, though they didn't always feature the same motifs. "There's a longstanding thought in Chinese culture that if you have good omens, images of what is desired surrounding a person, that can help actualize the goal," Stuart said. Thus, women in the court found themselves surrounded by images of mothers and sons, or symbols suggesting fertility—a woman holding a seeded gourd, or two interlocking jade circles, a reference to continuity.
Their quarters were decorated with exquisite pieces of furniture. One delicate lacquer cabinet in the exhibition—whose staggered shelves offer discreet places to put personal treasures—is painted with a delicate landscape scene and auspicious motifs like the bat. Each piece in an empress's living space was similarly spectacular and refined.
Still, the lives and activities of these women have been obscured for centuries. The Qing court, like many other monarchies around the world, had a patrilineal structure. There was a tradition to record the emperor's life in great detail, but no such tradition for his wives. "To say they're not documented at all," however, "would be a false statement," Wang said.
Often, the influence of the empresses is only obliquely referenced in archival documents written by the emperor, and so they are characterized from their husband's or son's point of view. "Although it's not strictly articulated, you can get a very strong hint that many of these women were educated, they could talk about state affairs, and be the soulmate of their husband," Wang said. The empress was also expected, like women all over China, to be a good household manager.
To navigate the intense competition at court, savvy networking with both men and women became paramount for success—and survival. The women who rose to power in the imperial court were those who understood the rigid social codes and worked to exploit their possibilities. Their influence on state affairs "was more about subtle subversion than overt," Wang said, and often went undocumented.
Shrewd dowager empresses took advantage of traditions of filial piety, which demanded that the emperor bow to no one—except for his mother. "That quirky fact is a nice way to be reminded that in the Manchu culture, women actually had dignity, authority, and status," Stuart said. Empress dowager Chongqing was visited by her son, the Qianlong Emperor, almost every day, Stuart observed, and though her advice—on battle strategy, or how to pray—was not always recorded, we know from historical records that he did, in fact, follow her suggestions.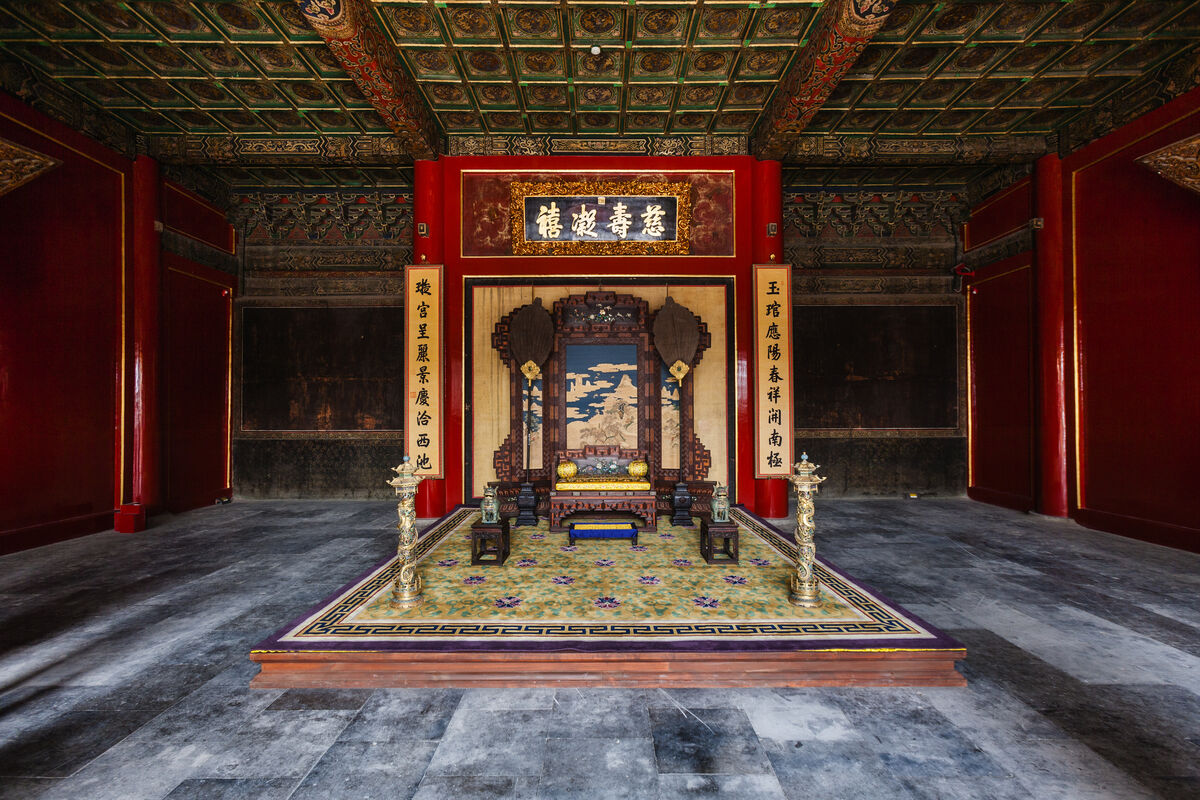 Empresses could additionally wield influence as religious patrons. Empress Xiaozhuang, who was Mongolian, was the first person to bring a dedicated worship of Tibetan-style Buddhism to the Qing court, which became the main religion practiced there. As part of her patronage, she commissioned a tremendous amount of high-quality art for the temple near her residence. A portrait of Xiaozhuang from around 1750 appropriately shows the empress in a monkish brown gown, clutching prayer beads.
The Qing dynasty's last empress, Cixi, achieved an unprecedented level of overt influence, "controll[ing] the power of the court for more than 40 years," Wang said. Cixi played up her position as the senior matriarch to manipulate the men in her life, especially her husband, son, nephew, and grandnephew, all of whom became emperor at one point. When her son ascended the throne as a little boy, Cixi ruled as co-regent with another woman and the emperor's brother. "She must have had incredible people skills," Wang said.
Cixi's subversion of gender roles isn't found in texts, but in art. In the Chinese tradition, the most important person is depicted as the largest figure in a painting. In one work showing Cixi playing chess with her son, she is tellingly shown as bigger than the emperor.
Cixi deeply understood the power of images. At the dawn of the 20th century, invasive foreign powers seeking an "open-door" policy in China threatened the Qing empire. Cixi cannily began to cultivate relationships with foreign diplomats, especially their wives. She sent weekly gifts to Sarah Pike Conger, the wife of an American ambassador. Conger convinced Cixi to let an American painter, Katharine A. Carl, create her portrait. "For Westerners to see the real her rather than a dragon lady—that's the kind of press she got at the time—was quite a coup," Wang explained. She caused a revolution in Chinese court portraiture when she had an official portrait of herself exhibited at the World's Fair.
For the first time, the public was invited to not only know of the empress's great power, but to gaze upon her powerful visage. It was a transgressive moment of significant cultural sway, a "coming out" for the hidden female leaders of China's Forbidden Palace. The curators likewise hope that the exhibition will inspire other scholars of history, Wang said, to pay attention to women's lives. "There's a lot to be uncovered."
Julia Wolkoff is an Editor at Artsy.