With a Low-Key Approach, Marseille Fair ART-O-RAMA Fosters Connections to Emerging Art
Installation View, ART-O-RAMA 2015. Courtesy ART-O-RAMA, Marseille.
There's little doubt that Marseille's year as European Capital of Culture in 2013 buoyed the city's artistic offer. Fresh infrastructure, queues of investors, and blockbuster exhibitions brought some 11 million visitors to the Mediterranean port, a confluence of civilizations and trade. The initiative resurrected the city's urban environment and softened its reputation as an industrial city, with a growing art scene helping propel the rebrand.

But what remains now that the media and investment buzz has died down? The cuboid lattice of the Museum of European and Mediterranean Civilizations (MUCEM), for one—an impressive waterfront icon built for 2013 as an emblem of change, though recently mired in speculation in the French media concerning its long-term financial health.
Installation View, ART-O-RAMA 2015. Courtesy ART-O-RAMA, Marseille.
Alongside this—and the green shoots of an art scene—runs ART-O-RAMA, an art fair known for its intimacy, currently back for its ninth edition at La Friche la Belle de Mai, the hugely successful arts center and former factory near Marseille's Saint-Charles railway station. Opening last Friday and running through September 13th, the fair is backed by local stakeholders and is reliant on collectors and those holidaying in the region for trade. Though, with exhibitors paying just €2,000 ($2,246) for up to 20 meters of wall space, there is scant pressure to sell. Most gallerists come to shore up contacts, make new ones, and benefit from a luxurious VIP program which this year involved a visit to two local collectors' houses—including that of the Marseille psychoanalysts Marc and Josée Gensollen—and exhibitions including an extensive solo show by French artist
Installation View, ART-O-RAMA 2015. Courtesy ART-O-RAMA, Marseille.
Speaking to Artsy, fair director Jérôme Pantalacci was keen to emphasize that following its Capital of Culture year, Marseille now "had the right equipment and space to put on the most professional exhibitions possible." He added that "the face of Marseille has been changed."

In the fair, there was much to complement that sexed up appearance. Gallerists at Geneva space Laurence Bernard were working hard with some of the many collectors present, fostering interest in the €6,000 ($6,739) astral dust and aerosol-on-paper diptych Dust to Dust (2012) by the 25-year-old Paris-based artist Caroline Corbasson. Just opposite, Bertrand Planes's Life Clock (2011), selling for €3,500 ($3,931), displayed morbid numerals representing life years instead of hours, and was also winning fervent interest.
Installation View, ART-O-RAMA 2015. Courtesy ART-O-RAMA, Marseille.
Another highlight was an installation by Georgian artist
Daniel Marzona
. The artist had flown to Marseille to install his graceful curled pieces of burned trees,
Endless Ends
(2015), priced at €9,000 ($10,108). Chachkhiani passionately and articulately described his work as coming from the Georgian village of Tsagveri, a site of conflict in the 2008 Russo-Georgian War: "It's important to use pieces which have elements of the site of the production of violence and that of poetry."

At an adjacent stand, Paris's 22,48 m² had one of the most successful weekends out of any gallery present. They sold at least eight pieces totalling approximately €20,000 ($22,462) from a solo presentation of Parisian artist Cécile Beau, which included geologic plates, lichen-infused rocks, and a suspended neon lightning bolt, replete with thundering soundtrack.
Installation View, ART-O-RAMA 2015. Courtesy ART-O-RAMA, Marseille.
Another strong showing came from Berlin's
Neumeister Bar-Am
, boasting a selection of the artists it represents back home hung according to the laws of a specially created algorithm by the Dutch artist
While there was a smattering of other reasonably priced sales elsewhere, including at Paris's Galerie Allen, which transacted on two sculptures by French artist Laëtitia Badaut Haussmann for €5,000 ($5,615) to €10,000 ($11,231) each, anything at the upper end was a tougher push. Some of the highest prices were at Paris's Galerie Emmanuel Hervé, which presented work by Frenchman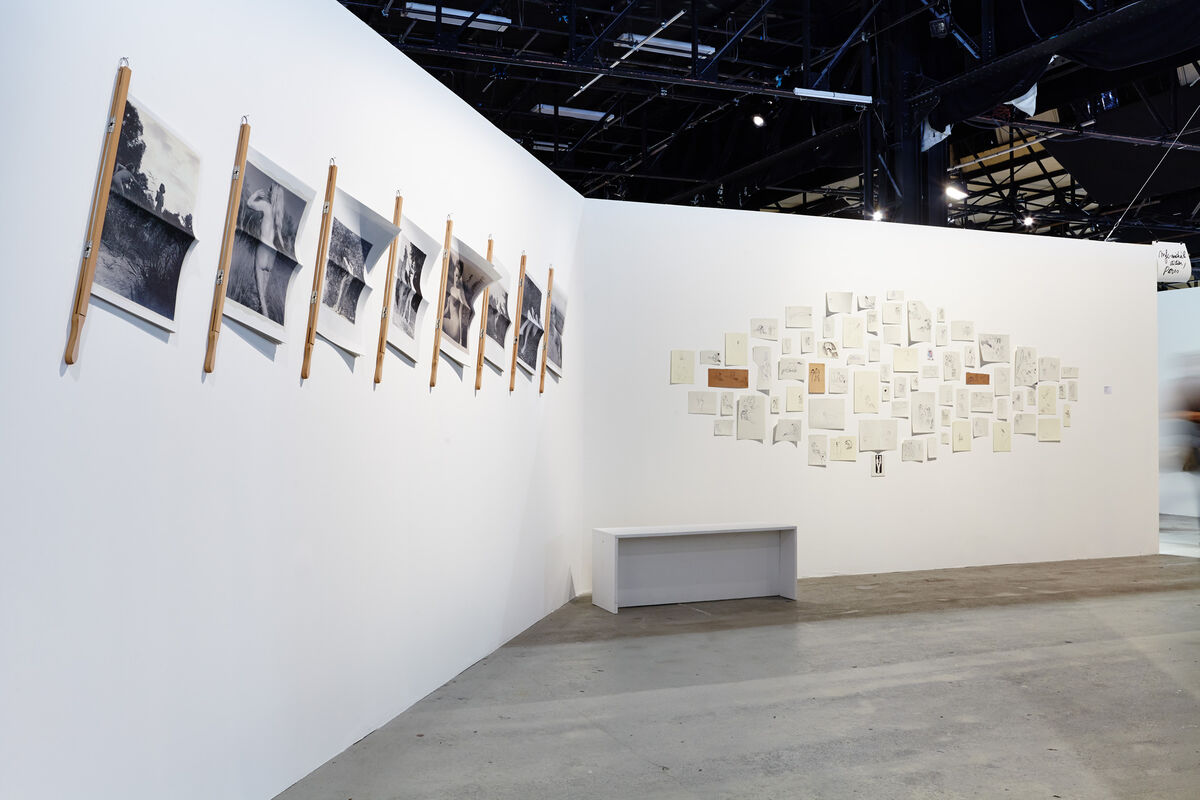 Installation View, ART-O-RAMA 2015. Courtesy ART-O-RAMA, Marseille.
Though collectors could have been hungrier, one anonymous buyer said while they had not bought from the fair this time, previously they had used ART-O-RAMA to make contacts and subsequently picked up "two major pieces" by Swiss artist
Installation View, ART-O-RAMA 2015. Courtesy ART-O-RAMA, Marseille.
Considering Marseille as a whole, a European Union report published in December says it is "not clear how many of the activities initiated in 2013 will endure." ART-O-RAMA, meanwhile, continues unabashed, its success seemingly independent of the vicissitudes elsewhere in the city. Over the last few years, it has grown incrementally bigger, to leave its gallerists—sales or not—effectively warmed up for the busy fall season. With baking conditions inside and out, last weekend did that better than ever.

ART-O-RAMA runs at La Friche la Belle de Mai, Marseille, through Sept. 13, 2015.
Stir Creativity
See how Bombay Sapphire supports artistry.
Sponsored by Bombay Sapphire