The Art of Topiary Gardens
The gardens at the Palace of Versailles.
Five minutes from my house in rural Maine, there is an anomaly. In the front yard of a salmon-pink doublewide, someone has created a beautiful topiary spiral. Like a whirl of whipped cream, it rises from the small manicured lawn. It is, by my estimation, about six feet tall. For a time, I thought it was fake, until one day I noticed it looked a bit mangy. A few days later, it was clipped back into order—the twisted mystery was solved by a haircut.
Topiaries are not something typically associated with rural America, although gardeners everywhere have been known to practice the art of trimming trees into a more desirable shape. At first, my local topiary struck me as terribly out of place, but soon enough, I began noticing green cones, cubes, and pyramids everywhere (mainly in the back of my favorite paintings). While the craft dates back to around the 1st century CE (topiary was supposedly invented by a friend of the ancient Roman emperor Augustus), I don't tend to imagine the Romans swanning about in their togas next to horse-shaped hedges. I expect to see topiary in very specific contexts—surrounding an English castle on Downton Abbey, behind a round-faced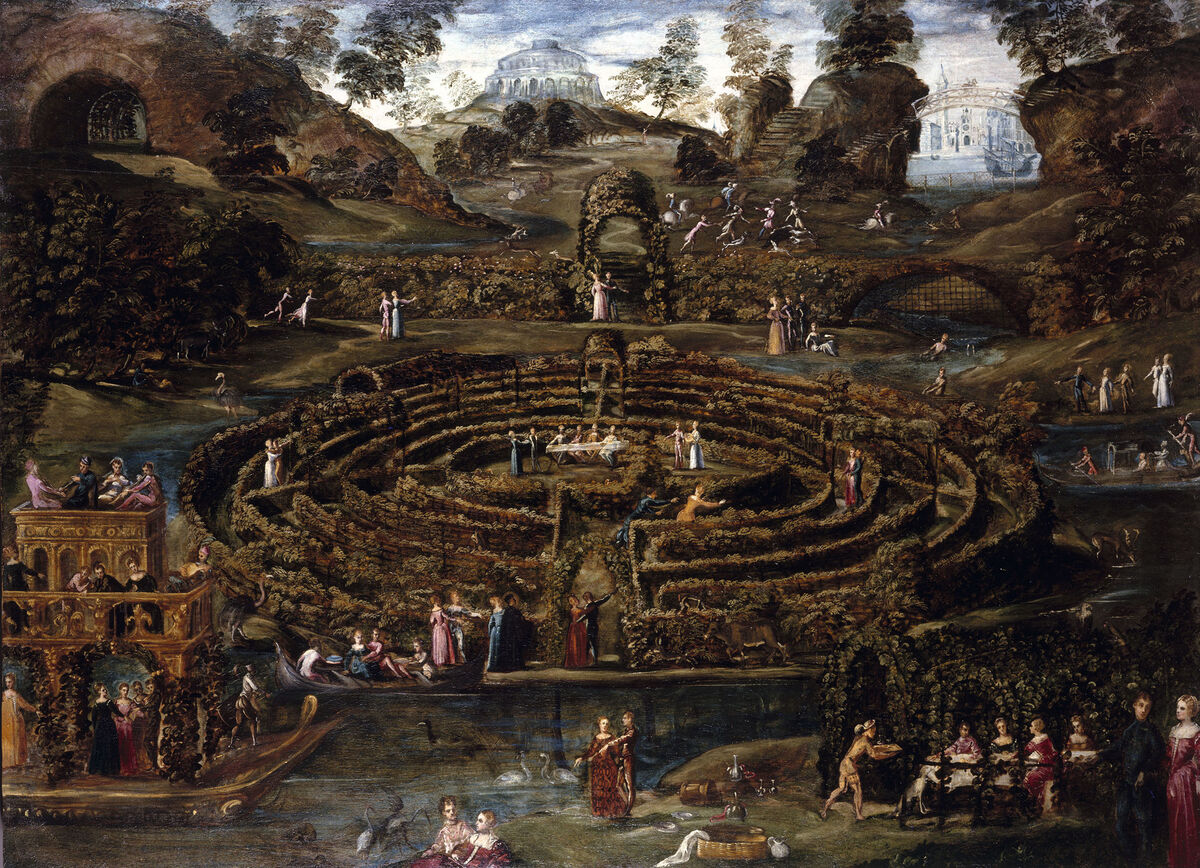 Lodewijk Toeput, Pleasure Garden with a Maze, c. 1579-1584. Courtesy of the Royal Collection Trust.
Like embroidery, crochet, pottery, and glassblowing, topiary began as a craft before moving slowly into the world of fine art. However, we can see the influence of formal gardeners throughout art history; stylized or sculpted greenery is depicted as part of the landscape in hundreds of paintings, etchings, and drawings, from Virgin and Child (c.1485) to An Old Man and his Grandson (c. 1490).
While there are medieval manuscripts that feature topiary hedges as part of the illumination, the formal garden became a more important force in the social life of the upper class in the late fifteenth century, and painters, commissioned by the wealthy, tended to depict these moneyed figures in their semi-natural surroundings. These new gardens were planned with a focus on formality and executed with geometric precision. Gardeners began using techniques like parterre (which uses the placement of plants to create a geometric arrangement, like a maze) and broderie (a form of parterre that mimics the look of lace) to create dreamy, otherworldly spaces.
"Fantasy and reality were closely linked in the Renaissance garden and Italy was the crucible for the theatrical and awe-inspiring new effects which were eagerly sought after in gardens throughout Europe,"
write
the curators at the Royal Collection Trust. The art of the era similarly played with the boundaries between the physical realm and the metaphysical. In da Vinci's
Annunciation
(c. 1472–1475), the master depicts the Virgin Mary and her informational angel in an architectural setting with pristinely sculpted trees in the background. It is a Biblical moment, but da Vinci chose to locate this significant encounter in a formal palace of Renaissance Italy. In a more secularly themed piece,
Pleasure Garden with a Maze
(c. 1579–1584), painter Lodewijk Toeput created an imagery scene of luscious delights. People eat, dance, and hunt stags in this surreal maze. The busy composition and symbolic subject matter calls to mind
Garden of Earthly Delights
(1490-1500), which predates the Toeput piece. (However, that garden is purely wild—the shape of the trees mirrors the state of its revelers; Bosch's bushes are overgrown and untamed.)
As an art form, topiary peaked in the 17th and 18th centuries, and its highly ornamental nature fit perfectly with the flourishes and complications of Innocents Abroad.
As the centuries wore on, this type of stylized garden fell out of fashion in favor of a more naturalistic approach to landscaping.
In 1713, English poet and satirist Alexander Pope published a withering essay on the excesses of topiary that
perfectly captured the sentiments of the anti-topiary crowd
. "A citizen is no sooner proprietor of a couple of yews, but he entertains thoughts of erecting them into giants, like those of Guildhall," he wrote. "Any ladies that please may have their own effigies in myrtle, or their husband's in horn-beam," Pope added, referring to a type of bush and tree, respectively. His scorn for "verdant sculpture" was doubtless painful to members of the upper-class, who prided themselves on being up-to-date in all manners of decor. But even without Pope's biting critique, gardening had changed. Formal gardens would continue to fall further and further out of fashion as tastes evolved.
Grant Wood,Spring Turning, 1936. © Figge Art Museum, successors to the Estate of Nan Wood Graham/Licensed by VAGA, New York, NY. Image courtesy of Reynolda House Museum of American Art, affiliated with Wake Forest University.
A shift occurred in 1867, when Parisians got their first real glimpse of Japanese arts and crafts at the World's Fair. After that, the entire continent seemed gripped by
Literature, however, hadn't forgotten about the topiary garden. Fantasy landscapes became an important part of children's stories, most notably with Alice's Adventures in Wonderland, although other literature of the time dealt with secret gardens and fairylands, too. "Children's book writers and illustrators have made use of the topiary garden to create an unsettling, surreal, and frightening twist on the concept of controlled yet benevolent nature under cultivation," argues Kathryn V. Graham in a paper on the topic, "The Devil's Own Art." Topiary, argues Graham, is an example of the "comic macabre," and is more often created for the amusement of adults rather than the enjoyment of children. (Children, she says, find the idea of pruning inherently repulsive as it reminds them all too much of their own fear of losing a limb or any other protruding body part.)
Formal topiary returned to the world of fine art with the awakening of
While
Dalí's entries into the Alice cannon
are nightmarish and haunting,
Magritte's was charming and whimsical
, as one might have expected from the witty Belgian. In his paintings, Magritte frequently depicted unusually shaped trees and bushes. Although
The Flavor of Tears
(1948) isn't precisely a painting of a topiary, it borrows from that visual tradition to create a tragic green figure: half man, half plant. He also had a habit of painting perfectly almond-shaped, leaf-like trees into his landscapes (these visual synecdoches can be found in
The Lost Jockey
(1948),
La Geante
(1935), and
Spring
(1965). Magritte's leaf-trees are a perfect example of Freud's uncanny—the shapes are familiar to anyone who has seen a leaf—and the simplified style is familiar to anyone who has seen a child's drawing or a
Sims
game (it's the uncanny valley of greenery).
Towards the end of the 20th century, the hedge maze became ever more threatening, a slow process of corruption that culminated with the killer final scene of Stanley Kubrick's The Shining (1980). Driven mad by cabin fever and unseen malevolent forces, Jack rails about his lack of playtime before chasing his wife and son through a topiary labyrinth. Although the setting could be from any comedy of manners, the action is pure horror, and it's the juxtaposition of these two things that makes this scene so epically spooky. (Ten years later, Edward Scissorhands, though admittedly this bush-cutting moment is played more for laughs than screams.)
You can find the influence of topiary gardens in contemporary art; some artists still recognize both the subtle dread and offbeat humor of a clipped boxwood. Richard Saunders has created a Facebook-friendly work of digital art called
The Topiary Cat
. Most of Saunders's digitally altered photographs are playful, but some of the oversized green cats feel rather eerie (particularly when he includes a human or animal figure for scale). American painter
But my favorite is still the Topiary Park of Columbus, Ohio. Created by sculptor James T. Mason, this is a life-sized replica of A Sunday on La Grande Jatte (1884-1886). It is, as the website simply states, "a landscape of a painting of a landscape." It is whimsical and bizarre, creative and referential. I have yet to visit in person, but someday I plan to walk amongst the frozen figures and pet the twiggy dog. I imagine it will feel a little like falling down the rabbit hole, or slipping off to sleep.
Stir Creativity
See how Bombay Sapphire supports artistry.
Sponsored by Bombay Sapphire