Art-World Insiders Select Art Basel in Miami Beach's Must-See Works
Few have better insight into the most dynamic artists emerging on the market than the collectors, curators, and museum directors who traverse the globe to seek them out. This week, despite fears of lowered attendance tied to economic uncertainty following the U.S. election, or to the spread of the Zika virus, this committed set showed up in droves in Miami, dividing their time across ambitious museum and gallery openings, public art installations, more than 20 satellite fairs, and the just-opened Faena arts district. But on opening day of the 15th edition of
Art Basel in Miami Beach
, they filled the convention center—looking for artists to discover and works to acquire.
And for the rest of us, whether in town or watching at a distance, we look to these individuals—the tireless curiosity of Hans Ulrich Obrist or the sharp eye of Mera Rubell—as our guides. We caught up with a number of them below, some hailing directly from Miami Beach and others from afar, to bring you their takes on the most compelling artists and works at Art Basel in Miami Beach.
Stéphane Aquin
Chief Curator of the Smithsonian's Hirshhorn Museum and Sculpture Garden
Installation view of work by Carl Cheng at Cherry and Martin's booth at Art Basel in Miami Beach, 2016. Photo by Alain Almiñana for Artsy.
Though he famously scooped up 
Cherry and Martin
's booth, where he'd come across a reassessment of historic work by 
Carl Cheng
. The pieces, 
Erosion Machine No. 2 
and 
Erosion Machine No. 3 
(both 1969; $30,000 apiece), imagine the effects of consumption on the environment, predicting a future designed solely by humans. "It's quite interesting how he was, ahead of the '80s, looking at how art was responding to consumer society," said Aquin. "To see this idea's prefiguration in his scene in Los Angeles around UCLA in the '70s, to see how it bounces back and how it surfaces on the market today, is relevant," he added. "People are in search of art being meaningful again, not just being formally accomplished and ultimately only decorative."
Installation view of work by Mika Tajima at 11R's booth at Art Basel in Miami Beach, 2016. Photo by Alain Almiñana for Artsy.
On that front, Aquin was attracted to 
Mika Tajima
's work at 
11R
, for which the artist translates sound recordings from sites of production all over the world—a Toyota factory in Japan, New York University's Central Data Center—into beautiful jacquard embroideries (priced between $18,000 and $45,000). "Sometimes they are human voice portraits, or sounds reflective of economies that are disappearing or threatened by obsolescence," he said. "It's a take on abstraction that I think is meaningful; it's a vision on the shifting nature of economy and I think that's important."
Hans Ulrich Obrist

Curator, Artistic Director of the Serpentine Galleries
Installation view of work by aaajiao at Leo Xu Projects's booth at Art Basel in Miami Beach, 2016. Photo by Alain Almiñana for Artsy.
Curator and Serpentine Galleries artistic director Hans Ulrich Obrist, who this week launched a new conversation series with Art Basel geared toward connecting artists with their influencers, named an installation by young Shanghai artist 
aaajiao
 (the virtual persona of Xu Wenkai) at 
Leo Xu Projects
 as a favorite of the fair thus far. The piece, 
Gfwlist
 (2010–2013), explores the strict arm of China's firewall, through which the state limits the online experience. According to Obrist, the installation is "based on Stanley Kubrick's black monolith from 
2001: A Space Odyssey
," he said. "In the middle of the monolith the artist inserted a small printer, which prints out nonstop papers with a list of encrypted domains of websites blocked by China's Firewall (such as Google, Facebook, YouTube, the 
New York Times
, Twitter, BBC, etc.)." Ultimately, he said, it "creates a junction of distribution and censorship, translation and encoding." The artist's work is currently on view in "HACK SPACE," a group exhibition co-curated by Obrist at Shanghai's chi K11 art museum.
Silvia Karman Cubiñá
Executive Director and Chief Curator of the Bass Museum of Art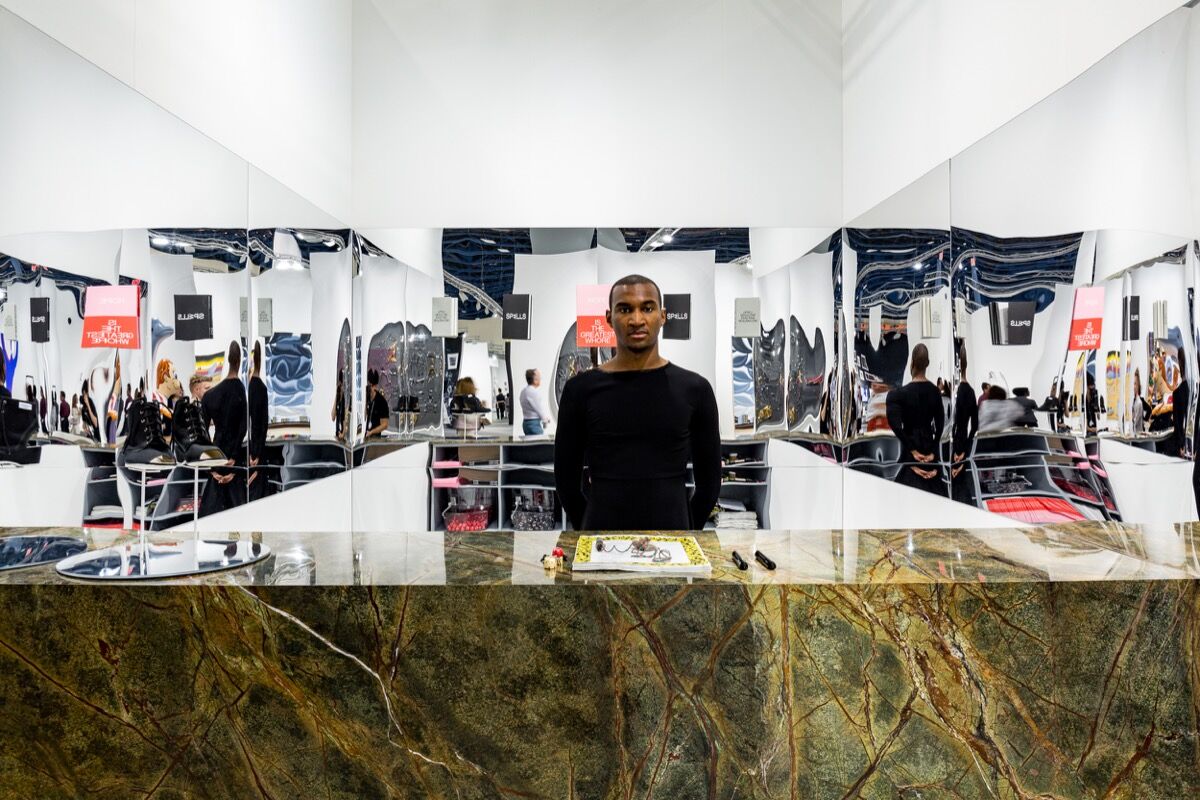 Installation view of work by Irena Haiduk at Kavi Gupta's booth at Art Basel in Miami Beach, 2016. Photo by Alain Almiñana for Artsy.
Amid celebrations around the unveiling of 
Miami Mountain
 (2016)
, 
commissioned by 
The Bass
 and part of Art Basel in Miami Beach's Public sector in Collins Park, the museum's executive director Silvia Karman Cubiñá excitedly shared a few favorite discoveries from the fair's opening day. Among them was a performance by Serbian artist Irena Haiduk at 
Kavi Gupta
, titled 
Bon Bon Bon Ton (3 Bon, 1 Ton): Balkan Outlet
 (2016)
, 
comprised of a candy store selling authentic Balkan sweets. After filling out a survey denoting their income, stress level, and "candy period" the buyer is given a certain price and gift. The "candy period" points to the fact that the confections are made by a Croatian candy company that, through its 150-year duration, has endured imperialism, fascism, communism/socialism, and capitalism—each of the four candies hail from a particular period. "The cost depends on what you declare yourself as; you can pay anywhere between $50 to $1,000," said Cubiñá. The gallery noted that about 30 collectors had purchased the work on opening day, the majority at the level of $50 and a few at $1,000, but none in between. "I thought this was really interesting especially within the political climate. Everything is very relative; I think some people feel very poor and some people feel very fortunate, so it's interesting how that self-assessment is very relative."
Mera Rubell
Collector, Co-Founder of the Rubell Family Collection and Contemporary Arts Foundation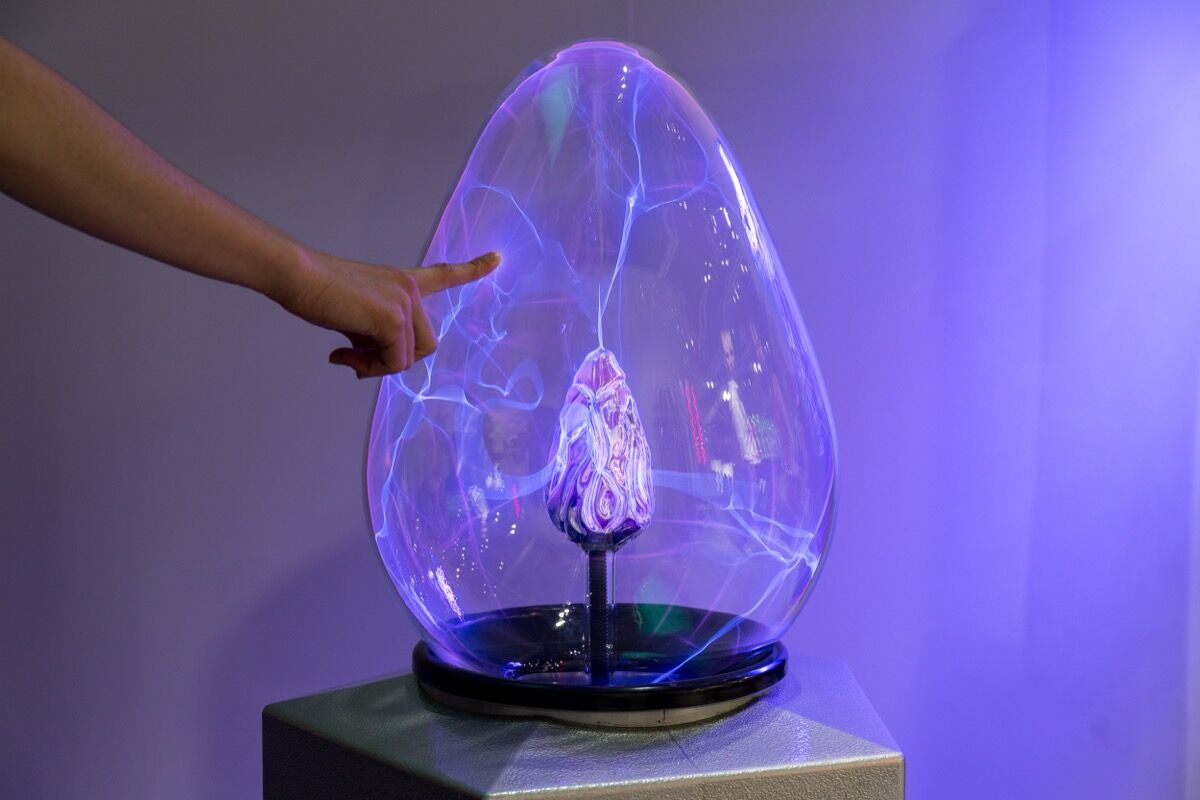 Installation view of work by Max Hooper Schneider at High Art's booth at Art Basel in Miami Beach, 2016. Photo by Alain Almiñana for Artsy.
"After entertaining 5,000 people in our space yesterday I'm lucky to be standing, but I'm not too tired to look," said Mera Rubell. Following Monday's announcement of the Rubell Family Collection's move to a new space in 2018, and a bustling exhibition preview at its current location, the collector was at Art Basel in Miami Beach excitedly scanning the aisles. "It's not that easy," she said of discovering new artists. "Even though we have a large collection, each one represents a miracle; it's not like it just happens. I always look for that miracle of falling in love."
Marc-Olivier Wahler
Director of the Eli and Edythe Broad Art Museum at MSU
Installation view of work by Lawrence Abu Hamdan at mor charpentier's booth at Art Basel in Miami Beach, 2016. Photo by Alain Almiñana for Artsy.
Marc-Olivier Wahler, the former Palais de Tokyo director who is currently spearheading a major rebrand in his new position as director of Broad MSU, was taken by the work of British-Lebanese artist 
Lawrence Abu Hamdan
 at 
mor charpentier
. In his first presentation at Art Basel in Miami Beach, the 31-year-old artist presents work that smartly addresses the social and political implications of sound—spanning lie detection, voice detection, and surveillance. In a particularly compelling work, 
A Convention of Tiny Movements 
(2015, €10,500), Hamdan presents a photograph of a supermarket shelf filled with potential objects-cum-listening devices—everyday products that can become "visual microphones" through a minute sound-recognition technology developed by scientists at the Massachusetts Institute of Technology. "To me it's very interesting in terms of what it says about today's world," said Wahler, speaking to the efforts of contemporary philosophy, art, and anthropology—like Hamdan's work—to "understand our world in a non-hierarchical way."
Bob Zangrillo
Founder, Chairman, and CEO of Dragon Global, Investor
Installation view of work by Leo Villareal at Pace Gallery's booth at Art Basel in Miami Beach, 2016. Photo by Alain Almiñana for Artsy.
"One of the things I love most about Art Basel is discovering these artists that you would otherwise never know of," said investor Bob Zangrillo, who this week unveiled the Magic City Sculpture Park in Miami. The park includes a giant piece by Laura Kimpton commissioned specifically for Magic City and first shown at the 2016 edition of Burning Man ("so that it got all of the energy and the vibrations of Burning Man and then brought them back to the city"). Along with partner and developer Tony Cho, Zangrillo also announced plans for a four-years-in-the-making development project in Miami—a sprawling, 15-acre creative district for the art, music, technology, and maker communities. "I call it the next neighborhood in Miami, but one built around innovation," said Zangrillo. 
With this ethos, it's little surprise, then, to learn that Zangrillo was struck by the work of 
Pace Gallery
's roster, Villareal is a light sculptor and has shown work at Burning Man since the 1990s. In January of this year he debuted his largest public installation to date on San Francisco's Bay Bridge. The work that Zangrillo found himself admiring, though, was 
Cloud Drawing 
(2016), which sees scintillating LED lights form themselves into random depictions of clouds. (Priced at $85,000 in an edition of five, the gallery reported that two had sold on opening day.) "To see these artists come here that are kind of the makers and creators is pushing the boundaries of Burning Man to Art Basel," said Zangrillo.
Tiqui Atencio
Collector, Patron
Left: Rodrigo Cass, O Revelador, 2016; Right: Rodrigo Matheus, Grasp, 2015. Images courtesy of Fortes d'Aloia & Gabriel.
New York-based collector Tiqui Atencio, who this week launched her new book on collecting, 
Could Have, Would Have, Should Have: Inside the World of the Art Collector
—featuring interviews with nearly 100 art-world figures—was caught in high spirits on opening day. The collector discovered work by two new Brazilian artists at São Paulo gallery 
Fortes d'Aloia & Gabriel
, 
Rodrigo Cass
 and 
Rodrigo Matheus
. "Rodrigo Cass references the Brazilian 
Grasp 
(2015), a sculpture joining a painting, a saw, and a model hand fit with a fingerless glove.
Philipp Kaiser
Independent Curator and Critic, Curator of the Swiss Pavilion for the 2017 Venice Biennale
Installation view of work by Damián Ortega at kurimanzutto's booth at Art Basel in Miami Beach, 2016. Photo by Alain Almiñana for Artsy.
This week, curator and critic Philipp Kaiser was announced as the new curator for Art Basel in Miami Beach's Public sector, following news earlier this year that he'll be curating the Swiss Pavilion at the 2017 Venice Biennale. At Art Basel in Miami Beach, the former 
Museum Ludwig
 director noted that while he doesn't generally discover new artists at art fairs, he did find "amazing work" by artists he already knows and respects. His favorite among them: Mexican artist 
Molly Gottschalk is Artsy's Features Producer.
TEFAF New York Fall 2018
October 27-31, Park Avenue Armory
Sponsored by TEFAF New York Fall