The Art World's New Pre-Hong Kong Destination
Liu Wei, Period, 2018. Courtesy Liu Wei Studio and Long March Space, Beijing.
Can a stop in Beijing become the art world's favored warm-up to Art Basel in Hong Kong? For a growing number of international visitors—and many more members of the Chinese art scene— the answer this week has been an enthusiastic, "yes."
Now in its second year, Gallery Weekend Beijing features exhibitions at 22 galleries and institutions in the city's 798 and Caochangdi arts districts. The weekend was initiated in 2017 by by German artist, critic, and curator Thomas Eller, who saw similarities between the Beijing art scene and that of his previous hometown of Berlin. This year, a new director, Amber Wang, has taken the helm; she previously worked at Singapore's multifaceted Linda Gallery, which also runs a contemporary art museum and an auction house.
Wang said that she first heard about Gallery Weekend Beijing from a Swiss collector in Hong Kong during Art Basel last year. Fortuitously, when she returned home to the Chinese capital, she said a member of the weekend's selection committee got in touch and asked if she'd be its new director. To prepare for her new post, Wang made research trips to the annual Zurich Gallery Weekend—which serves as an appetizer to Art Basel in Basel each June—and to Berlin to see what elements of those cities' events would be relevant to the Beijing art scene.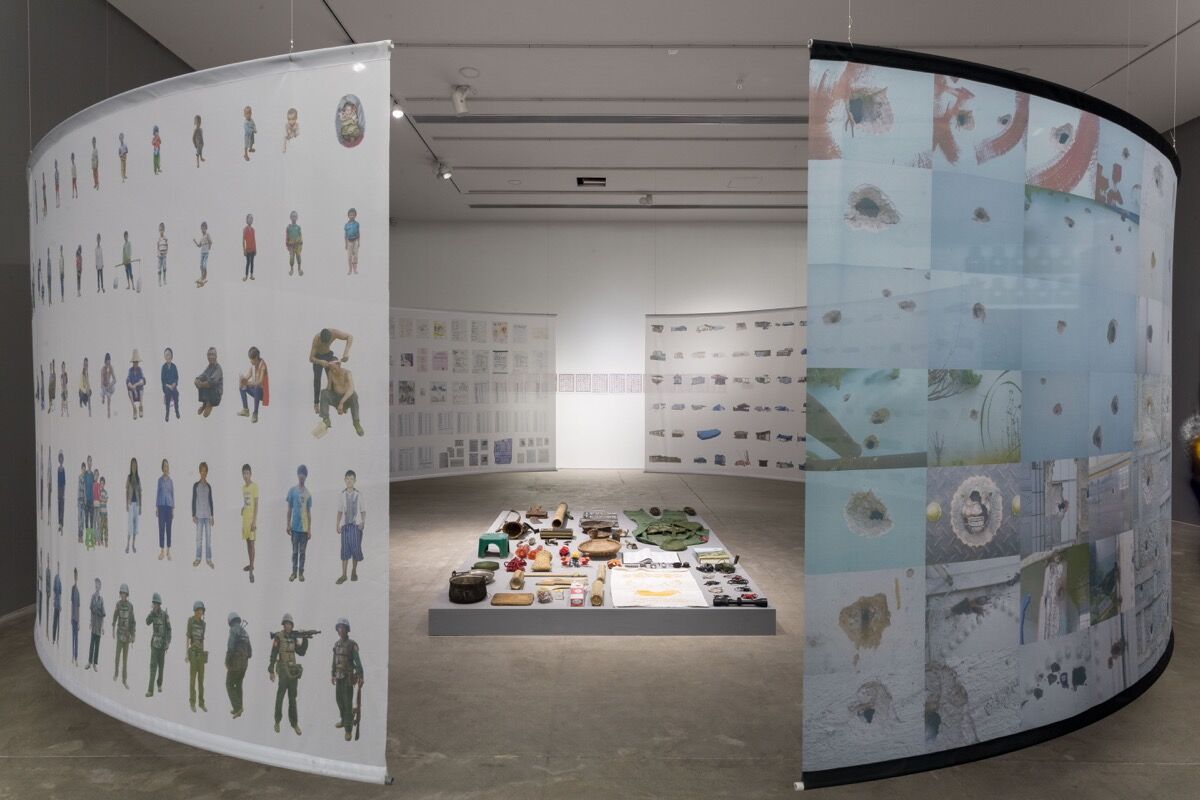 Installation view of Gallery Yang's show "If I Could" by Zhang Yue. Courtesy of Gallery Yang.
"There's no other place like Beijing. There aren't the formal systems that exist in Europe because the contemporary art world has developed in such a short period of time in China," Wang said. "You can't apply the same model exactly here, but what I did take away from those trips was the shared vision that galleries in Berlin or in Zurich have, and I think that is something we can learn from in Beijing."
The gallery weekend purposefully focuses its efforts on developing the local scene with public programming and educational initiatives for the more than 2,000 Chinese and international VIPs it invites, as well as many more everyday Beijingers, who make their way up to 798 and Caochangdi for a weekend gallery hop.
The
weekend's first edition
was organized in just three months, meaning that, in large part, exhibition programs were already set. This second edition benefits from galleries and institutions being able to schedule some of their biggest shows of the year to open on, or just before, this weekend. Overall, the quality of the shows is up, and the extra time also allowed for the addition of a public art program featuring newly commissioned works by
Installation view of Gallery Yang's show "If I Could" by Zhang Yue. Courtesy of Gallery Yang.
Topping the list of exhibitions, at least in the eyes of the jury members of the "Best Gallery Exhibition Award" was Gallery Yang's show "If I Could" by Zhang Yue. Curated by Cui Cancan, the exhibition unfolds in multiple parts, each focusing on a different aspect of violence. A gallery representative explained that Zhang began to engage with the idea that every act of violence has two sides, with two different narratives, during the four years the artist spent in jail after killing another person in self-defense.
Eighty of the drawings Zhang made of his fellow inmates are projected from slides in the final section of the show. The other portions of "If I Could" explore virtual violence as experienced through video games like Grand Theft Auto; geopolitical violence, seen through both the historical lens of the Cold War and the timely lens of North Korea's pursuit of nuclear weapons; and violence as sport, with 162 used gun-range targets pasted on the gallery walls.
Wang said the award provides an example for how other galleries in the city can develop their own programs. It's judged not only on the individual show's curatorial concept and the quality of the artist's work, but also on a gallery's role in pushing forward the Beijing art scene. "We ask the jury to look at whether they make contributions to the development of the gallery scene in Beijing as a whole. We want galleries to think in this way," Wang said.
Installation view of Gallery Yang's show "If I Could" by Zhang Yue. Courtesy of Gallery Yang.
But Zhang's was far from the only standout among the weekend's exhibitions. Period (2018), a gallery-filling kinetic installation, which features cement spheres that glide slowly back and forth, suspended from a track, emitting a low whirr. Various geometric forms composed of concrete, wood, and mirrors—described as "urban detritus"—rest on the floor. In a back corner of the space, a globe turns rapidly on a desk, as if the creator of this uncanny environment just gave it a spin and ran out.
Liu isn't the only artist working at a grandiose scale. The Ship of Time fills the entirety of one of Tang Contemporary Art's two spaces. It features two hollow cylinders made of 14,000 sheets of rice paper, 1,800 pieces of bamboo, and 2,000 seven-meter-long cotton threads, suspended from the ceiling. Decimal Clock (White and Pink), and a near-equally-sized, dream catcher-like work, Circle Division Canary Mobile (Black Outside, White Inside), which has a mirrored orb at its center.
Höller is among a number of international artists on view in 798. "Odysseus Factor," the
UCCA
's show of
Beijing
, filmed here nearly ten years ago during the Olympics. It also features a monumental, newly commissioned wall painting as well as numerous smaller examples of Morris's painting practice.
Liu Wei, Shadows, 2018. Courtesy Liu Wei Studio and Long March Space, Beijing.
The survey would be impressive enough had it come together over the five years some curators might typically spend on such a show, but Morris had just over four months due to uncertainty last year over the UCCA's future ownership. Director Philip Tinari said that as soon as the museum's new investors were in place last November he dashed off an email to Morris, who was quick to accept the opportunity.
"It's proof great things don't need to take a lot of time," the artist said at a dinner Thursday night.
A block north of UCCA, the private museum
M Woods
opened a show of 43 of
Whipping a Wall and a Window with Paint
(1974) to his 2013 take on Snow White, the seven-hour
WS, White Snow The Feature
. That such a wide swath of the artist's often-explicit oeuvre is on view in China is fairly remarkable (the museum is requiring that visitors be over 18 and lock their cell phones in felt pouches for the exhibition's most explicit sections).
Carsten Höller, Divisions (Sphere and Carpet), 2014. Courtesy of Galleria Continua.
Elsewhere, other bold-faced international names are spotlighted in the city. There's a group of five Berliners—
Boers-Li Gallery
;
PIFO Gallery
(part of a new exhibition series called "Encounters" in which an international artist is paired with a Chinese artist from their program—this time, Wang Jian).
In Caochangdi, perhaps best known in international art circles as the neighborhood that houses
Ink Studio
is showing
Shanghart
hosts their debut solo show of Liu Xiaohui, whose paintings punch above the weight of their simple central reference: the movements one makes when putting on and taking off clothes.
Meanwhile,
Taikang Space
opened "Genders Engender," a group show and series of public programs curated by Li Jia. The exhibition, which focuses "on social recognition of gender disparity" and features commissions by 10 artists and collectives, couldn't be more timely as the #MeToo movement hits the Chinese art world: Shenzhen Biennale curator Gary Xu was sacked one week ago, following allegations of sexual harassment and assault. The show is a strong reminder of art's ability to serve as a vessel for social dialogue—and the important role of galleries and institutions in Beijing in pushing that dialogue forward.
Alexander Forbes is Artsy's Executive Editor.