How Artists Are Copying Masterpieces at World-Renowned Museums
Each week this spring, 15 artists will congregate in a special office at the
Metropolitan Museum of Art
, where they will pick up easels, drop-cloths, and their works-in-progress, before parting ways. Each one will set off to a different gallery in the museum to pay a three-hour visit to a particular work of art—be it a painting by
These artists continue a tradition that dates back to 1872, just two years after the storied New York museum was founded. Known as the "copyist program," the initiative allows skillful artists to set up their easels alongside works of the greats, during public hours, and make their own breathtaking replicas. Similar programs exist at major art museums across the world, like the
Louvre
in Paris, the
Museo Nacional del Prado
in Madrid, and the
National Gallery of Art
(NGA) in Washington, D.C., all of which serve to support living, working artists by giving them exceptional access to learning from masterpieces of art history. These prestigious, selective programs, governed by stringent rules, are also fascinating for visitors to experience, and are important extensions of museums' educational missions.
"Sometimes you learn the most from the masters," said Alyssa Eble, who currently manages the Met's copyist program. "You can see the brushstrokes, or how something is built; you can interpret that so much better in person than through a reproduction in an image."
The
oldest of these programs is that of the Louvre
, which began during the French Revolution in 1793, reportedly just a month after radical Parisians converted the royal palace into a museum. Back then, it was a rule that any artist who wished to enter the museum and copy from the work of the masters would be given an easel to do so—it's not surprising, then, that among its alumni are familiar names, like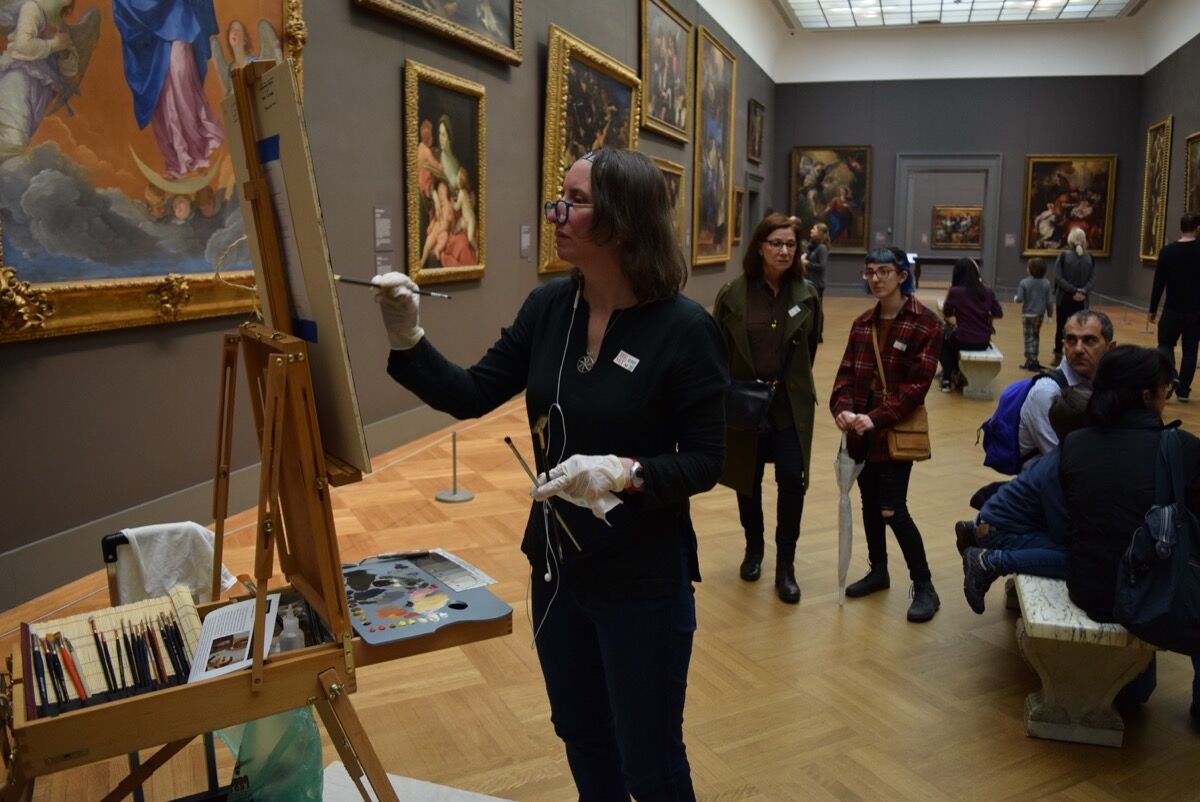 The NGA also has a revered copyist program, which, though much younger than the Louvre's, launched two months before the American museum opened to the public in 1941. It was seen as a way to assist living artists, but also to help disseminate the budding institution's impressive collection. To date, the NGA has issued over 8,000 copyist permits. "[It's] designed with education in mind," explained Meredith Kablick, who manages the program.
To get a permit at any of these museums, artists must be chosen through an application process. Not unlike an application to an art school, this often involves a personal statement and character references, as well as images of their work. Eble notes that for the Met's program, which includes a mid-semester critique, they look to assemble a diverse group of artists—in terms of career stages and interests—who will be able to provide one another with valuable feedback.
"The copyists are a mix of established artists who are looking to improve upon their skills, and also people who have discovered art later in life (post-retirement) and who are using the program to hone their skills beyond their own studio coursework," Kablick said of the NGA's copyists. She noted that there are several young MFA grads, but the demographic is typically the over-50 crowd, due to the time commitment the program requires.
The Met's program is similarly wide-ranging, Eble said, including recent MFA grads; established, mid-career artists; and people who are returning to art after a hiatus. And while these artists are typically locals, there's the rare occasion that one may travel from afar to partake in such a prestigious program, given the opportunity. And some repeat the program again and again. At the NGA, among the current set of some 40 copyists is Vivian Parker, now in her 80s, who has been painting at the museum for decades.
Permits at various museums typically give the artist access to post up at the gallery once a week for a few hours, and for a number of months. The Met's program runs for eight-week semesters each spring and fall, during which time artists work one day per week for three hours, like a typical studio art class. The NGA gives yearlong permits, though artists are also limited to one day per week, when they can work between 10 a.m. and 4 p.m.
In some cases, participants are not just limited to paintings. "The copyist program being such a longstanding tradition, we are always open to expanding our concept and idea of what a copy is, and we've been working the past few years having people interpret works digitally," Eble explained, noting that a couple semesters ago, an artist used digital painting technology to create a virtual-reality copy of a work. Indeed, the Met encourages artists to use mediums other than paint to engage with various museum departments. Even
Some artists develop creative and even conceptually driven renditions of the originals. "Although most tend to be direct copies, we have artists who put their own interpretations of the works into the piece as well," Kablick explained. "I have one artist who often recreates the portraits' subjects as African American instead of Caucasian."
Many artists do, however, create painstaking, exceedingly impressive replicas. So, to prevent any confusion or potential for forgeries, museums require that works be of a different size or scale than the original. At the Met, that means works must be at least 10 percent larger or smaller; at the NGA, works must be two inches larger or smaller than the original (and no canvas can be any larger than 40 inches in any direction). The Met folds another restriction into its policies, which says that artists cannot sell their works within the galleries—so while copying is allowed, wheeling and dealing is not.
Perhaps the trickiest part of the process, though, is pinning down a work to spend hours on end with. Stringent rules govern which works can and cannot be copied. Institutions typically require that the work be part of the permanent collection (not a loan), and for safety reasons, it shouldn't be too close to a fire exit. The gallery that houses it can't be too small or too highly trafficked, and in some cases, only one copyist can be working in a given room at a time.
Eble works with the Met's curatorial and security teams to get clearance for copyists; she noted that despite the limitations, they do their best to get the artist their first or second choice. The European painting galleries and the American Wing are most popular, she said, and works by Sargent and
"I do notice copyists tend to request the gallery's 'greatest hits' over and over," Kablick said of the NGA's program, which is focused on painting (artists can use oils or acrylics). Artists tend to select works by Sargent there, too, as well as by Miss Beatrice Townsend by Sargent," she added. In the end though, credit must be given to artists of the present, not the past.
"I have had copyists show me things that I would never have noticed in the painting just from casually viewing it, only because they have spent hours studying the work," Kablick said. "They have really surprised me with their ability to replicate works in masterful detail, but in also creating their own interpretations as well."
They also enrich the experiences of the museum staff and visitors. "Staff is always so happy to come across them in the galleries, and visitors are always so intrigued by the fact that working artists are still using this as learning material," Eble noted.
"I think it adds a lot to the museum-goers' experience to walk into a gallery and see an artist working in real-time on a piece that is also hanging on the wall," Kablick said, noting that she asks copyists to be emissaries of the gallery, answering the questions guests may ask them. "Most of them relish this part."
Eble noted that while artists are not required to get into the weeds with curious visitors, some find it's fruitful to have that extra layer of unbiased commentary. "It's a give and take, sometimes they are helpful," Eble said. "It could be a nine-year-old who might give the artist a better understanding of what they're working on."
Casey Lesser is Artsy's Creativity Editor.
Correction: A previous version of this article stated that NGA copyist Vivian Parker is now in her 90s. She is in her 80s.