An Artist's Guide to Making the Most of Art Basel in Miami Beach
The first rule of Miami is to hate Miami. Even if you think it will be the best week of your year, you have to groan when someone asks you if you're going. Practice the groan. It must be nuanced enough to acknowledge your "complicity" while also establishing an "Us" that elevates you above the "Them" crammed next to you on one of four flights from NYC to MIA (or to Fort Lauderdale, if you didn't get your ticket in time). It's a journey that brings into focus the struggle among your hedonism, your politics, and the way you make a living.
This guide is for slightly damaged people. By that I mean people who will go into a spiral even while surrounded by sun, beaches, free drinks, and DJ Paris Hilton. These are all amazing things that should bring gaiety to your life. And this is why I've learned not to complain about Miami to my family. Really though, if you aren't at least a little defective, don't read this; I'd rather you storm Miami, gobbling Adderall because you don't want to miss a single launch party.
Most of the times I've gone to Miami have been for art gigs, so that has definitely informed my experience. If you are going for a project, the first thing to note is that New York anxiety only exists in New York. It's like oxygen—you don't notice it until it's not there.
And you will definitely miss it when you are the only one coming unglued because the 310 Diet Mountain Dew bottles you need for your sculpture haven't arrived. At this point your New York superiority complex will burst out with ferocity, but you must submit. Also, we are living wrong and Miamians are living right. Life will continue if your project doesn't go precisely as planned. There are no emergencies in the art world. (That said, bring all the supplies you can. You can lose days searching for a measuring tape.)
Another practical note: Down here, sponsored booze (including something that is literally named Ruinart) flows like wine at a wedding in Cana, but you will not eat. Miami Beach is a tourist town run by hotel restaurants that you don't have time for and can't afford anyway. Be your own mom and pack snacks. I've had many dinners at the Walgreens on Lincoln and Collins. If you do have the time to walk the massive avenues, go to La Sandwicherie, my favorite restaurant in Miami Beach. Try to sniff out what parties will feed you and always choose those no matter what they are for—hunger is stronger than pride. And remember, the gallery/museum/multinational-big-pharma-corporation that's paying for your room isn't going to pay for your room service, and your cultural capital isn't going to pick up the bill, either.
Art Basel Miami Beach is glamorous, but that glamor comes with a whiff of desperation, so be primed to feel disappointed by humanity. Observing encounters between art professionals is like watching two dogs, with fair badges instead of collars, sniff each other's butts to ascertain who is the alpha. At night, grown men flash business cards amid the mobs, hoping that their job title will sway the door person. Tan women on the street aggressively hand out shiny postcards trying to entice you to events that aren't part of the "real" art world. (In the "real" art world, shiny postcards are emailed invites, and tan buskers are pale PR agents.) Miami lays hierarchies bare, and you will soon realize that at the top of that hierarchy sits Mr. Brainwash (even if you weren't even aware of who he is).
That said, I really like parties. I really like drinking for free. I really like when my friends come together and go to parties and drink for free with me. In what other job does a work trip involve an itinerary of parties every night? You don't even have to be invited, you just have to be crafty. Most artists aren't paid enough (or at all), so make things more equitable by drinking as much as it takes to fill that hole in your expense report.
On the night that you finally go full Miami, you will run into a friendquaintance on the street. They will ask you what you are up to that night in a way that makes it obvious that they hope to outdo you with their own itinerary. And the sad thing is, you will actually care if your schedule is better.
"I'm going to the Meat Joy reperformance in the Raleigh pool sponsored by Slim Jim, then I'm heading to the Skymall Catalog x Ryan McNamara champagne toast at Soho House and if I'm still standing I'll drag myself to the launch of the new VALIE EXPORT Altoid tin at the Delano."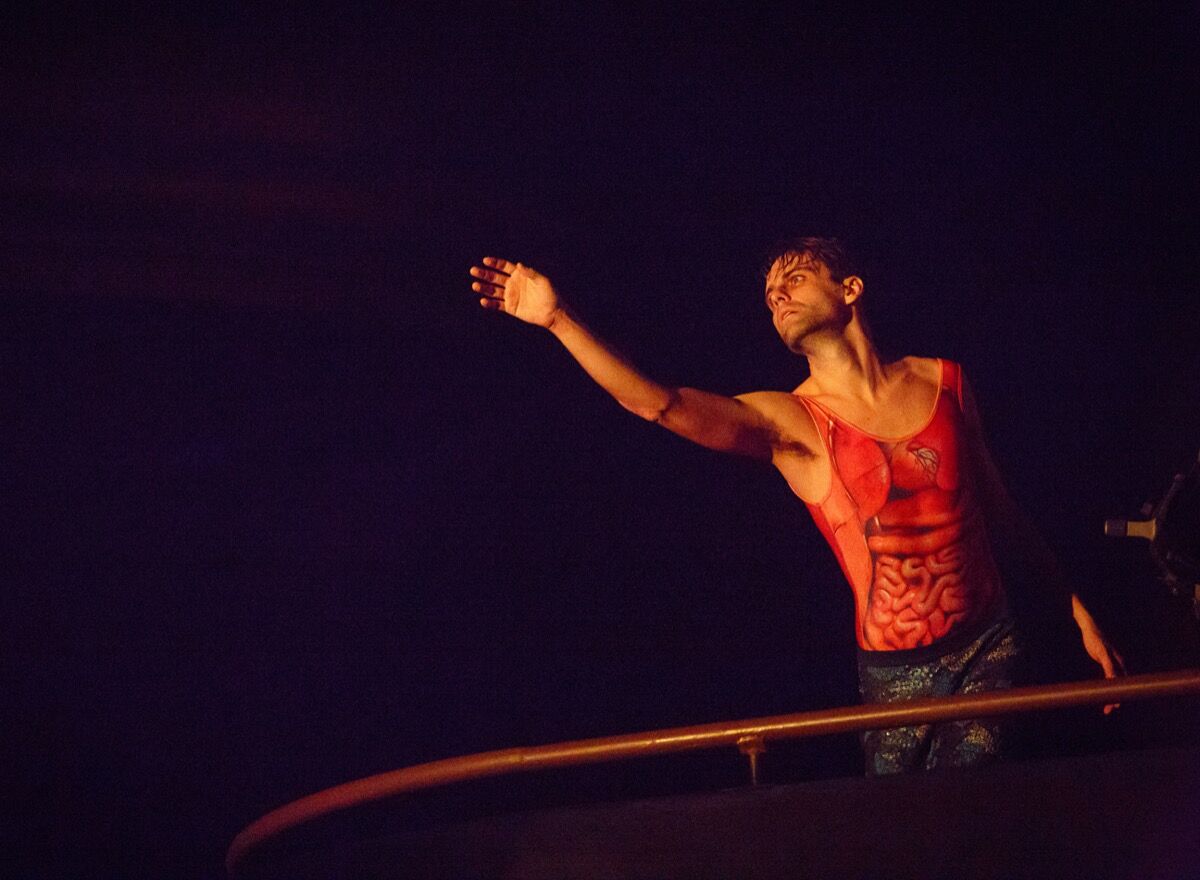 Ryan McNamara in ME3M 4 MIAMI: A Story Ballet About the Internet, performed in 2014.
(If you do finally get into the party, your teenage self who desperately wanted to lunch with Diana Vreeland at Le Cirque will be let down by just how unglamorous "glamor" can be.)
There is art down in Miami, too. But convention centers get their electricity not from wind, water, or coal but from a unique ambient device that slowly siphons élan vital from your soul. Go to the fair, see your friends' work, and leave.
It's fine and in fact desirable to be alienated by the fair; we artists are not the intended audience—collectors are. I'm thankful for art fairs because they fund so many good people and good projects, but I would be fine if I never saw another one in my life.
The curator Carolyn Christov-Bakargiev talks about biennials and exhibitions as decoys. The show is just a nucleus around which swirls the real stuff—conversations, chance meetings, fights. Miami is a humid, blown-out, pashmina-wearing decoy that has given me some of the most memorable experiences of my life. A smattering:
In conclusion: Go to Twist as much as you can. It's the best gay bar in the world.
And tell me all about it when you get back, because I won't be there.