These Artists Would Love for You to Sit on Their Work
A zany perversity is rampant in the studios of many young, contemporary creators who are trampling the boundary between furniture and fine art. For artists who want to break rules, this offers tempting propositions: chairs that aren't meant for sitting, lamps that are less interested in illumination than in aesthetic verve, home goods that don't work like they should. Rebellious aesthetes are turning old, recognizable forms—the sofa, the shelf—into objects for considerable contemplation. In their studios, provocation and individual expression override comfort and utility.
One example among many is on view at the Carnegie International in Pittsburgh, where
Reaves is certainly not the only artist who is rethinking the line between furniture and art. She's one of a handful of young talents—including gesamtkunstwerk and their aesthetics into lifestyles.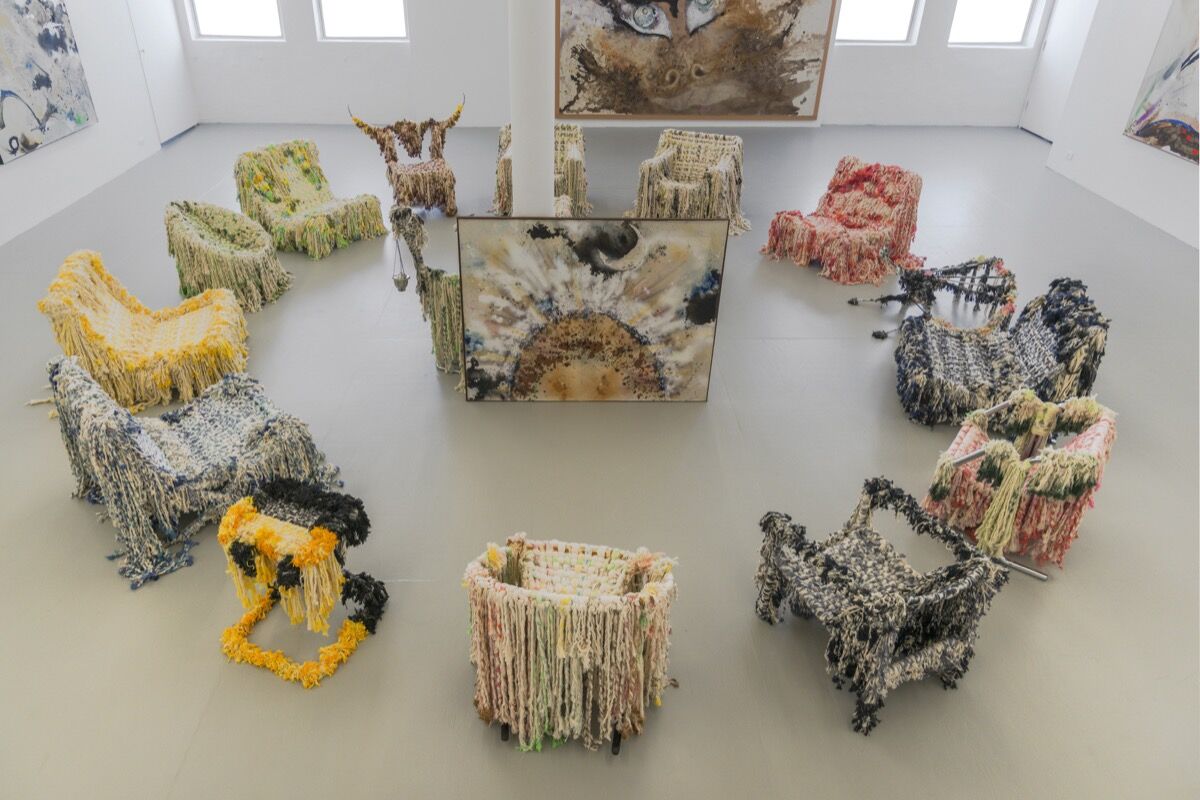 Shannon Stratton, chief curator at New York's
Museum of Arts and Design
(MAD), often refers to these multi-disciplinarians simply as "makers," or groups them into the larger visual canon as artists. "I don't make a distinction," she said. "Somebody working in clay is an artist. Somebody who's making more sculptural, conceptual, functional objects—whether furniture or jewelry—is still an artist."
Since around the time of the Enlightenment, Stratton said, Western institutions have stigmatized objects that require intensive labor. Instead, the academy has favored work that conveys "wholly intellectual pursuits." A class divide has long separated craftspeople from institutionally educated and sanctioned artists. Gender bias also plays a role. "Fiber, weaving, and textiles were very feminine pursuits," Stratton said. Quilt-making, for example, was long dismissed as "women's work." MAD itself aims to eliminate such hierarchical distinctions between disciplines. Reaves's couch, which required significant craftsmanship—and plenty of stitching and welding—rebels against such ghettoization. Its rough edges and non-traditional shape shatter ideas about what a couch should look like.
It's too easy to suggest that young "makers" are part of a nascent art-meets-design trend. Though they're certainly producing some of today's most intriguing—and at least nominally functional—objects, their interdisciplinary approach has a long history. By examining this narrative, we reconsider who we've valorized and neglected, and what we've fetishized or dismissed. Often, the record shows how we've reinforced inequity across gender and class. Thankfully, a new generation of gallerists, museums, and collectors are helping to smash such tired prejudice.
A brief history of art that's also kind of furniture
Furniture-making both inspired and financed the artist practice. Artschwager went to school in New York and Paris in the 1940s, finally settling in the former city. He got married, had a child, and temporarily relinquished his creative ambitions in order to support his burgeoning family, by making furniture and working at a bank.
Throughout the 1960s, Artschwager returned to sculpture, taking advantage of his now-significant woodworking skills. For gallery settings, Artschwager installed forms that alluded to the structure of cabinets, chairs, and other furniture. Description of Table (1964), for example, is a simple painted plywood cube, with black pigment conveying an empty space beneath a wooden "table," and white that suggests a tablecloth on top. Artschwager also used Formica throughout his career, sampling the surface and texture of common countertops. Looking at his work, it's difficult to tell what belongs in a living room and what should be in a museum. His artwork advocates diminishing the barriers between both.
In contrast, the
Yet he viewed his two different modes of making as discreet activities. "The intent of art is different from that of [furniture], which must be functional," Judd wrote in his 1993 essay "It's Hard to Find a Good Lamp." Yet he also conceded (albeit cryptically): "The furniture is furniture and is only art in that architecture, ceramics, textiles, and many things are art." His son, Flavin Judd, recalls that public reception for his father's chairs and dressers was not initially positive. "The world is divided up in two lanes," he told Artsy. "People like other people to stay in their own lane."
Judd's puritanical approach offers a significant contrast to that of Austrian-born Passstücke): white mixed-media artworks of varying shapes that viewers were allowed to pick up and touch, like strange toys. They resemble umbrellas, balloons, and distorted hula-hoops, evidencing West's interest in the quotidian. His subsequent, now-iconic "Uncle Chairs" feature colorful, interwoven bands on the back and seat, beckoning viewers to not just play with his work, but sit on it. Functionality was always integral to West's practice, no matter how the public chose to label specific objects. "It doesn't matter what the art looks like but how it's used," he once said.
A-Z West. The compound features her living quarters, studios, cabins, and a variety of amenities for rotating groups of resident artists.
And if Zittel is a descendent of Judd,
The new guard of nonconformists
As our lives become increasingly digital, in other words, younger makers are drawn more to roughness and individuality than the streamlined, sleek aesthetic that Judd advocated. Wonkiness is similarly pervading contemporary ceramics: vases depict women's bodies distorted to grotesque proportions, for instance, while light-pink, life-sized totems explore the medium's biomorphic potentials.
For his part, Artsy during a recent visit to his Bushwick studio. On a typical day, Kahn might be covered in sawdust, coloring something, and looking at a picture of a baby elephant, all at the same time. His work perfectly articulates this busyness.
For a 2017 exhibition at
Friedman Benda
, Kahn created a wooden platform that viewers could traverse. It served as a kind of maze around his various objects, which were submerged in mulch. Bronze
Miss Fishy
chairs featured spindly backs that resembled fish skeletons. An inward-curving cabinet looked more like a macrame totem than like anything you'd use for storage. Indeed, upon first glance, many of Kahn's pieces look more like aliens than home goods.
Washer/ Dryer/ Dishwasher (Low Model)
(2017), made from interwoven wood and grass, resembles a furry, two-legged creature with three eyes. His mirrors are ringed with bright resin and vinyl accents, suggesting balloons or pool toys. Kahn's list of materials frequently includes found objects—he relishes their textures and embedded histories. "Everyone's grappling to represent what it feels like to be alive right now," he said. "It's hard to make something simple or straightforward and feel like you've in any way captured how weird it is right now."
Kahn's New York gallerist, Marc Benda, says that boundaries between art and design have been "slowly dissolving" over the past 10 to 15 years, with the wider art world taking "note of design as a concept." Benda founded his Friedman Benda gallery in 2007, which now shows work that ranges from
exuberantly colored
stalactite-studded mirrors and tables. Clients have followed Benda's lead, and he believes that the contemporary generation of collectors have more fluid interests that take little stock of old hierarchical values assigned to design or art. (Still, Benda maintains a separate gallery—
Albertz Benda
—to display more traditional painting, sculpture, and video work.)
Kahn's friend and former studio mate,
Nina Johnson
. By creating objects for the home, Stout makes her work accessible beyond the art world bubble—attracting people who simply want to see how the pieces actually work.
Johnson believes that her gallery's location grants her significant creative freedom. She can exhibit more traditional "sculpture" and functional objects that strain categorization in a way that's more difficult in New York. Her collectors aren't distinguishing between objects on the basis of whether or not they can sit in them: According to Johnson, they're more interested in conceptual underpinnings.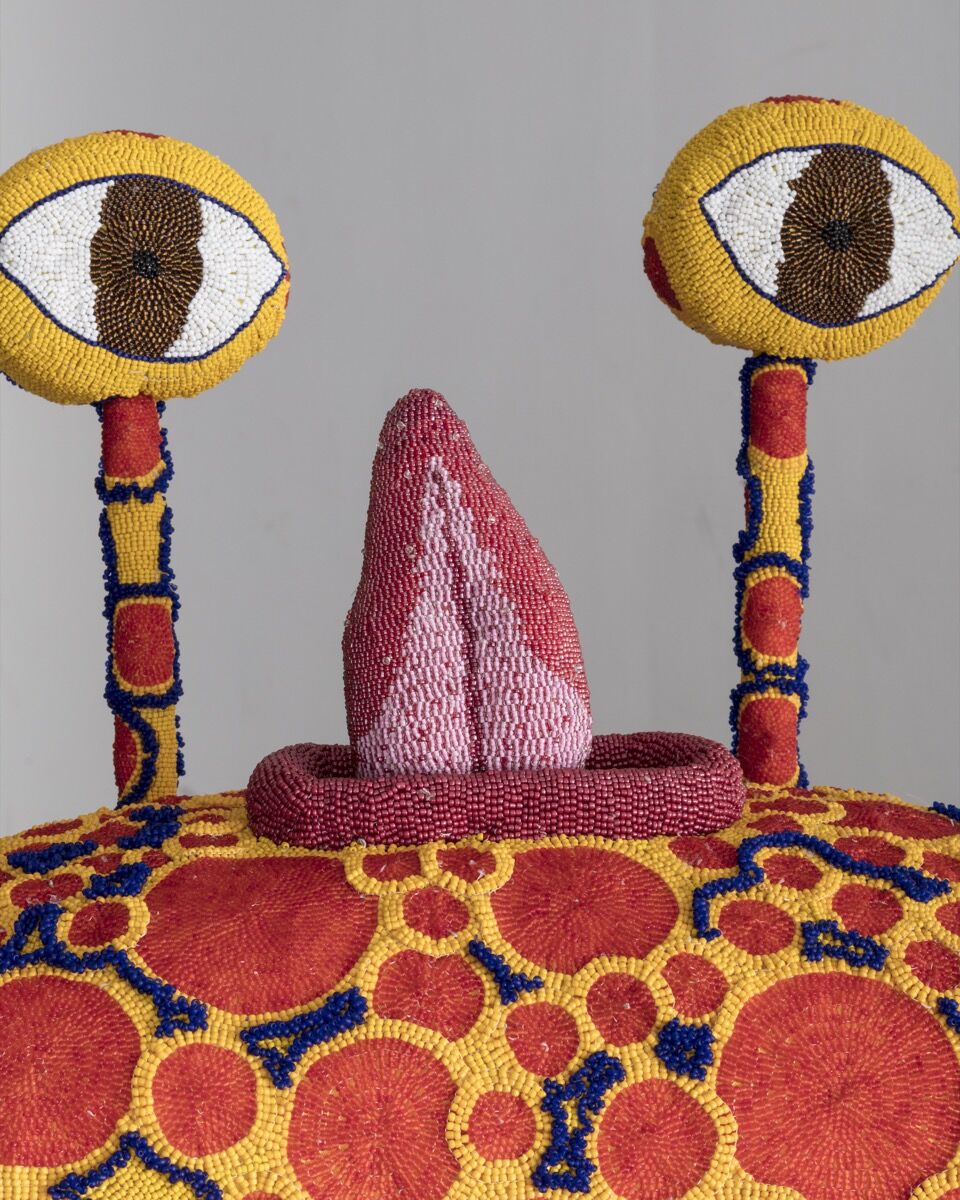 To illustrate the point, Johnson mentioned an upcoming exhibition at her gallery that was curated by architecture firm Charlap Hyman & Herrero. It will include works that range from a picture by photographer
In New York, another boundary-pushing gallery,
R & Company
, represents Stout, as well as the
"The only time we get pigeonholed is when we interact with the market," Nikolai told me recently. Fairs such as Art Basel and Design Miami/ are particularly strict about who can exhibit in which venue. Last winter, carved stone chairs by
Yet the issue isn't just the market, but the way that humans are wired to think. "We are pattern recognizers. We thrive on categories," Simon said. The brothers aim to expand viewers' perceptions, pushing audiences to think beyond classifications that are not just aesthetic, but social, too. They want to create a deeper understanding of what it means to be "non-binary" in all facets of contemporary life.
Miami's
Bass Museum of Art
has even incorporated such a boundary eruption into its mission. This month, during Art Basel in Miami Beach, the museum will mount an exhibition by the Haas Brothers—the first that the duo has ever held in a traditional art space. Says the museum's executive director Silvia Cubiñá: "There's risk in redefining what contemporary art is in 2018." For today's creators, that risk is half the fun.
In his 1993 essay, Judd wrote: "If a chair or a building is not functional, if it appears to be only art, it is ridiculous." Contemporary makers, it seems, have no problem with that, and they're happily making objects that are appropriate for our absurd times. Their creations are going beyond outlandishness just for the sake of it, though. Ultimately, they're turning the ridiculous into the meaningful and the sublime.
Alina Cohen is a Staff Writer at Artsy.
Correction: A previous version of this article contained an error, which incorrectly stated that the exhibition curated by architecture firm Charlap Hyman & Herrero at Nina Johnson already passed. It is a forthcoming exhibition that opens to the public on Monday, Dec 3.
Daan Roosegaarde ​& BMW i
Premiere of installation SYNC at Art Basel.
Sponsored by BMW