When the New York Times Becomes Art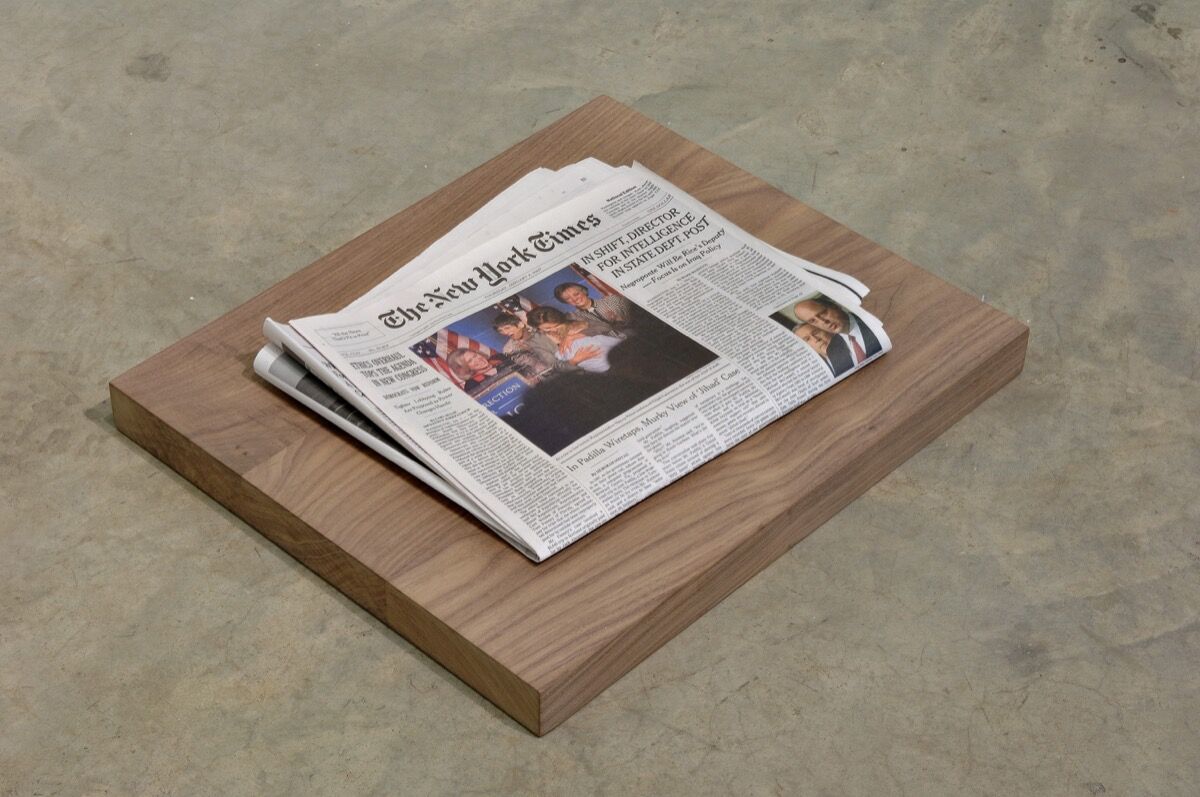 In this age of alternative facts, we're increasingly aware that the news can be manipulated like any other malleable material.
FLAG Art Foundation
's latest exhibition, "The Times," drives that point home in presenting the work of more than 80 artists who incorporate physical (and ideological) aspects of the
New York Times
. On view through August 11th, the show explores how the self-pronounced "paper of record" has shaped both the scope of world history and our own daily lives.
"We started planning this show two years ago with a shortlist of 12 to 15 artists who we knew had historically used newspapers in their practice," says Jonathan Rider, associate director of FLAG. "But in the wake of the election, we decided to do it as soon as possible." To be sure, the importance of—and contention around—news media has only grown since Trump moved into the Oval Office. The president took to Twitter in February to lambast his critical naysayers as the "enemy of the American people" and his administration has even gone so far as to bar major outlets (including the apparently "failing" New York Times) from a White House press briefing.
According to Rider, once his team started putting plans for the show in motion, they were shocked to uncover more and more artists using the newspaper in their practices. By the time the list of artists had expanded to 50, FLAG decided to announce an open call for submissions, which garnered over 400 responses that were pared down within a few weeks. "We got submissions from artists living in the middle of the country who have never really shown anywhere before, as well as from artists living in New York who are showing at top galleries," he says. (Roughly half of the works included in the exhibition are a result of the open call.)
"The Times" opens with Ground Zero (2003), a simple collage of the paper's front page bearing the headline "Picturing the New Ground Zero" on which the artist pasted a small green trapezoid indicating what he thought the memorial should be: open green space. The Kelly collage is joined by Yesterday's Newspaper (2007)—which, like its name suggests, is a readymade, updated daily—and a new work by Times's inauguration edition painted over with the words "tomorrow is the question." Together, these three works reflect on how the news both documents the recent past and spurs considerations of the future.
Yet the Gray Lady can't always be relied upon to be a faithful mirror of history or public opinion, a theme on which many of the works on view riff. Take, for example, The New York Crimes, a 1989 performance by the HIV/AIDS activist art collective Times from as many papers as they could get their hands on and replaced it with their own that featured stories about the AIDS epidemic; these altered editions were distributed by hand at an AIDS rally outside of City Hall. "Things like women with AIDS, AIDS in prison, intravenous drug use—those were topics that, at that time, just weren't being talked about, not even in the most major publication in the US," says Gran Fury founding member Avram Finkelstein.
Gran Fury may have roguishly posed as Times writers, but artist The Irony Hook (2017), includes a snippet of his writing, along with sundry other objects like an iron meat hook and old letterpress blocks spelling out the Latin phrase non verbis sed rebus ("not through words but through objects"). Colman describes his visual art practice as akin to writing. "Finding physical stuff and arranging it in a way that works to say something—I find it very analogous to amassing information for a story," he says.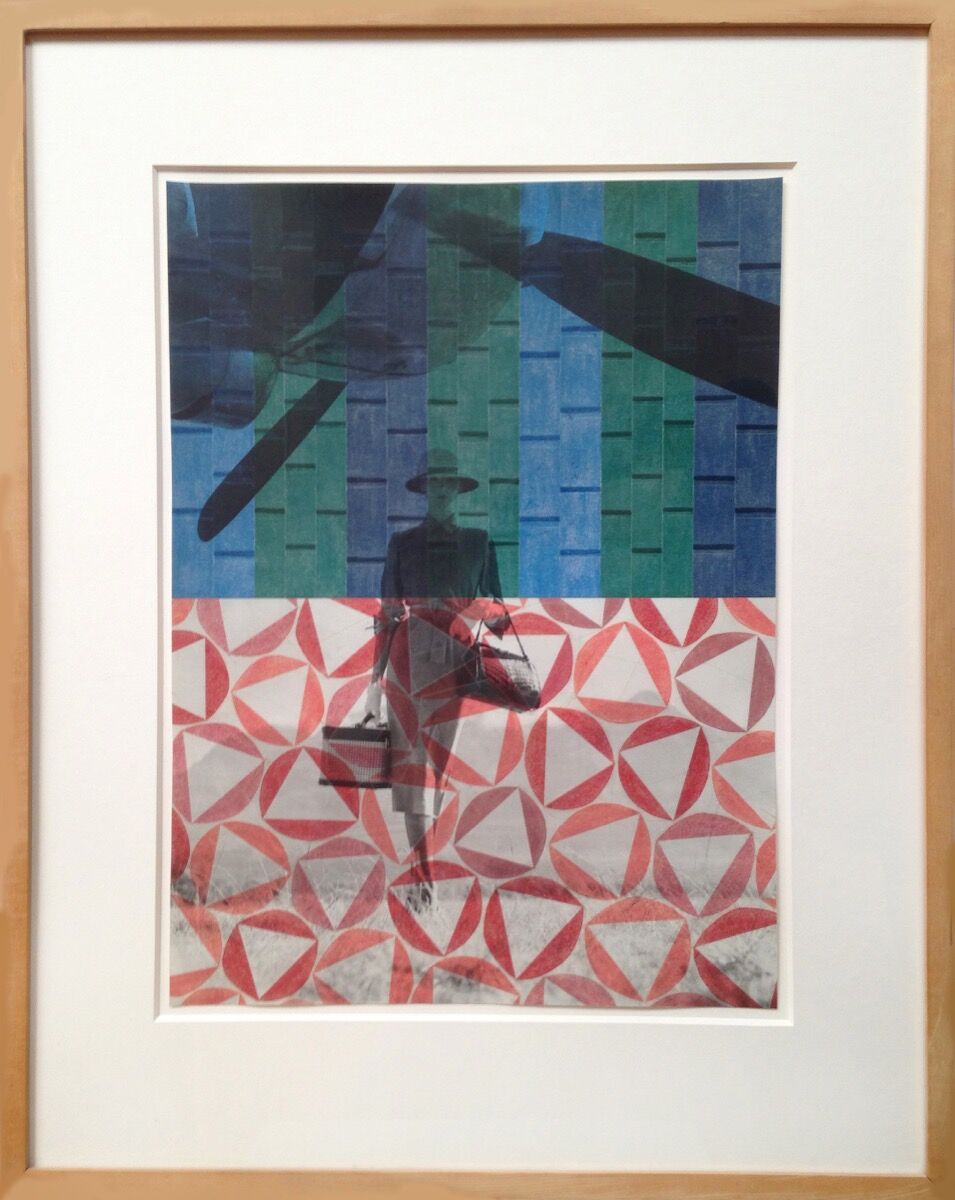 Colman isn't the only journalist with work in "The Times." Longtime art critic Paul Laster dispenses with words entirely in his collage Tracer (1991) and focuses instead of the advertisements found in the New York Times Magazine, which he skillfully lifts and transfers using 3M Scotch tape. According to the artist, he was always attracted to how the pages were spatially laid out, if not what they said. "I would go around the West Village, where my wife and I were living at the time, on the night that everyone would put out their week's newspapers and magazines," he says. "I'd find multiple issues of the NYT Magazine with pages of red, yellow, blue and other delightful colors."
Times for its formal qualities as well, citing its thin weight and smooth texture as ideal for her woven paper works. March 23, 2017 (2017) included in the FLAG exhibition, is part of an ongoing series of abstract compositions resembling textiles, which are created by slicing and weaving together two twin pages of the New York Times. She started them just after Trump's inauguration in January. "I view the project as a version of a diary," she says. "Plus, it always struck me as cool how quickly the paper becomes a historical object."
The objecthood of history is also embodied in The Future is Lost in Yesterday's News (2016) made up of Times papers that she sourced from her apartment building's recycling bin over the course of eight months. She read them all, then glued the pages together, drew on them with graphite until they were completely effaced, and stacked them on top of each other to create an imposing grey monolith. "The cultural climate we are living in has made us all re-evaluate our lives," says Seiden. "For me that meant really considering the idea of time and information as a navigation of our history, and what we choose to remember and what we select to forget in order to create our own narrative." Towering over the average viewer, the work becomes a kind of monument that memorializes the idea of "yesterday."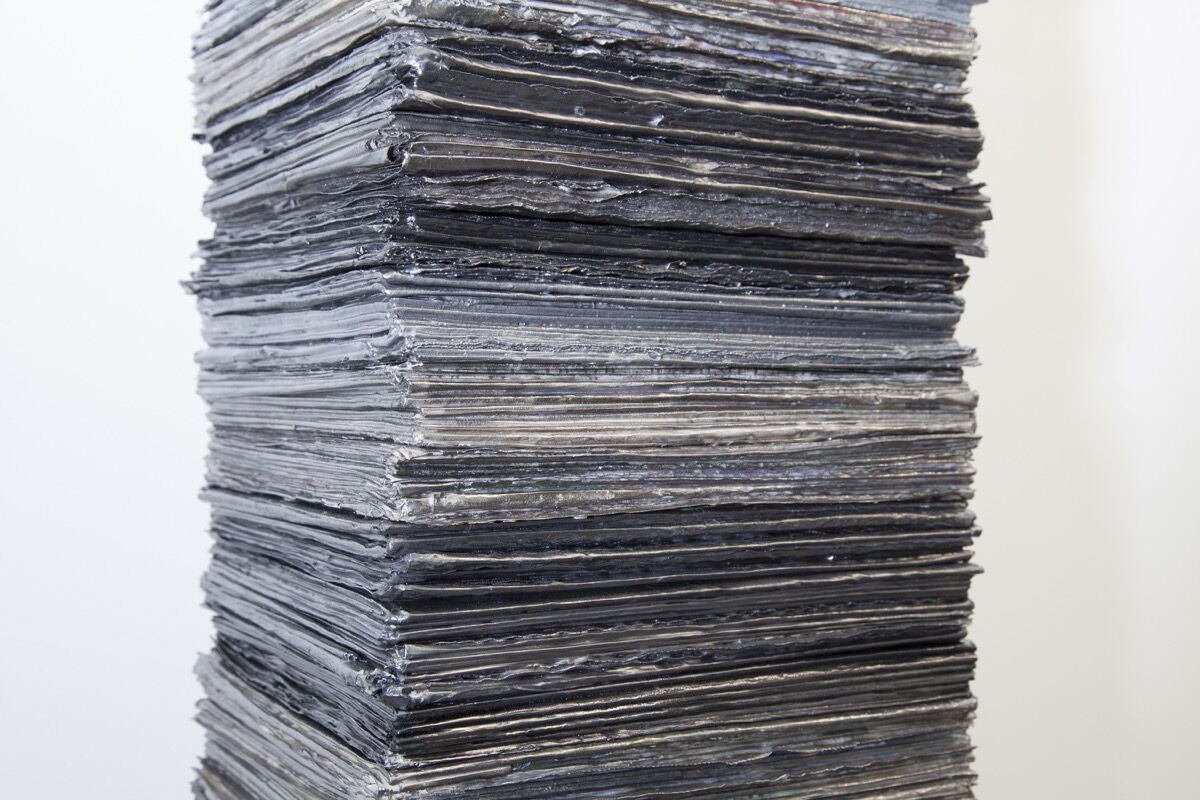 For New York Times pages in his practice since 2005, memorialization was top of mind when he created his new collage specifically for the FLAG exhibition. It features a blown-up version of the paper's front page from January 11th of this year; the artist drew over the image of President Obama, adding colorful rays emanating from a pair of sharp, beady eyes (cut out from a photograph of a bird). "It was Obama's last speech before the Trump turnover," he says, "the last time for a long time that we would have a semblance of eloquence emanating from the Oval Office. It was a poignant moment worth commemorating."
One curious oversight in "The Times" is that it barely addresses the growing digital presence of the illustrious paper it so robustly seeks to explore, especially since the overwhelming majority of the population now consumes its news online now. (Indeed, the
Times
has seen such an uptick in digital engagement that it recently announced a slew of buyouts and layoffs, including the elimination of a Public Editor in favor of a crowdsourced watchdog collective shaped by online readers and commenters.)
NY Times Review (After Büchel)
(2017), a hand-drawn mockup of a fictional online review of his current show at the
Aldrich Contemporary Art Museum
by
Times
critic Roberta Smith, is one of the few works in the show that engage with the paper's web presence. "The days of clipping out a Friday review for your press book are long gone, along with some of the prestige," he says. "The
Times
isn't what it once was."
A performance by PlayLab, however, manages to translate the online news experience into a physical one. Every Thursday afternoon for the run of the exhibition, a member of the collective will sit atop a stationary bike positioned near the gallery entryway from where they will chuck a rolled up copy of that day's paper at visitors as they come in. "We're playing on the idea that you're getting shit thrown at you all day long, every day, digitally," says PlayLab co-founder Archie Lee Coates IV. "It seems like it would be weird to have an exhibition about the New York Times and not have the news just flung at you."