How to Use the Internet More Mindfully, according to Artists
"I'm very concerned that our society is much more interested in information than wonder." These words were spoken by Fred Rogers, the famous host of the PBS children's show, Mister Rogers Neighborhood, in 1994. At the time, the phrase was meant to inspire children. These days, though, it could be read as a prescient warning, of the internet age's relentless stream of information—and the pitfalls it presents for creativity.  
A new project, called the
Library of Practical and Conceptual Resources
, picked up on Roger's foresighted words, posting them on its website under the headline "How do you use the internet mindfully?" Indeed, the quote could be read as something of a motto for the Library.
At its core, the Library of Practical and Conceptual Resources is a digital collection of links, quotes, and images meant to advise creatives on how to use the internet more thoughtfully. In other words: it suggests ways in which we can use digital networks to inspire wonder and new ideas, rather than, according to artist Jenny Odell, "simply reinforcing what I already believe, or placing me more firmly in my filter bubble."
"As a society right now, we're trying to understand how we're going to make sense of all the information and ideas and opinions and egos that are flying at us everyday," The Creative Independent's Willa Köerner told Artsy. "It's incredibly overwhelming, and I think we underestimate the effect it takes on our lives and our work and our ability to think creatively."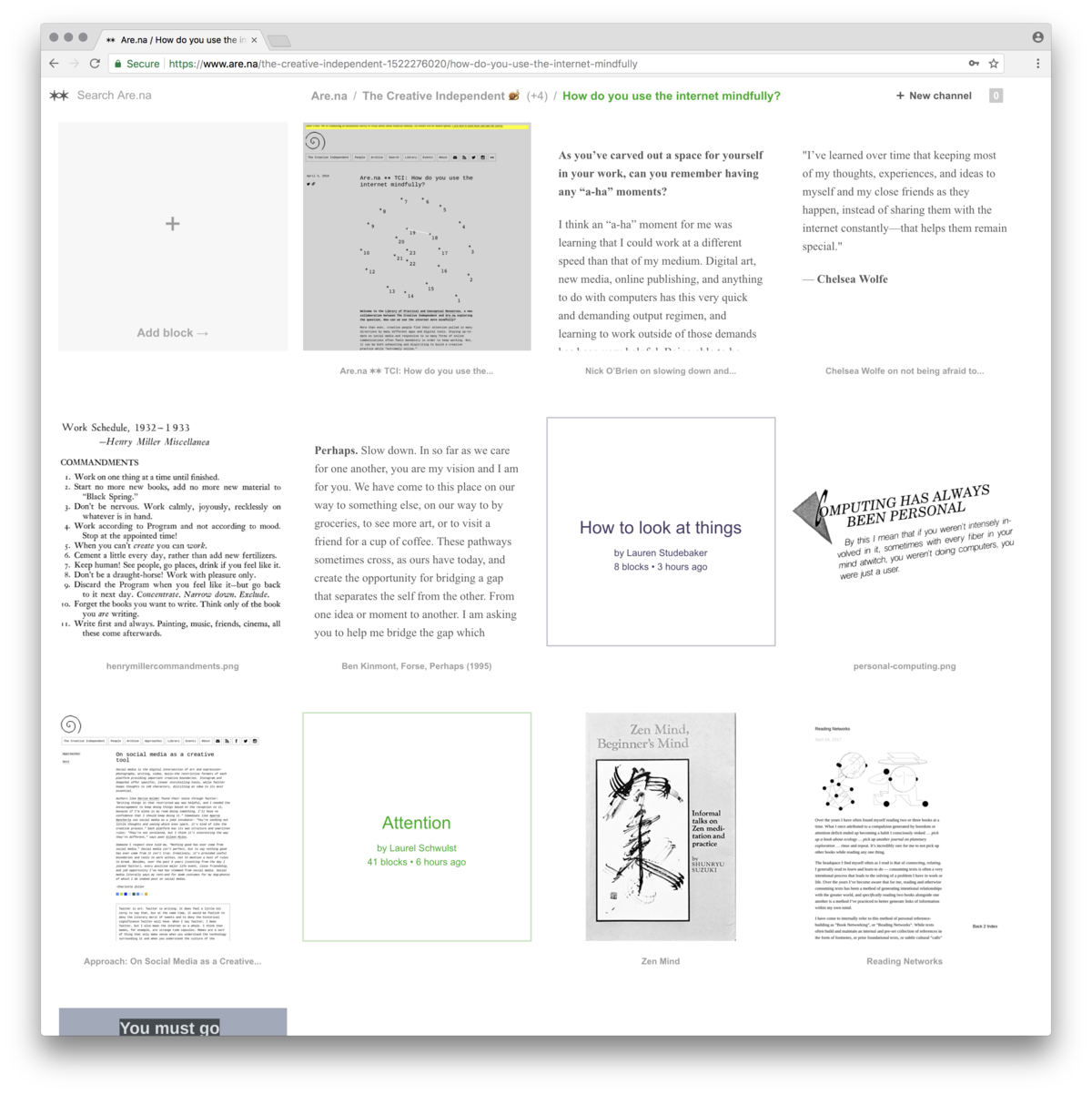 Are.na's Leo Shaw agreed. "Being online in this moment presents creative people with all kinds of challenges," he explained. "Whether it's a specific tool or a way of seeing the world, we hope readers find something in these collections they can actually apply in their own routines."
Shaw and Köerner hatched the Library of Practical and Conceptual Resources after realizing that both Are.na and The Creative Independent shared an interest in creating "more thoughtful spaces online," said Köerner.
Together, they decided it was time to push that idea further by engaging with creative practitioners who are "using the internet as a tool and as a creative medium—not just as a waste of time, a distraction, or to be loud," said Köerner. In step, they began asking artists to answer the question that's become the jumping off point for the entire project: "How do you use the internet mindfully?"
So far, several buckets of advice exist within the library. The first is a collaborative page in which any Are.na member (sign-up is easy and open to all) can add links, images, or ideas related to that core question. There, you'll find suggestions for books, like Thinking, Fast and Slow by Daniel Kahneman; links to articles, such as "How to do nothing;" and quotes from the likes of Rogers, Ta-Nehisi Coates, and
The channels that are conceived by individual artists will make up the majority of the Library, each one offering a distinct approach. Fei Liu's contribution is titled "
A drop of love in the cloud
." Simply put, it consists of musings around how affection—rather than jealousy and hatred—can be encouraged in online communities, where communication is boiled down to limited "thumbs up" and "thumbs down" emojis.
Liu lists action items, such as "Interact with your parents online. Send them the memes you would send your friends," and (my personal favorite) "If all else fails, know that no one needs your love as much as you do. Turn that energy inwards. Like yourself. Follow yourself. Pin yourself. Favorite yourself. Rate yourself. Check-in with yourself."
For her part, Odell created a portal meant to encourage close observation and independent thinking online, dubbed "How to grow an idea." She describes its contents as "seeds for thought, scattered amongst other growths." Highlights include a photograph of a performance by Scott Polach in which an audience applauds a sunset, and a link to a video called
The Last Quiet Places: Silence and the Presence Of Everything
. "The channel starts with a reminder to breathe, and ends with an invitation to take a nap," Odell
writes
. "Hopefully, somewhere in between, you might encounter something new."
While these channels give individual creatives guidance, Köerner, Shaw, and participating artists hope it will also encourage the sharing of ideas and a sense of community. Shaw aims for it to bolster Are.na's goal to create "a member-supported space on the web where many kinds of thinking can thrive together." For her part, Odell sees the library as a valuable resource "not only for artists and writers—but anyone who is interested in encountering new ideas from others."
Alexxa Gotthardt is a contributing writer for Artsy.