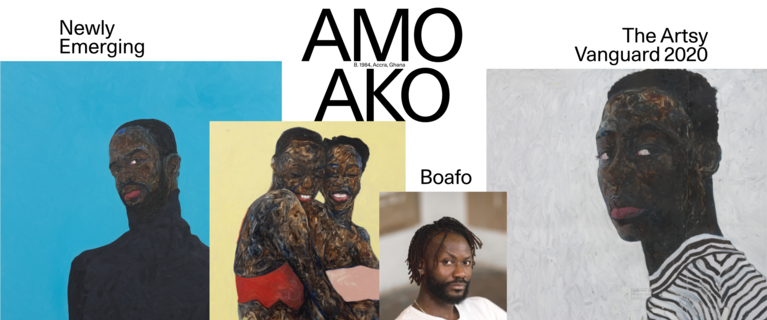 The Artsy Vanguard 2020: Amoako Boafo
Claire Voon
B. 1984, Accra, Ghana. Lives and works in Accra and Vienna.
Installation View of "Sitters," 2019 at The Cabin, Los Angeles, CA. Courtesy of the artist and Roberts Projects, Los Angeles.
Amoako Boafo's luminous portraits make and hold space for Black joy, Black subjectivity, and Black self-determination. They challenge easy notions of Blackness, as in his ongoing series "Black Diaspora," which celebrates his peers with a quiet intimacy: Each muse's gaze, pose, and sartorial flair harmonize to insist on a gorgeously complicated identity of their own.
Over the past year and a half, Boafo has experienced a lightning rise in the mainstream art world, becoming highly sought after in a market showing overdue attention to Black artists. Roberts Projects exhibited "Black Diaspora," Boafo's first U.S. show, in January 2019, then Nina Chanel Abney curated his paintings into a group presentation at Jeffrey Deitch. That December, Boafo's debut at Art Basel in Miami Beach with influential gallerist Mariane Ibrahim quickly sold out, shortly after the Rubell Museum named him its first artist in residence. This February, notorious collector Stefan Simchowitz brazenly flipped a painting Boafo had completed just eight months prior; it sold for £675,000 ($875,144), more than 10 times its high estimate of £50,000 ($64,825).
Amoako Boafo
Green Beret, 2020
Mariane Ibrahim Gallery
Amoako Boafo, Libby and D-Lee, 2019. Courtesy of the artist and Roberts Projects, Los Angeles, California.
This September, Boafo presents never-before-seen works at his inaugural solo exhibition with Mariane Ibrahim, "I Stand By Me." And in 2021, he is due to open solo shows at Roberts Projects.
"I Stand By Me" features portraits made with an image-transfer technique Boafo has recently embraced. Unchanging is his style of measured finger painting, which animates these vibrant reflections of Black identities, while asserting them as inseparable extensions of himself.
The Artsy Vanguard 2020
The Artsy Vanguard 2020 is our annual list of the most promising artists shaping the future of contemporary art. This year, artists are organized into two categories: Newly Emerging, which presents artists who've gained momentum in the past year, showing at leading institutions and galleries; and Getting Their Due, which identifies artists who have persevered for decades, yet only recently received the spotlight they deserve. Now in its third edition, the feature was developed by the Artsy staff, in collaboration with our network of international curators and art professionals. Explore more of The Artsy Vanguard 2020.
Header and thumbnail image, from left to right: Amoako Boafo, "Kofi," 2019; Amoako Boafo, "Libby and D-Lee," 2019; Portrait of Amoako Boafo by Nina A. Gyasi. Courtesy of the artist and Roberts Projects; Amoako Boafo, "Boy in a Black and White Stripe Shirt," 2018. All images: Courtesy of the artist and Roberts Projects, Los Angeles, California.
Correction: A previous version of this article mentioned a museum exhibition that has yet to be announced.