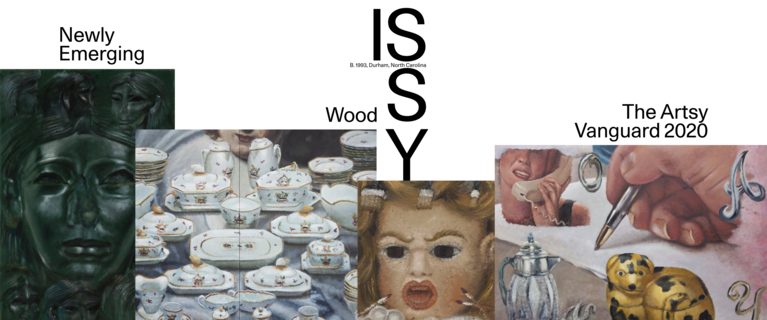 The Artsy Vanguard 2020: Issy Wood
Charlotte Jansen
B. 1993, Durham, North Carolina. Lives and works in London.
Issy Wood, installation view of Paint Also Known as Blood, 2019 at MoMA Warsaw. © Issy Wood 2020. Photo by Daniel Chrobak. Courtesy of the artist; Carlos/Ishikawa, London; JTT, New York; MoMA Warsaw.
What does Joan Rivers have in common with an ornate silver tureen? They've both been turned into dusty, sad relics of fading luxury by painter Issy Wood. Such subjects are part of a bonkers menagerie of subject matter that seems desultory, but is distinctly the artist's own.
Born in the United States and trained in the United Kingdom (Wood graduated from Goldsmith's with a BA in fine art and history of art in 2015 and earned an MA from the Royal Academy Schools in 2018), the artist landed her first solo show at Carlos/Ishikawa in 2017. She has since participated in lauded group shows at White Cube in London, Mendes Wood DM in Brussels, the Museum of Modern Art in Warsaw, and Tate St. Ives. At the Zabludowicz Collection's "World Receivers" exhibition in 2019, Wood presented a series of tiny oil portraits of Rivers (she's also done a few Barbra Streisands) and an installation of over 1,000 hand-painted floor tiles. Also in 2019, Wood produced her largest solo exhibition to date: "All The Rage" at the Goldsmiths Centre for Contemporary Art in London. In January 2020, she opened "daughterproof," her first solo show with JTT in New York.
Issy Wood, Swan / He won't 2, 2019. © Issy Wood 2020. Courtesy of the artist; Carlos/Ishikawa, London; and JTT, New York.
Wood uses auction catalogues and a collection of items bequeathed to her by her maternal grandmother as source materials in some of her recent work, which includes painting and installation, as well as writing. Her searingly sardonic tone comes through in her titles, like Kettle (By which I mean you die in a fire) (2018). Wood, who calls herself a "medieval millennial" in reference to her classical style, envisions a dark world in which women have been battered by consumerism, heritage is turned into a transaction, and humor is as trenchant as a pair of gold teeth.
The Artsy Vanguard 2020
The Artsy Vanguard 2020 is our annual list of the most promising artists shaping the future of contemporary art. This year, artists are organized into two categories: Newly Emerging, which presents artists who've gained momentum in the past year, showing at leading institutions and galleries; and Getting Their Due, which identifies artists who have persevered for decades, yet only recently received the spotlight they deserve. Now in its third edition, the feature was developed by the Artsy staff, in collaboration with our network of international curators and art professionals. Explore more of The Artsy Vanguard 2020.
Header and thumbnail image, from left to right: Issy Wood, "Mother as female sphinx," 2018; Issy Wood, "Excuse me / your life is waiting," 2019; Issy Wood, "Study for me in industry," 2020. Issy Wood, "OKAY (miranda ices cakes under duress)," 2019. All images: © Issy Wood 2020. Courtesy of the artist; Carlos/Ishikawa, London; and JTT, New York.