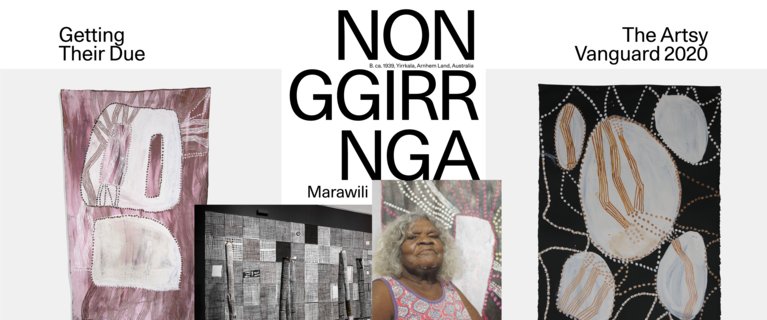 The Artsy Vanguard 2020: Nonggirrnga Marawili
Casey Lesser
B. ca. 1939, Yirrkala, Arnhem Land, Australia. Lives and works in Yirrkala.
Yolngu artist Nonggirrnga Marawili taps the Earth for her materials and muses. Her works—prints, works on paper, paintings on bark, and larrakitj (memorial poles made from the bark of eucalyptus trees)—are often made with natural ochers that coalesce in spontaneous webs of lines and dots. The resulting works are ethereal, expressive interpretations of water. Her show at Alcaston Gallery in Melbourne this September, titled "Dha`irr'yun" (meaning "Breaking Waves"), foregrounds her depictions of turbulent seas.
Marawili, now in her eighties, is one of the most senior and esteemed artists of the indigenous art center Buku-Larrnggay Mulka in the Yirrkala community of Australia's Northern Territory. She's been showing her work steadily since the mid-1990s and has won multiple awards for her bark paintings in the past decade, yet only in the past few years has she received much-deserved art-world acclaim.
The Art Gallery of New South Wales held "From my Heart and Mind," a major retrospective of Marawili's work, in 2018–19. Afterwards, she embarked on a new chapter of her practice, adding the magenta ink from discarded toner cartridges into her repertoire.
In 2019, Marawili's presentation of gridded black-and-white paintings and larrakitj was a highlight of Tarnanthi, the annual festival of contemporary Aboriginal and Torres Strait Islander art in Adelaide. This past year, she received international attention at the 2020 Biennale of Sydney, titled "Nirin," where her works commanded the space of a gallery within the Museum of Contemporary Art Australia. Later in 2020, Marawili will be included in the major survey exhibition "Know My Name: Australian Women Artists 1900 to Now" at the National Gallery of Australia. Her works have been acquired by Australia's major art museums, as well as international institutions including the Metropolitan Museum of Art and Museum Kunstwerk.
The Artsy Vanguard 2020
The Artsy Vanguard 2020 is our annual list of the most promising artists shaping the future of contemporary art. This year, artists are organized into two categories: Newly Emerging, which presents artists who've gained momentum in the past year, showing at leading institutions and galleries; and Getting Their Due, which identifies artists who have persevered for decades, yet only recently received the spotlight they deserve. Now in its third edition, the feature was developed by the Artsy staff, in collaboration with our network of international curators and art professionals. Explore more of The Artsy Vanguard 2020.
CL
Casey Lesser
Casey Lesser is Artsy's Associate Director of Content.
Header and thumbnail image, from left to right: Nonggirnga Marawili,"Lightning strikes," 2018; Nonggirrnga Marawili, installation view in "Gurruṯu" as part of Tarnanthi at the Art Gallery of South Australia, 2019–20. Photo by Saul Steed. Courtesy of the Art Gallery of South Australia, Adelaide; Portrait of Nonggirrnga Marawili; Nonggirrnga Marawili, "Baratjala," 2019. All images: © Nonggirrnga Marawili. Courtesy of the artist; Buku Larrnggay Mulka, NT; Alcaston Gallery, Melbourne; and ARTKELCH, Freiburg.